2021 has already been another busy year for mecanoo, the prolific dutch architecture studio led by francine houben. in the last few months, the firm has won a competition to complete a library in macau, completed another library in taiwan, and designed a maritime center that plays a major part of rotterdam's rijnhaven masterplan. with many more projects in the pipeline, designboom spoke with houben who discussed a range of topics — from the importance of libraries in today's society, to why the human condition should be central to the future of design. 'we need to recognize the value of every individual, people's engagement with each other, or culture, or nature, or in many cases a combination of both,' houben tells designboom. 'our attitude to earth needs to change, nature has an irreplaceable value and beauty.' read the interview in full below, and explore more of mecanoo's work on designboom here.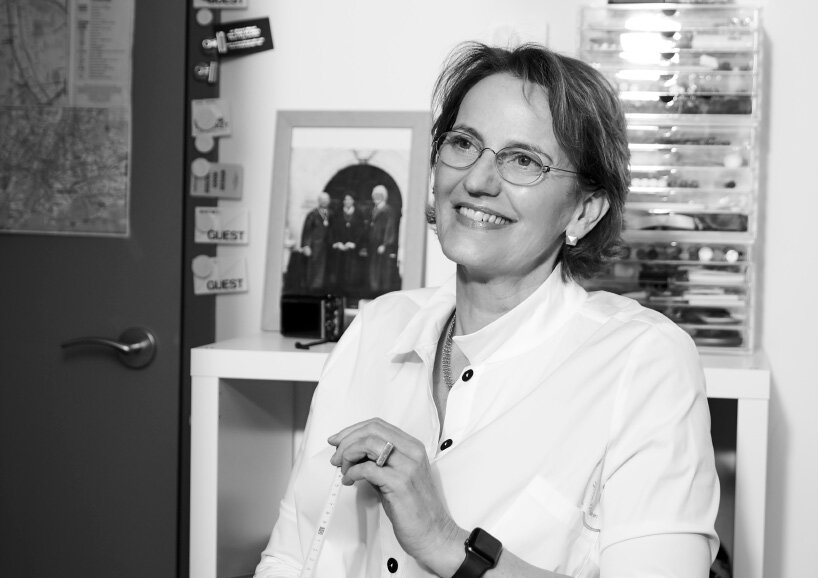 francine houben | image © roger neve
designboom (DB): a lot has changed since our last interview at the end of 2018. what themes or ideas have you and your team been exploring over the past year or so?
francine houben (FH): I see mecanoo's work like the year rings of a tree, we have evolved according to our curiosity and the social demands of the time. provoked by the demand for innovative models for housing in the early 1980s, our attention soon expanded to the design of inclusive public space. designing new types of learning environments led to libraries and theaters, while intimate museums and theaters in the netherlands have led to vast cultural venues and concert halls in asia.
there is one discipline that remains at the center of our work: mobility. now more than ever, mobility is key to (re)think at all scales. mobility is part of modern society; it is a daily pursuit, just like housing, work and recreation. therefore, designing for mobility must be about people deriving a sensory experience from their everyday mobility. but we also know that the provision of mobility infrastructure has city-scale effects. so, we should consider mobility as a tool for connecting communities, facilitating new opportunities and creating conditions for economies to flourish.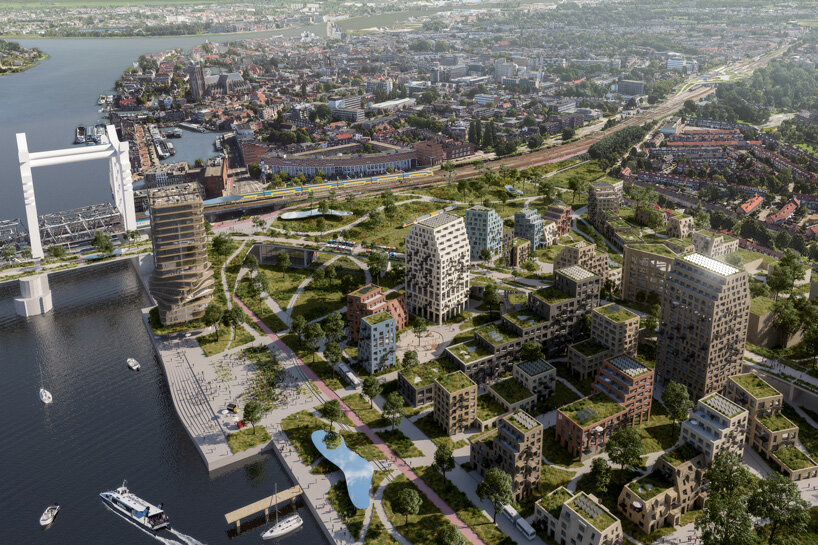 spoorzone dordrecht | image © mecanoo
FH (continued): my journey with mobility began in 1998, when I proposed that we view the motorway as a design brief. the 2003 rotterdam international architecture biennale, which I curated, was dedicated to mobility, continued the theme — for millions of people who experience the changes of the city and countryside, the train and the car are also 'a room with a view'. since the 1960s, the road in the landscape has made way for the landscape of the road — a self-contained environment. now, the motorist seems politically incorrect and designers must see to it that everyone makes use of public transport. but it is not so simple.
mobility is changing. the urban planners think only metro and tram. the walkable city must be one for bikes also, and now we have monowheels, e-bikes, e-scooters, electric trikes and more. the architects' task is to produce designs that answer the steadily growing demand for mobility in all its modalities. over the years we have participated and completed several projects that strength our commitment to extended everyday mobility: delft city hall and train station, kaohsiung station, spoorzone dordrecht, NS vision interior train of the future, taichung green corridor, nieuw land national park and a new perspective for rotterdam south to name a few.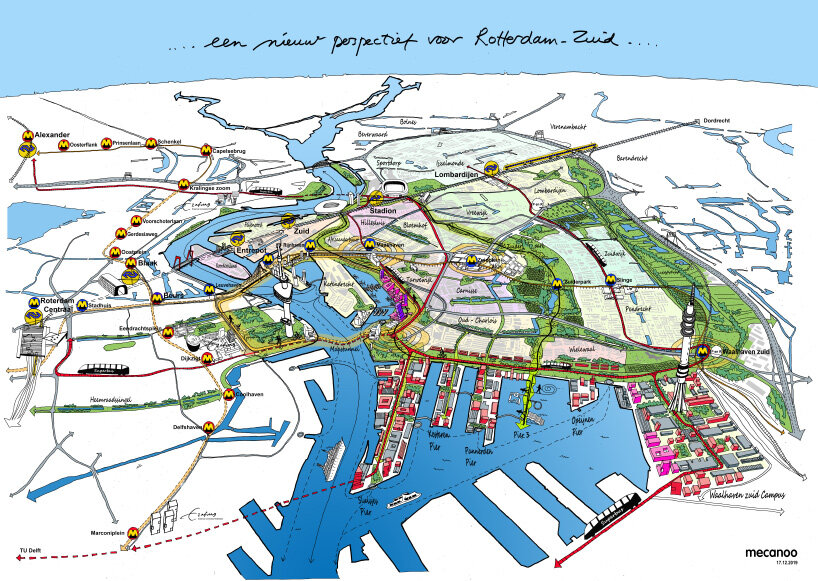 a new perspective for rotterdam south | image © mecanoo
DB: has the pandemic changed your design approach?
FH: yes. we followed this situation closely as it started to escalate in china. we fly frequently to mainland china and taiwan, so we were alerted to ongoing changes and regulations. we started to think of possible scenarios and outcomes when the virus arrived in europe, especially seeing the impact it had in italy. around mid-march following the latest advice from the dutch government, we moved into a more remote working mode. everything had to happen very fast. the world was swept with news coming from all corners of the globe and I think all of us individually had to make sense of it in a very short amount of time.
this is also the chance to embrace the digital realm like we have never done before and to showcase the profession's deep ability to adapt, collaborate, exchange and work in an interdisciplinary way. we have all the technology and solutions available to keep the normal communication and exchange channels open: phone, e-mail, WhatsApp, teams, skype, trello — and all the variety of social media platforms too. it's impressive the number of options we have available, and in many ways the real challenge is to set up a system that works best for your office and design teams so that the design process, consultations, meetings, presentations and communication are maintained without disruption.
the lessons we learn from this pandemic will have a deep impact on the future of design, be it cities, public spaces, infrastructure, hospitality, etc. city leaders should use the current pandemic as an opportunity to change the green fabric of our cities, to change how we live and interact with one another. we need to re-evaluate the quality of our public realm, especially in areas where few people have access to gardens. and yes, I do miss traveling and visiting our projects.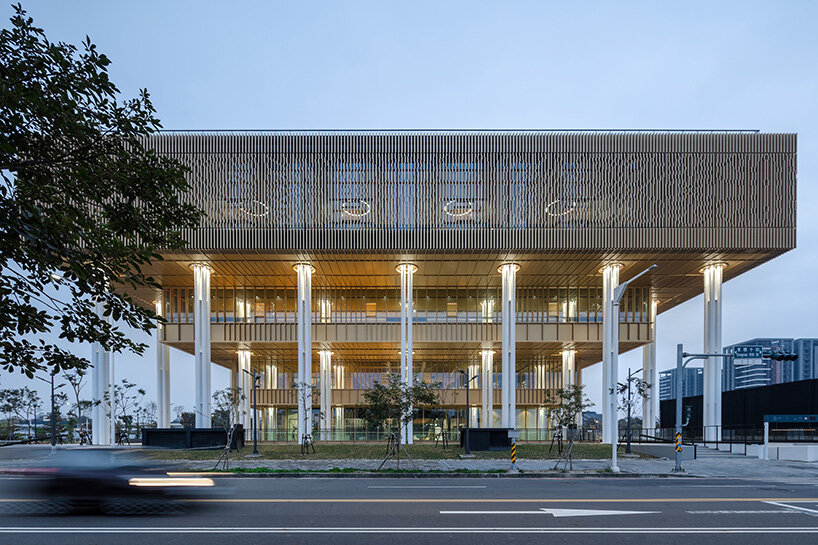 tainan public library by mecanoo and MAYU architects | image © yu-chen chao
read more about the project on designboom here
DB: the tainan public library is mecanoo's latest completed project in taiwan. is taiwan a country you enjoy working in?
FH: we are so thankful and proud of our experience in taiwan. the country and its people have been the most welcoming and supportive of our ideas and designs. when we won in 2007 the design competition for the national kaohsiung centre for the arts we couldn't imagine all the designs that would follow: the impressive kaohsiung station currently under construction and the recently completed taichung green corridor and the tainan public library are good examples of local collaboration with architects and local authorities in delivering projects with a strong focus on the context and its communities. we have some exciting new designs coming up, I wish I could share them, we need to leave that for another interview!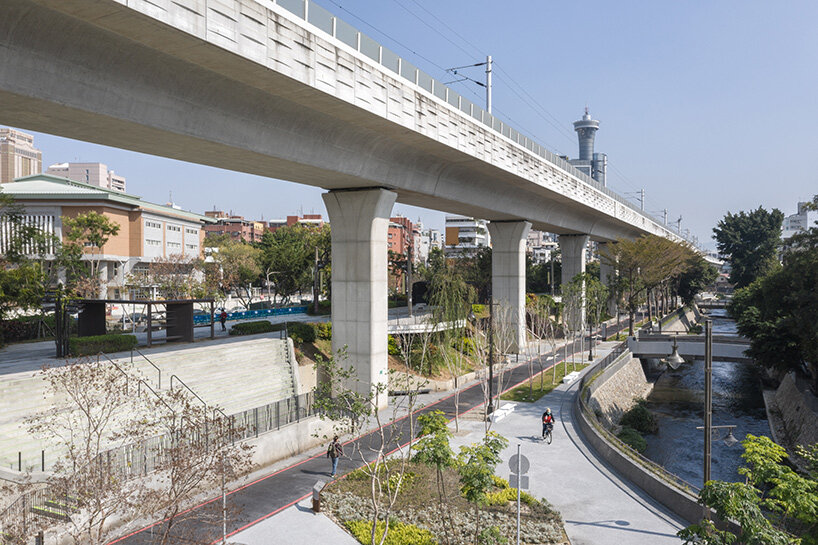 taichung green corridor by mecanoo and S.D. atelier design & planning | image © ethan lee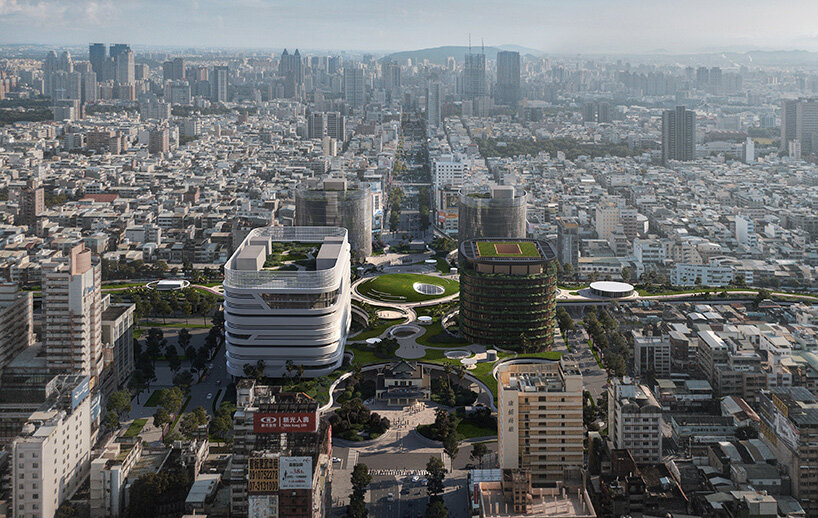 kaohsiung station | image © mecanoo
DB: you were entrusted with renovating martin luther king jr. memorial library (MLKL) in washington DC. how challenging and rewarding has the project been?
FH: in 2013, DCPL launched an international architectural competition, inviting teams to rethink ludwig mies van der rohe's only library. in february 2014, mecanoo and martinez+johnson (which subsequently merged with OTJ) were selected as the winners. I knew I had a complex task on my shoulders, we made extensive research which included dialogue with jack bowman, the project architect who worked on the original building, and charles cassell, who led the campaign to name the library after dr. king. I also revisited innumerous mies projects in the US and europe — it was important to get as much information as possible. when I first visited the building I found that it was not a good building technically and it was not a good library… all the books got daylight and all the people didn't get any at all. these and other fundamental shortcomings are eliminated in the new design.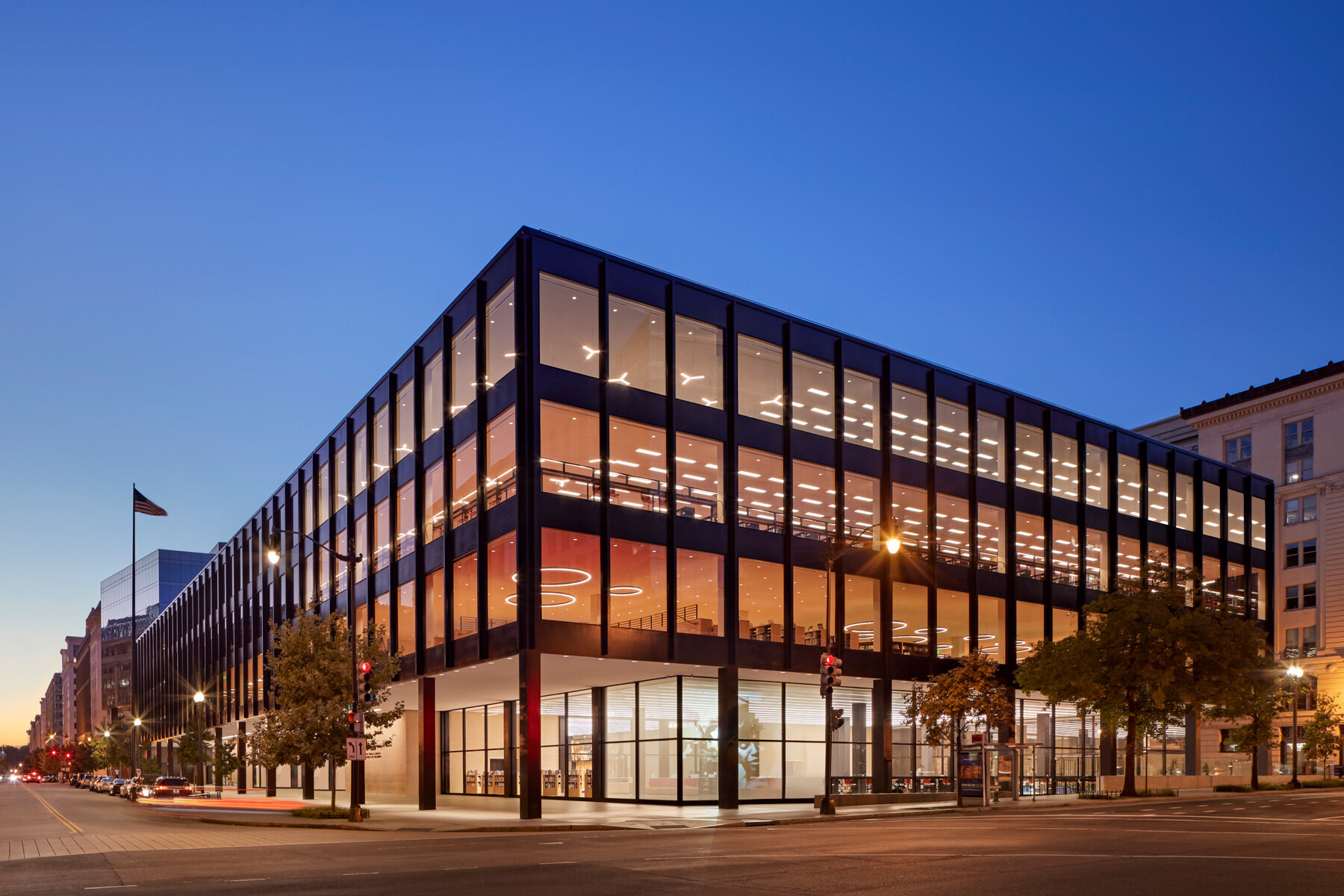 martin luther king jr. memorial library by mecanoo and OTJ architects | image © robert benson
FH (continued): the transformation of MLKL brings a new, humanistic environment at all levels, designed and programmed for the future, and it adds facilities including a public roof garden, a theater, signature staircases and a suite of community studios and workshops. a central objective of the new design is to highlight the library's social gathering purpose and its strong presence as a social landmark in the city. the design approach balances the very different legacies of mies van der rohe and dr. king. if design decisions could favor either mies' legacy or dr. king's values, but not both, I would choose to go with dr. king — we must honor him by the programming, and by opening the building to everyone. mies designed a passive library to sit and read in, but the reborn library is designed to be active, a place for doing and meeting.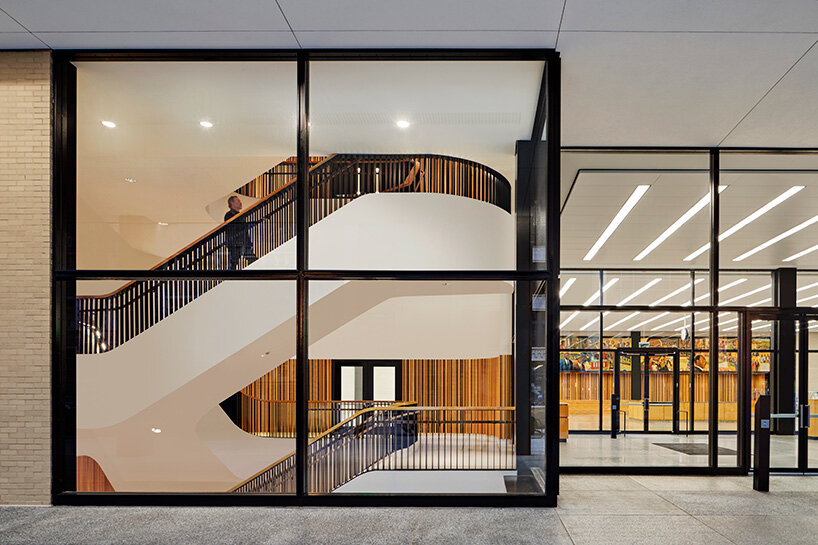 martin luther king jr. memorial library | image © robert benson
DB: generally speaking, how important are libraries at the moment, and how do you see them evolving going forward?
FH: I'm known for saying that libraries are the most important public buildings — I still stand by that. libraries are dynamic and continually changing. libraries shifted from a mere silent book deposit to forward-thinking platforms able to influence its surroundings and its communities. this is very important because libraries are civic buildings — it's not only about the design, it's the program that needs to be tailored to the context and to the communities that it serves. design should facilitate that. this is part of the mecanoo philosophy: people, place, purpose.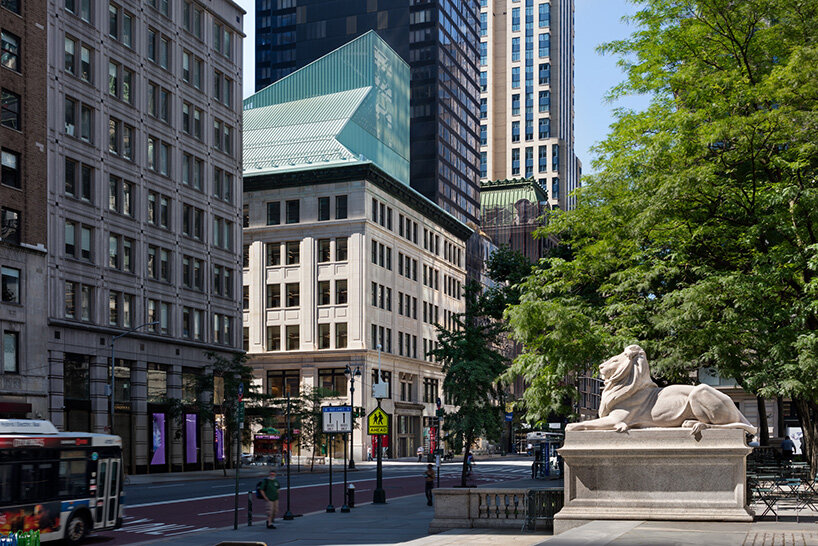 stavros niarchos foundation library by mecanoo and beyer blinder belle | image © john bartelstone
FH (continued): our first library, the library delft university of technology, remains as relevant as before — constantly evolving and changing after 20 years is a good example of what a library should be. recently we have completed the interior of the LocHal library in the dutch city of tilburg and the renovation and transformation of both the martin luther king jr. memorial library in washington D.C. and NYPL's stavros niarchos foundation library in new york.
we also work on smaller scales with the same enthusiasm, in amsterdam we have been working with OBA amsterdam in two of their branches (the renovation of one of the branches located in a national monument designed by berlage, OBA mercatorplein, and a new location OBA postjesweg). in the hague we were commissioned to develop a masterplan vision for the renovation of the current hague central library located in a building designed by richard meier. in january 2021 we completed the new tainan public library and more recently we won the design competition for the new macau central library. each library has its own challenges and our task is to prepare them for unpredictable change.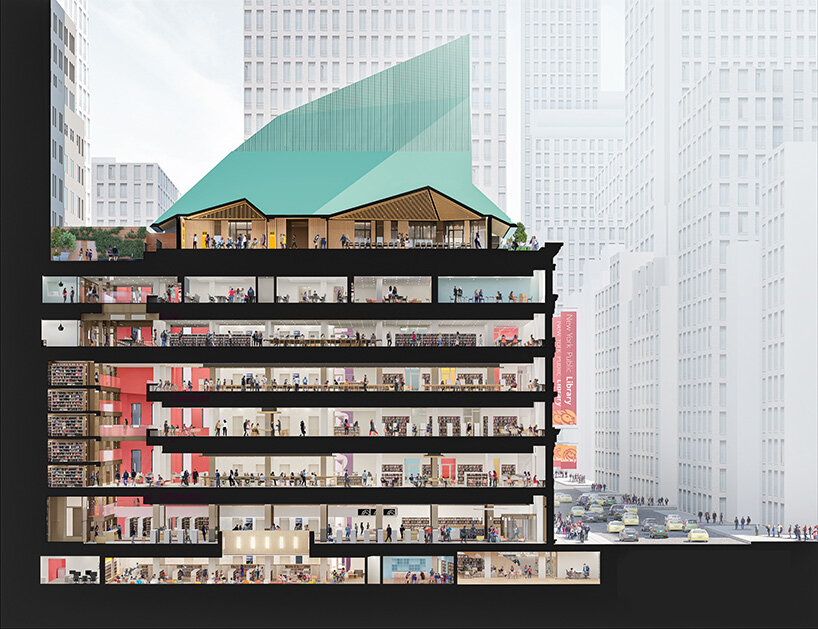 stavros niarchos foundation library (section) | image © mecanoo
DB: what was the brief for the RET metro interior, and what existing problems does your design attempt to solve?
FH: the RET, the public transport company of the city of rotterdam, presented us with the following challenge: how can we provide more capacity in the existing metro, and how can we do that in the most comfortable way?
RET wanted to maximize the amount of people they can bring during peak hours, but also provide as much comfort as possible during off-peak, with the ambition of a hospitable metro interior for everyone and an increase in transport capacity by more than 20%. our research resulted in five modules, that not only provide seating or standing spaces, but also a large variety of leaning and hanging spots that take less volume on the metro, but still provide people a comfortable place to stay. the design is currently in an experimental pilot phase and we hope to continue to develop this project further.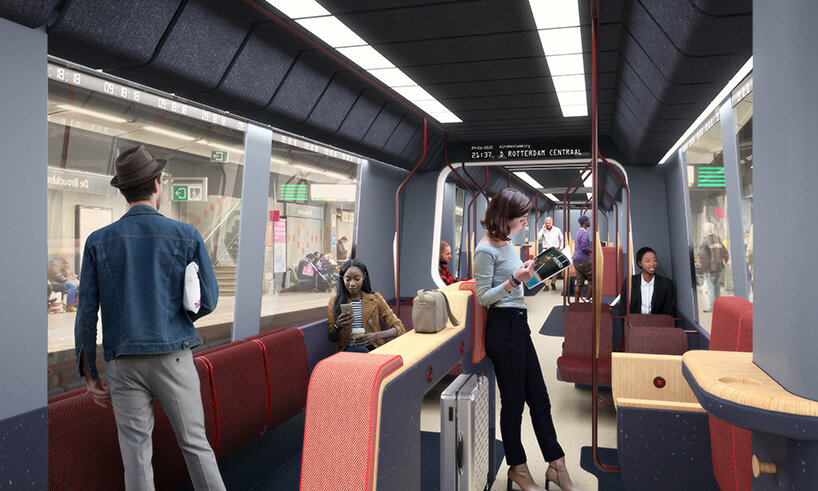 RET metro interior | image © mecanoo
DB: what other projects is your team working on at the moment?
FH: I am particularly excited to visit both stavros niarchos foundation library and martin luther king jr. memorial library when they open all the floors to the public. it's about the users, I need to see how people appropriate the space. unfortunately due to the current pandemic, only restricted areas were partially open to the public. I also missed the official opening of the tainan public library back in january 2021, which was such a pity. we have been in contact with our local partner and we are so pleased to hear how the city of tainan is so proud of their new library, this makes me particularly happy — I can't wait to visit. 2021 is a very special year for mecanoo with the completion of several libraries across the globe and a few more under design.

maritime center rotterdam | image © mecanoo
read more about the project on designboom here

FH (continued): in the U.K. we are adding the final touched on kampus, a new neighborhood located at the former manchester metropolitan university campus, and the manchester engineering campus development. MECD will be the new home to the university's four engineering schools and two research institutes from the faculty of engineering and physical sciences within its 81,000 square meters, expected to open in the fall of 2021.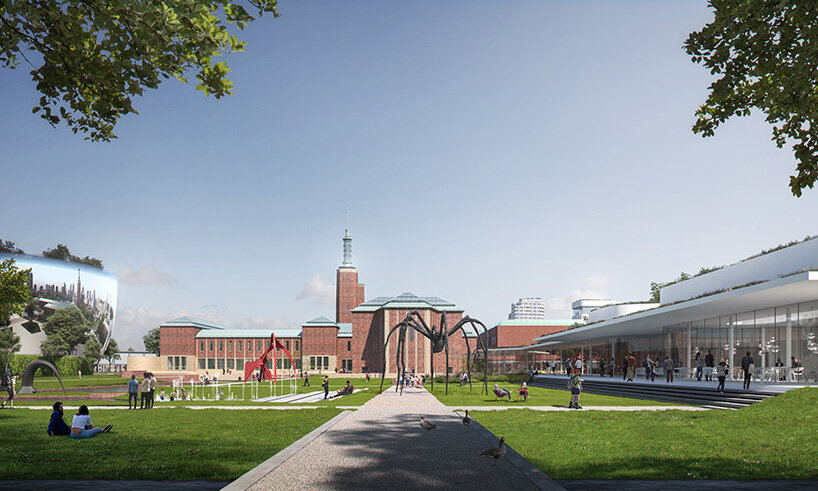 museum boijmans van beuningen, rotterdam | image © mecanoo
read more about the project on designboom here

FH (continued): we're also focused in the netherlands and rotterdam. not that we ever left the dutch market, despite the current pandemic there is a great deal of investment and enthusiasm in the construction sector. cities are getting more competitive, they want to become more attractive — it's interesting to see this process. we are working on several master planning projects and mobility as always is part of my agenda, we need to build better cities for our families and communities. back in rotterdam, we are involved in several projects, vision and studies. it's great the energy that you feel in rotterdam, you can see that the city will change a lot in this upcoming decade — I want to be part of that change.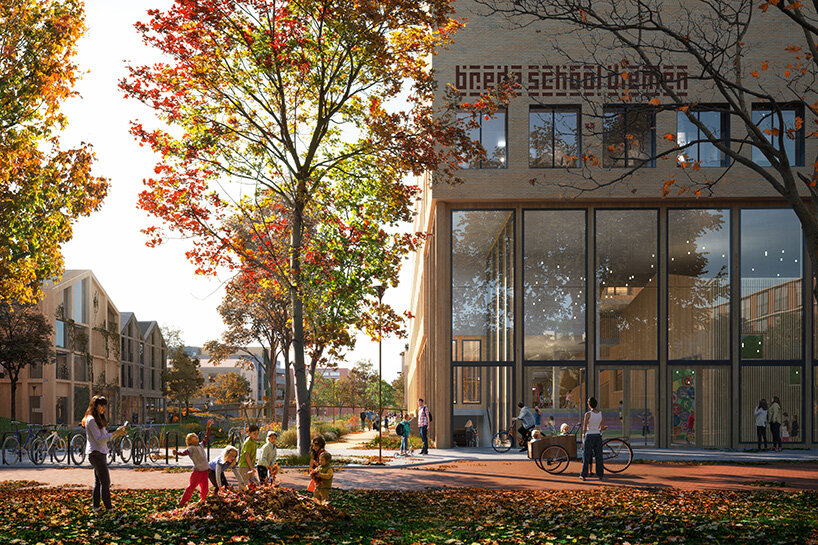 holland park west, diemen | image © mecanoo
DB: in our 2008 interview, you said you were a very optimistic person. do you remain optimistic about the future?
FH: this moment challenges us to re-imagine and re-think how we live together as a society and what our role as design professionals should be. the future is about 'forward to basics'. I would like to reflect on this not only thinking about architecture practices, because architecture is all about multi-disciplinary teamwork. the lessons we learn from this pandemic will have a deep impact on the future of design, be it cities, public spaces, infrastructure, hospitality, learning environments, public buildings etc.
going forward to basics is not complacency, but rational. these words apply to everything architecture, design and urban planning should do. our lifestyle, habits, routines, travel and social interactions changed completely with most countries going into lockdown.
yes, there is an emergency, but that doesn't mean we should panic. I am very positive about the future, now it's time to be resilient. there is this idea that you need to look further in order to get the best or the most memorable experiences. that couldn't be more far from the truth. some of your best experiences can be found just around the corner.
over the past decades, encountering people all around the world has showed to me and underlined what everyone everywhere wants. the very simple things, to take care of their children and to be able to provide them with a better future. it's about friends, family and communities.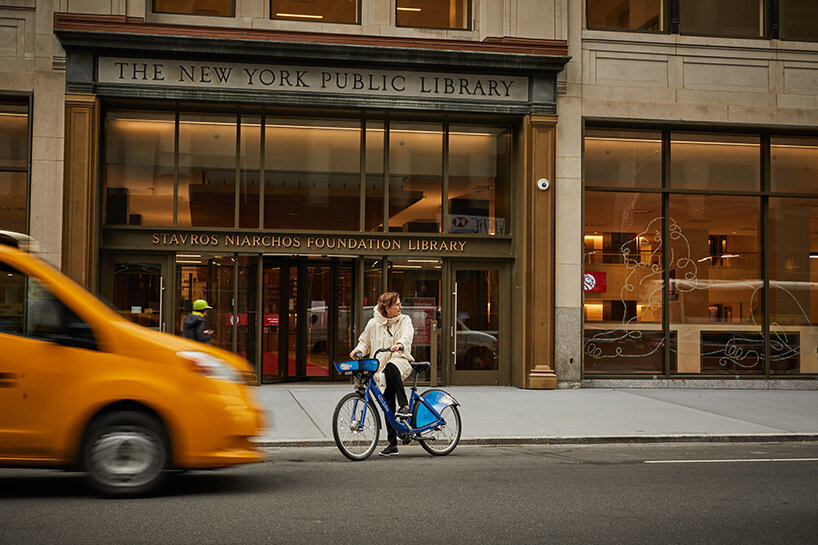 francine houben at the stavros niarchos foundation library | image © roger neve
DB: what role do architects have in ensuring a brighter future for our societies?
FH: I believe the human condition should be central to the future of design. we need to recognize the value of every individual, people's engagement with each other, or culture, or nature, or in many cases a combination of both. our attitude to earth needs to change, nature has an irreplaceable value and beauty. it's vital that we reconnect to it.
as country's borders turn inward, it's more important than ever to uphold the value of compassion, and knowledge-sharing to connect people to one another. the future is likely to bring more focus on the human scale, where the experience of each individual drives the design.
I think the concepts of public space and hygiene will become central in the future development of our cities and the connection with the countryside. mobility as we know will change. as the current pandemic unfolds, we see how our systems of support and supply are vulnerable to disruption and most of our networks have been exposed as inadequate. as I said previously, architecture is all about multi-disciplinary teamwork. now it's time for the design community to come together, we need cooperation to face the challenge and to prepare the next steps.
and maybe, just maybe, we need to realize that instead of the capitalist model of economic growth, happiness should be the goal for societies to strive for. design alone cannot change the global economic system, but it can help craft, step by step, a world that's happier.
philip stevens
I designboom
may 03, 2021
a diverse digital database that acts as a valuable guide in gaining insight and information about a product directly from the manufacturer, and serves as a rich reference point in developing a project or scheme.
designboom will always be there for you
milan, new york, beijing, tokyo

,
since 1999