francine houben, founding partner and creative director of dutch studio mecanoo, was a keynote speaker at the 2018 world architecture festival (WAF). the annual festival is the largest international, live architectural event, and includes the biggest architectural awards program in the world. the three-day event offers architects and interior designers the opportunity to celebrate, learn, exchange, and be inspired.
during WAF 2018, designboom spoke with houben about both the milestone projects which mecanoo debuted this year as well as those which have yet to come.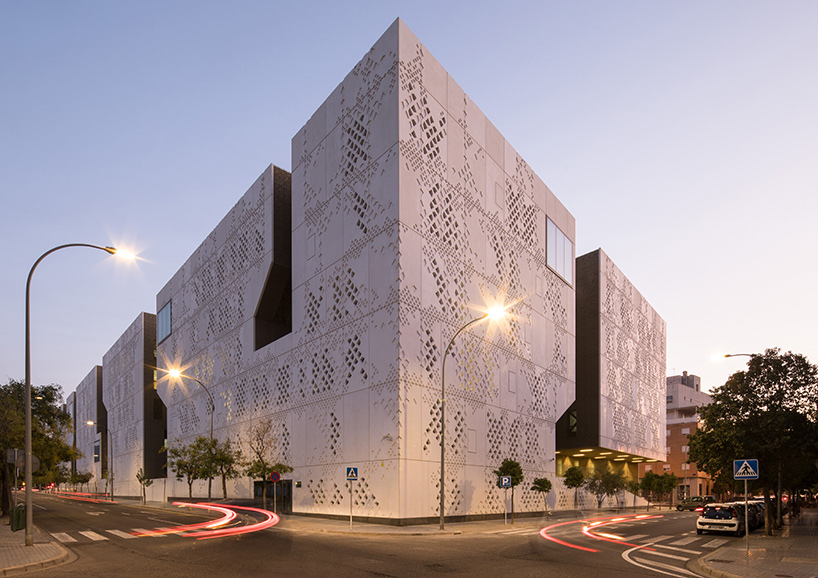 the palace of justice in cordoba was shortlisted in WAF's 'civic and community' category
image © fernando alda (also main image) | read more about the project on designboom here
designboom (DB): can you start by telling us about your involvement in this year's world architecture festival?
francine houben (FH): I gave a lecture, we presented the palace of justice in cordoba, and one of the mecanoos will be a member of the jury tomorrow.
DB: you recently completed the national kaohsiung center for the arts in taiwan. how challenging was the sheer scale of the project?
FH: that was a once in a lifetime experience I think. it was very challenging for many reasons because nothing was easy. at the same time we are really happy with it. I am also very happy because for the first ten years there was no operator. we had a client, but he was not the operator. so I am extremely happy with the leadership of the creative director and how he runs the building. for the first ten years I always felt that I was the creative director of the building.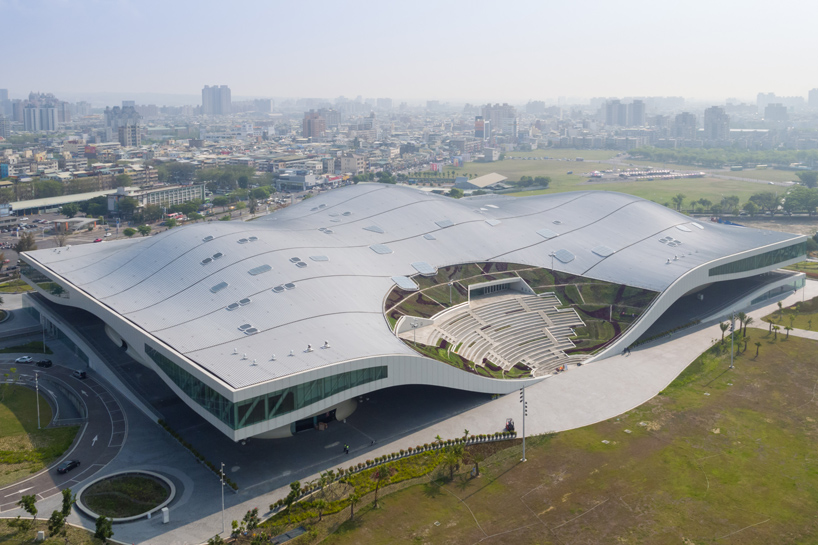 the national kaohsiung centre for the arts opened in 2018
image © iwan baan
DB: it's interesting to see how people have appropriated the building since its construction. what do you think of the unexpected ways the project has been used?
FH: it's so nice because the way people go there and roam around in an informal way makes it a destination of the city in a very poetic way. people don't need a theater or a show to go there, and we didn't expect that. it's been very well used and appreciated as a unique public space for the city. I saw people just hanging out there — and it had nothing to do with the opera houses inside. so imagine even if nobody goes to the opera, it's still a good building.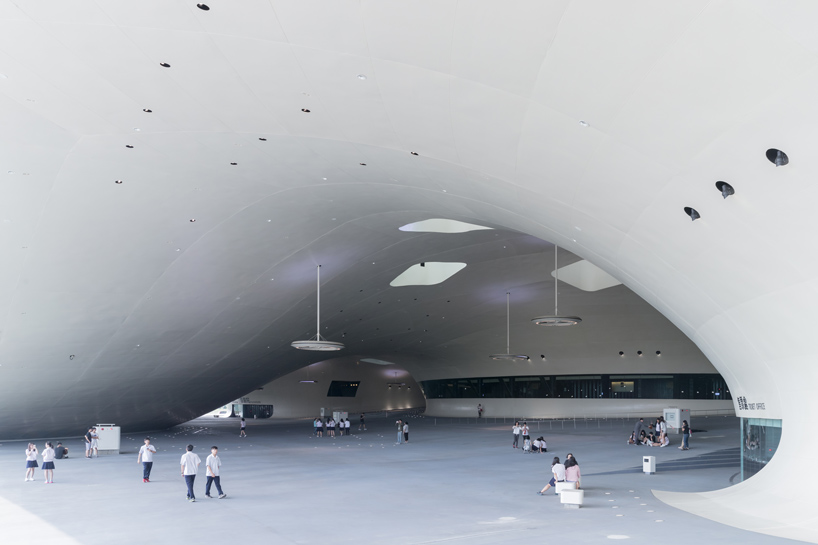 read more about the national kaohsiung centre for the arts on designboom here
image © iwan baan
FH (continued): it's also nice when you walk there because along the way it's 30-40 degrees celsius, but when you get there it's so cool and nice to walk around because of the natural wind. there is no insulation, the building simply captures the wind from the ocean. when you go into a building and the climate is suddenly very cold, when you go out it's too hot, too wet, and too warm. but here, because of the natural ventilation, you never suffer that shock.
mecanoo's masterplan for the new york public library
video courtesy of the new york public library | read more about the project on designboom here
DB: another project for your firm is the renovation of the new york public library. what was your brief for the project and how do you plan to renovate the historic building?
FH: it's two buildings, which are part of a campus: the schwarzman building and the mid-manhattan library. one is the research library with the huge archive, but across the street there is also the mid-manhattan library — the biggest in new york. we really balanced what activities should happen in what building so they are perceived as one campus. then we made a gut renovation of the mid-manhattan library and we moved a lot of functions into the schwarzman building — partly temporarily. the mid-manhattan library will open in 2020, but it's an ongoing process because it will never close down. you will see many things that you are not aware of because a lot of what we will do will be so subtle.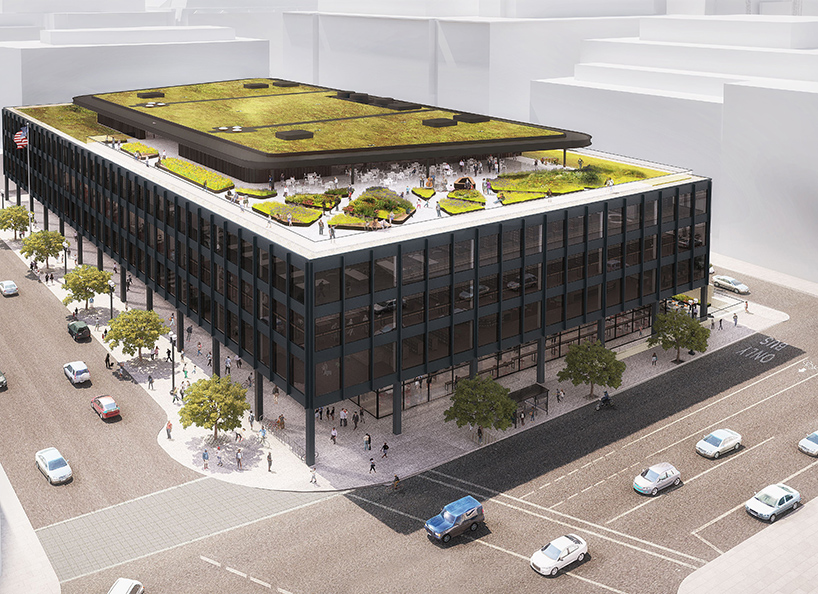 mecanoo is overhauling the mies van der rohe-designed library
image © mecanoo | read more about the project on designboom here
DB: you are also developing plans for the martin luther king memorial library in washington. can you explain a bit about the project and give us an update on its status?
FH: it started maybe four or five years ago, but the nice thing is that it will open at the same year as the mid-manhattan library — so I will be able to visit both buildings next week. they are almost now in a similar state. the mid-manhattan went very quickly and the martin luther king has a yearly budget from the city so they can not progress very quickly.
DB: what is the main difference between working in america and in asia?
FH: every country is different — every city is different! even just working in new york and washington is already very different.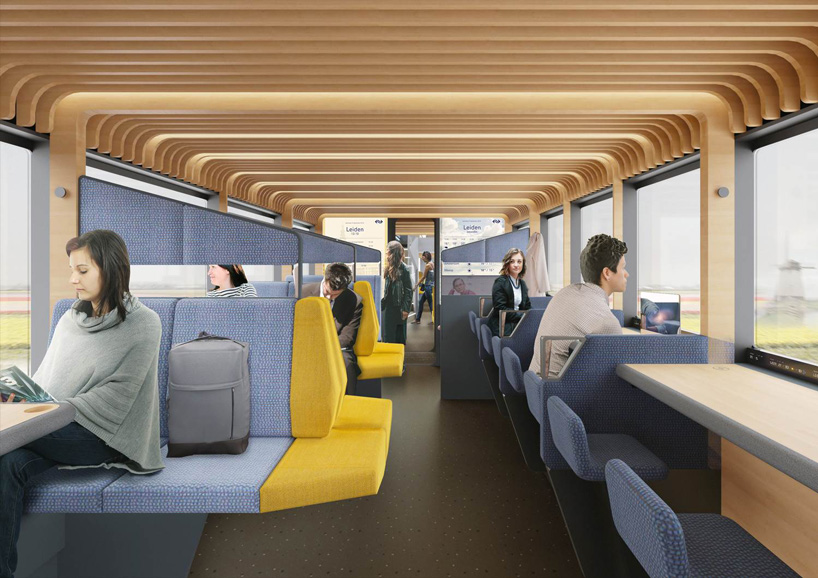 mecanoo designed modular interiors for dutch 'trains of the future'
image © mecanoo | read more about the project on designboom here
DB: what other projects are you particularly excited to be working on?
FH: we are designing the concept for a new national park in the netherlands. we are combining existing landscapes into one experience for users. we also did the interior of the 'train of the future', which is really interesting to me. I have done a lot of research on mobility, so mobility and libraries and trains all together works nicely. we have also been working on the renovation of the dutch national bank. it's a mid-century modern building and we have to give it new life.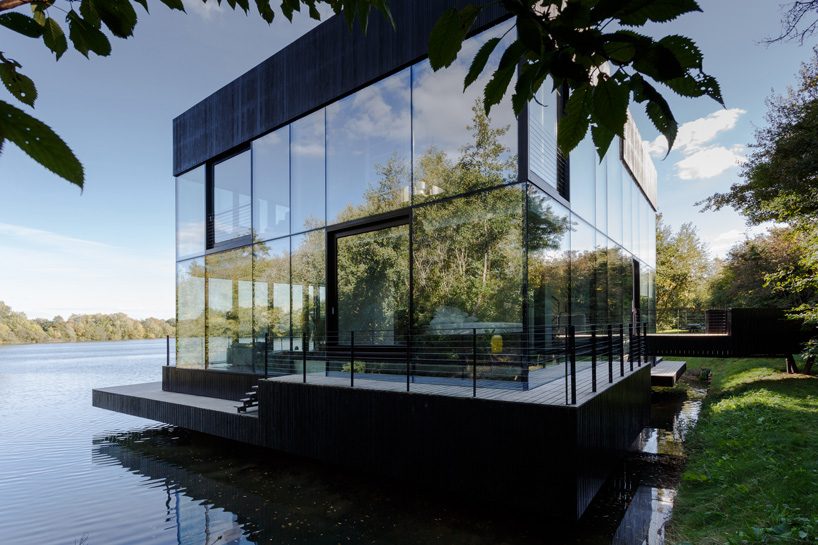 mecanoo designed this glass and burnt wood villa on the waterfront of a british lake
image by mariashot.photo | read more about the project on designboom here
DB: how do you assess the current state of architecture?
FH: I think it's an interesting period. we have an enormous task on our shoulders, but I think urban planning is maybe more important. all these issues about climate change, sustainability, singularity, creating healthier environments, a lot of them relate to materials at an architectural level, but also a lot of them are at a more strategic level of urban planning — so it's an interesting period. collaboration is extremely important, the exchange of knowledge, because nobody has all the knowledge. it's very complex.
DB: I think that some years ago architects had the tendency to erase the identity of the place, and now we are going back…

FH: for me, that's been my own philosophy and has been for 30 years. the big issue worldwide is affordable housing, especially in wealthy cities. you have to be careful that architecture is not a luxury thing. so I really wanted to make a building that is built like a cargo ship and not a luxury yacht. it should feel that it's welcoming to everyone and not a luxury project.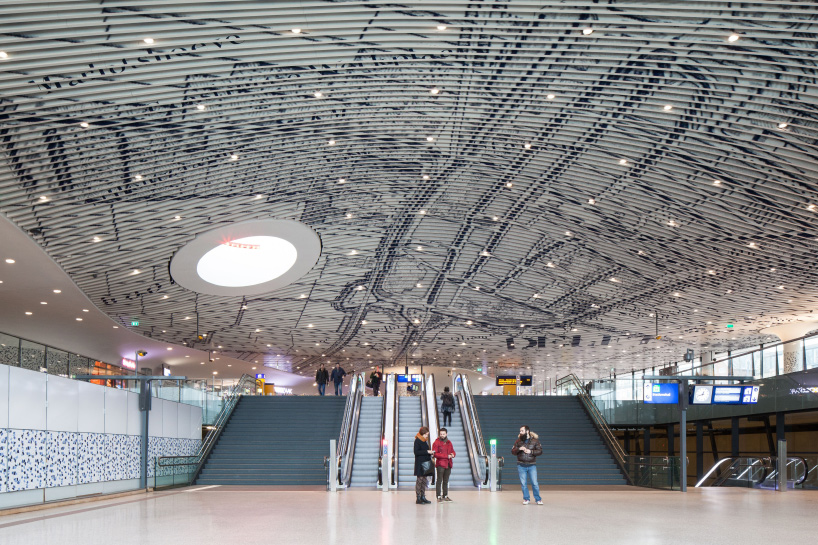 mecanoo completed delft's city hall and railway station complex in 2018
image © mecanoo | read more about the project on designboom here
DB: how do you feel about being a woman in a male-dominated field?
FH: I was born like that — I have many brothers. my younger sister and I were dominated by the men in the house! (laughs) it has always been part of my life. it will change, and hopefully I will be an inspiration to a younger generation. I am still from that generation that is very much male dominated, but I just wanted to be a good architect. I do want to have enough women in my office.
for me it was not difficult to be a woman, but to be a mother and an architect at the same time. it's such a hard job. it's more than a full time job — it's 365 days a year, 24 hours a day and that's not a normal job. even in education it's not normal what's happening. there is a culture in architecture schools that if you're an architect you don't sleep, you don't eat, you don't need to earn money and it's not good. we are human beings and we should be more involved with society, but that's another story.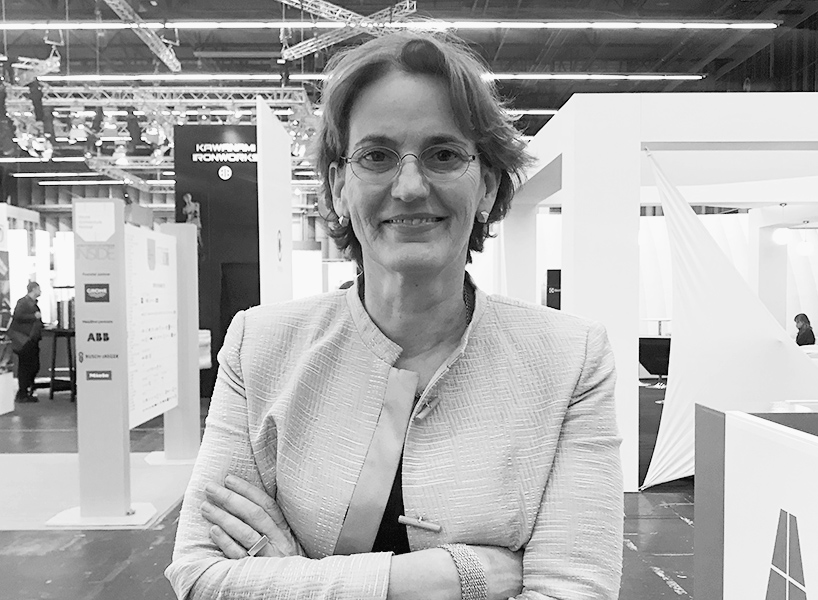 portrait of francine houben | image © designboom

world architecture festival (WAF) is the largest, annual, international, live architectural event. it includes the biggest architectural awards programme in the world, dedicated to celebrating excellence via live presentations to an audience of high-profile delegates and international juries. WAF is a three-day event for architects and interior design professionals to celebrate, learn, exchange, and be inspired. the 2018 world architecture festival is held in amsterdam and comprises 5 key elements: the WAF awards; a thematic conference programme; an exhibition of award entries; sponsor and exhibitor stands; a series of networking/social events, as well as WAF fringe activities. INSIDE world festival of interiors runs alongside WAF, with its own awards and conference programme.
a diverse digital database that acts as a valuable guide in gaining insight and information about a product directly from the manufacturer, and serves as a rich reference point in developing a project or scheme.
designboom will always be there for you
milan, new york, beijing, tokyo

,
since 1999