fernando romero at his office in mexico city
portrait © designboom
it has been announced that a collaboration between foster + partners, FR-EE (fernando romero enterprise) and netherlands airport consultants had won the international competition to design mexico city's new international airport.
designboom spoke with fernando romero who gave us exclusive insight into the process behind the winning design and the ongoing collaboration between FR-EE and foster & partners.
designboom: please could you tell us about the competition process?
fernando romero: for a while now the mexican government has wanted to build a new airport in the city, but currently no architects in mexico have the experience of designing a large-scale airport.
serrano [arquitectos] did a good job with the new terminal at the the current mexico city airport but the government felt that the city needs a bigger and better airport for the future – and that a mexican firm should be involved in the design.
eight local offices were invited to enter the competition and each were asked to partner with an international architect (of their choosing) who had experience of designing and building large-scale airports.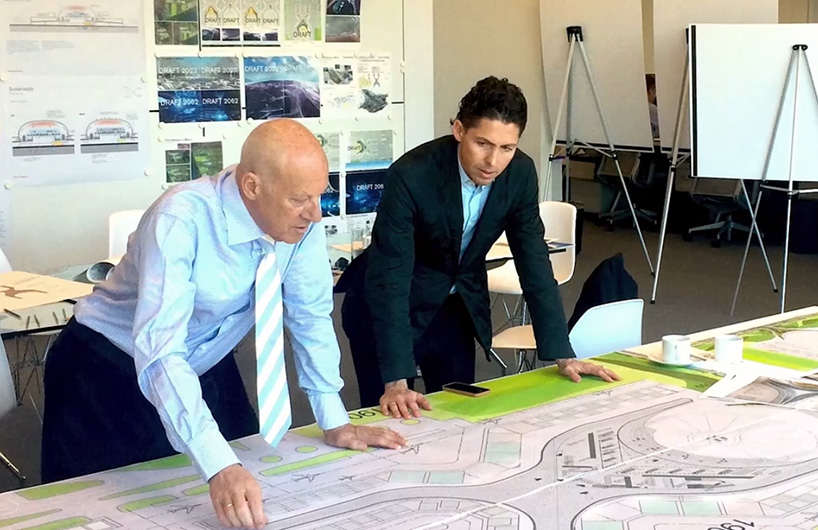 lord norman foster and fernando romero
DB: what made FR-EE want to work with foster and associates?
FR: in this case it was a necessity to collaborate, but I have always believed that collaboration is the process needed to arrive at the most impressive solutions. whether it's working with fellow architects or people from other fields – the process is much more rewarding, and therefore the end result.
last year norman foster was interested in visiting the FR-EE office in new york to see our work and meet with us. I showed him our work and we had a very good conversation where I mentioned to him the idea of collaborating should the chance arise and he seemed positive towards the idea.
when FR-EE was invited to the airport competition I talked again to norman and he agreed for foster & partners to collaborate with us on the project. from that point began a very intense process that's been almost 9 months long.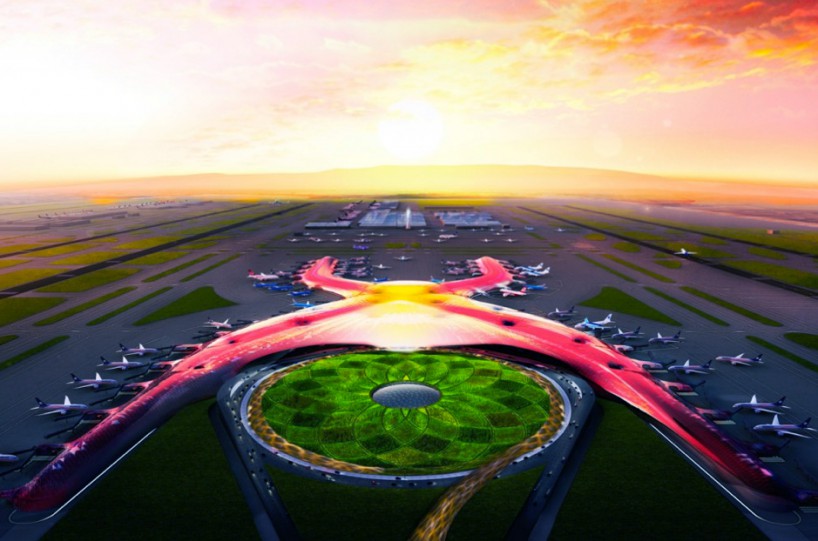 render showing the new airport for mexico city
render courtesy of FR-EE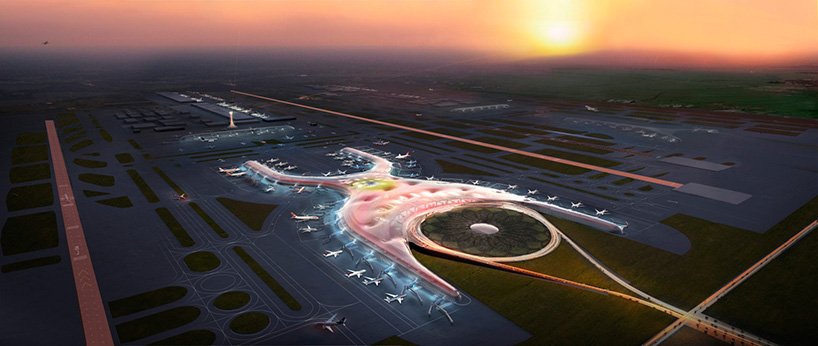 the airport will have six runways
render courtesy of FR-EE
DB: how has the experience of working with norman foster been so far?
FR: the potential of what you can learn from spending time with norman foster is endless – not only because of who he is as an architect and what he's achieved in this field but also because of the way he is – on a personal level.
in terms of his experience with airports he's unparalleled. he's not only managed to successfully design and build airports all around the world but also break with conformity and improve on what the standard approach is that most practices follow.
if you look at his innovations and the quality of the finished airports he's worked on it's incredible. that's what we want for this airport and that's why there's no doubt in my mind that norman and his team are the best people we could have wished to collaborate with on this project.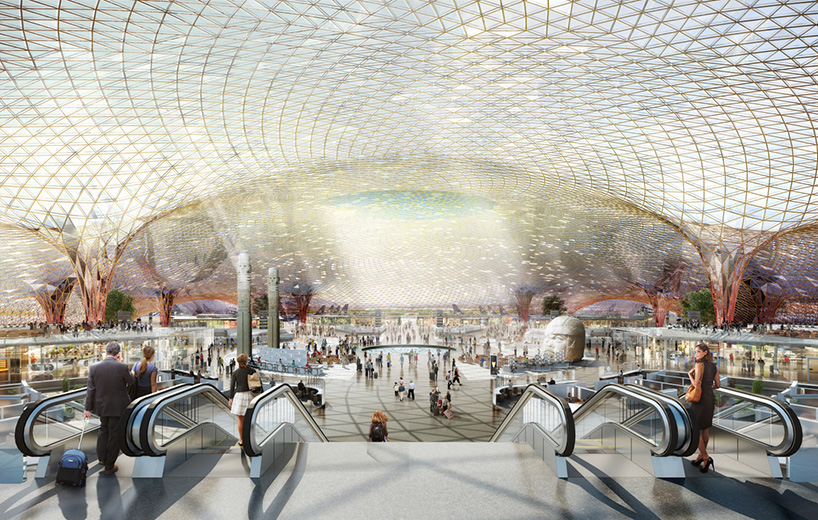 interior – 120 million passengers will use the new airport annually that's four times more than the current building
render courtesy of FR-EE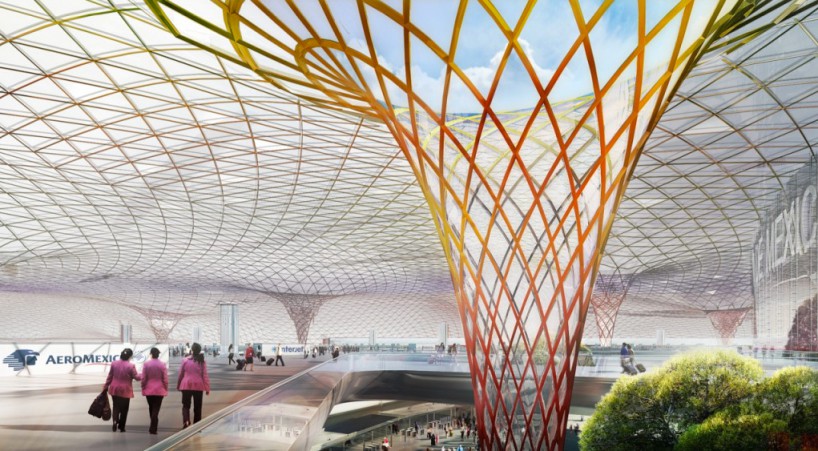 a lightweight structure that will be made locally forms a seamless envelope over the facility
render courtesy of FR-EE
DB: what objectives were you given by the government for the airport and what goals did you set yourselves?
FR: the government asked us to design a master plan for an airport with two terminals, that was sustainable, on budget and that would work on the site [lake texcoco, mexico city].
we set ourselves three goals; one, create a single building that responded to the needs of the site. two, arrive at a solution that captured the character of the regeneration mexico is undergoing. three, create an airport that was surprising and unique.
the first thing we worked hard at was to design a single building for the site rather than two, which would eliminate the need for a train (something that would be very difficult to build on the type of land at the site). a single building also reduces the distance between gates and facilities and makes for a more economical and sustainable solution.
the architecture takes cues from the eagle on top of the rock devouring the serpent, one of the most prominent symbols in mexico – as depicted on the national flag. a lush cactus garden announces the entry to the terminal with the access road weaving like the form of a snake. the terminal evokes the eagle with its wings opening to take flight.
the design looks like no-other airport in that all the workings of the building, the utilities and so on are hidden beneath the building – wrapped in a beautiful, seamless skin that creates a sense of monumental scale for travelers from both the outside – when they are arriving and on the inside – looking across the generous open spaces of the terminal.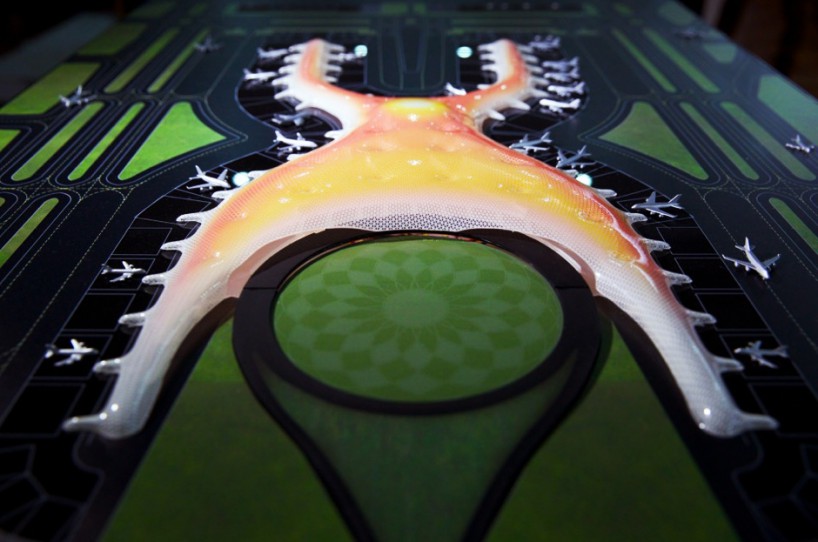 presentation model of the airport
photo courtesy of presidencia de la república, méxico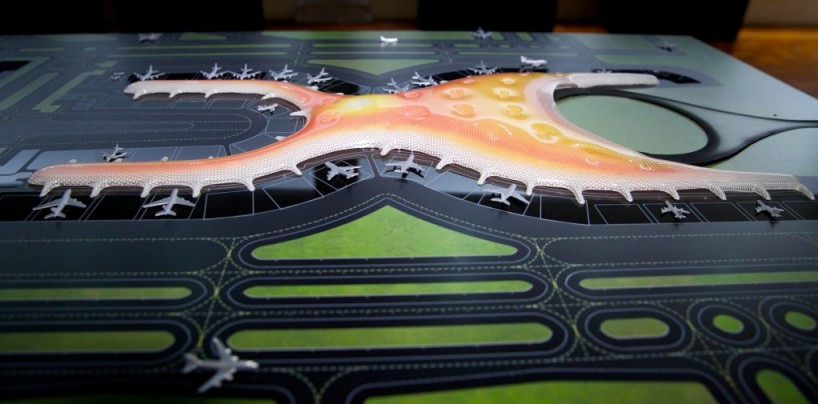 presentation model of the airport
photo courtesy of presidencia de la república, méxico
DB: please could you elaborate on the form and aesthetics?
FR: at the beginning there wasn't any ambition to achieve a certain form or aesthetic, the look of the building is a result of trying to create an single envelope structure that would work on that scale, on that site and using local materials.
of course, you look to history to see how things have been resolved, and you see that buckminster fuller was able to create these beautiful thin skins that could efficiently cover vast spans – these were part of the discussion.
with a traditional airport you almost always find that they look like a warehouse on the outside even if they look great inside. the roof of an airport tends to be full of generators and other machinery – all designed by different contractors and it never looks good.
what we wanted to achieve was a stunning continuous envelope that performed well in every way; it will provide lots of natural light and artificial light where needed and can also block-out light. this structure will be very lightweight and able to adjust to the instability of the land better than a heavy, rigid solution.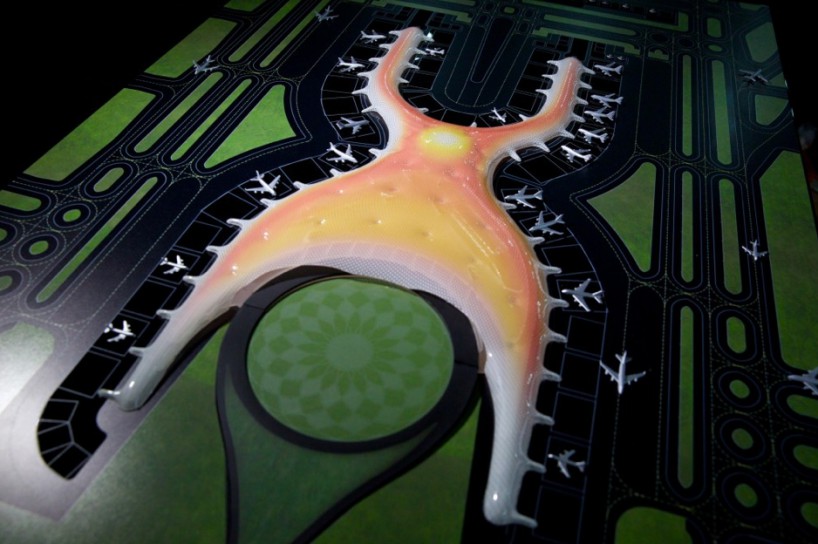 presentation model of the airport
photo courtesy of presidencia de la república, méxico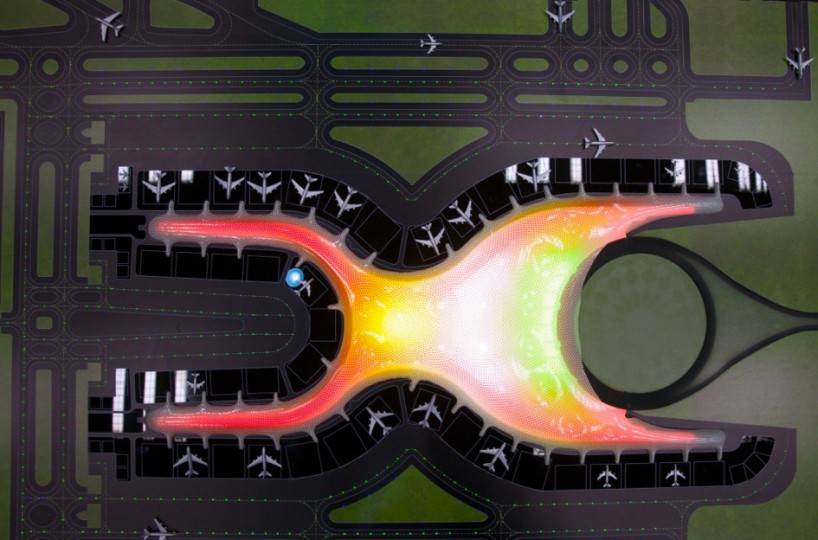 presentation model of the airport
photo courtesy of presidencia de la república, méxico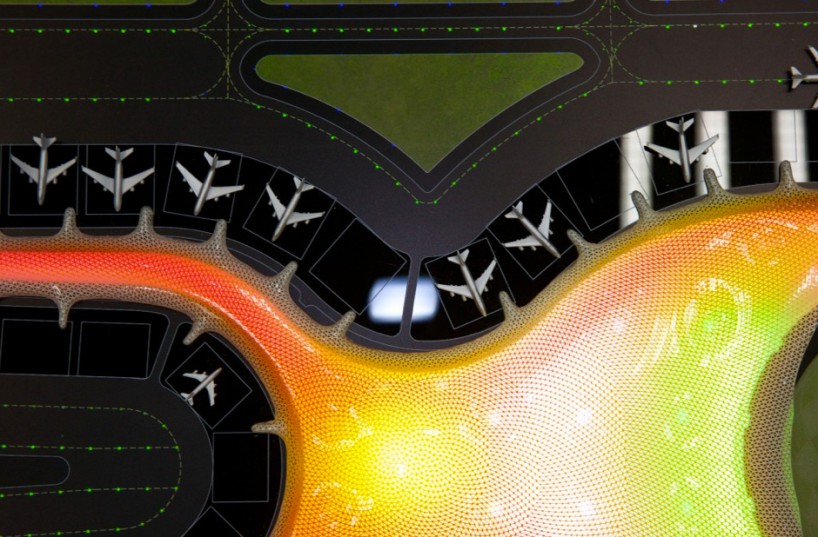 presentation model of the airport
photo courtesy of presidencia de la república, méxico
DB: you said that you hope the building can become a representation of mexico's new identity?
FR: this project is something that has been discussed for a long time in the country and it speaks highly of the current government that they are ready to back the project and make it happen finally. furthermore a radical solution has been chosen – this proves to me that we're already in a new and exciting moment for the country.
in my view architecture is always a translation of a social, political and economical moment – right now our country is in a moment where courage is needed to solve our problems. this airport is part of a long term vision for an improved mexico that has a strong unique identity. this building will be the first and most visible representation of mexico in this new era.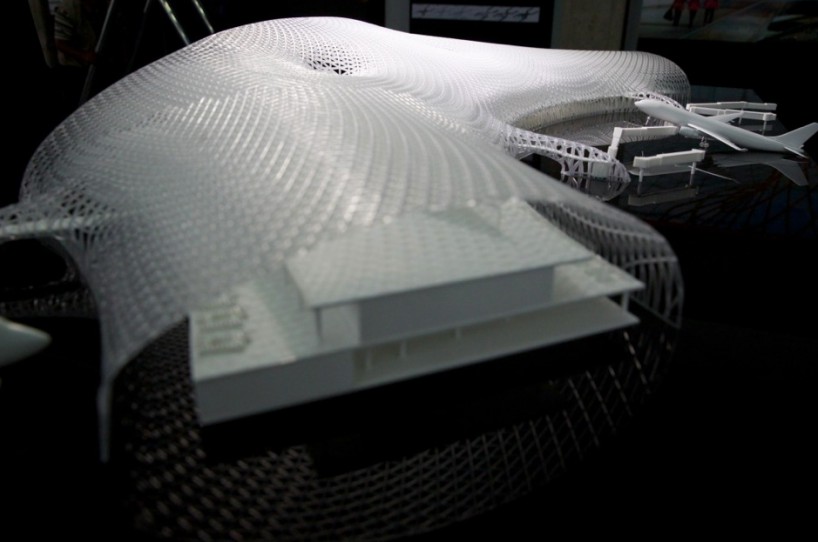 printed model of the airport roof
photo courtesy of presidencia de la república, méxico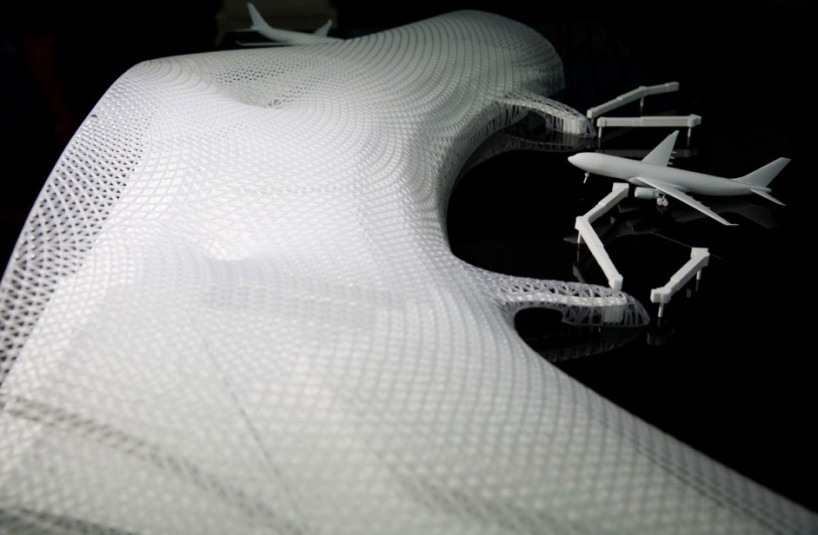 printed model of the airport roof
photo courtesy of presidencia de la república, méxico
DB: what are the next steps for the project?
FR: dates still have to be defined as you can imagine with a project of this size and complexity. it's a definition process, we have to make decisions on how best to resolve every detail, step by step until the building is realized.
at present the work is being shared across the FR-EE and foster offices but eventually a full-time team from both practices will be assembled here in the FR-EE mexico city office, dedicated to realizing a world-class building that will be the physical translation of a new moment in mexico.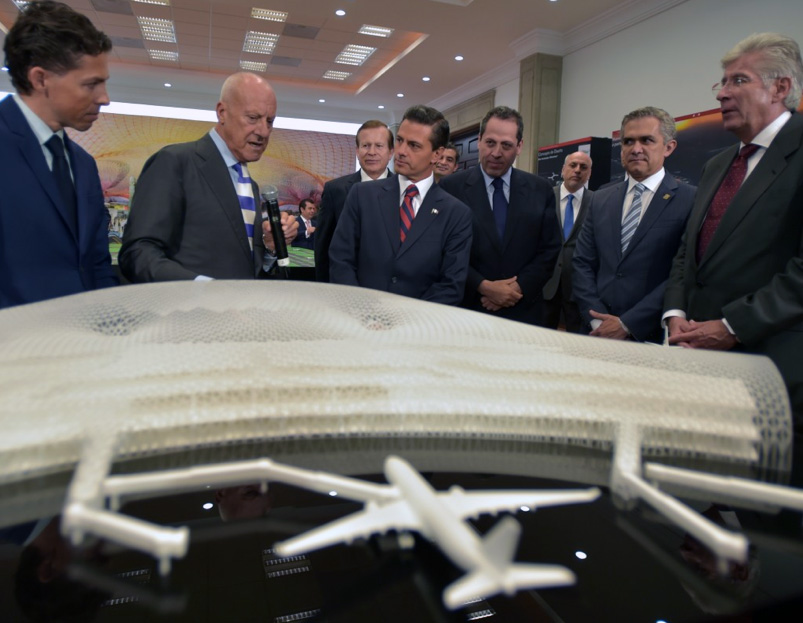 fernando romero and norman foster present a model of the new airport to the mexican president peña nieto
photo courtesy of presidencia de la república, méxico
more
at 555,000 square metres, mexico city's new airport will be one of the world's largest. conceived with foster + partners engineering team, the project revolutionizes airport design – the entire terminal is enclosed within a continuous lightweight gridshell, embracing walls and roof in a single, flowing form, evocative of flight. work will start on the new building early next year and it is expected to be completed by 2018.
see designboom's previous article on the project »
a diverse digital database that acts as a valuable guide in gaining insight and information about a product directly from the manufacturer, and serves as a rich reference point in developing a project or scheme.
designboom will always be there for you
milan, new york, beijing, tokyo

,
since 1999