next month, michel rojkind, one of today's most influential architects, will join reSITE 2018 in prague to explore and rethink new models and design approaches for the future of housing. among 50 international speakers, rojkind will be joined by a host of industry leading names, including sou fujimoto, jeanne gang, OMA's reinier de graaf, and the creative leaders of MINI living.
designboom is a main media partner of reSITE ACCOMMODATE, which will take place in prague on june 14-15, 2018. martin barry, founder of the architecture and urbanism platform reSITE, spoke to michel in advance of the event, and discussed a range of topics including scale, luxury, and the challenges of working around the world. read the interview in full below, and find out how to get your pass for the event here.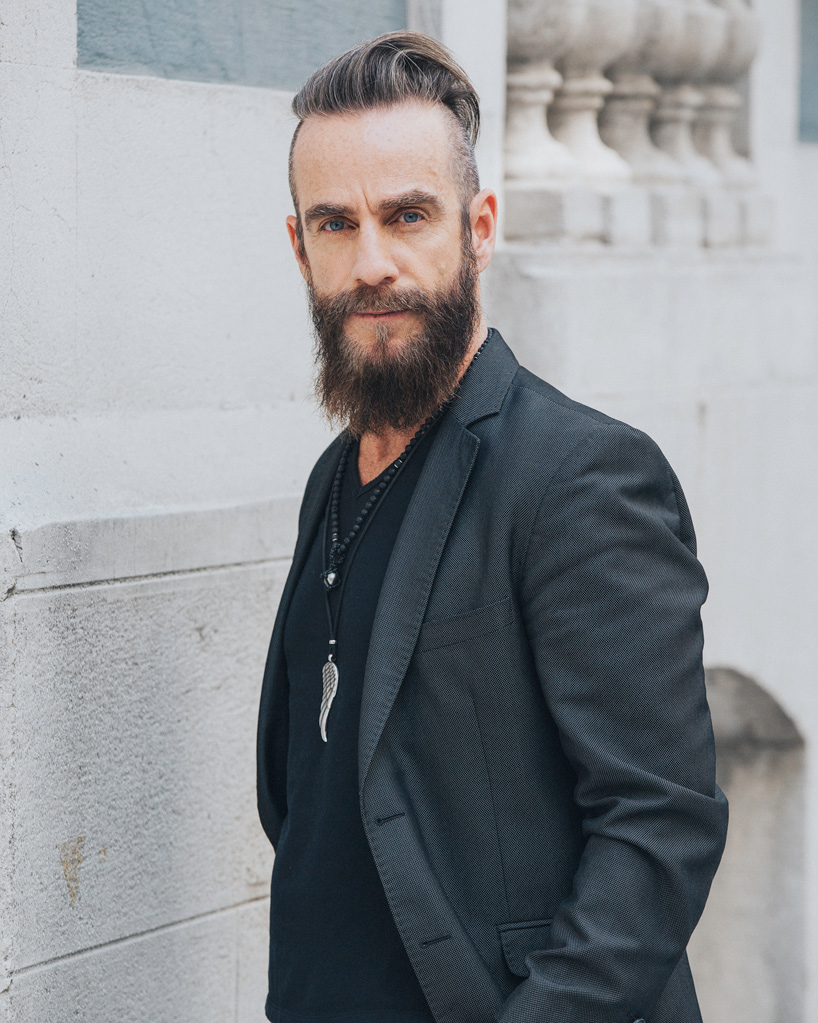 michel rojkind will speak at reSITE 2018 in prague
image by santiago ruiseñor
martin barry (MB): you will speak at reSITE 2018 ACCOMMODATE, a global forum focusing this year on housing. are you observing any changes in lifestyle that influence the way you design residential projects?
michel rojkind (MR): far too often, architecture focuses on criteria of structure and tectonics only. but the principles and values of our society are shown and reflected much more by programmatic compositions, not by the shapes or materials of a building. this is a matter that does not tend to predominate in architectural discussions. yet it should. we should be questioning this traditional architectural practice accustomed to programming behaviors in a society that we perceive as un-programmable. in the case of residential, which family? dad+dad family? mom+mom family? single divorced mother with two children? shared-living for elder people? etc… what are these new programs that should be taken into consideration? and how do they manifest physically in architecture and their cities.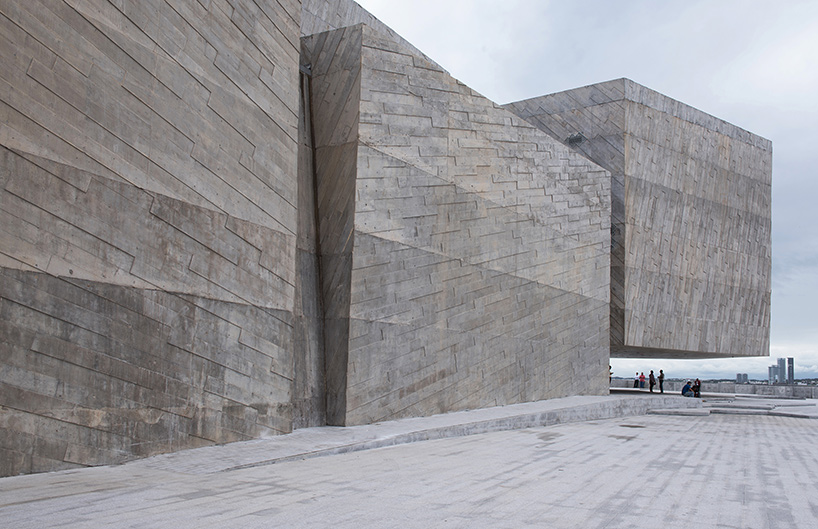 see designboom's previous coverage of 'foro boco' here
image by jaime navarro (also header image)
MB: cost of living is one of the most pressing issues for today's cities. are there ways to mitigate cost of living in some of your residential projects? is it ever part of the client brief?
MR: it is normally not part of the brief, but we try to make our clients aware of the responsibilities we have as a community. how can high-end subsidize low cost housing? how can we engage more in stitching back the broken fabric of our societies? how can affordable housing be inside the cities and not sent to the borders of the cities? we have to keep on pushing for additional balance and equality.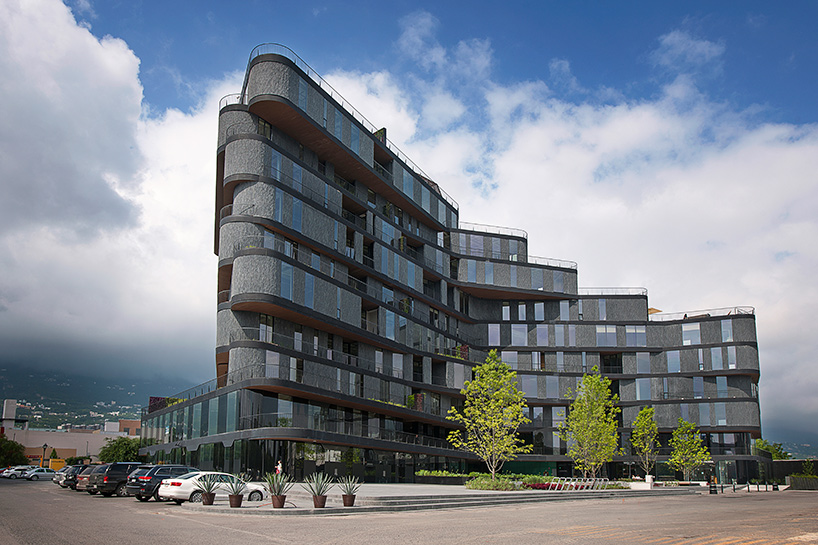 'high park' is a high-rise residential building in monterrey
image by jaime navarro
MB: on the flip side, speaking about cities, has the concept of luxury changed? and what will be considered luxurious 20 years from now?

MR: the concept of luxury has definitely changed over time. for younger generations luxury is no longer about possession and more so about experiences. the shifting focus towards experiences over material things. this may be partly due to the view that experiences are harder to commodify: meaning they are more likely to be authentic. travel to remote parts of the world, and memorable interactions with genuine people, represent a kind of rarity that is irreproducible. this will translate in what experiences can cities produce in terms of fully understanding their geographical landscape, cultural and historical assets.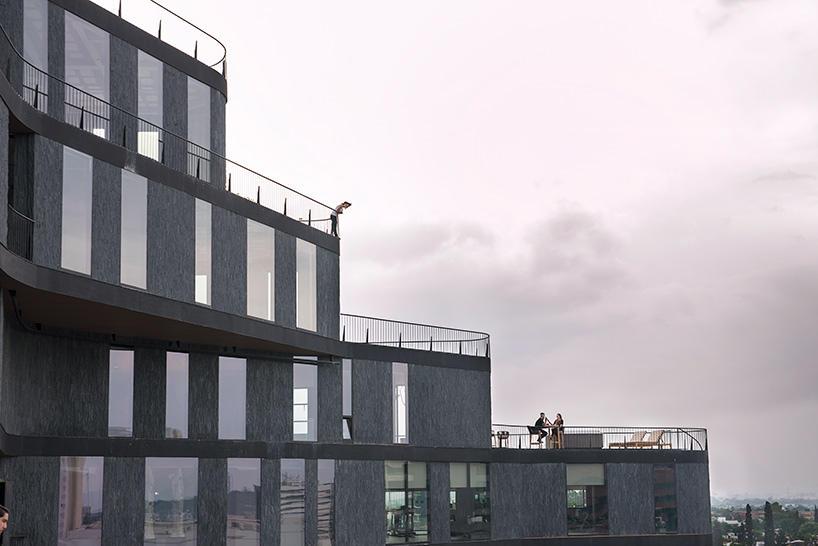 see designboom's previous coverage of the project here
image by jaime navarro
MB: I couldn't agree more. And, this is a related question: In residential projects, how do you integrate private and the public pace, or shared space?
MR: since residential projects (single family housing) are one of the most intimate projects you can design, it becomes more important to understand who you're designing for. how does that family live and interact with each other? are they more introverted than extroverted? do they receive a lot of friends and visitors? we have to remember that we need to be creative with a design that fits their real life, not the expectation of a life they want to live — and the latter is the more common. if a family is growing and is aware of their needs, that's perfect, but fantasizing on a life they don't have, and designing for that, can lead to a wrong approach. in residential buildings we always look for what that building can give back to the community: how does the pedestrian level integrate to the base of the building? does our building add value?

'cineteca nacional', published on designboom here, expands an existing film complex in mexico city
image by paúl rivera
MB: in what ways is designing residential projects in latin america, europe, and asia different?

MR: at rojkind arquitectos we are always aware of the local crafts and their special aspects that will add to a contemporary but regional project. which countries have more technological processes for fabrication? how can we create a perfect balance between digital design and local fabrication? can the process of building a project result in a learning process for the community? as I said before, we have to be a very aware of each country's social growth and quotidian lifestyles: how are they different from other countries and their customs? if we are aware of that in the design process, and we bring different experts in different fields to have a stronger team, then the result will be more accurate, and will have more understanding of its own adaptability.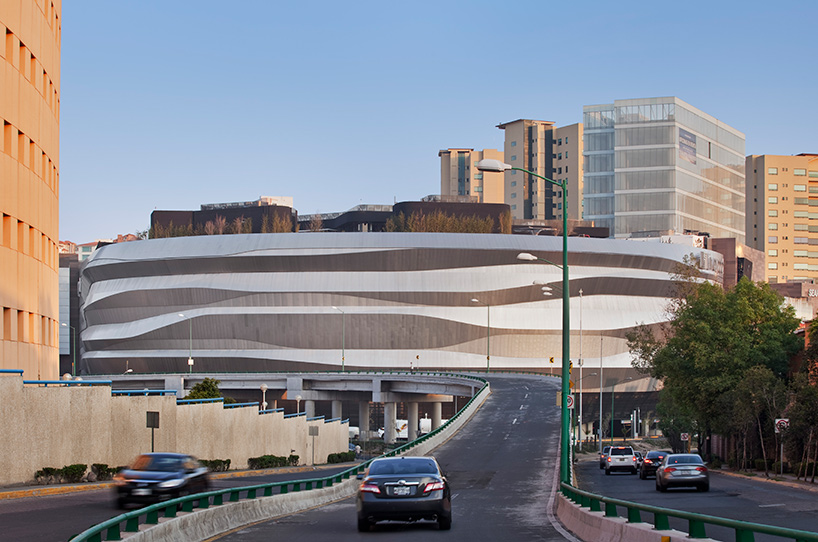 the 'liverpool interlomas' department store has a sleek stainless steel exterior
image by paúl rivera
MB: architectural design and urban design can sometimes follow conflicting strategies. how do you manage to keep a balance while also planning sustainable urban development?
MR: creating a balance between architectural design and urban design is also a design strategy. that's why we put together a group of specialists in different fields to work on the best results possible for each project. these issues cannot be dealt with only by urbanists and architects; in our experience it has required sociologists, anthropologists, industrial designers, landscape designers, experiential branding experts, financial specialists, and sometimes lawyers to deal with public policies and other issues regarding city planning. but you have to want to get involved otherwise it just becomes a matter of designing a building in a plot totally isolated from the origin of the bigger idea.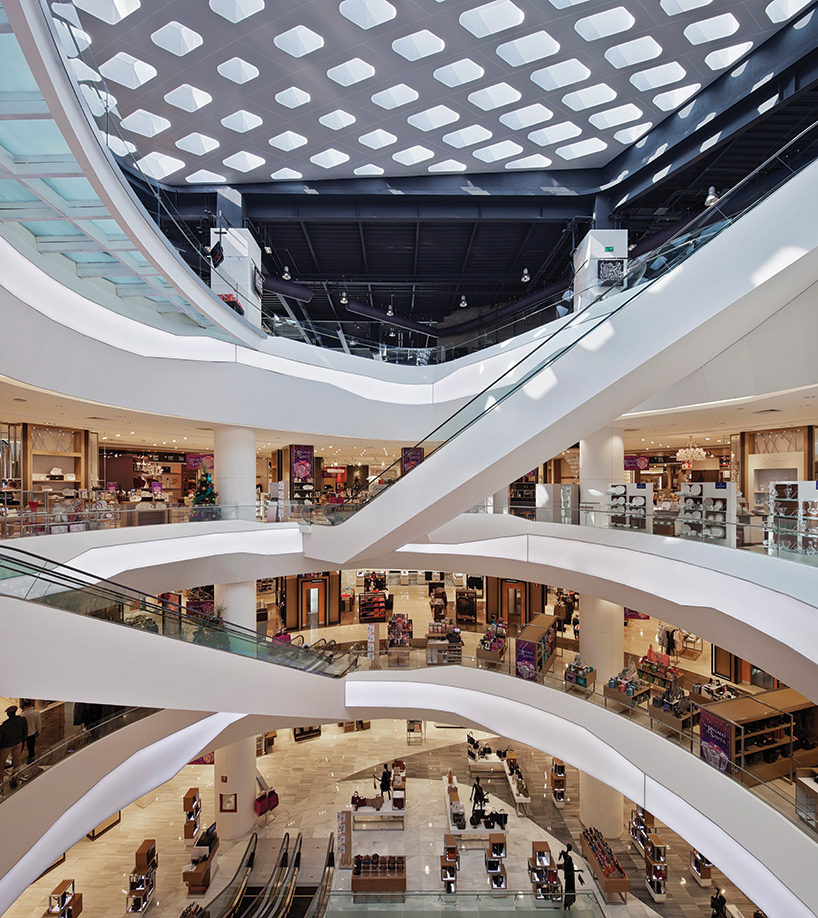 see designboom's previous coverage of the project here
image by paúl rivera
MB: if you had to advise today's architecture students on residential architecture, what would be your first piece of advice?
MR: always be curious and look around you: how has society changed over time? what are people doing, how are they interacting and living now? where are the new tendencies of interaction heading for in terms of gathering spaces, working, and living? this all adds to the people you'll be designing residences for. so again, in order not to repeat programmatic spatial patterns that haven't changed over time, see how they need to change. how do we live today? do these spaces relate to contemporary society or are these models outdated?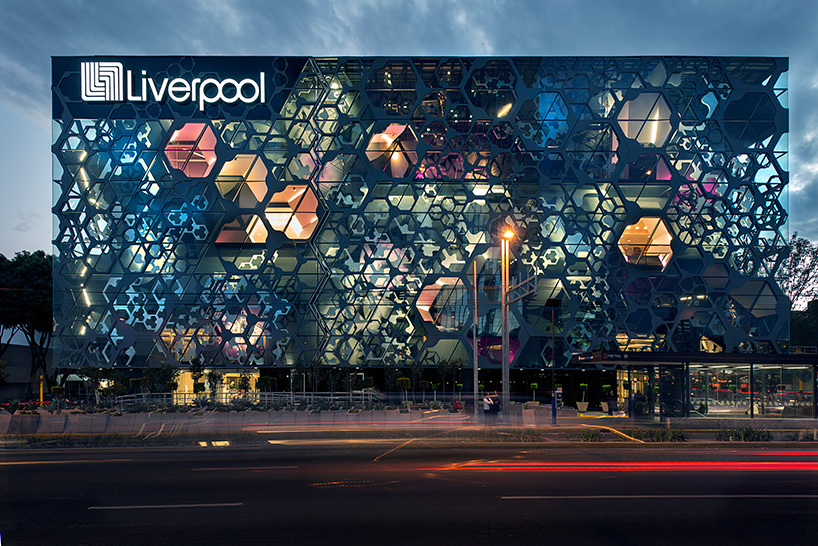 'liverpool insurgentes' is a department store in the mexican captial city
image by jaime navarro
MB: what is the size of your workplace and what do you consider to be a comfortable size for a bedroom?
MR: the current size of my workspace, if I'm not sitting down at the studio with my team, is a 5 x 3.6 meter space with three large windows. a comfortable size for a bedroom for me is 4 x 4 meters, also with a large window and cross ventilation.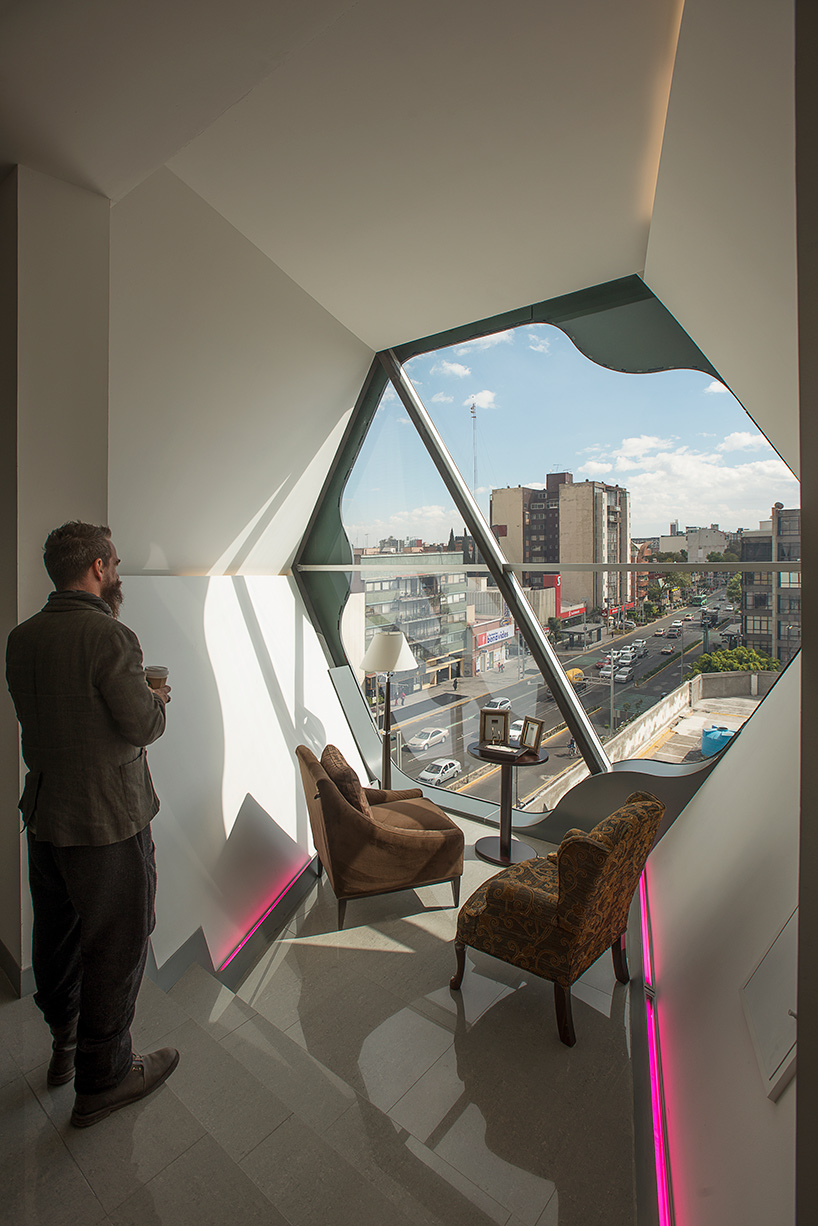 the project features a porous, habitable façade
image by jaime navarro
MB: your portfolio has a huge diversity from residential buildings to big public spaces like foro boca or cineteca nacional. what is your preferred scale in your design work?
MR: we have no preferred scale. we want projects that are challenging and that always look for a way to give to society. we always bring in additional thinkers to help us reprogram the original program asked for by the client and we look for the best results possible.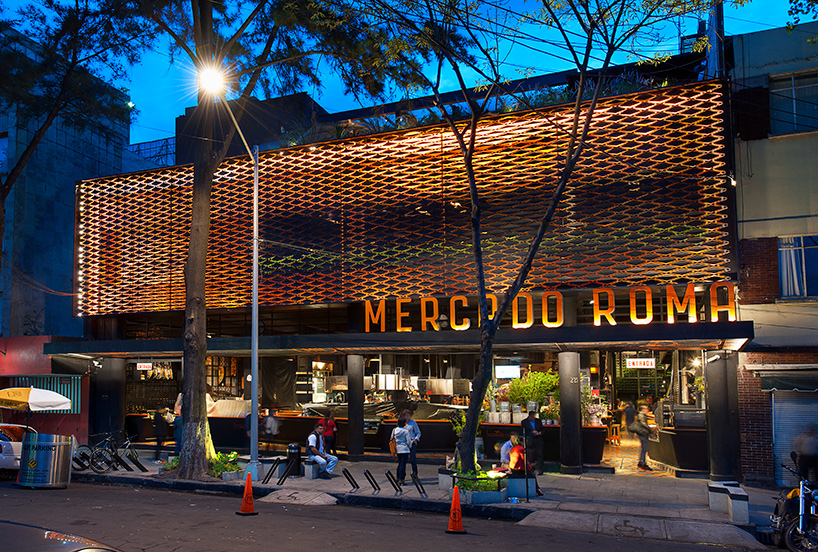 'mercado roma' is a restaurant that places a great emphasis on community
image by jaime navarro
MB: as a multi-talented artist, do you think that an interdisciplinary approach has become necessary for urban design? how has architecture changed throughout your career?
MR: I think that today, having an interdisciplinary approach to design is an obligation. if you are 'willing' to collaborate openly, then you will learn in the process, and that goes for the whole team. the conversation on the possible scenarios for the outcome of each project is more solid through the knowledge of the different minds. this is how the role of the architect has changed, we need to be more collaborative. today's world needs great interdisciplinary teams collaborating for projects that add value to communities; we need to talk more about shared responsibility in the cities we are building and their buildings.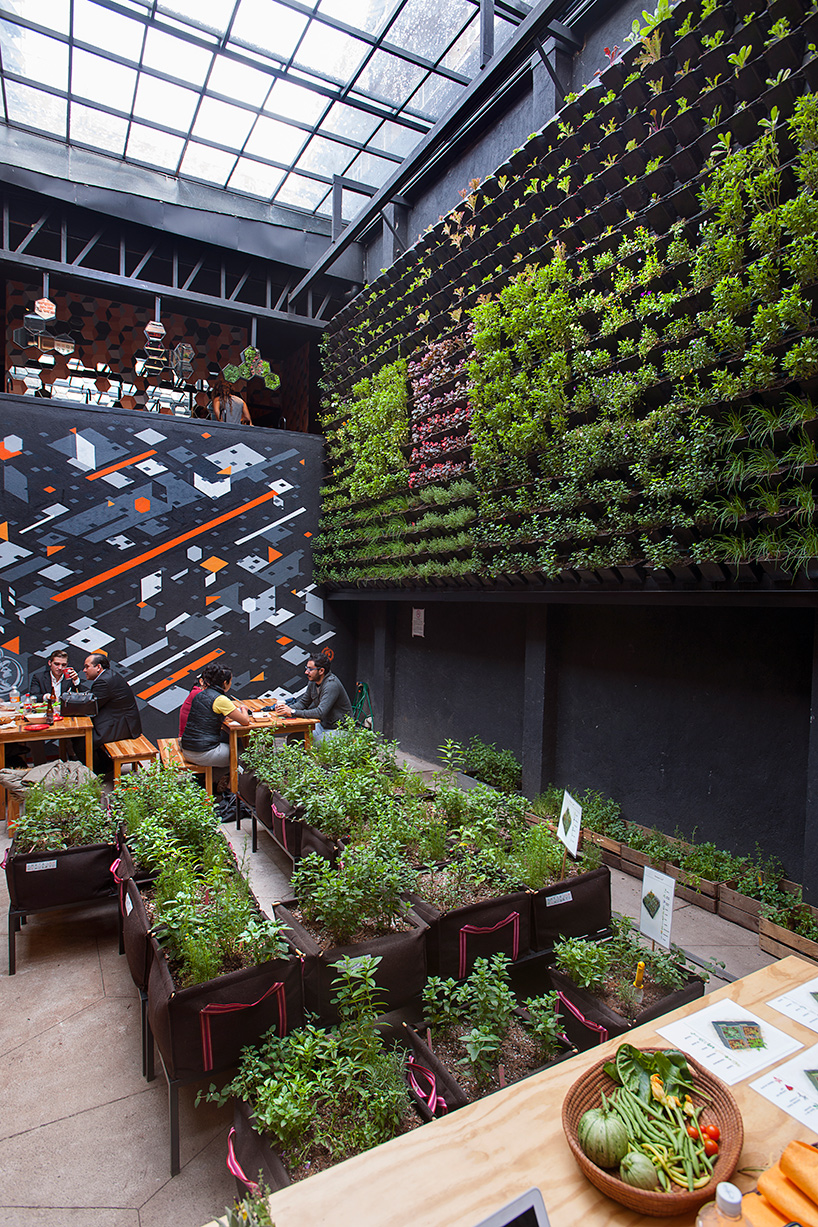 the venue is designed to gather selected partners and vendors so they can offer their best products
image by jaime navarro
MB: as a runner and an architect, what is more interesting: discovering new places or sticking to a known path?
MR: always, always, always discovering new places, but also come back to re-discover known paths with fresh eyes in a different time of my life.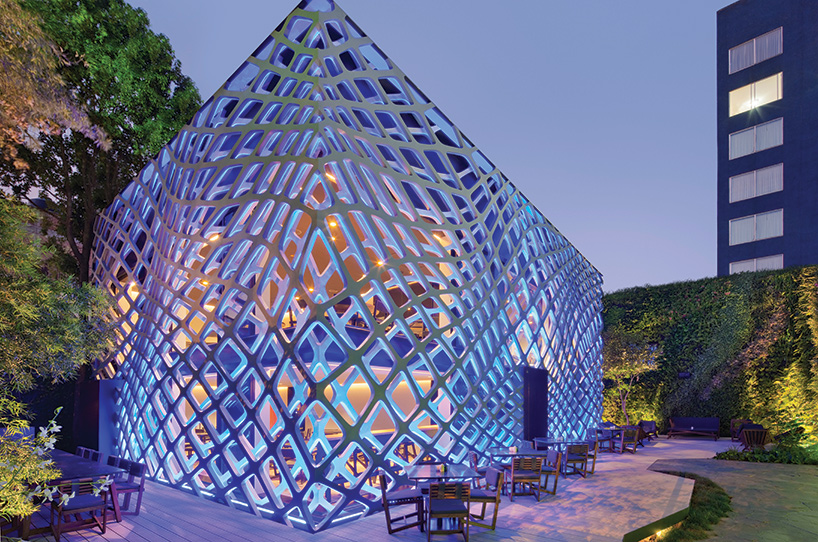 'tori tori' is a restaurant in mexico city
image by paúl rivera
MB: what would you be if not an architect?
MR: since I already played professionally in a band, I think I would love to explore a phase in my life doing films as a filmmaker.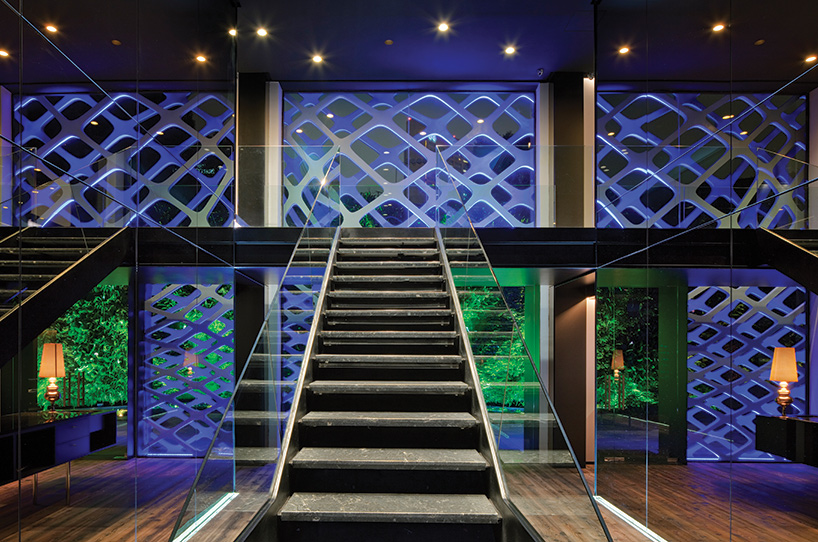 see designboom's previous coverage of the project here
image by paúl rivera
MB: when you work on a project, do you have any mania or obsessions?
MR: making sure that problem is asking the correct question before coming up with answers. also making sure we bring on board the correct minds for each project, and that there is added value at the end result.
MB: muchas gracias, michel. respeto. we can't wait to see you in prague. folks, register via reSITE.org!
reSITE 2018 will celebrate design, development, and positive impact on quality of life in cities

reSITE 2018 ACCOMMODATE is a flagship international conference and annual summit celebrating inspiring design, development, and positive impact on quality of life in cities. the world-class occasion brings together thought leaders, mayors, architects, planners, investors, artists, and activists from around the world. guests at reSITE 2018 ACCOMMODATE include jeanne gang, sou fujimoto, michel rojkind, OMA's reinier de graaf, and MINI living. the event's seventh edition will focus on the future of housing and the housing of the future, and will present 50 international speakers from 30 countries on june 14–15, 2018 at prague's forum karlin. designboom is a main media partner of reSITE 2018.
philip stevens
I designboom
may 29, 2018
KEEP UP WITH OUR DAILY AND WEEKLY NEWSLETTERS
a diverse digital database that acts as a valuable guide in gaining insight and information about a product directly from the manufacturer, and serves as a rich reference point in developing a project or scheme.
designboom will always be there for you
milan, new york, beijing, tokyo

,
since 1999