on the occasion of the 17th architecture biennale in venice, michele de lucchi and AMDL circle present an installation focusing on the research behind the studio's earth stations. described as places that are primed and ready for the programming of the future, the exhibition presents the education stations, where the studio investigates spaces for learning and teaching under the same design criteria of the earth stations. set within the venice pavilion, these new multi-engagement stations, invite viewers to experience unprogrammed moments of learning, joy, interaction, and reflection.
following the opening of the venice architecture biennale 2021 opening, designboom spoke to michele de lucchi and davide angeli (deputy studio director at michele de lucchi's AMDL circle) in this interview below to discuss the pavilion, their ideas future and what is the architect's role in all of this.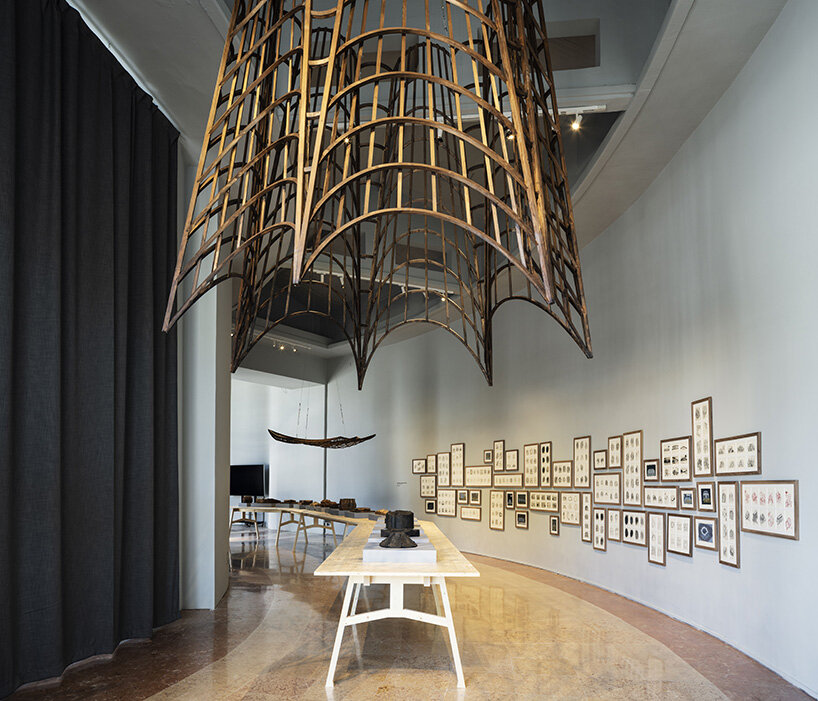 images by luca rotondo unless otherwise stated
the venice pavilion by michele de lucchi and AMDL circle guides visitors through the thinking that developed the earth stations, highlighting five education centers. their design studies how the psyche is influenced by its surroundings, knowing that architecture and context have a profound influence on the formation of the personality and for this reason the design must reflect the idea of learning. the spaces therefore suggest an architecture that stimulates not only the growth of the individual, but also that of the community. like the entrance of the pavilion says, it's not enough to have knowledge if we don't know how to use it.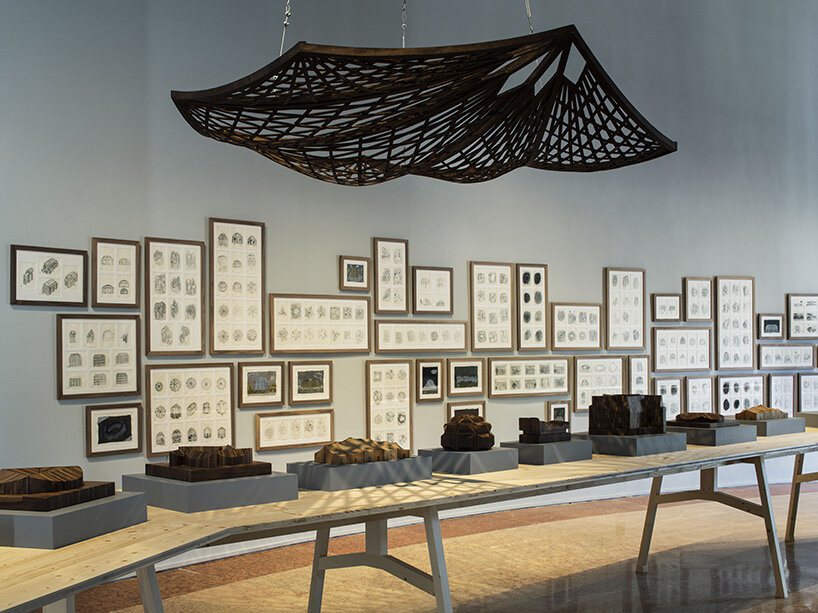 DESIGNBOOM (DB): at the venice architecture biennale 2021, you were in charge of the venice pavilion where you presented your earth stations, could you please guide us through the idea and development of these projects?
MICHELE DE LUCCHI (MDL): currently, I'm very interested in understanding what architects can do for the world. I believe that as architects, we have a great responsibility and that we can do a lot because we don't design just walls, or environments, or doors. we do not design only the shape of buildings, or the shape of our cities. what we actually design is the behavior of people around this object, around this environment, using tools and spaces. I'm very aware that as architects, we have a lot of responsibilities about how to envisage a future world. and I strongly believe that we should build up walls not to divide, but to keep us together.
in venice we presented the research I do together with my team at AMDL circle. the installation showcases ours hopes, desires, ambitions and dreams. not for today, not for tomorrow, the projects that we do are mostly for time, 20 years ahead of us, because the world is changing so rapidly, so dramatically that when we design today for today, we are already in the past.
the earth stations project is an idea of architecture that would allow us to take a step ahead. we don't want to think of buildings as apartment blocks, offices, museums, hospitals, etc. we want to think of them as spaces that sponsor humanity, where everything happens in the communal sense of life, offering us to be together.
earth stations project is already, by itself, an idea of the future. it is already an answer about what we should do in the future, and it has been very important for me, because this typology of building that doesn't exist yet, is where I can challenge the creativity of my people in AMDL circle to find a solution that doesn't concern the problem of contingency today, but concern the problem of future life.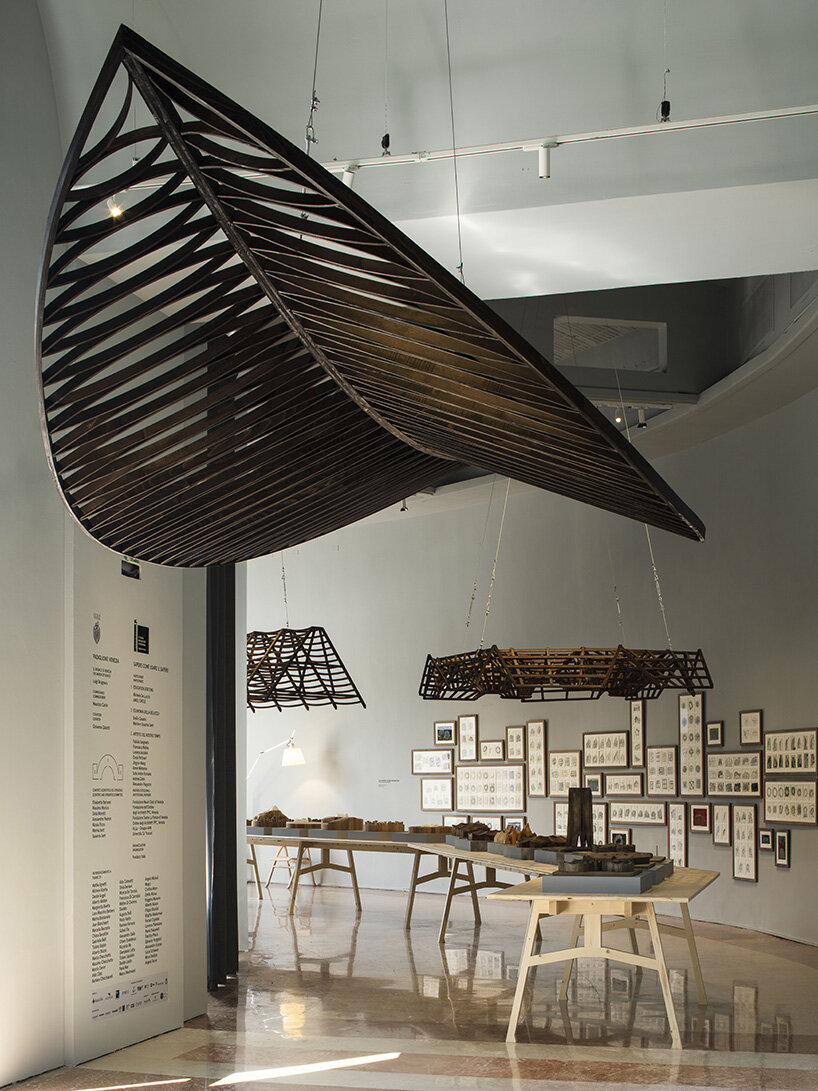 DB: this is humanistic architecture…
MDL: we understood that everything that we design, just for practical and functional reasons or even for technological reasons, is definitely obsolete. everything becomes old in just one second. and we cannot continuously design something that becomes obsolete by itself. and the only reason that we can't find it today, though, to create something that is lasting for more is to believe, and to trust in humanity as one wonderful, coherent idea of avoiding extinction.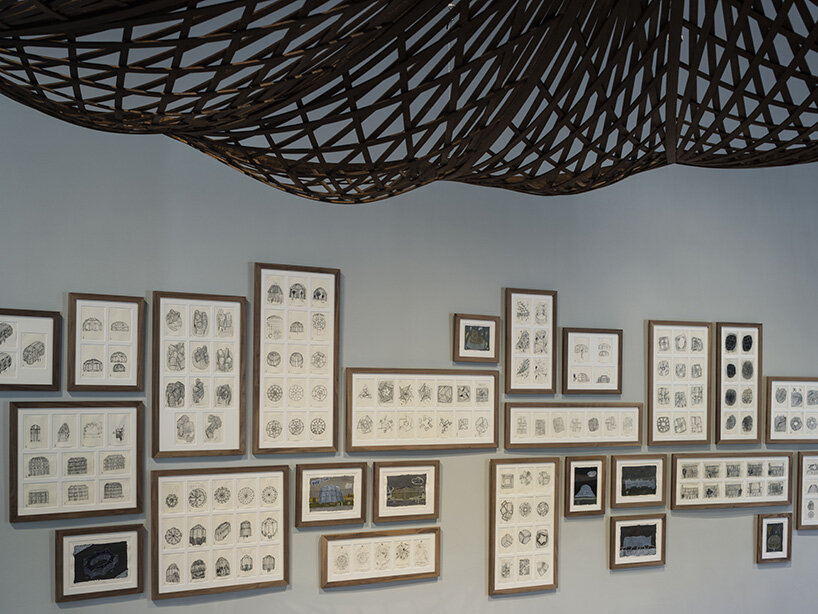 DB: because of the pandemic, you've had an extra year to work on the project, how did this extra year change the project itself?
DAVIDE ANGELI (DA): this extra year somehow was was fabulous. we had the chance to just go through what we were doing, and just keep improving somehow. And it was also great, because this research, this earth station research, is an ongoing research. so we had another year to work on a project that moved from what was just the topic of education to another topic, that is the core topic of living together.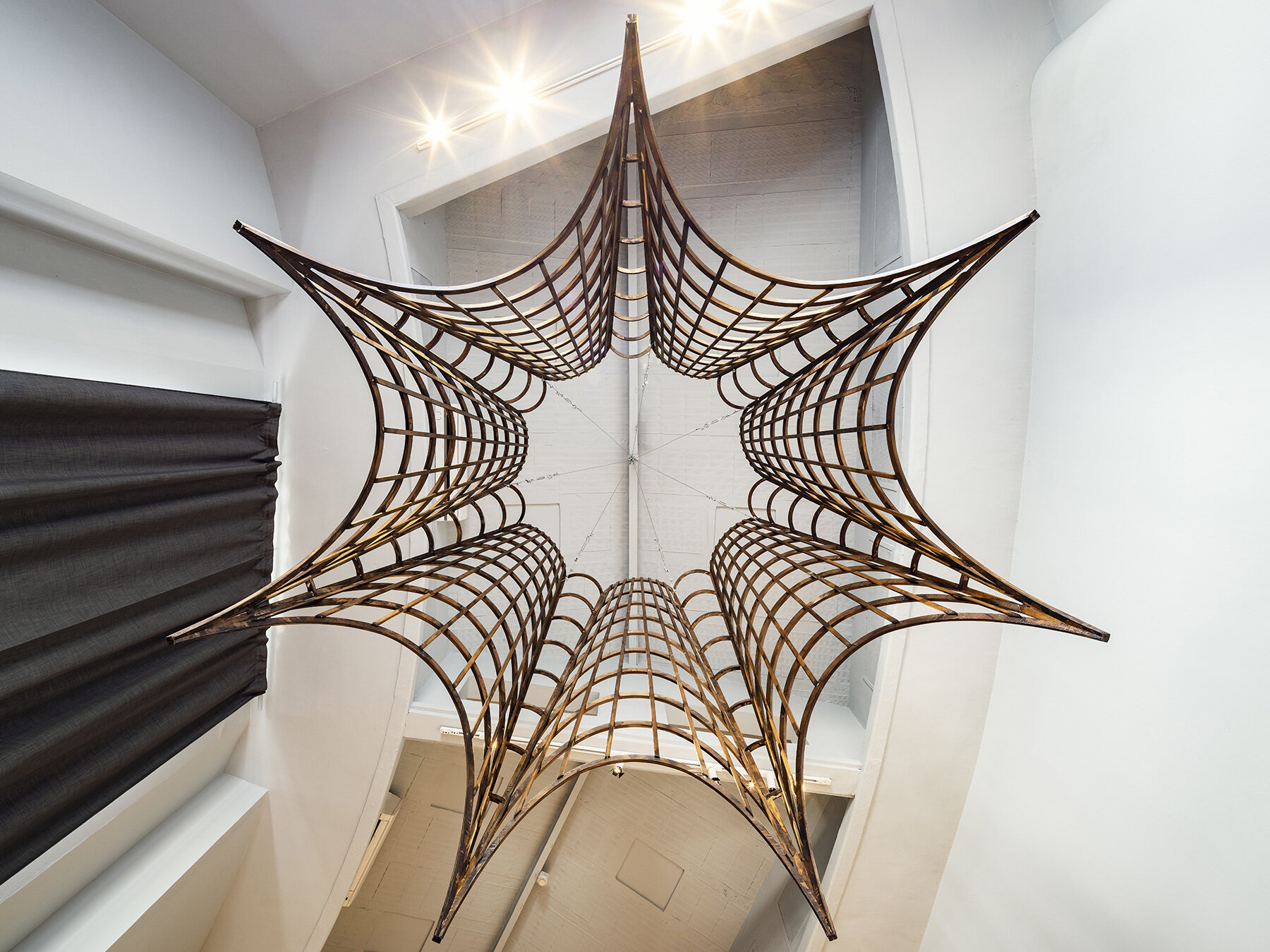 DB: in your opinion, how has the pandemic changed the concept of home public space, transport, hospitality, health and work?
DA: everything changed, of course, after the pandemic. I think the workspaces changed the most somehow, and where we really see that we will never go back to the office the same way, we will go back to the office, but not the same way. we've discovered that our houses are such special spaces. everybody's taking more care of their private spaces, adding green, thinking of terraces and gardens. so our own homes are also changing a lot. on the other hand, public spaces have become those spaces where we can stay together. we believe that every space and every street is a potential space for us to be together, something we have not considered so much. public space has become really that space where people can gather. transportation, I think it's what suffered the most, because a lot of people are going back to the use of cars, at least here in italy. I don't want to say that we took one step back, but somehow I think that in the transportation topic, we have to invent something new and we are not really ready. I would say that the pandemic somehow, at least theory in Italy, changes a bit not only in a positive way that the topic of transportation. I think health is, of course, the topic of the year. I believe that the great thing is that children know now how to design with viruses, how to design a virus, everybody knows what is a curve. everybody knows how the vaccine works. there was a lot of knowledge that is now part of everyone and I think this will help with what we do in the future with healthcare because everybody's more conscious about their own body. young generations are very in touch with healthcare and thinking about what it means to cure and take care of others, something that 10 or 15 years ago, nobody was thinking – viruses that can change our lives so quickly and dramatically. in hospitality, we've seen how nature has become the main subject. maybe less of a big hotel and more about being connected with nature, with the great outdoors. this was already an existing trend, but the connection between hospitality and nature is really booming and I think that's very positive.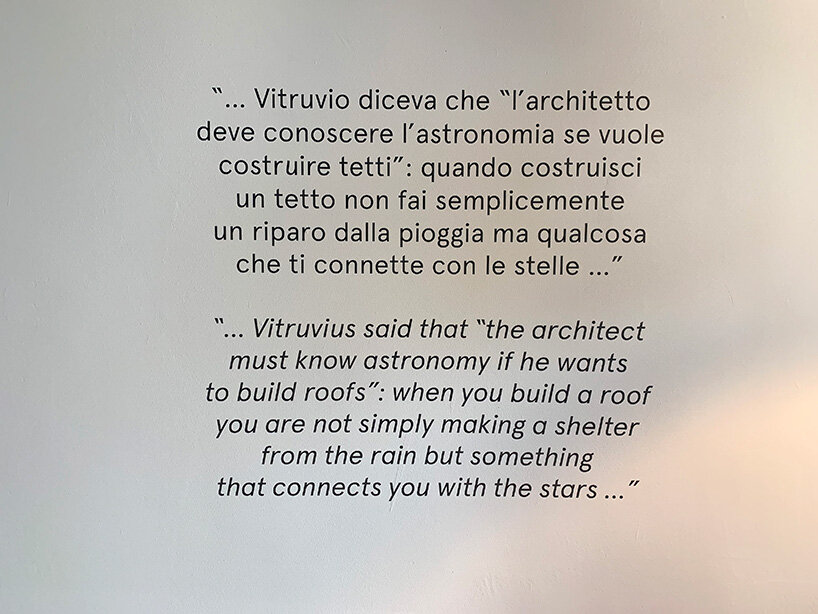 image © designboom
DB: at the pavilion you presented different wooden roof designs…
DA: designing roofs is very, very special and very important too. what we wanted to point out is that whatever we design on the top of our heads, it doesn't occupy space. that is what the flying sculptures are about. because roofs don't have a need to be filled, they allow for great design possibilities that can add to a special atmosphere without occupying space. the roofs want you to look high, to the sky, while generating a sort of cocooning feeling, of a nest.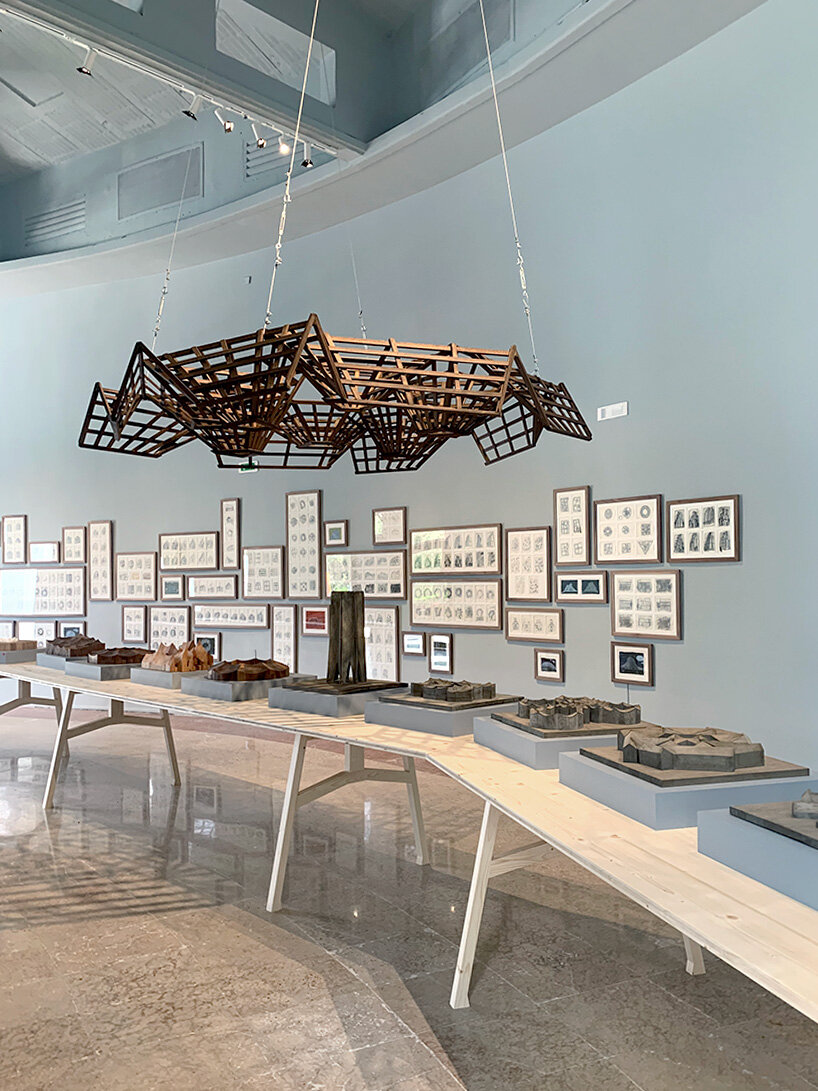 image © designboom
DB: what do you want people to take away from this exhibition?
DA: we would love to stimulate people's creativity! our work is not about showing our creativity, but it's about giving little glimpses and allowing everybody to be creative themselves. we want to show what is possible in the future. not what has been done, or what people are doing, which is, of course, really important, but we want really to think far away, to just try to be free, and to suggest to people what their life can be, what their children's lives can be, in 40 years, 50 years. that's what we like, to project it into the future.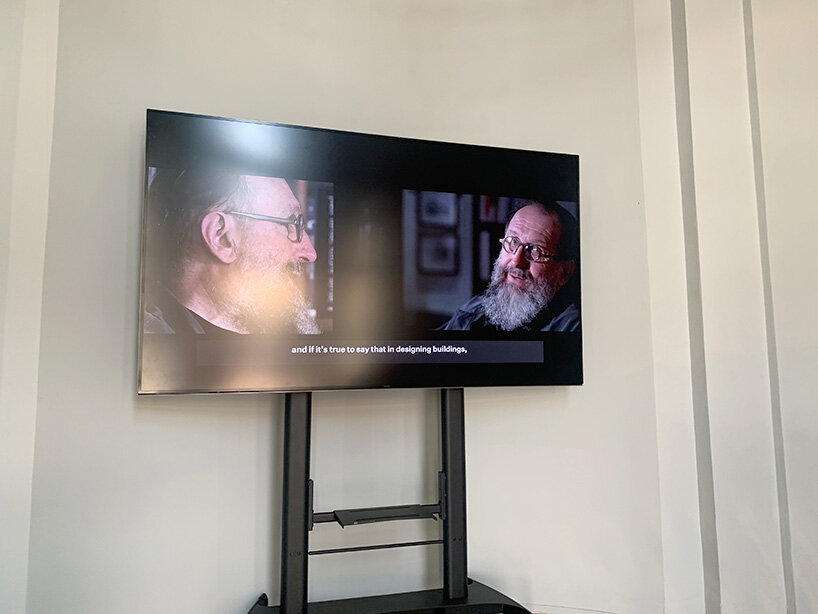 image © designboom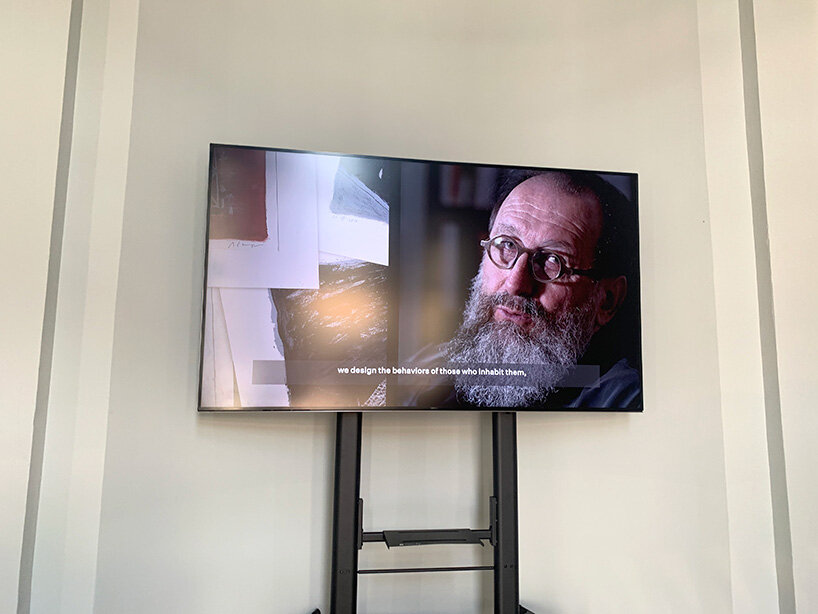 image © designboom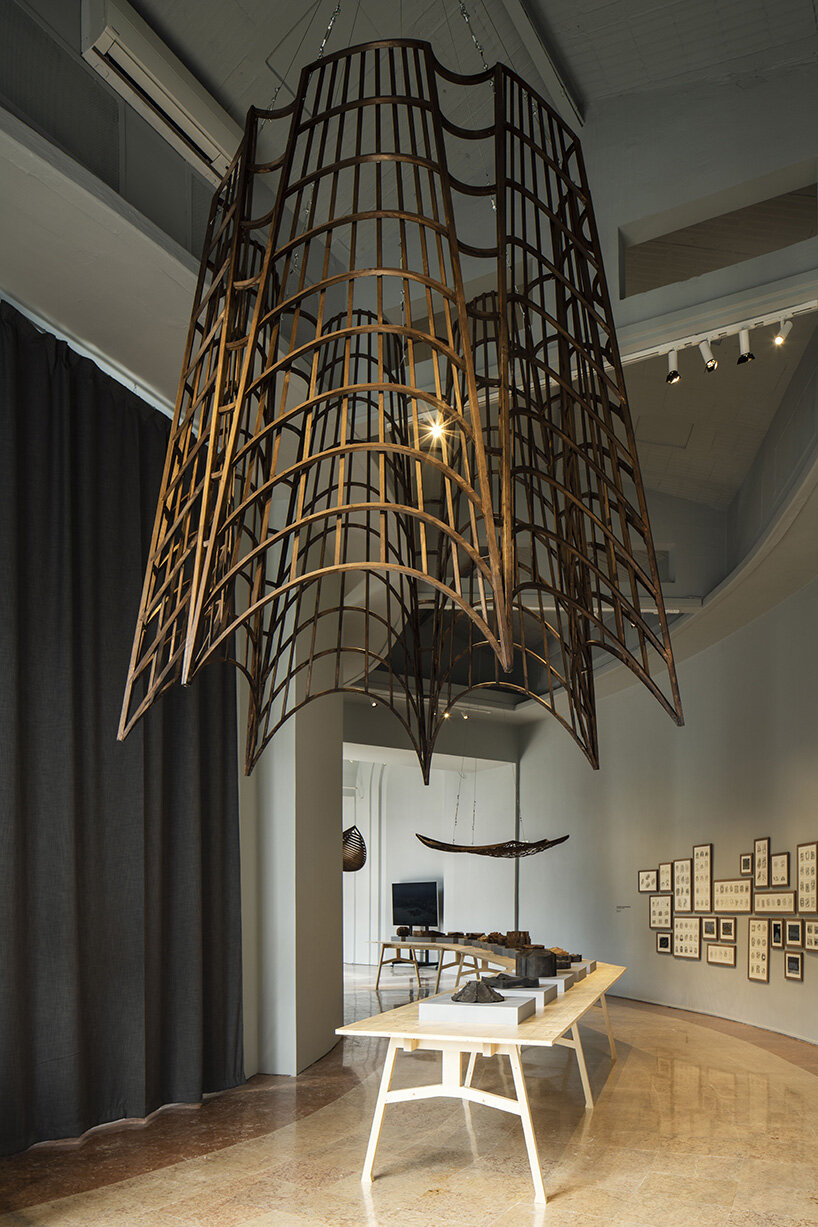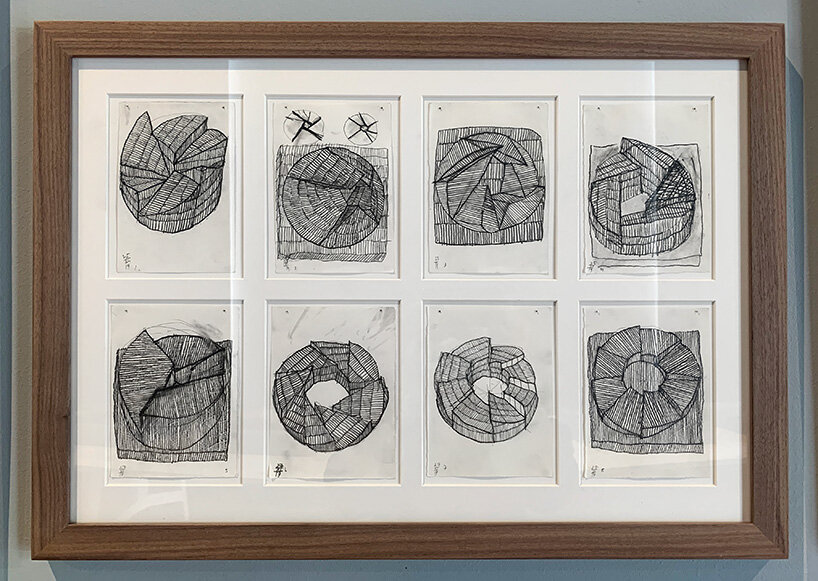 image © designboom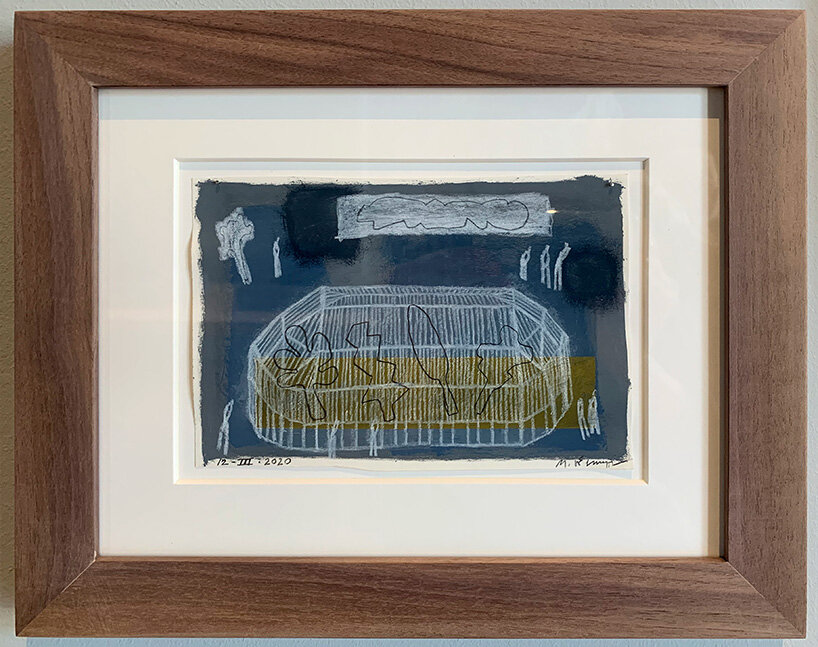 image © designboom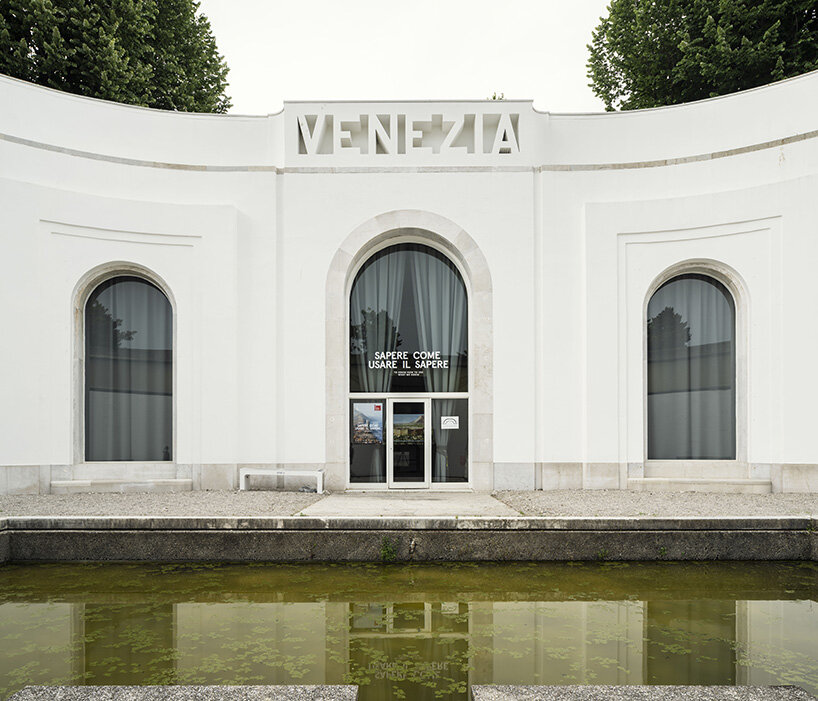 project info:
name: education stations: to know how to use what we know
created by: michele de lucchi and AMDL circle
project architect: emilio mossa
graphic design: filippo nicolini
conceptual models and drawings: michele de lucchi
earth stations models: matteo di ciommo
archive: margherita baetta, cristina moro
earth stations design team: michele de lucchi with emilio mossa (project architect), davide angeli, nicholas bewick, alberto bianchi, pico de lucchi, matteo di ciommo, francesco garofoli, giovanna latis, angelo micheli, alberto nason, giacomo nava, banfsheh razavi, guido tarantola
lighting design: artemide
education stations aerial sculptures: workshops of venice's "la fenice" theater
juliana neira
I designboom
jun 13, 2021
a diverse digital database that acts as a valuable guide in gaining insight and information about a product directly from the manufacturer, and serves as a rich reference point in developing a project or scheme.
designboom will always be there for you
milan, new york, beijing, tokyo

,
since 1999