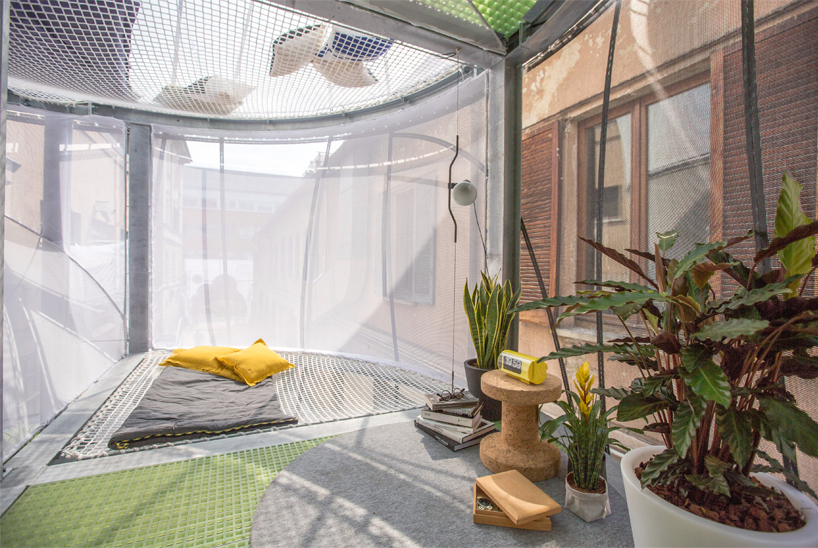 together with new york-based architects SO-IL, MINI presents the MINI LIVING 'breathe' installation at the milan design week 2017. adhering to the brand's principles of designing 'creative use of space' with 'minimal footprint', the small space is a forward-looking interpretation of resource-conscious urban living. as apparent in the previous MINI LIVING installations at the salone del mobile 2016 and at the london design festival 2016, the work challenges conventional living concepts and explores a new solution. this time, 'breathe' proposes a different theme, one that reacts to the limited resources within urban environments.
'MINI LIVING – breathe calls into question conventional living concepts and introduces a creative problem-solving approach for future challenges in urban areas,' explains esther bahne, head of brand strategy and business innovation MINI. 'the installation shows what happens when we view houses not only as a space in which to live, but as an active part of our environment – one which plays a positive role for the environment and the people living there.'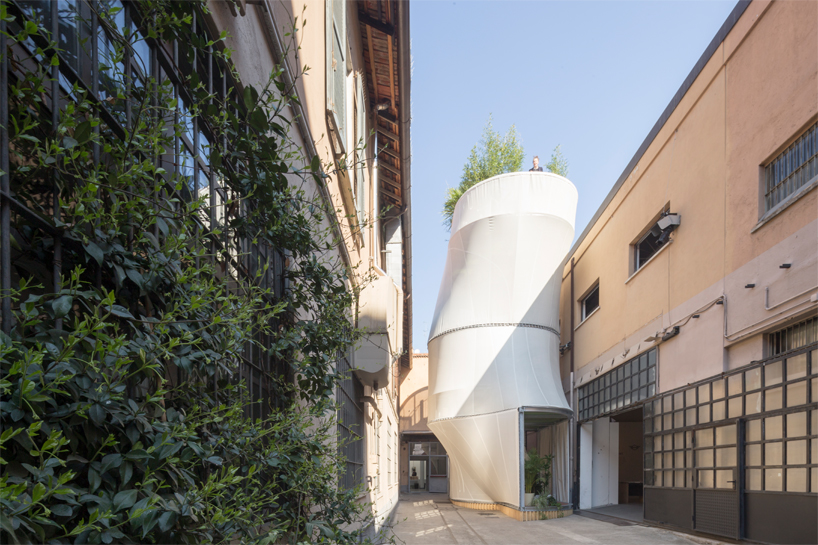 all images courtesy of MINI
situated on a previously unused 50-square-meter urban plot in the tortona district, the MINI LIVING 'breathe' by SO-IL is composed of a modular metal frame that is covered in a flexible, light-permeable outer skin. this outer layer reacts organically to the environment and creates a much deeper connection between the inhabitant, their home and the nature. within, the house is divided into a total of six rooms and a luscious roof garden, suitable for accommodating a family of three.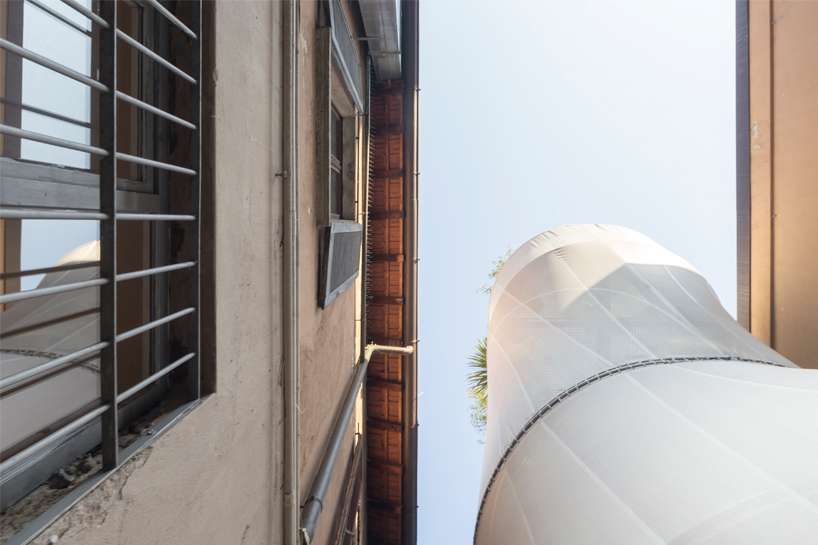 on the ground floor, guests are welcomed into the large, open kitchen area. this not only acts as a spatial interface with the outside, but also unites people and encourages social engagement. climbing up the spiralling staircase, the various living spaces are spread out over three upper floors, offering zones dedicated to both relaxation and work. woven into and on top of each other, canopies hang securely yet comfortingly to provide personal spaces for sleeping. separate, light-permeable textile walls surround these, offering enough translucency for inhabitants to make out the silhouettes of those in other rooms and feel connected, but still with a sense of privacy.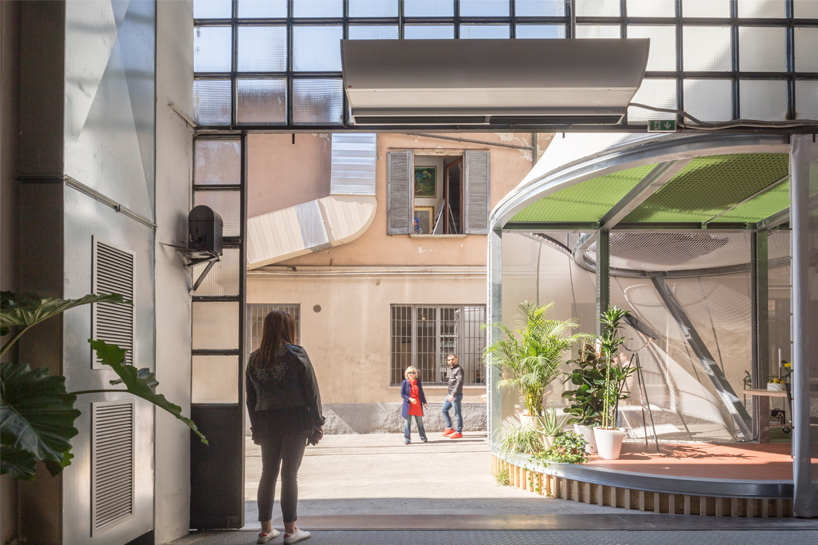 as well as filtering air with a special coating, the flexible outer skin floods the installation with natural daylight. it acts a complete microclimate, even to the point where its roof garden, filled with luscious green plants, improves air quality further. here, rainwater is collected and stored for later use in the house's taps or wet area. additionally, this recyclable and resuable exterior textile is interchangeable in order to perform according to different climates, but also to enable easy dismantling and reassembly.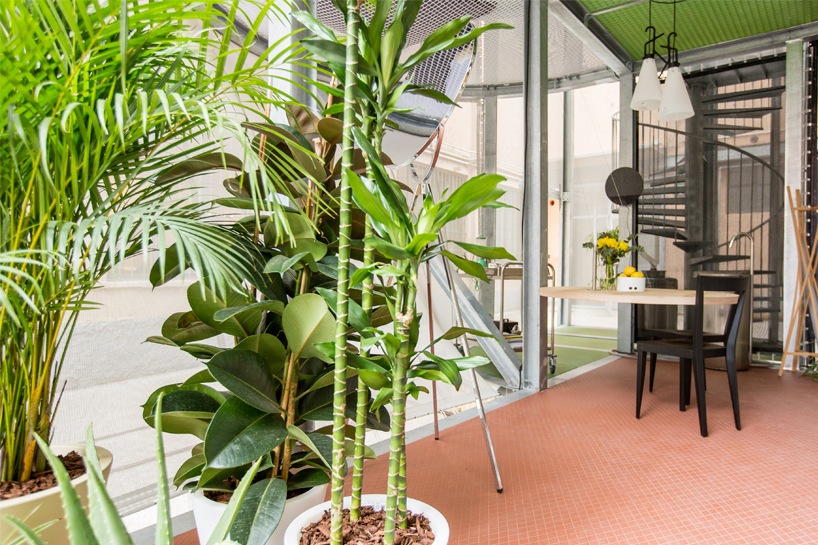 at the press opening of the MINI LIVING 'breathe' installation during milan design week 2017 – 4th to 9th april – designboom met with MINI LIVING's oke hauser, and ilias papageorgiou, principal at SO – IL. here, we discussed the concept of the minimal footprint house, its features that adapt naturally to the environment, and what the future holds for the concept.
designboom (DB): first of all, how did this collaboration between MINI and SO-IL come about?
oke hauser (OH): the basic concept of MINI LIVING 'breathe' evolved over a year ago at MINI, where we thought about how we could integrate the topic of sustainability into our thinking, and explore how can we create a new concept where people can relate to the natural surroundings. this, as well as water and light, is really vital for all human beings on this planet. we believe that architecture needs to provide a sense of openness, new ways in which to connect people with environments, and to trigger a stronger experience of our environment. this is how we arrived at the idea for this microclimate space in an urban environment, where we would also consider resources and the creative use of space with a minimal footprint. as well, we also thought about nice functions to integrate within the building that focused on a shared living concept. we approached SO-IL with this idea, and they have finalised it by adding new, extraordinary layers of thinking on top of the concept.
ilias papageorgiou (IP): we were provided with the basic idea and the location of which to work with.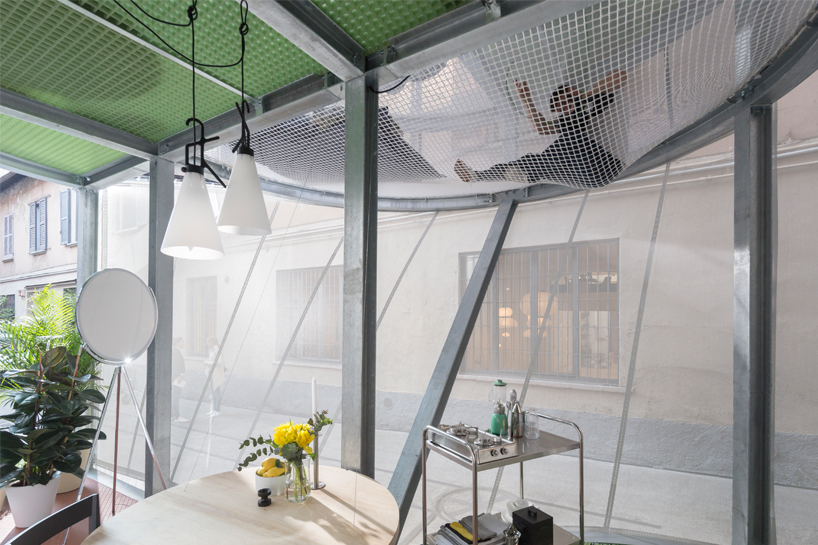 DB: is the installation tailored to this specific space i.e. an alleyway between two permanent buildings?
IP: what we are seeing is highly adaptable. this specific one is in feeling with this small alley, but it could potentially be in a more natural environment and not just in a very urban space like this. I think it could really be moved to many different settings, and that is also another concept behind this installation. as a microclimate where the fabric is performing, which is similar to a jacket that you can change easily depending on different conditions. the fabric can be changed for more thermal insulation and for better acoustics – it just depends on where the structure is built. obviously it is a thought-provoking idea, which includes interiors that are very open, and explores a new organisation of a traditional family house, but the form is adapted to this very specific location. as well, you can also reconfigure the form for a different set-up.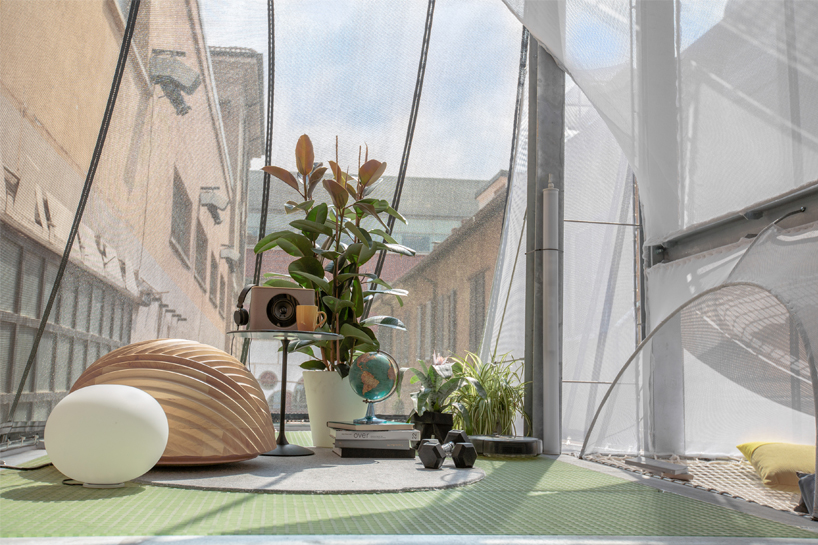 DB: made form reusable and recyclable materials, do you see a time in the future where people could easily dismantle and reconfigure homes like this, and would it enable more nomadic living?
OH: this is made for easy reassembly so we are going to make a flat-pack out of it at the end of the milan design week, and hopefully we can transfer it to different locations as well. it could integrate this idea of the house moving with you, where by the inhabitants would just have to change the exterior skin to adapt to the specific climate conditions. it is also a really interesting and informative form of architecture, so the whole structure explores this communication as it is very industrial and very easily dismantled.
IP: it plays a lot with its location of an alley. the form is framed by the surrounding walls and is designed according to them and takes advantage of the conditions. the solid wall offers more privacy inside the apartment, but this would be the opposite in a more natural and open environment. it is a very responsive idea, and the application is full of elements that have a range of freedom depending on the situation.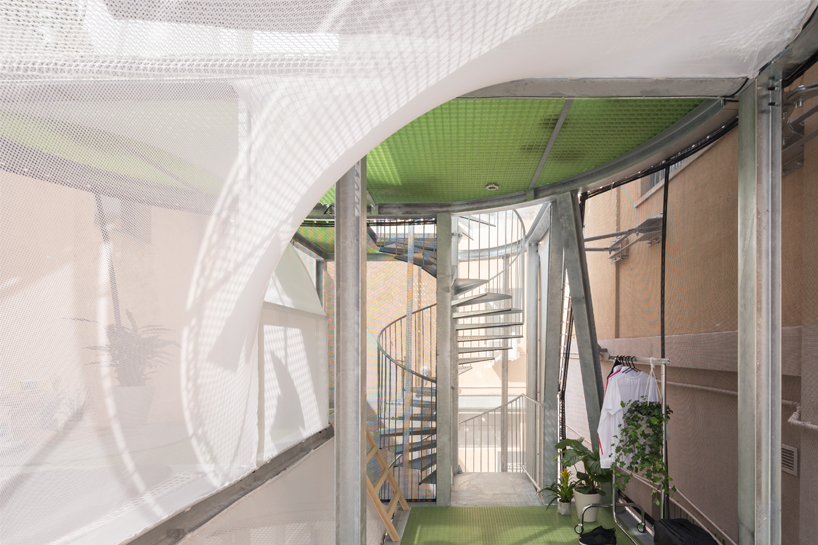 DB: would you be able to talk more about the outer fabric and how it reacts depending on the climate?
IP: it is a translucent PVC mesh so obviously as you layer it, it creates different depths and translucency. due to the double turn geometry, the installation features incredible and constantly moving patterns of light and shadow during the daytime. it is a fabric that has the capability to clean itself, and has a coating that filters dirt from the surrounding air.
OH: the fabric transforms the whole installation into a performance machine. guests can really experience the conditions that are around the house. the whole building is an interface with the surroundings, and lets people interact with it and experience it as well. I think this is probably the most important feature of the solution because it really connects inhabitants to the environment around them and all the different elements of nature.
IP: it captures the light variations throughout the day. the colors change, the shadows change and it almost has two lives; during the morning, it feels very opaque from the outside and very transparent in the inside; at night, the inside lights create a very glowing and transparent place.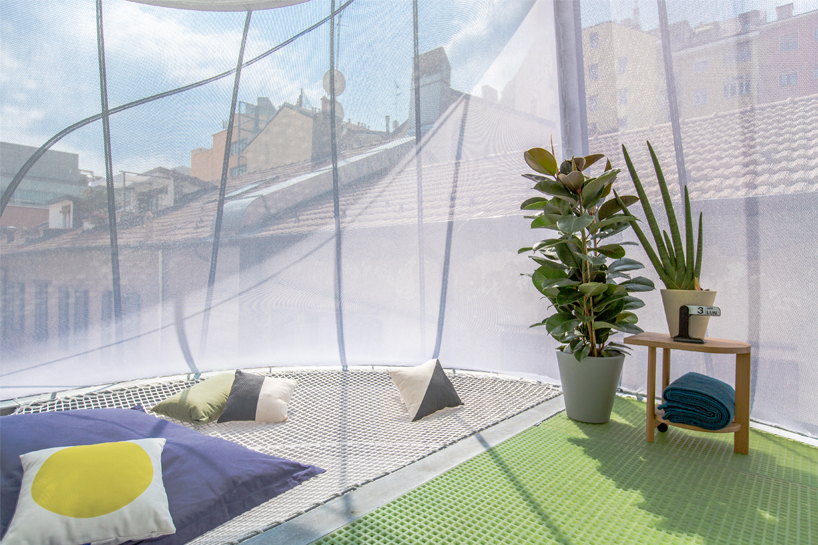 DB: would you say that the installation adapts as natural intelligence rather than artificial, which is becoming a major topic with homes?
OH: it is a really interesting idea because how can you tune a building to the rhythm of the day? instead of actual digital technology the facade allows it to tune into a natural rhythm between day and night time. there are all these layers that react according to the different hours and fabric layers.
IP: it is a very good point. in general, our practice has an interest in the visual and the physical. that relationship is always changing, and the physical cannot just follow technology all the time and turn buildings into digital screens. I think that we have taken some of these ideas and transferred them into the physical space in a more natural way. the idea behind it, so the dynamism of the adaptability, succeeds in doing this.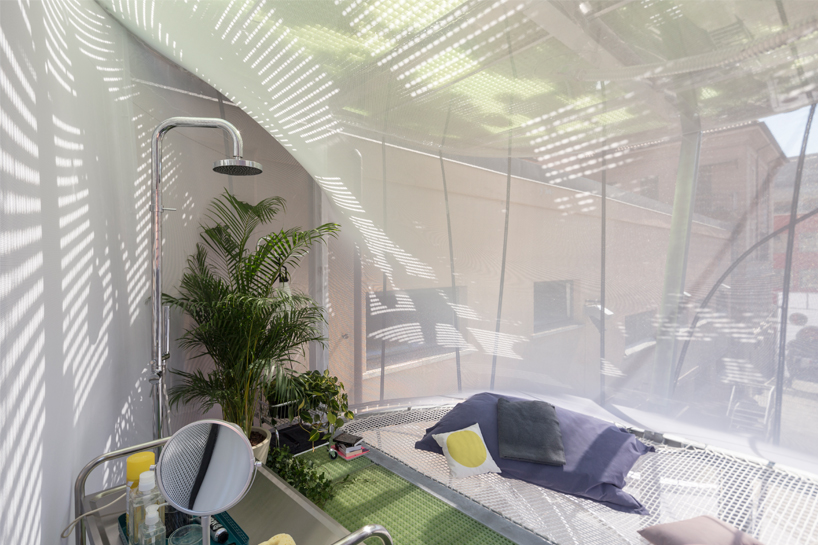 DB: being based in new york, was your design influenced by some of the issues within the city or did you take a much wider viewpoint?
IP: we are based in new york so I think that we are more used to designing for small spaces.
OH: we wanted to collaborate with SO-IL more due to their forward-thinking practice rather than location. they push forward the discipline of architecture in terms of thinking what is a wall, and create very new and interesting concepts.
new york does need new ideas of what buildings could become. they are very uniformed and surround very old ideas.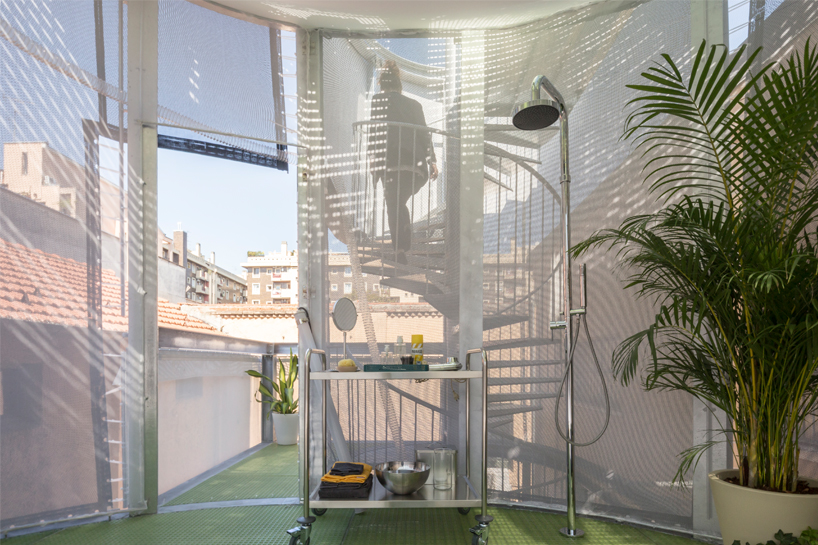 DB: after the milan design week, will this installation be packed up and reassembled in places like new york?
OH: it is highly likely.
IP: there are some thoughts on this already, but I do think this would be amazing.
OH: we thought about this when we first came up with the project and it also influenced how we designed it. we can move it to another place, we are currently discussing this, but we only want to do it if we can add new layers of information.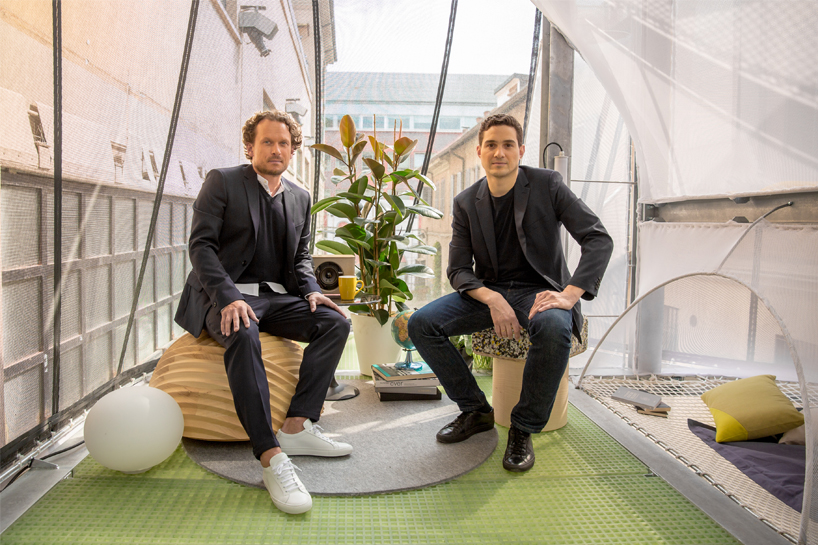 oke hauser, creative lead at MINI LIVING (left), and ilias papageorgiou, principal at SO – IL (right)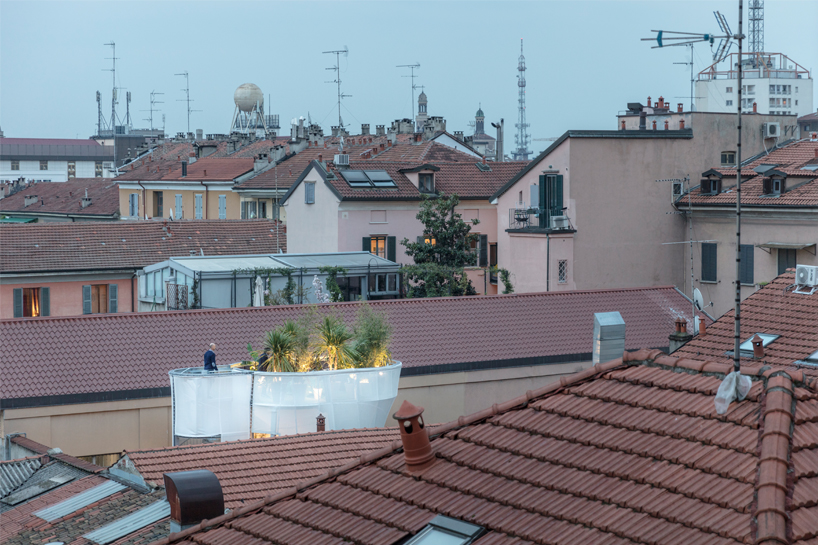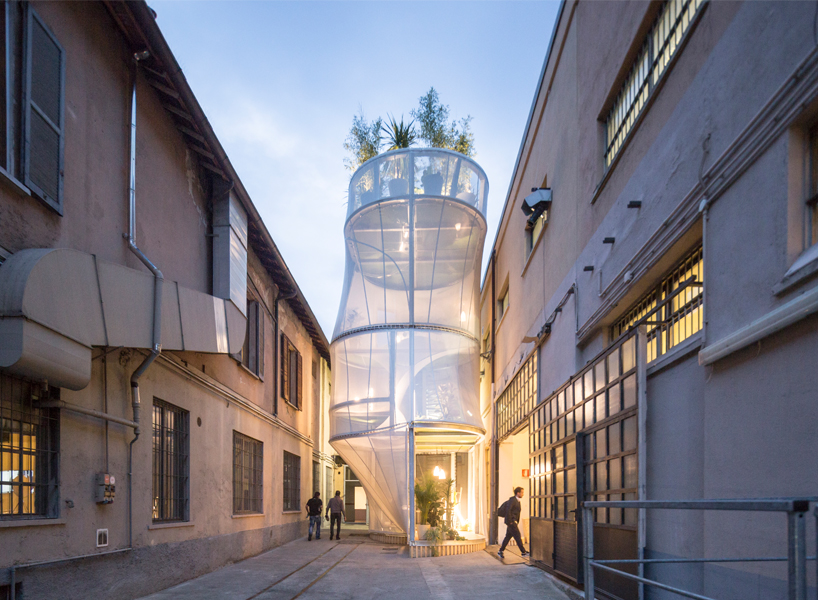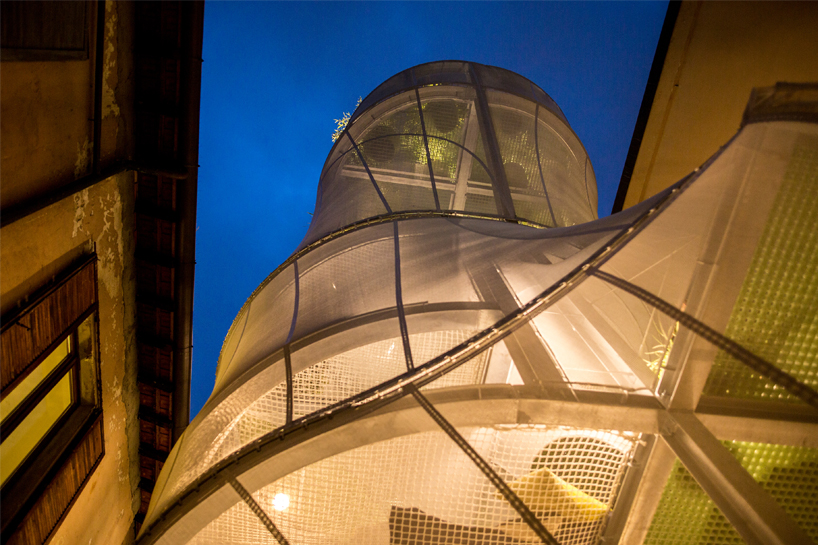 Save
Save
KEEP UP WITH OUR DAILY AND WEEKLY NEWSLETTERS
a diverse digital database that acts as a valuable guide in gaining insight and information about a product directly from the manufacturer, and serves as a rich reference point in developing a project or scheme.
designboom will always be there for you
milan, new york, beijing, tokyo

,
since 1999