winners of the 'epic retreats' competition in wales, miller kendrick architects completes its latest compact pop-up cabin, 'arthur's cave' near castell y bere. 'arthur's cave' embodies welsh mythology and folklore, reflecting king arthur's legend who is said to have taken refuge in a cave with his knights. this compact cabin is the ideal getaway for city-dwellers looking for a tranquil experience in the welsh countryside.

the cabin site at the foot of castell y bere north of wales
all images © miller kendrick 2017
subtly settled in the lush welsh landscape, miller kendrick architects uses a combination of CNC-cut birch plywood ribs and sheathing panels — the structural ribs are comprised of either three or five individual sections of plywood, tightly fitted together using 'jigsaw' joints. the faceted envelope is clad in black-stained, locally-sourced welsh larch boards using sheep's wool to insulate the inner cavity. additionally, the cabin uses photovoltaic-powered LED lighting, is heated via a small cabin log burner, and features a self-composting WC.

mythology and folklore were the theme of the 'epic retreat' competition held by the welsh government

the cabin is a reflection of the green landscape surrounding it

'arthur's cave' at sunset 

LED tape lights powered by photovoltaics are concealed between the plywood ribs

birch faced plywood is used as main structure, secondary structure, nishes, sink and shower

'arthur's cave' is the ideal getaway for city-dwellers

sample panel showing sheep's wool insulation by ty-mwar, green sawn larch stained black and birch faced plywood

the cabin in the process of being built 

early test models showing the CNC cut plywood ribs and cladding panels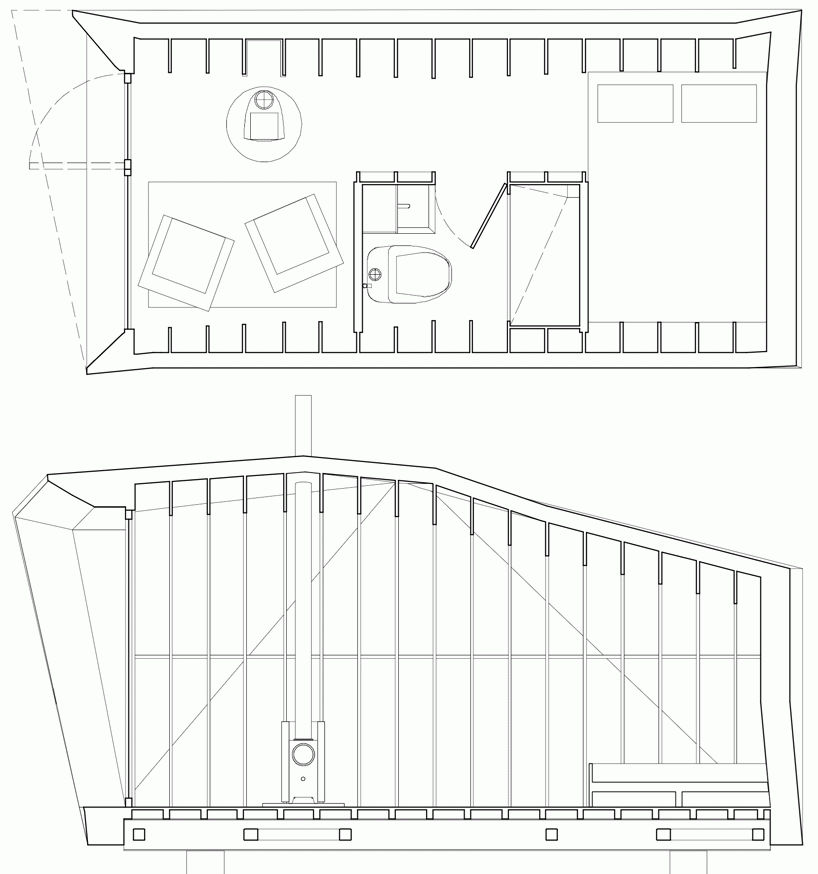 preliminary sketches of the project
oct 29, 2017
oct 29, 2017
oct 16, 2017
oct 16, 2017
oct 11, 2017
oct 11, 2017
oct 10, 2017
oct 10, 2017
sep 26, 2017
sep 26, 2017
sep 15, 2017
sep 15, 2017