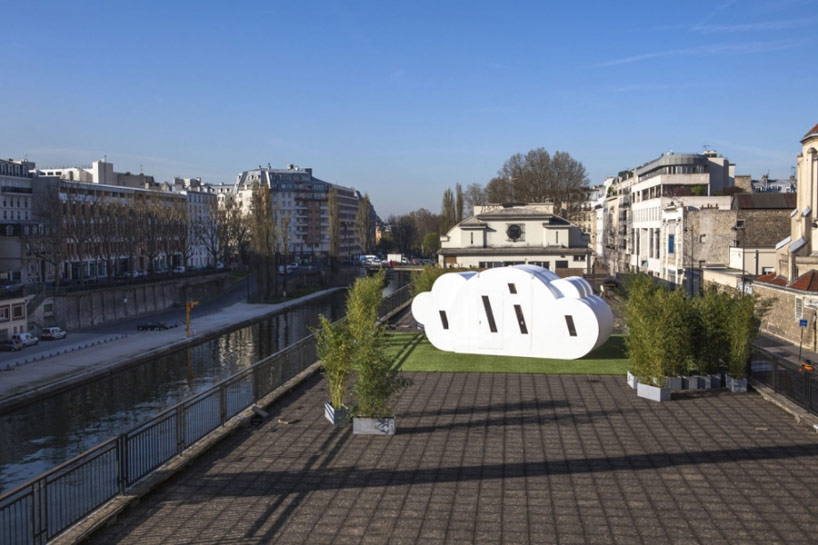 may 29, 2013
mobile cloud hotel le nuage offers a dream city escape
mobile cloud hotel 'refuge le nuage' by zebra3 offers a dream city escape
image via
originally 'refuge le nuage' by zebra3/buy-sellf' was part of a commission by bruit du frigo to create suburban shelters for the 2010 panoramas, le parc des coteaux en biennale.
the name and shape are informed by the layout of beds, each one built into a semicircular extrusion delineating the cloud. with four alcoves, the unassuming installation sleeps seven.
without electricity, light pours into the space through diagonal windows. typically installed at park hermitage, the cloud is intended for camping,
however it has been relocated to several places around france as a mobile hotel that can be reserved for a night. after just two years of use, the little wood structure was refurbished
and replaced in lormont for the summer/fall 2012 season. back on the road in 2013, the cloud was most recently installed in paris, but will return to the park on may 29.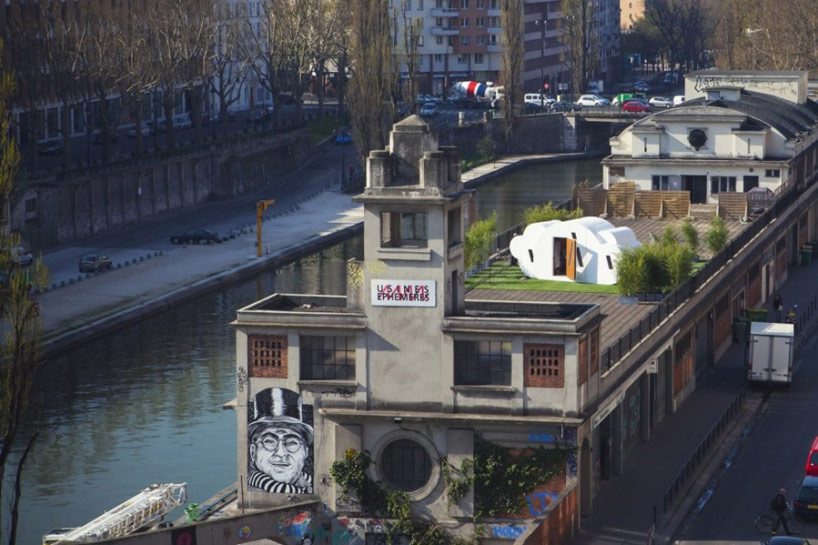 'refuge le nuage' on the banks of canal saint martin, 10th arrondissement, paris
 image via
video tour of 'le nuage' in paris on the 10th arrondissement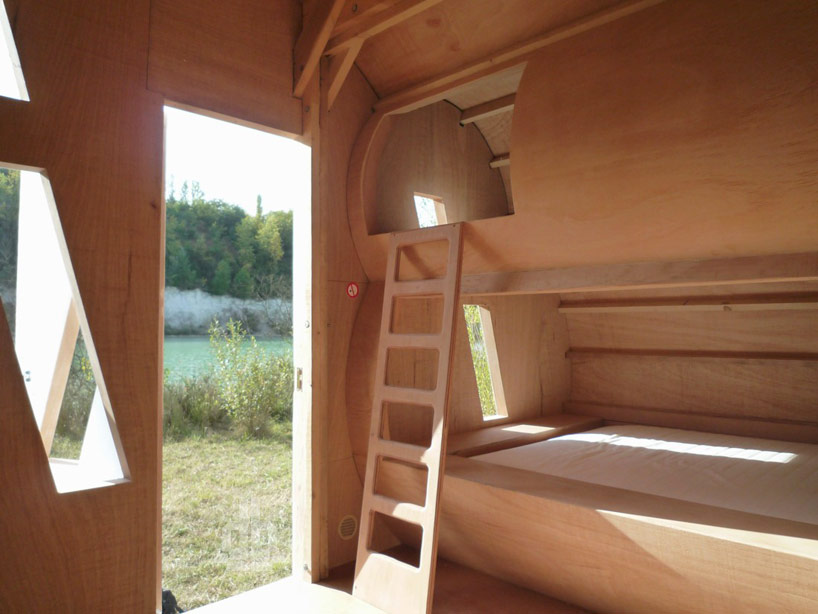 looking out to park hermitage in lormont, 2010-2011
photo courtesy zebra3 / buy-sellf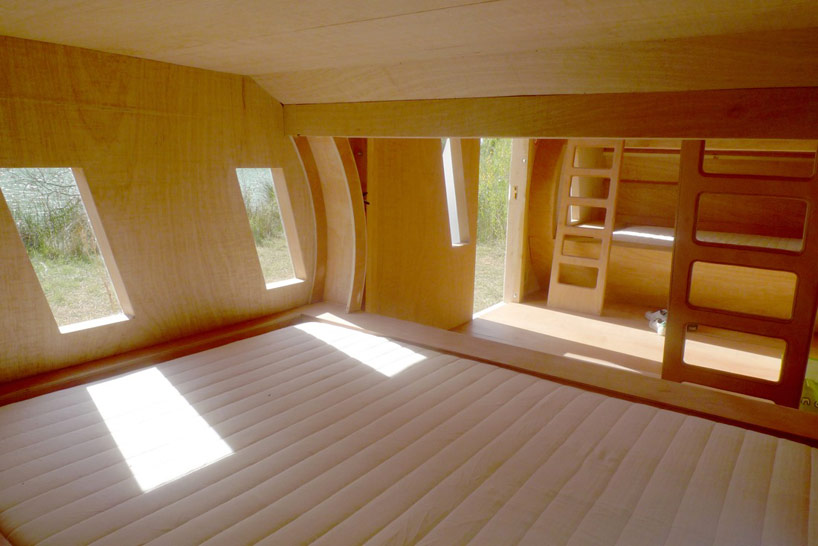 a spacious place to sleep in park hermitage in lormont, 2010-2011
 photo courtesy zebra3 / buy-sellf
panoramic view captures all seven sleeping places
photo courtesy zebra3 / buy-sellf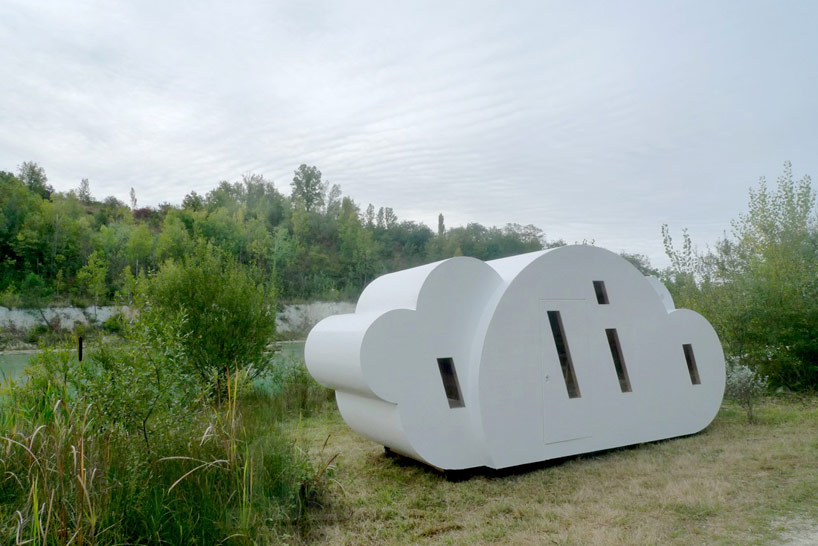 located in park hermitage lormont until 31 october 2011 
photo courtesy zebra3 / buy-sellf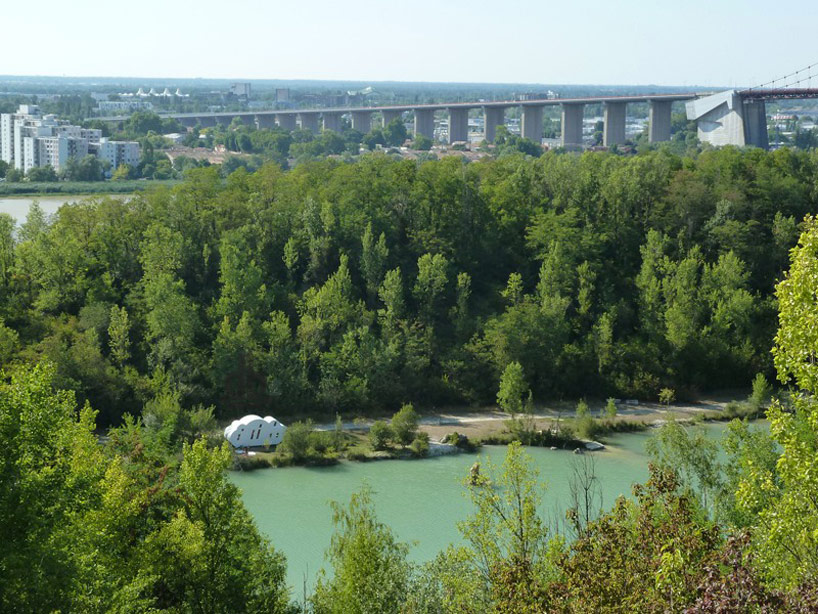 aerial photo of 'the cloud' at park hermitage lormont, 2010-2011
photo courtesy zebra3 / buy-sellf
 in situ at at park hermitage lormont, 2010-2011
photo courtesy zebra3 / buy-sellf
jul 26, 2016
jul 26, 2016
sep 05, 2015
sep 05, 2015
oct 31, 2013
oct 31, 2013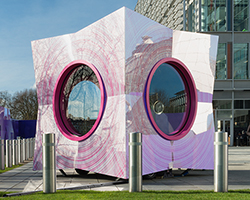 mar 05, 2017
mar 05, 2017
feb 27, 2017
feb 27, 2017
feb 24, 2017
feb 24, 2017