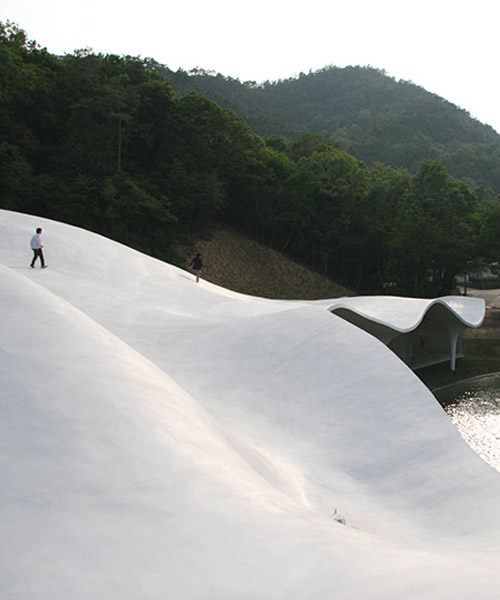 jan 27, 2016
toyo ito and SANAA star in MoMA's japanese constellation exhibition

toyo ito and SANAA star in MoMA's japanese constellation exhibition
(above) toyo ito. meiso no mori municipal funeral hall, gifu, japan. 2004–06.
image © toyo ito & associates, architects
a japanese constellation: toyo ito, SANAA, and beyond
museum of modern art, new york, USA
march 13 – july 4, 2016
opening on march 13, 2016, a new exhibition at new york's museum of modern art focuses on the work of pritzker prize winning architects toyo ito, and kazuyo sejima and ryue nishizawa of SANAA. 'a japanese constellation' provides an overview of ito's 40 year-career and his influence as mentor to an emerging generation of acclaimed japanese architects such as sou fujimoto, akihisa hirata, and junya ishigami. displaying models, drawings, and images of more than 40 architectural designs, the show highlights the prominence and innovation of contemporary architecture from japan since the 1990s. the exhibition is organized by pedro gadanho, director of the museum of art, architecture, and technology in lisbon, alongside curatorial assistant phoebe springstubb from MoMA's department of architecture and design.

toyo ito. sendai mediatheque, miyagi, japan. 1995–2001.
image © naoya hatakeyama
using the 'sendai mediatheque' — one of ito's pivotal works — as a starting point, the presentation is organized through intersecting spaces separated by translucent curtains on which multimedia presentations are projected. this layout echoes the different connections and levels of influence among the selected architects. the exhibition presents a survey of architectural production since 2000, and reveals an intriguing and expanding network that has become particularly relevant.

kazuyo sejima. inujima art house project, inujima, japan. 2008–10. A-art house with haruka kojin's reflectwo, 2013.
image © kazuyo sejima & associates
conceived as a response to contemporary design's fixation with 'starchitects', 'a japanese constellation' is intended as a reflection on the transmission of an architectural sensibility. rather than focus on one particular individual and their style, the display takes a look at the work of both established and emerging architects, and reveals how shared architectural themes travel across different generations.

kazuyo sejima. nishinoyama house, kyoto, japan. 2010–14.
image © kazuyo sejima & associates
additionally, as many of the featured architects have been involved in the reconstruction of japan after the 2011's devastating earthquake, the exhibition encourages its viewers to consider how the design field is responding to current societal change. given the experimental and avant-garde nature of the architects' work, the display confronts the current role of architecture in a context in which mainstream practices are increasingly constrained by economic, legal, and functional considerations.
'a japanese constellation' opens at MoMA on march 13 and remains on display until july 4, 2016.

SANAA. 21st century museum of contemporary art, kanazawa, japan. 1999–2004.
image © SANAA

ryue nishizawa. towada art center, aomori, japan. 2005–08.
image © office of ryue nishizawa

ryue nishizawa. hiroshi senju museum, nagano, japan. 2007–10.
image © daici ano

sou fujimoto. house N, oita, japan. 2006–08.
image © iwan baan

sou fujimoto. house NA, tokyo. 2007–11.
image © iwan baan

akihisa hirata. showroom H masuya, niigata, japan. 2006–07.
image © nacása & partners inc.

akihisa hirata. foam form, kaohsiung, taiwan. project. 2011.
image © akihisa hirata architecture office and kuramochi + oguma

junya ishigami. kanagawa institute of technology workshop, kanagawa, japan. 2005–08.
image © junya.ishigami + associates

junya ishigami. kanagawa institute of technology workshop, kanagawa, japan. 2005–08.
image © junya.ishigami + associates
SANAA
(66 articles)
jun 14, 2017
jun 14, 2017
jan 08, 2017
jan 08, 2017
nov 28, 2016
nov 28, 2016
jan 15, 2017
jan 15, 2017
nov 10, 2016
nov 10, 2016
sep 26, 2016
sep 26, 2016