later this year, an exhibition at the museum of modern art (MoMA) in new york will explore the work of a new generation of chinese architects and their commitment to social and environmental sustainability. titled 'reuse, renew, recycle: recent architecture from china', the exhibition spotlights eight projects — by firms such as amateur architecture studio, archi-union, and studio zhu pei — that range from the adaptive reuse of former industrial buildings, the recycling of building materials, and the reinterpretation of ancient construction techniques, to the economic rejuvenation of rural villages or entire regions through non-invasive architectural insertions.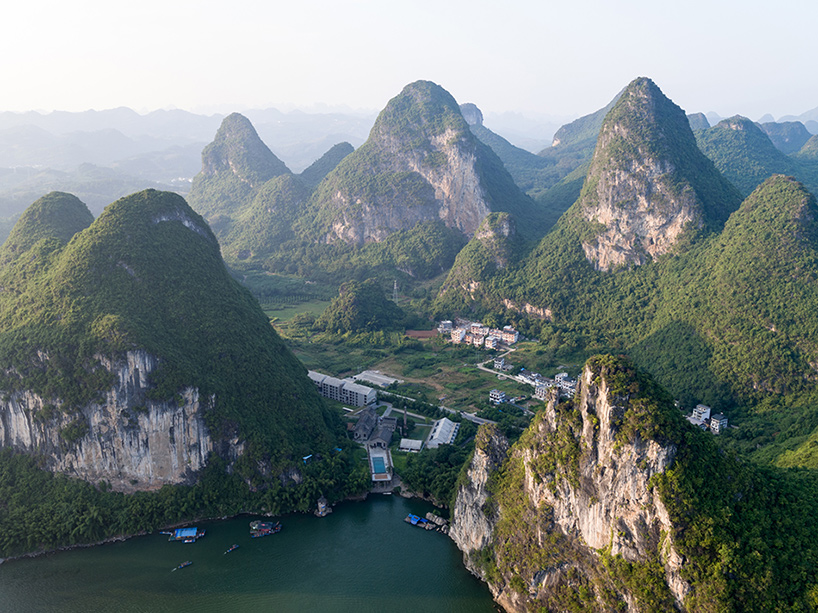 vector architects, alila yangshuo hotel, yangshuo, guilin, guangxi, china, 2013-2017
image by hao chen | top image by shengliang su | read more about the project on designboom here
the exhibition was developed following a four-year research initiative, which included extensive conversations with the architects involved and site visits to all of the projects on view. the presentation will include a wide range of models, drawings, photographs, videos, and architectural mock-ups drawn from MoMA's recent acquisition of around 160 works of chinese contemporary architecture. the architects and projects featured seek to exemplify what it means to build in china today and explore how modern architecture can be firmly grounded in the country's unique cultural context.
to learn more about the exhibition, which is set to open on september 18, 2021, designboom spoke with martino stierli — the philip johnson chief curator of architecture and design at MoMA. read the conversation in full below.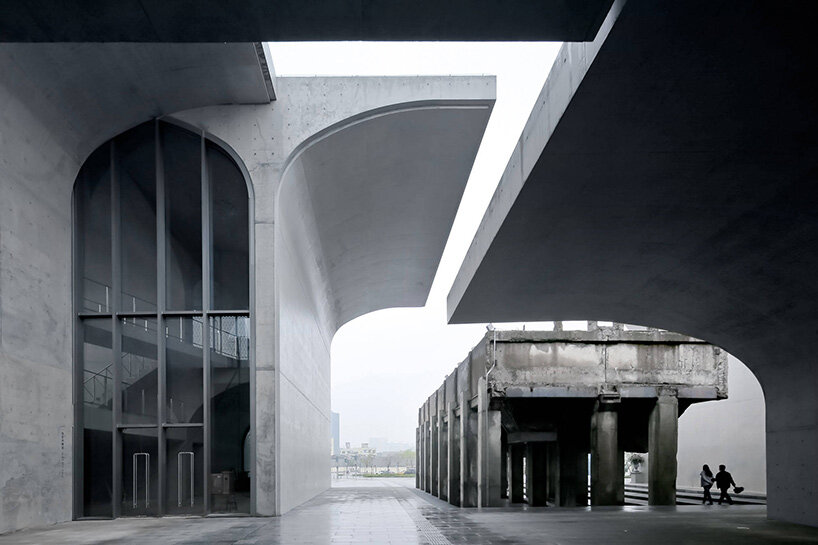 atelier deshaus, long museum west bund, shanghai, china, 2012-2013 | image by shengliang su
read more about the project on designboom here
designboom (DB): can you introduce the four-year research initiative that led to the exhibition, and what this involved?
martino stierli (MS): back in 2016, I was invited by a delegation of tongji university to contribute a lecture. they had a bauhaus-related program and they invited a number of international scholars. I accepted this invitation, but asked that they would introduce us to some contemporary work in china, and they were very generous. professor xiangning li, an expert in contemporary chinese architecture, organized a research trip for me, which he participated in as well, and we spent about a week on the road. he introduced me to the key figures in the field and it became immediately clear that there was a very vibrant and rich contemporary conversation that was quite different to what our perception of contemporary chinese architecture was. I felt it was worth pursuing further, so I continued taking annual trips where I deepened that research — first with the assistance of xiangning li, but then also by myself and together with evangelos kotsioris, who has been assisting me with this project. it really started out as something almost accidental, but then I realized, once I was there, that this was really worth looking into further.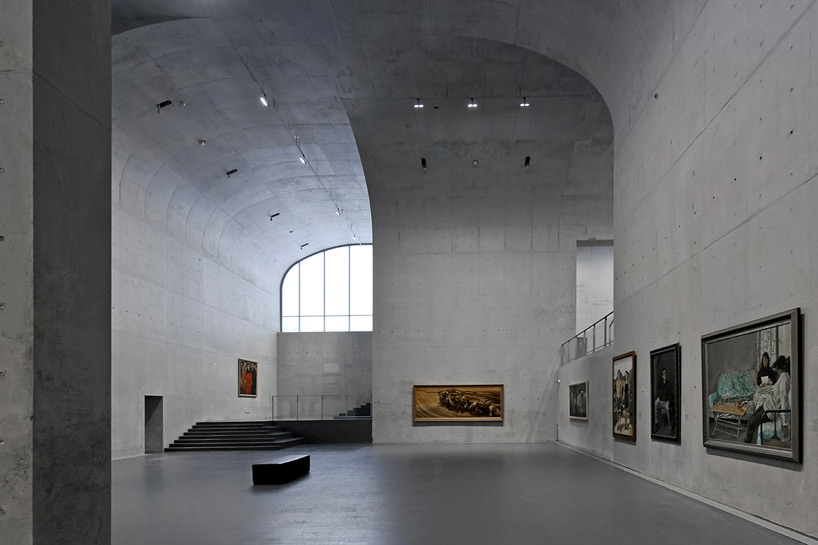 atelier deshaus, long museum west bund, shanghai, china, 2012-2013 | image by su shengliang
DB: in your research, what did you learn about contemporary chinese architecture that you might not have previously known? did anything surprise you?
MS: in recent years, what's really been making news in architecture are these urban mega projects, which are very often authored by kind of 'starchitects' — mainly from western countries. there's an incredible, massive urban transformation, on a very, very large scale. what I discovered, to my surprise, was that there was this younger generation of architects who were perhaps a bit critical of this very rapid transformation, and were trying to find a different way to approach things — something that is unequivocally modern in terms of its formal language, but that also resonates with the rich, cultural, and material traditions of china. that's what I was really interested in pursuing. I think these projects are relatively small scale and they're not necessarily in the big urban centers. very often they try to engage with the local population and help recreate economies in areas that have been depopulated by this massive flood into cities in the recent past.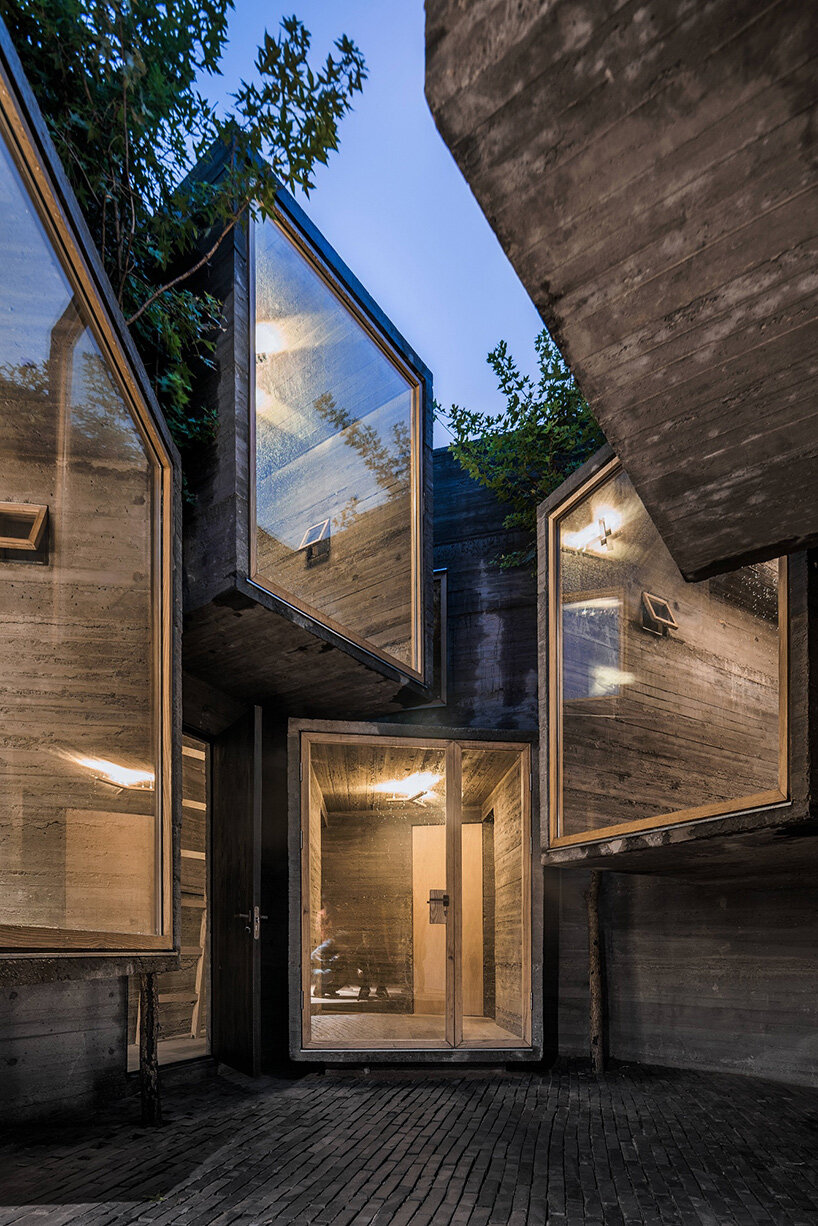 zhang ke, micro-hutong, beijing, china, 2016 | image by wu qingshan
read more about the project on designboom here
DB: what are some of the factors that influenced the work of these architects, compared to the generations that came before them?
MS: that's a really interesting and complex question. I think there are various factors that need to be considered. we're talking about independent architecture offices, while the vast majority of construction in china continues to be done by the official state-run design offices. I think the central government, until quite recently, seemed to favor big international names, as opposed to homegrown talent. so it has to do with opportunity.
there's also been this shift in recent years in state policy. you're probably aware that the party at some point basically decided not to continue with what they call 'weird architecture'. so I think it was, to some degree, a shift in policy and an increasing awareness in the chinese government that perhaps this extreme drive towards urbanization created huge social and ecological issues.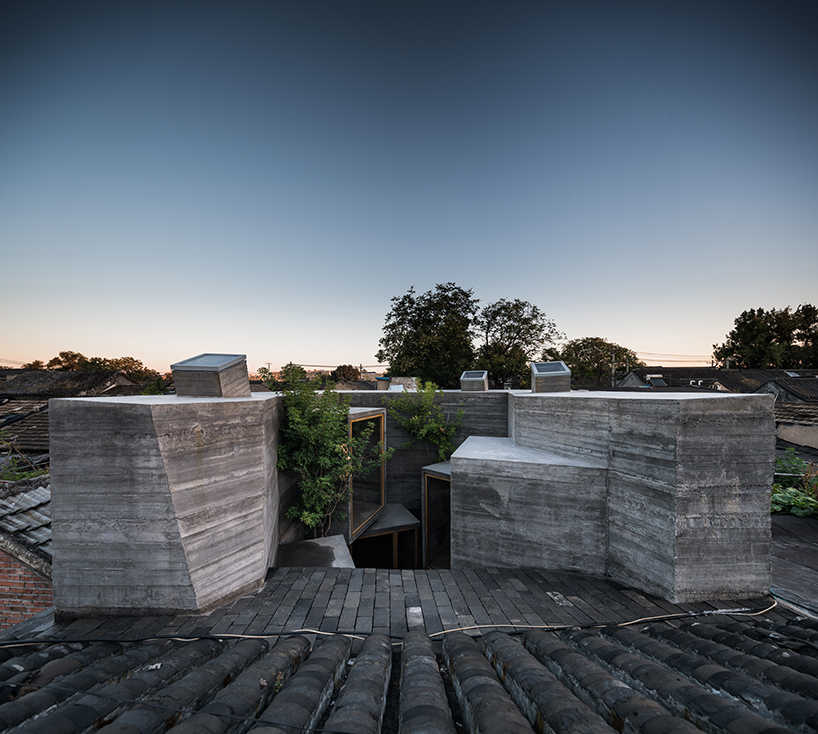 zhang ke, micro-hutong, beijing, china, 2016 | image by wu qingshan
MS (continued): one interesting example is the work of xu tiantian, a female architect from beijing who has been working in songyang county. it's a technical collaboration with the local government of songyang, which has really tried to harness contemporary architecture to rebuild a rural economy — basically establishing places for the production of agricultural goods that are grown in the region. people can then get a job so they don't all move to the big cities and depopulate the region further.
it's also a generational thing. many of these architects were trained in the west and/or used to work in these foreign offices. there's also the psychology of realizing that the world has moved on, and the need to be increasingly aware of the limited resources and the enormous impact that the incredible construction from the past decades has had on the natural environment.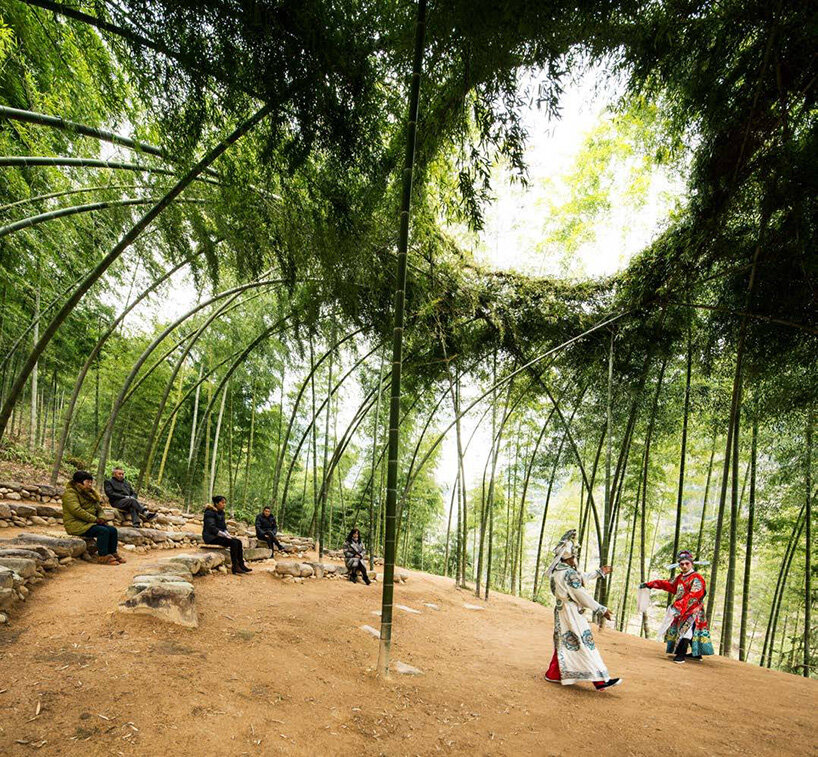 DnA_design and architecture, bamboo theater, hengkeng village, songyang, china, 2015 | image by wang ziling
DB: what was the criteria for selecting the eight projects included in the exhibition?
MS: we tried to build on the acquisition that we made [around 160 works of chinese contemporary architecture]. the idea is perhaps to have a future iteration with a different theme, but from that same very large acquisition. we felt very strongly that we wanted to work around this topic of social and ecological sustainability — projects with existing structures, cultural craft, material traditions, and so on. we started from that idea and then went through our acquisition and established which works best fit into this category.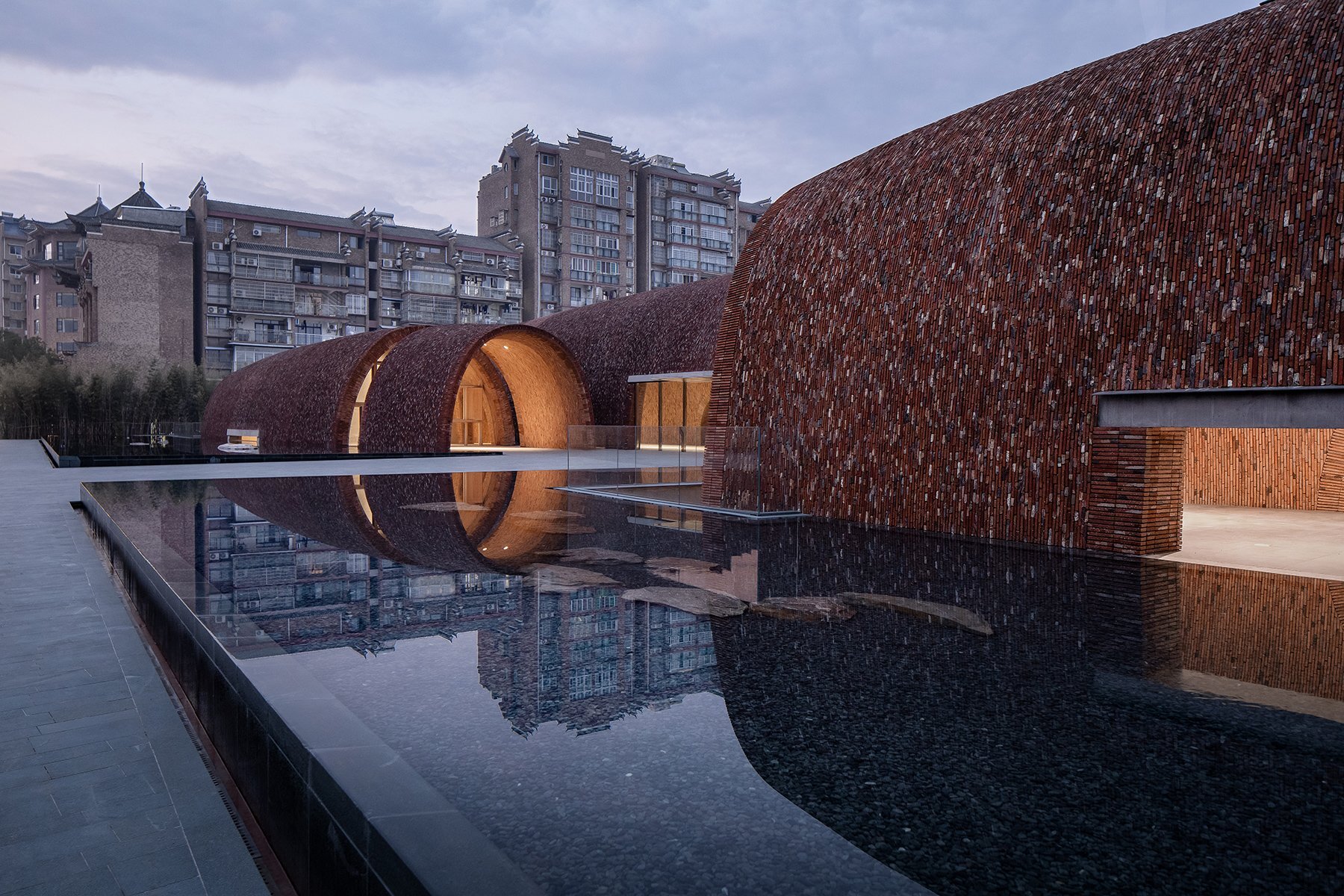 studio zhu pei, jingdezhen imperial kiln museum, jingdezhen, jiangxi, china, 2016–2020 | image © schran image
DB: what are some of the highlights visitors can look forward to?
MS: there's a number of really exciting models, and we're aware that museum-goers really love architectural models. for example, there's a really great bronze model of the long museum in shanghai by atelier deshaus — a project that deals with the adaptive reuse of a former industrial site into a cultural site. there's also an equally stunning model in porcelain of the imperial kiln museum in jingdezhen by studio zhu pei. this porcelain model was made in jingdezhen, so it's harnessing local know-how and traditions. it's not only a really interesting representation of the project, but it's also a stunning artistic object.
then we have some really great atmospheric photography that importantly shows the individual projects in their context. it's very much the idea of adding a contemporary layer to the existing structures, and that's what we tried to show with the photographs. there are also some video clips, which I think are really interesting for visitors to understand the spatial complexities as you walk through the spaces and how they're connected.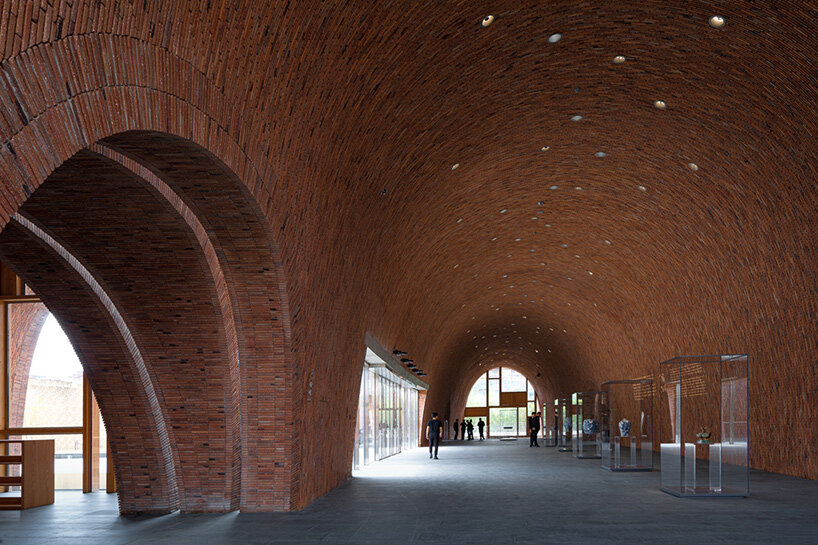 studio zhu pei, jingdezhen imperial kiln museum, jingdezhen, jiangxi, china, 2016-2020 | image © schran image
read more about the project on designboom here
DB: what do you hope visitors take away from the exhibition?
MS: I think there are a couple of takeaways. one thing I hope this exhibition will do is help shift the perception of china, from these urban mega projects to bring attention to this younger generation of local architects and the really interesting work they're doing. the second aspect is to stress that the architectural discipline is really in need of a fundamental reorientation towards more ecologically and culturally sustainable practices. there are examples of how that could look and how that could be done.
in particular, in terms of the situation in the U.S., I think the way that some of these chinese rural places have handled, or are trying to handle, rejuvenation through architecture could absolutely be a model for how things could be done in this country. I think there are many parts of the U.S. that have really suffered from the end of industrial production. I think in some ways there are still issues to be addressed, and I think that this is something to learn from.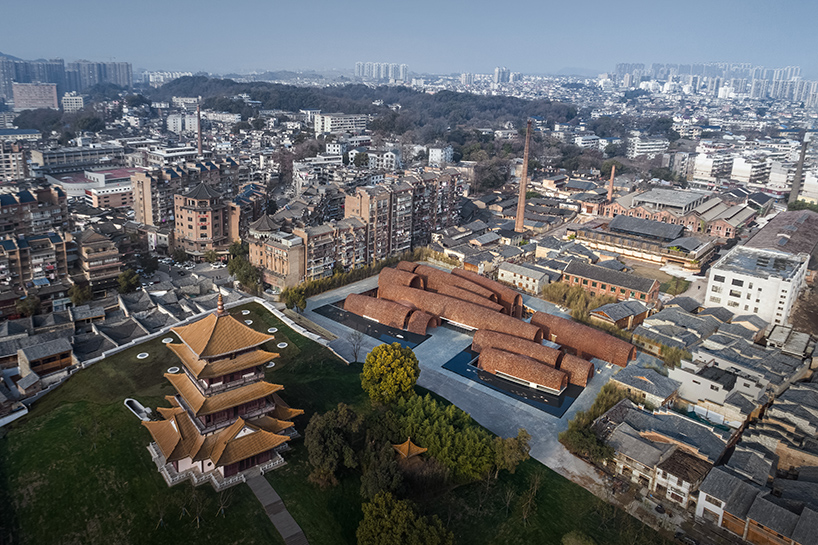 studio zhu pei, jingdezhen imperial kiln museum, jingdezhen, jiangxi, china, 2016-2020 | image © schran image
exhibition info:
name: reuse, renew, recycle: recent architecture from china
location: the museum of modern art, new york, NY
dates: september 18, 2021 – july 4, 2022
organized by: martino stierli, the philip johnson chief curator of architecture and design, and evangelos kotsioris, curatorial assistant, department of architecture and design
curatorial advice provided by: prof. li xiangning of tongji university, shanghai
philip stevens
I designboom
jun 10, 2021
KEEP UP WITH OUR DAILY AND WEEKLY NEWSLETTERS
a diverse digital database that acts as a valuable guide in gaining insight and information about a product directly from the manufacturer, and serves as a rich reference point in developing a project or scheme.
designboom will always be there for you
milan, new york, beijing, tokyo

,
since 1999