jan 29, 2016
monadnock's abstract tower in the netherlands provides a landmark for nieuw bergen
monadnock's abstract tower in the netherlands provides a landmark for nieuw bergen
all images by stijn bollaert
as part of nieuw bergen's village renewal plan, rotterdam-based architecture practice monadnock has designed a landmark building that demarcates the adjacent marketplace as a clear and collective space. offering views of the neighboring nature reserve, the scheme combines an abstract tower with a base that accommodates facilities for the local community. while the lower building is clad with a combination of green and red bricks, the upper tower has been constructed using a brazilian bond with openings that allow light inside. as the design aims to be both accessible and tactile, the built form has been conceived as a small object that appears abstract from afar yet intimate at close range.

the scheme forms part of nieuw bergen's village renewal plan
'in a landscape where every small village from afar can be identified by the silhouette of its own church tower, nieuw-bergen lacked such a clear landmark,' explained monadnock. 'recently, this need was granted by providing the realization of a landmark building that is part of the village renewal plan.' the design team drew influence from historical dutch trade structures — oddly proportioned volumes found adjacent to market squares in medieval cities across the netherlands. the base takes on the appearance of a house, existing at a scale comfortable with the surrounding urban fabric. this lends the scheme a sense of convention, despite the two abstract towers situated above.

the lower building is clad with a combination of green and red bricks

the project demarcates the adjacent market square as a clear and collective space

the built form has been conceived as an object that appears abstract from afar

the upper tower has been constructed using a brazilian bond

small openings allow light inside the structure

the design team drew influence from historical dutch trade structures

the base takes on the appearance of a house, existing at a scale comfortable with the surrounding urban fabric
project info:
architects: monadnock
location: nieuw-bergen, the netherlands
completion date: may, 2015
project type: towerbuilding / watchtower
year: 2015
project team: sandor naus, job floris, rebecca aguilera
client: concept-NL project development
structural engineer: bolwerk wekers
project manager: monton
urbanism: LOS / stad om land
main contractor: burgtbouw
photography: stijn bollaert
Save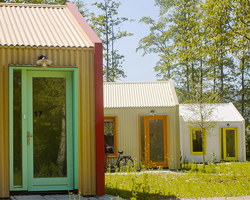 jul 20, 2017
jul 20, 2017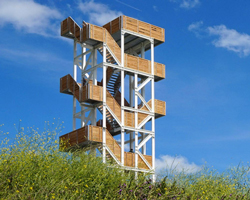 jul 18, 2017
jul 18, 2017
jul 14, 2017
jul 14, 2017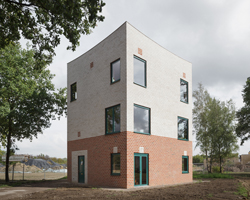 may 04, 2017
may 04, 2017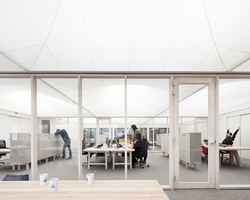 jan 30, 2016
jan 30, 2016