seoul-based architect moon hoon has completed a three-storey home on south korea's jeju island. the dwelling comprises a series of stacked concrete volumes that have been rotated in order to create verandas that overlook the natural basalt-filled landscape. the appearance of 'simple house' is further informed by the strong winds common to the island, with a web of angled support structures used to secure the building's precarious form.

all images by namgoong sun
drawing from the region's vernacular architecture, moon hoon's original concept involved partially submerging the low-lying residence below grade with an atrium rising through the center of the scheme. however, this particular scheme was abandoned due to a 'sudden mood change' from the client who required a property that was more 'showy' and 'extravagant'. considered 'the complete antithesis' of the first design, the re-imagined house includes a series of stacked structures that lend the project a more imposing quality.

the dwelling comprises a series of stacked concrete volumes
a ground floor bedroom is joined by a playroom as well laundry and storage facilities. from here, a centrally positioned staircase, which even accommodates a library, connects each level of the home. the intermediate storey includes the property's primary living space with a kitchen, lounge, and exterior dining area, while the upper level contains the master bedroom and a terrace with an outdoor hot tub. a roof deck offers additional external space for barbecues and other events.

a web of angled supports is used to secure the building's precarious form

a centrally positioned staircase connects each level of the home

the stairwell even accommodates a library

a variety of verandas overlook the home's natural surroundings

the stacked structures lend the project an imposing quality

the theatrical three-storey home is located on south korea's jeju island
project info:
name: simple house
architect: moonbalsso (moon hoon)
design team: kim jaekwan, kim haeree, park jeonguk, song giwon, tomasz kisilewicz
location: 68, wolsannam 2-gil, jeju-si, jeju-do, korea
program: house
site area: 714 sqm
building area: 133.48 sqm
gross floor area: 206.40 sqm
building scope: 3 floors
car parking: 2
height: 11.05m
building to land ratio: 18.70%
floor area ratio: 28.90%
structure: reinforced concrete
exterior finishing: exposed concrete
client: JJ
Save
Save
Save
Save
Save
Save
Save
Save
Save
oct 30, 2017
oct 30, 2017
oct 15, 2017
oct 15, 2017
oct 12, 2017
oct 12, 2017
sep 27, 2017
sep 27, 2017
sep 25, 2017
sep 25, 2017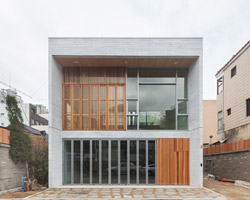 aug 25, 2017
aug 25, 2017
dec 30, 2016
dec 30, 2016
dec 29, 2016
dec 29, 2016
dec 28, 2016
dec 28, 2016