sep 17, 2013
moshe safdie completes skirball center in los angeles hills
moshe safdie completes skirball center in santa monica mountains 
image © tim hursley 
all images courtesy safdie architects 
marking the end of a 30 year endeavor, the fourth and final phase of the skirball center by moshe safdie is complete and set to open to the public in october. sited at the base of a once-barren hill in los angeles, the skirball center complex is the united states' largest jewish cultural institution and is programmatically dedicated to showcasing and sustaining 4000 years of jewish heritage. the joint vision of uric d. herscher and the architect, at the time the project was safdie's first cultural project in the U.S. the completion of the campus will be commemorated by a retrospective of safdie's design philosophy and practice over his 50 year career, entitled 'global citizen: the architecture of moshe safdie.' 
wrapping around the emerald landscape of the santa monica mountains, the skirball center is an accretion of pavilions, courtyards and gardens with a material palette that evokes the makeup of paradise and recalls ancient jewish traditions. the complex topography of the site in broken down in scale and made both accessible and serene by the cluster of landscaped ravines and longitudinally positioned arcades. sunken courtyards complement a museum program centered on tracing the visions of values of jewish people from antiquity to america. galleries dedicated to changing exhibitions, conferences and educational centers are fully embedded in the rolling  greenery. the buildings are all comprised of subtly pink tadoussac stone and feature recessed glazing, impressive vaulted ceilings and manicured planted areas. rooftops are distinguished by stainless steel vaulted roofs that reflect the painted southern california sky.   
view of the complex as it wraps around the emerald hills 
image © tim hursley  
stepped and sunken gardens complement sky-reflecting stainless-steel roof vaults 
image © tim hursley
view of an arcade-wrapped sunken garden 
image © tim hursley  
interior and rooftop landscaping complements both the santa monica mountains as well as the pink stone that makes up the buildings  
image © tim hursley  
interior view of the green pavilion 
image © tim hursley  
the completion of the final phase features two adjoining buildings, herscher hall and guerin pavilion, sited on the north side of the campus and slated to continue the center's successful programming as well as further deepen the extent of the museums's role as a community organizer. the addition of 40,000 square feet of classrooms, conference spaces, gardens, and a grand hall will have a 1200 guest capacity and will further bolster the center's large-scale public and professional gatherings. the central tectonic gesture is the 9,000-square-foot grand hall is flooded with warm natural light from nearly 100 custom-designed skylights in a roof supported by oregon douglas fir beams. a large window-wall frames the dramatic view of the cascading terraced courtyard garden, which contains 30 Japanese maple trees and creates the appearance of a floor-to-ceiling living mural spanning the full length of the room. the entrance plaza to the new building is accented with coral trees, enamel art panels, and a monumental fountain–all scaled to evoke a sense of welcome and community that has so characterized the museum for decades. 
image © tim hursley  
the last phase of the skirball complex is set to bolster an already thriving public and event program 
image © tim hursley  
aug 17, 2017
aug 17, 2017
aug 16, 2017
aug 16, 2017
aug 16, 2017
aug 16, 2017
aug 13, 2017
aug 13, 2017
feb 03, 2016
feb 03, 2016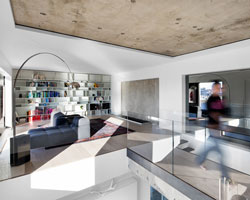 oct 06, 2015
oct 06, 2015