danish architecture studio squareone shares the world's first vision of a multi-storied city based on a four-way elevator system. 'hanging cities' consists of multiple, interconnected towers which are linked at various levels by a transport loop known as MULTI, which was first introduced in 2014.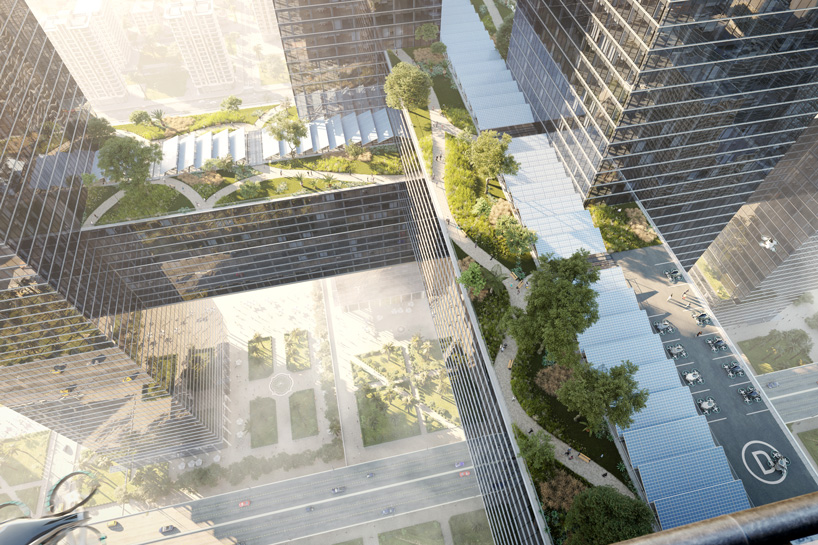 all images courtesy of squareone unless stated otherwise
tipped as the world's first willy wonka lift, MULTI is reminiscent of the floating glass elevator in the 1971 film adaptation of the roald dahl classic. based on magnetic levitation technology multiple cabins can move up, down and sideways allowing people to move comfortable and quickly between their destinations.
'hanging cities' follows the inevitable trend of urban densification to the only available direction – upwards. it essentially 'hacks' the connection between buildings at a higher level, enabling rapid horizontal circulation, but instead of just creating a new shortcut, squareone envisions these connections offering new opportunities for public space.
'we are proposing a three-dimensional mega-grid that combines towers and multi-story horizontal sector into a 24h hour urban hub for live, work and play,' explains kostas poulopoulos, partner and design director at squareone. 'to achieve this, we bet on the creation of a second urban level so massive, it will elevate entire social and public functions 'up in the air', in a way that a limited tower floor area would never be able to.'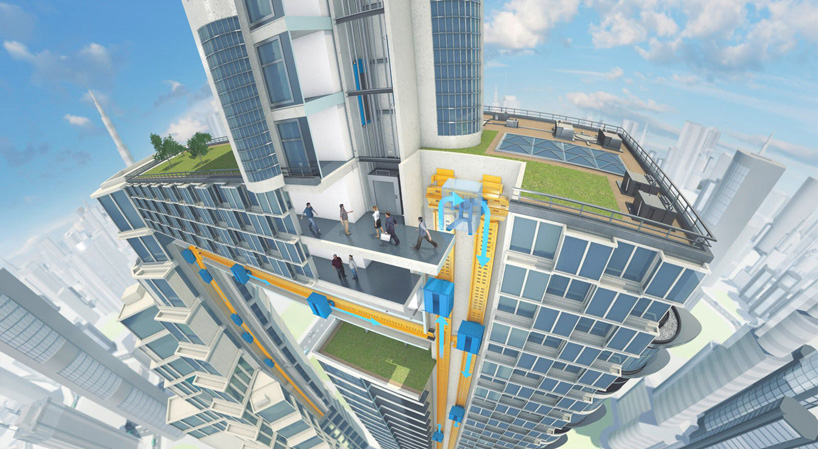 image courtesy of thyseengroup
'the connections offer much more than skybridges. they are multi-level, mall-sized urban realms. basically, it is an idea of how one could maximize the potential of building high. right now, the way that we build tall buildings limits circulation in terms of vertical transportation, speed, and capacity.'
squareone believes the introduction of a new urban sector like this could have a positive effect on city infrastructure, both socially and economically. connecting various mid-tower floors would add value to otherwise undesirable rentable spaces by creating a social hub that would make the area twice as interesting and twice as busy.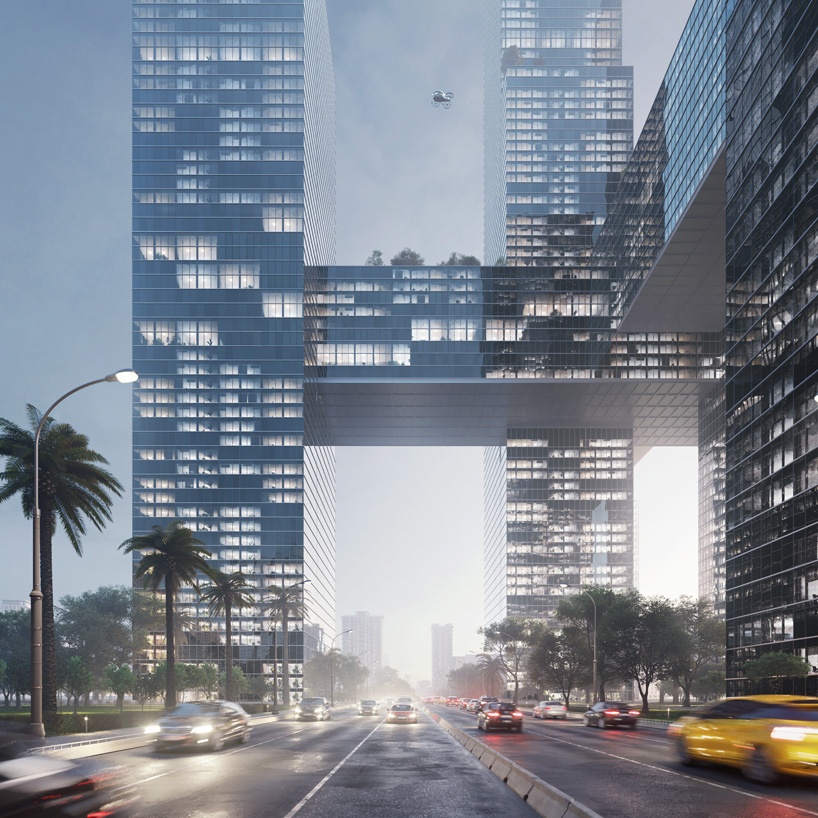 these levels would function in a similar way to a classic street, creating new opportunities for retail, workplaces, educational spaces, and even gardens. moreover, the rooftops of these horizontal sectors could serve as much needed space to accomodate other developing technologies like drone delivery or flying taxis.
in business districts where high-rise towers are common and aplenty, a transport network that functions above ground level would leave the ground floor relatively untouched for cultivation and other leisure experiences. squareone also notes that in areas of rapid urbanization such as asia and africa, the addition of high-rise vertical volumes could offer shade from generally warm and arid climates.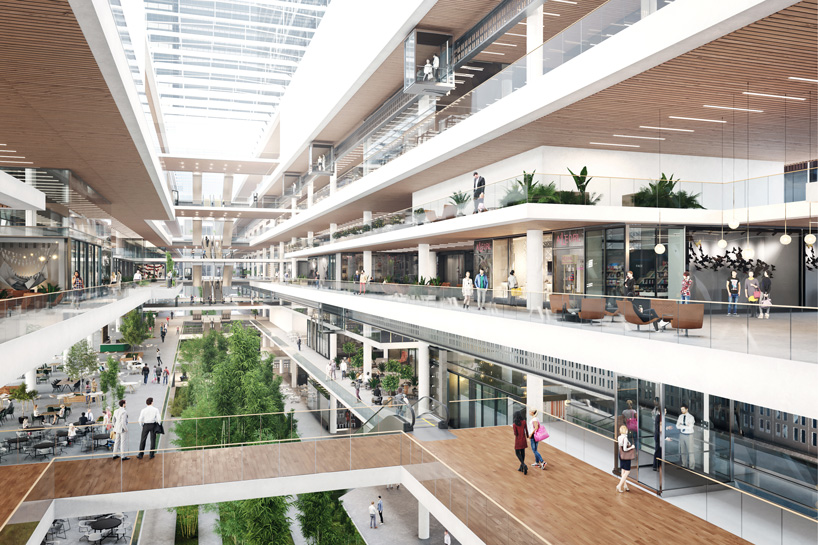 'cities today are challenged at a level of offering density while managing good living standards,' poulopoulos says of the problems inherent in city development today. 'there are a lot of challenges: housing is scarce and expensive. development of new housing is not at the rate our cities grow. transport times are growing. and in many cases, growth is happening without regulatory lines, without care for the environment and with little discussion for quality of life. markets control urban growth, and this is not always for the benefit of the cities and their citizens.'
'we believe that transportation is key here, and with multi we found an instant way forward – not a technology 20 years from now, but a technology of today. I think that sooner or later, a ubiquitous transportation cabin will run the streets, the tube, the elevator shafts and move more or less freely in and out of buildings. multi is the first step to this direction.'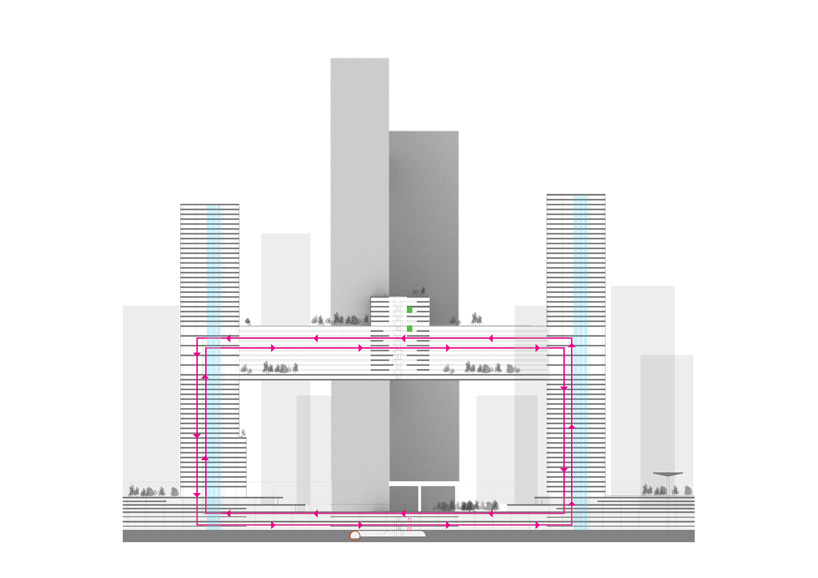 together with german elevator specialist thyssenkrupp, squareone is currently developing the hanging cities concept and looking into future opportunities to test this vision 1:1.
project info
studio: squareone
project name: hanging cities
status: concept
jul 21, 2020
jul 21, 2020
jul 19, 2020
jul 19, 2020
jun 30, 2020
jun 30, 2020
jun 28, 2020
jun 28, 2020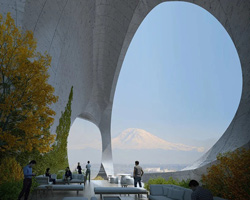 jun 04, 2020
jun 04, 2020
jun 03, 2020
jun 03, 2020
a diverse digital database that acts as a valuable guide in gaining insight and information about a product directly from the manufacturer, and serves as a rich reference point in developing a project or scheme.