the groos concept store in rotterdam has been given a new look by MVRDV; the retail space itself showcasing contemporary art, design to an eclectic mix of creative products from the netherlands and around the world.
'we started out in het schieblock in an up-and-coming neighborhood with minimum funds and now we are moving to a monumental and historical building with world renowned architects, MVRDV as our neighbors, and designers of our dream store.' – groos co-founder, tjeerd hendriks

all images © ossip van duivenbode
the distinctive 300 sqm groos concept store blends a mix of displaying and promoting local talent to the going-ons in the world of design, art, food and culture in rotterdam. MVRDV's design proposal restores the generous space to its original form and allows it to be compact yet versatile by creating a custom-built, floor-to-ceiling cabinet system. finished in a deep red, the shelves allow products and art work to be displayed in a clear and exhibition-like manner, with stair access on the side to take customers to the higher shelves.
located in the het industriegebouw, the site was an obvious choice for groos' new home because of its interesting and industrial past. its original function as a communal building has now been restored. from growing tech start-ups to creative entrepreneurs, artists, architects, designers and from fine dining to high-end retail, het industriegebouw is up and coming destination for rotterdam's urban place to work, eat, shop and relax and now, also the new home of the groos store.

a mezzanine level gives access to the high shelves

a custom-built cabinet of rotterdam products which allows maximum floor space

MVRDV's design proposal restores the space to its original form and makes the shop compact

a large range of products and design is orderly distributed in the store

the custom-made mint green candy counter is created by sabine marcelis

the store's distinct bright pink wall displays original artworks
Save
Save
Save
Save
Save
Save
Save
nov 02, 2017
nov 02, 2017
oct 18, 2017
oct 18, 2017
oct 11, 2017
oct 11, 2017
sep 19, 2017
sep 19, 2017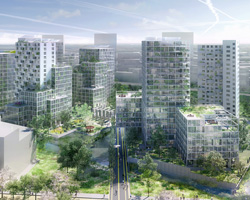 sep 12, 2017
sep 12, 2017
sep 05, 2017
sep 05, 2017
MVRDV
(101 articles)
nov 02, 2017
nov 02, 2017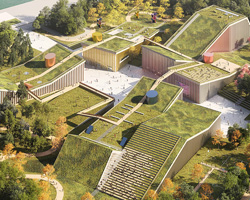 oct 17, 2017
oct 17, 2017
oct 12, 2017
oct 12, 2017
sep 06, 2017
sep 06, 2017
sep 05, 2017
sep 05, 2017
jul 14, 2017
jul 14, 2017
oct 20, 2017
oct 20, 2017
oct 15, 2017
oct 15, 2017
oct 10, 2017
oct 10, 2017
oct 07, 2017
oct 07, 2017
sep 11, 2017
sep 11, 2017
sep 03, 2017
sep 03, 2017