oct 01, 2014
MVRDV-designed markthal housing + market hall opens in rotterdam
MVRDV-designed markthal housing + market hall opens in rotterdam
photo by ossip van duivenbode
all images ®provast, MVRDV
to conclude a five year construction process, the markthal in rotterdam is holding its opening ceremony today, featuring an inauguration by queen máxima of the netherlands. led by developer provast and designed by architecture office MVRDV, the structure combines two dissimilar program types, composed as a housing building which arches over an indoor market hall. the facility offers public access for eating, drinking, and shopping, while also accommodating 228 apartments featuring externally facing balconies.
apartment balconies and windows articulate the horse shoe-shaped exterior façades
photo by ossip van duivenbode
as the first covered market hall in the netherlands, the facility is expected to attract 4.5 to 7 million visitors per year. to promote this, the project's main intention is to remain very open and accessible to the public. although the truncated elevations are physically enclosed for functional purposes, the use of glass curtain walls maintains a character of transparency. an underground parking garage contains 1,200 spaces, to accommodate the projected heavy usage.
the hall's steel cable net façade is the largest of its kind in europe and capable of withstanding heavy storms
photo by ossip van duivenbode
the building's surface treatment unites two contrasting elements: a gray natural stone cladding on the exterior façades and a vibrant and colorful mural arching above the market. the latter, by artists arno coenen and iris roskam, is titled 'cornucopia' and features images of produce which are printed on perforated aluminum panels.
a colorful mural depicts a composition of produce on the hall's barrel-shaped ceiling
photo by daria scagliola+stijn brakkee
the market hall contains 96 fresh food stalls and shop units, representing both local and internationally based vendors and producers. the diverse cuisine spread ranges from, 'fresh fish to game, from cappuccino to cheese, from chinese to dutch, from ice cream to local produce, from bargains to exclusive slow food.'
subterranean floor levels contain a supermarket and a 1,200 space parking garage
photo by daria scagliola+stijn brakkee
photos by daria scagliola+stijn brakkee
markthall contains a diverse range of local and internationally based vendors
photo by daria scagliola+stijn brakkee
the arching mural is broken up by windows, which provide views of the hall from each of apartment
photo by ossip van duivenbode
the arching housing building contains 102 rental apartments and 126 freehold units, among which 24 are penthouses. each varies in size, from 80 – 300 sqm, while always featuring an external view to the city context and window to the market hall. the partitions are made of sound and smell proof triple glazing to experientially separate the living units from the food functions.
photo by daria scagliola+stijn brakkee
an apartment's exterior balcony faces toward the urban context and the city's laurens church
photo by daria scagliola+stijn brakkee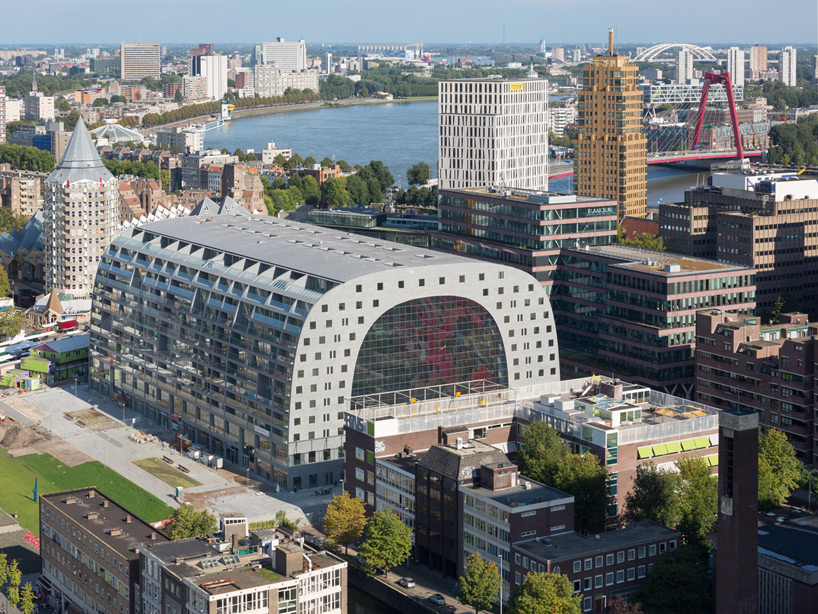 markthal is located in rotterdam's city center
photo by ossip van duivenbode
the facility is easily accessible via public transit
photo by ossip van duivenbode
MVRDV
(96 articles)
jul 14, 2017
jul 14, 2017
jul 12, 2017
jul 12, 2017
jun 14, 2017
jun 14, 2017