'nieuw bergen' is MVRDV's vision for a series of sustainable residences to be built in the dutch city of eindhoven. aimed at being a contemporary and progressive development, the masterplan combines the urban and green characteristics familiar to the adjacent neighborhood of bergen.

all images © MVRDV
totaling 29,000 square meters, the scheme comprises seven buildings made up of 240 new homes, 1,700 sqm of commercial programing, 270 sqm of urban farming, and underground parking. 'natural light plays a central role in nieuw bergen, as volumes follow a strict height limit and a design guideline that allows for the maximum amount of natural sunlight, views, intimacy and reduced visibility from street levels,' explains jacob van rijs, co-founder of MVRDV. 'pocket parks also ensure a pleasant distribution of greenery throughout the neighborhood and create an intimate atmosphere for all.'

balconies with generous outdoor space ensure a vibrant living environment
the cluster of buildings includes imaginary planes at 45 degree angles, drawn from the footprint of neighboring residential buildings. to ensure natural light throughout the scheme, unpredictable building forms have been generated with jagged silhouettes that reference more traditional pitched roofs. while the angled forms primarily result in increased sunlight, they also help ensure significant energy savings — the oblique roof planes are ideally suited for installing solar panels and can also accommodate green roofs.

'nieuw bergen' combines renovated and transformed buildings with new structures
this environmental concept is an evolution of MVRDV's urban strategy tool, which has previously been used for cities in need of sustainable densification. the dutch firm worked alongside with SDK vastgoed, while primum contributed towards the project's sustainability. iris advies advised on neighborhood participation, while stam + de koning bouw helped work on the scheme's engineering.

oblique roof planes are ideally suited for installing solar panels and can also accommodate green roofs

in total, the masterplan comprises seven buildings
Save
Save
Save
nov 02, 2017
nov 02, 2017
oct 18, 2017
oct 18, 2017
oct 11, 2017
oct 11, 2017
sep 19, 2017
sep 19, 2017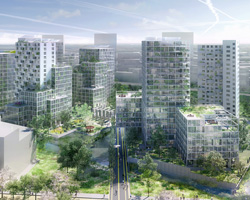 sep 12, 2017
sep 12, 2017
sep 05, 2017
sep 05, 2017
MVRDV
(100 articles)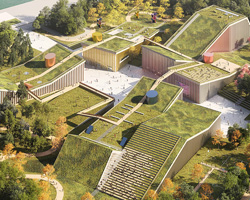 oct 17, 2017
oct 17, 2017
oct 12, 2017
oct 12, 2017
sep 06, 2017
sep 06, 2017
sep 05, 2017
sep 05, 2017
jul 12, 2017
jul 12, 2017
jun 14, 2017
jun 14, 2017