studio saxe has completed a boutique hotel and yoga studio set into in the tropical landscape of nosara, costa rica. 'nalu nosara' is focused on blending contemporary design with local craftsmanship to frame the surrounding nature.

the communal yoga pavilion hosts a range of fitness courses such as kickboxing and martial arts
all images courtesy of studio saxe
nosara is a popular retreat destination for health, wellness and surfing. the eco resort designed by studio saxe thus features a yoga studio and multi-purpose gym space which provides a jungle setting for exercise and relaxation.

the open air pavilion provides a relaxing setting for exercise and relaxation
the hotel is designed as a series of small villas that are located within walking distance of one another. the individual pavilion 'homes' are located near the ocean amongst trees, creating a sense of privacy for the guests as they immerse themselves in the surrounding jungle. each home is equipped with its own private saltwater pool.

the roofs are made from recycled teak planks
the design features a blend between contemporary and local design. overlapping timber roofs built from recycled teak planks project over each pavilion, providing shade from the intense sun.  modern finishes within the homes are contrasted by the exposed outdoor pavilions that integrate seamlessly with the trees.

rather than hotel 'rooms', the hotel is designed with individual 'villas'
architect benjamin garcia saxe says: 'our project at nalu represents the power of simple, low-key, modern tropical architecture. it has quickly become a town favorite, which shows that there is a real desire to occupy spaces that bring people closer to nature, while addressing the needs of contemporary life.'

the spacious villas provide guests with an intimate vacation setting

the extended roofs create shade from the intense sun 

each home is equipped with a sea water pool

the landscape design creates a 'jungle' setting for guests

the individual homes provide privacy and seclusion for guests

the homes are within walking distance from the communal yoga studio, beach and nearby restaurants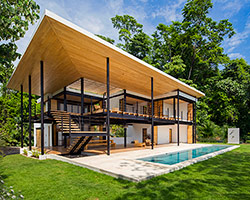 dec 10, 2016
dec 10, 2016
feb 07, 2014
feb 07, 2014
jan 31, 2014
jan 31, 2014
nov 08, 2010
nov 08, 2010
oct 31, 2017
oct 31, 2017
oct 27, 2017
oct 27, 2017
oct 19, 2017
oct 19, 2017
oct 29, 2017
oct 29, 2017
oct 29, 2017
oct 29, 2017
oct 26, 2017
oct 26, 2017