apr 09, 2011
naoi architecture & design office: riverside house
'riverside house' by naoi architecture & design office in ibaraki prefecture, japan all images courtesy naoi architecture & design office
japanese atelier naoi architecture & design office (katsutoshi naoi, noriko naoi) has sent us images of their newest project, 'riverside house', a two-storey dwelling located along the bank of the tone river in ibaraki prefecture. designed for a couple, the residence seeks to capitalize on its proximity to the water by creating a structure that seemingly disappears, allowing the interior to engage in direct dialogue with its immediate landscape.
river-facing facade
featuring floor-to-ceiling windows throughout, the upper-level living space is developed as one continuous area, resulting in an open and flexible atmosphere. the gable roof form provides ample vertical space as well as funnels views towards the water. a wooden platform, elevated 60 cm, serves as the connecting spinal circulation between the public and private programs, offering a different vantage point while defining the different areas of the interior. fronted by a covered balcony that runs the whole length of the house, the boundary between inside and outside is made ambiguous.
(left) exterior view (right) ground floor interior
the ground floor level features a gust room that also offers direct visual access to the river. a slideable door featuring horizontal wooden slats creates an interior space that is permeable to natural sunlight as well as sight lines.
view from living space
interior view
dining and kitchen
elevated circulation platform and view
(left) circulation (right) exterior profile
balcony space
street view
site plan and level 0
floor plan / level +1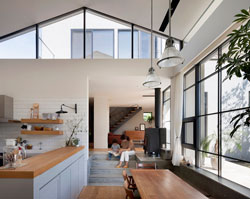 jan 13, 2016
jan 13, 2016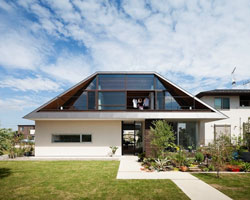 jan 29, 2014
jan 29, 2014
jan 30, 2013
jan 30, 2013
dec 13, 2012
dec 13, 2012
jan 31, 2012
jan 31, 2012
aug 10, 2011
aug 10, 2011