the latvian national museum of art in riga is a historic building dating back to the early 1900's and is highly regarded as an architectural monument representing the city's heritage. the façade demonstrates a classical baroque style showing the sculptural details and ornamentation that is still visible today. the decision was taken to reconstruct  and extend the building to accommodate a contemporary museum infrastructure for the preservation and exhibition of artworks. the aim to provide an optimal environment for visitors to learn and spend their free time constructively in the cultural museum space.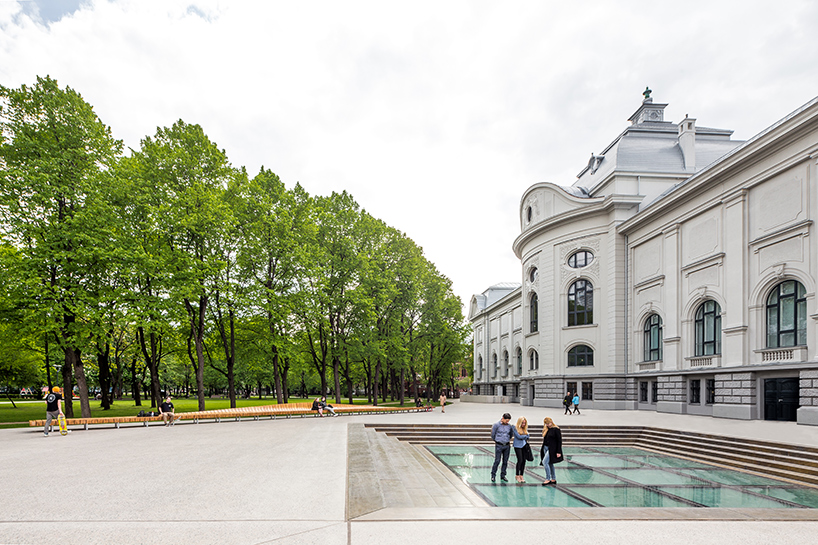 an amphitheater with the 9 X 9 m glass covered atrium allows visitors to observe the museum below
all images © norbert tukaj
the challenging project was undertaken by processoffice and andrius skiezgelas architecture. together the two firms reconstructed, rehabilitated and extended the LNMM which officially celebrated its opening may 2016. the traditional architecture of the existing was considered and their response saw most of the building capacity and authentic, decorative details retained. a challenge faced was to solve the problem of limited gallery space. as a result, the existing unused building space, additional functions, as well as formation of new exhibition spaces was used in the new extension; all of which placed below the ground level. by allocated the new extension underground, the only change to volumes was the addition of the neutral concrete courtyard with a brass amphitheater.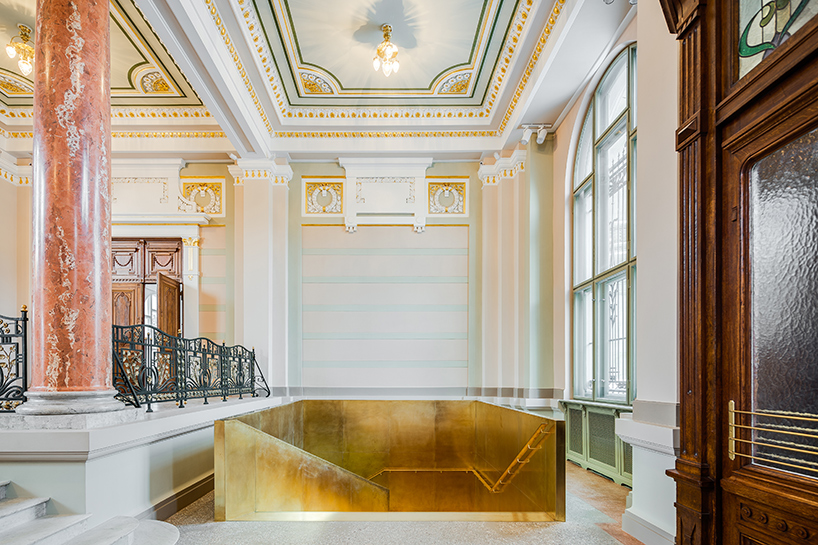 old and new is distinguished by the material contrasts
above the underground extension, in between the park and museum building, a public square offers a social space with an outdoor café, video projection, art installations and other public events. the ground floor has been adapted for administrative and public purposes and a new stairwell connects the ground floor with the new extension and the main hall on the first floor. in addition to the existing exhibition space in the old building, the architects reinterpreted the cupola and part of the currently unused attic as extra exposition spaces illuminated by skylights using natural light control.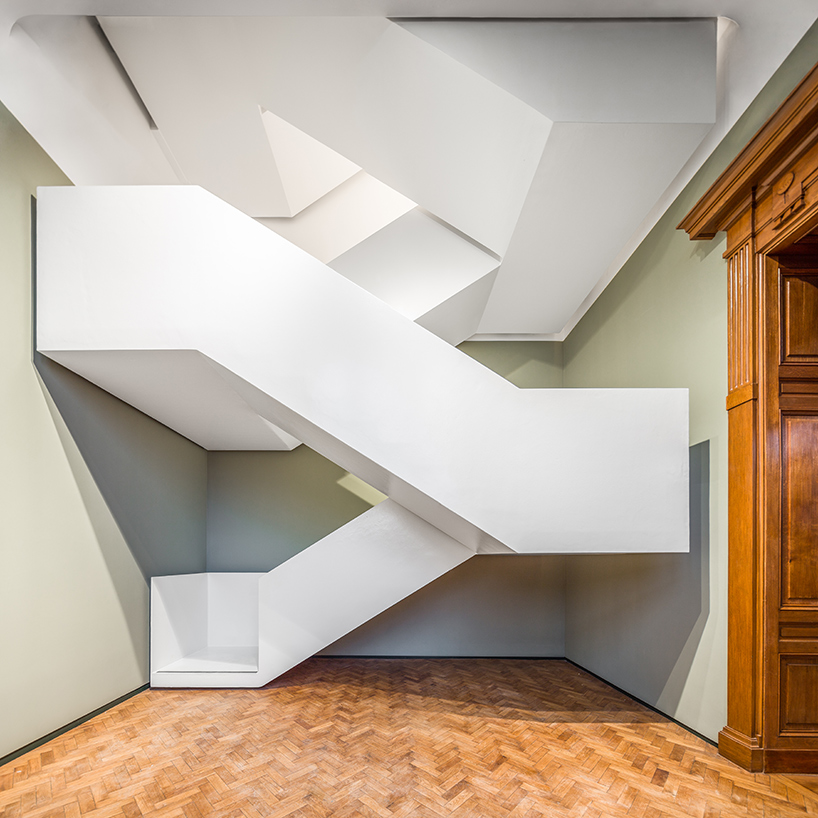 circulation throughout the museum was improved, with the new staircase not touching the existing walls
the new extension is clearly distinguished from the historic building and hosts primarily the technical and ancillary premises of the museum. walking through the public access loop (the entrance ramp) to the exposition halls, visitors can observe the previously and traditionally invisible inner premises of the museum including the archives of art collections. the restoration workshops can be observed both, from the exhibition hall in the glass covered atrium and from above, while walking on the glass floor.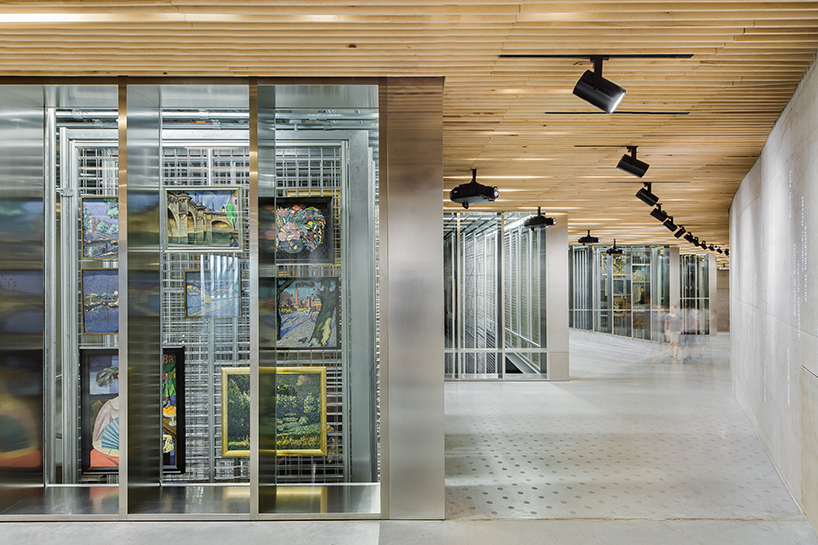 the new exhibition spaces concentrated in the new extension, which is designed below the ground level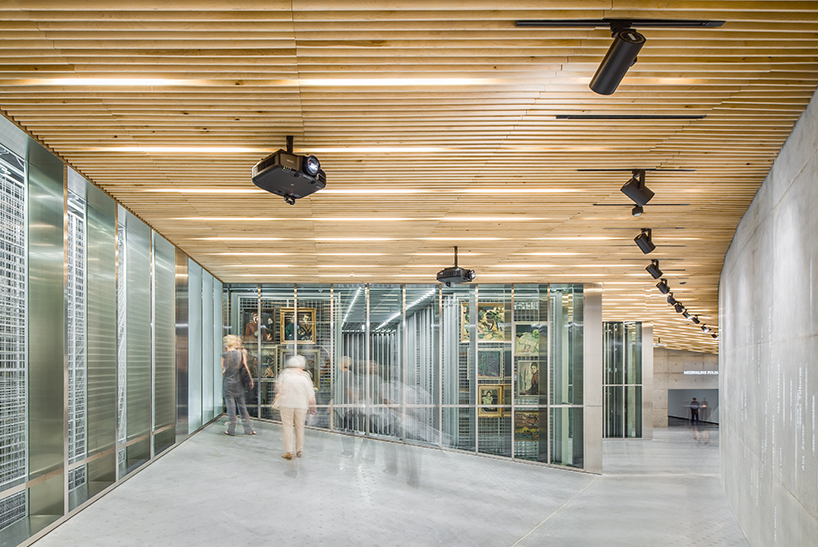 lighting has been recessed into the timber ceiling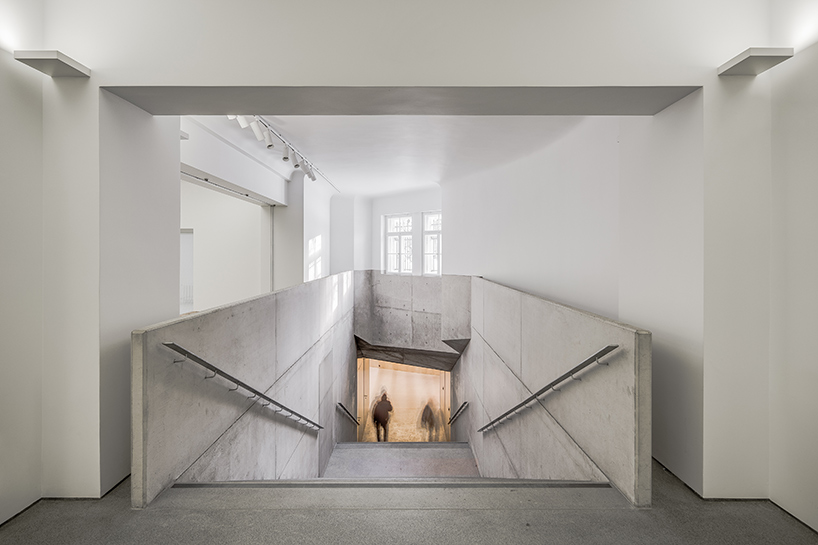 concrete staircase leads down to the basement gallery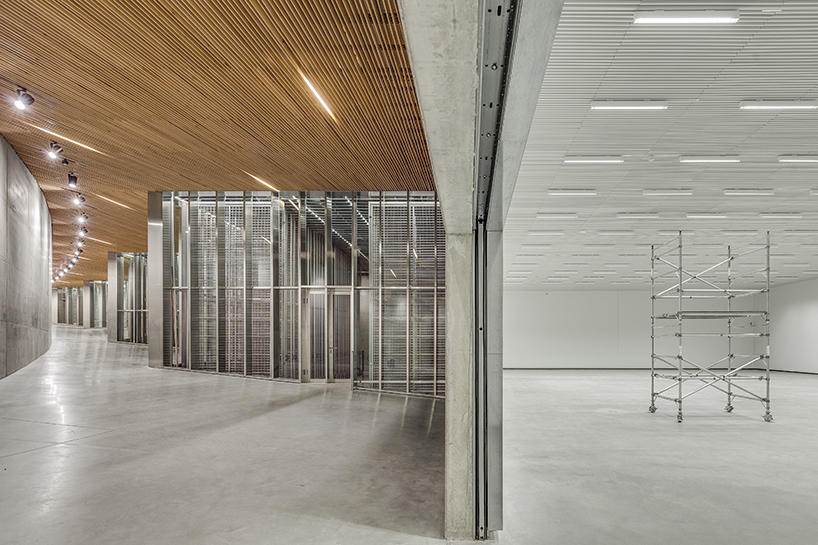 the below ground exhibition area is adaptable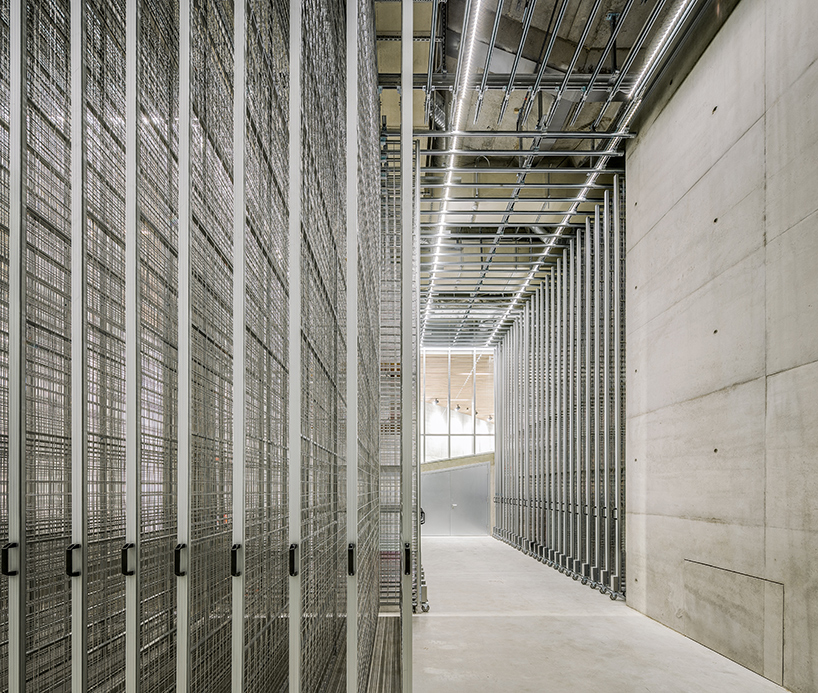 the renewed and extended parts of the museum functions is clearly expressed in the modern volume and subtle
minimal design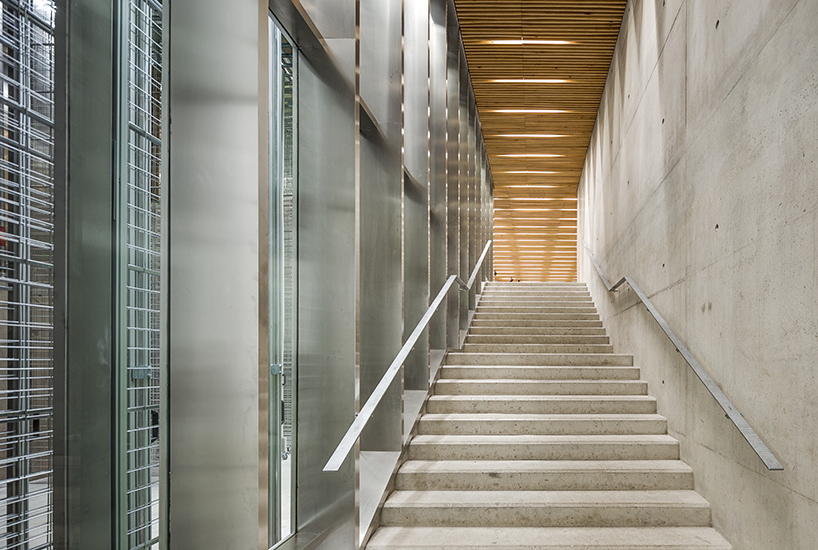 the project begain in 2010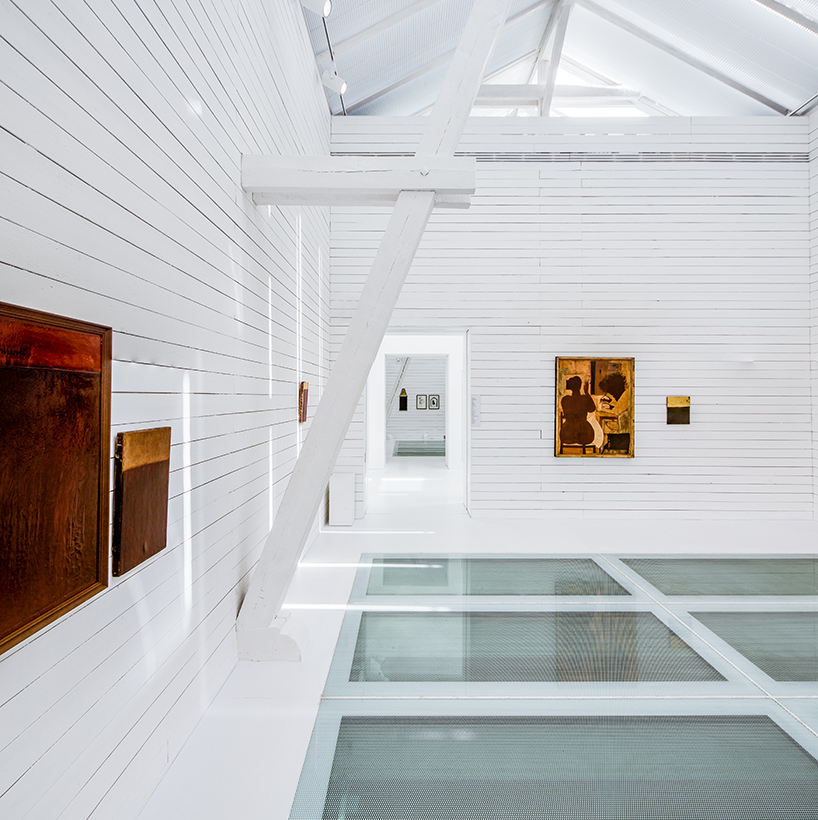 skylights illuminate the permanent gallery areas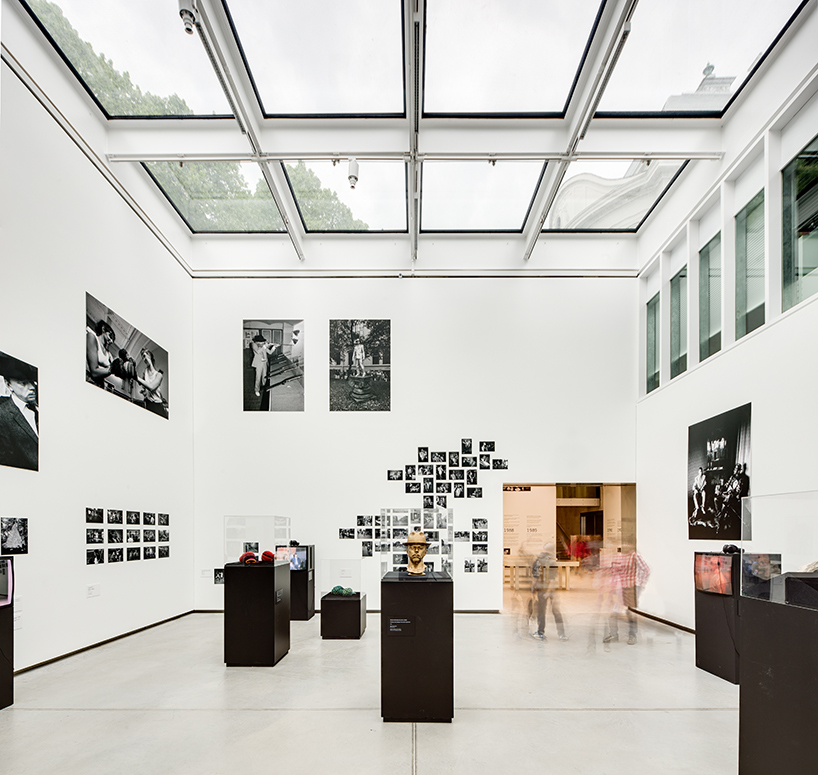 the original building was designed by the museum's first director wilhelm neumann (1849–1919)
project info:
status: competition 1st place 2010, technical project 2011-12, completion 2015, opened in 2016.
location: 10a krišjāņa valdemāra street, riga, latvia
client: riga city council property department
total area: 8,249 m²; public space 2,500 m²
budget: 34m euro
architects:
from processoffice: vytautas biekša, rokas kilčiauskas, marius kanevičius, giedrius špogis, ježi stankevič, austė kuliešiūtė, miglė nainytė,
giedrė datenytė, mantas petraitis, sandra dumčiūtė, povilas marozas, sandra šlepikaitė
from andrius skiezgelas architecture: andrius skiezgelas, gilma teodora gylytė, rasa mizaraitė
restoration:
arhitektoniskās izpētes grupa: artūrs lapiņš, marina mihailova, guntars jansons
structural engineering:
engineers' office būve un forma: jānis prauliņš, jānis krasts, kaspars šņore, olga opolčenova, solvita šņore, māris grāvītis
engineers' office būve un forma: jeļena uspenska, tatjana grava, sergejs pivovarovs, rasa vilka
lighting consultants: think light, moduls
landscape: ainavu arhitekti: daiga veinberga, līga valdmane
Save
Save
Save
Save
Save
Save
Save
Save
Save
Save
Save
Save
Save