shanghai-based design studio neri & hu have been commissioned to redesign beijing's 'BEI restaurant' into 'BEI space' — a multipurpose function room serving the increasing demand for meeting and event spaces.
while the typical function room in a hotel tends to be situated in dark enclosures with no natural light, the given site actually has an existing skylight. in order to fully utilise this asset, the design challenge becomes how to bring in as much light as possible to the space and how to subdue any sense of being underground. the resulting design concept, first, creates a landscape zone that is bathed in light, and second, inserts within it a luminous glass box.
the terrazzo landscape starts from the elevated skylight along the existing southern edge of the site.
the extent of the 
neri & hu
-designed
terrazzo landscape is articulated through a series of vertical terrazzo stratum, seemingly carved and sliced with precision to define this enveloping corridor. guided by the direction of daylight, the terrazzo stratum runs in a uniform direction towards the edge of the underground chamber, overlooking the pool below.
sitting within this landscape is a jewel-like translucent object that glimmers in the daylight and glows in the evening. the boundaries of the luminous box define the perimeter of the main function space which can be further divided depending on the use. taking cues from the gray brick constructions that are ubiquitous in beijing, the glass enclosure is actually formed by cast glass bricks arranged in a typical brick bond pattern. every single brick is painstakingly laid piece by piece, and tied in structurally to a vertical wall system. the material allows all natural light to penetrate deep into the space while only offering obscured views, to maintain levels of privacy.
Save
nov 01, 2017
nov 01, 2017
oct 25, 2017
oct 25, 2017
sep 08, 2017
sep 08, 2017
jul 28, 2017
jul 28, 2017
jul 27, 2017
jul 27, 2017
jul 19, 2017
jul 19, 2017
oct 29, 2017
oct 29, 2017
oct 18, 2017
oct 18, 2017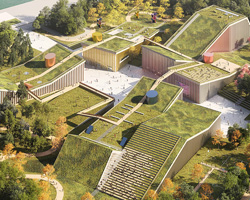 oct 17, 2017
oct 17, 2017
oct 17, 2017
oct 17, 2017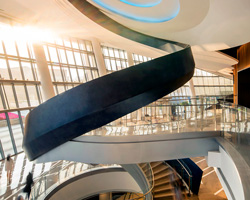 oct 14, 2017
oct 14, 2017
oct 13, 2017
oct 13, 2017
sep 26, 2017
sep 26, 2017
may 04, 2017
may 04, 2017
apr 06, 2017
apr 06, 2017
jan 20, 2017
jan 20, 2017
jan 19, 2017
jan 19, 2017
nov 29, 2016
nov 29, 2016