in suzhou, a city 100 kilometers west of shanghai, neri & hu has completed a chapel that appears externally as a simple white cube. deliberately concealing its program, the building's monolithic façade gives way to a warm interior setting where visitors move through the building's atrium before entering the chapel itself. here, a sense of dynamism is evoked through a 12 meter high ceiling illuminated with natural light.

all images and video © pedro pegenaute
'suzhou chapel' occupies a prime location adjacent to the village's waterfront. within the design, neri & hu followed a consistent architectural language where the firm uses similar elements throughout the scheme. outside the chapel, a play in texture is demonstrated in the grey brick walls that contrast the white volume clad in perforated metal paneling. the stone walls break down to reveal a more refined scale, where their different heights interweave to create a choreographed landscaped journey leading that leads inside.

the walls' different heights create a choreographed landscaped journey
internally, a mezzanine conceived as a timber louvered cage element serves as extra space for guests, while a pathway encircles this elevated area and offers view of the entire hall. at the same time, a grid of bulb lights, accented in brass, hangs overhead and emphasizes the project's attention to detail. the use of custom-made wood furniture adds warmth to the cooler material palette of grey brick, terrazzo, and concrete.

a wooden 'cage' forms the upper mezzanine area
the double façade hides the windows that are actually situated behind the white envelope. during the day, the white box shimmers gently in the sunlight, subtly exposing its contents. by night, lights installed in the windows turn the building into an illuminated landmark for the village, with the white box becoming a jewel-like beacon.

a grid of bulbs accented in brass hangs over the atrium

the pathway encircles the elevated area and offers views of the entire hall

timber adds warmth to the otherwise cool material palette of grey brick, terrazzo, and concrete

random openings offer different external views

layered grey brick makes up the walls leading into the building

a play in texture is seen by the brick walls and the perforated metal envelope

the envelope is composed of two layers with a perforated metal skin

the inner layer is a simple box punctuated on all sides with scattered windows

the white box becomes a jewel-like beacon for the village
Save
Save
Save
Save
Save
Save
Save
Save
Save
Save
Save
oct 18, 2017
oct 18, 2017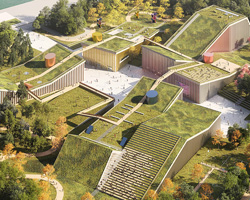 oct 17, 2017
oct 17, 2017
oct 17, 2017
oct 17, 2017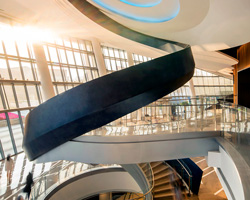 oct 14, 2017
oct 14, 2017
oct 13, 2017
oct 13, 2017
oct 12, 2017
oct 12, 2017
oct 01, 2017
oct 01, 2017
sep 18, 2017
sep 18, 2017
aug 14, 2017
aug 14, 2017
aug 12, 2017
aug 12, 2017
jul 21, 2017
jul 21, 2017
jul 10, 2017
jul 10, 2017
sep 26, 2017
sep 26, 2017
apr 06, 2017
apr 06, 2017
jan 20, 2017
jan 20, 2017
jan 19, 2017
jan 19, 2017
nov 29, 2016
nov 29, 2016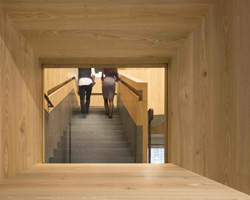 sep 27, 2016
sep 27, 2016