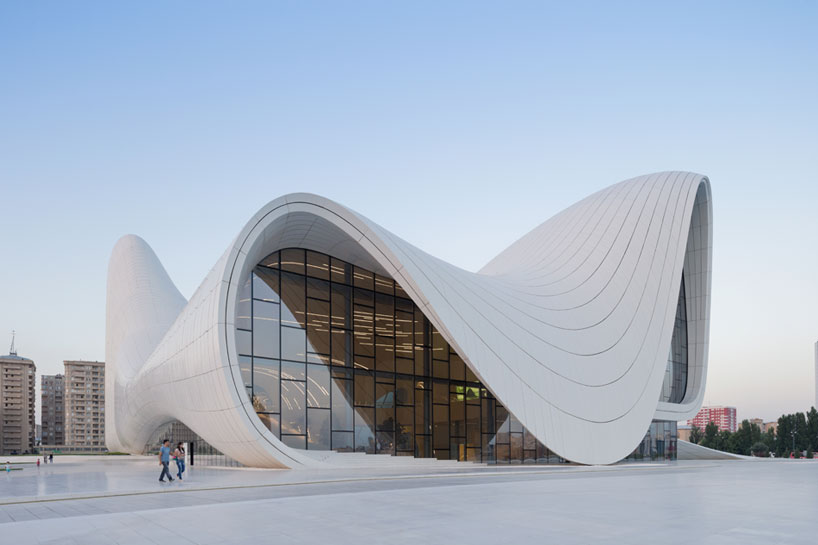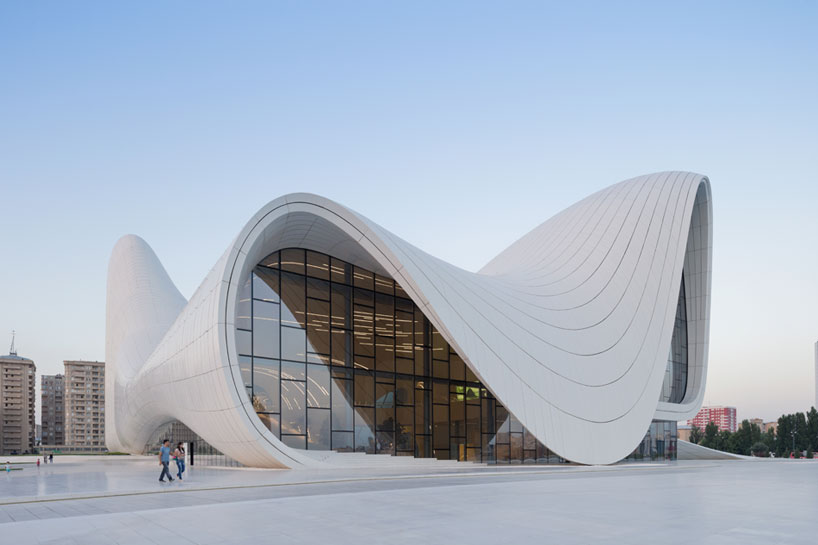 nov 14, 2013
new images of heydar aliyev center by zaha hadid
in 2007, zaha hadid architects won a competition to develop the 'heydar aliyev center' in the city of baku, azerbaijan, which would stand as the country's primary building for hosting the former soviet nation's cultural programs.
in realizing the majestic structure, zaha hadid has employed a sinuous geometry throughout the entirety of the design that sets it apart from the typically rigid and monumental soviet architecture that already defines baku. historically, islamic architecture consists of a composition of rows, grids or sequences of columns that collectively form a non-hierarchal space; while calligraphic and ornamental patterns flow from carpets and walls to ceilings to domes, establishing a seamless relationship between structural elements and the environment in which they are placed. it was the firm's intention to take this understanding of architecture, and develop it not through mimicry or a limiting adherence to the iconography of the past, but as a contemporary interpretation of these points.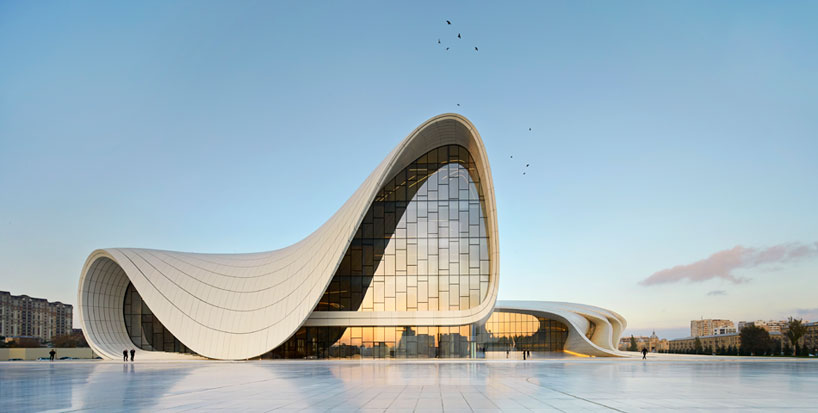 approach from the public plaza that is accessible to all
photo by hufton + crow (main photo by iwan baan)
this is expressed through the introduction of a terraced landscape that has blended the site's previously distinct zones–a topographic sheer drop formally split it in two–establishing alternative links between the building and its connecting programs including the approach via the main public plaza and underground parking, successfully converting what was initially a disadvantage, into a key design feature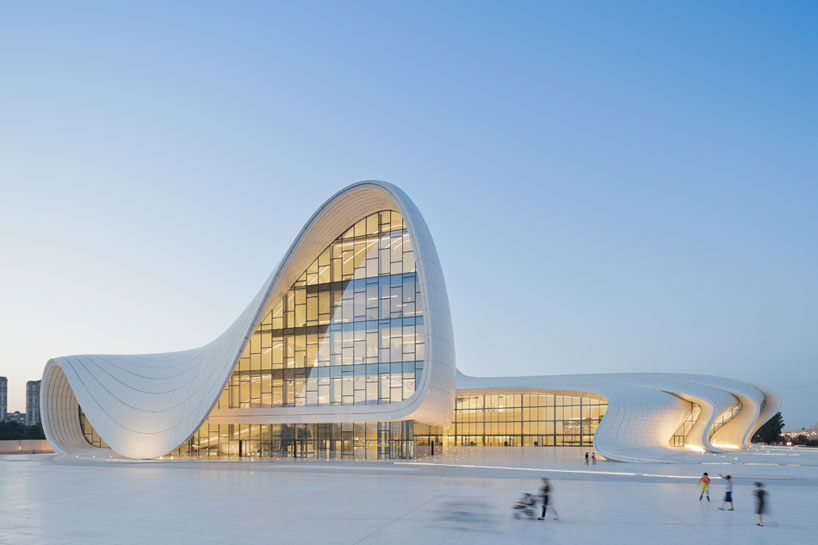 the architectural skin extends from the plaza enveloping the interior
photo by iwan baan
elaborating on this idea of creating a fluid relationship, the expansive outdoor piazza is accessible to all aspects of baku's urban fabric, and rises from the ground enhanced by bifurcations, folds, undulations and inflections that modify its planar surface into a landscape that serves many functions: welcoming, embracing and directing visitors inwards; thus blurring the differentiation between architectural object and urban topography.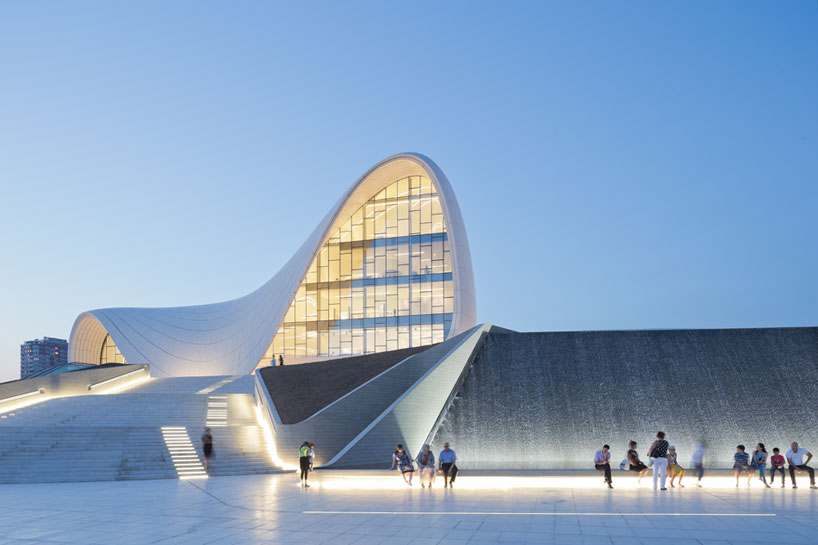 a terraced landscape levels out the previously divided site
photo by iwan baan
in wanting to make the 'heydar aliyev center' appear as if it was emerging out of its surrounding public plaza uninterrupted, zaha hadid has sited the architectural development of the building's skin as being one of the most critical, and also most challenging elements in the establishment of the scheme. a broad range of different functions, construction logistics and technical systems, in addition to advanced computing, were integrated into the building's envelope used to achieve a surface that appears homogeneous; achieved through the installment of glass fiber reinforced concrete and glass fibre reinforced polyester panels. their integration responds to the functional demands related to the plaza, transitional zones and envelop, while projecting the design as having powerful plasticity.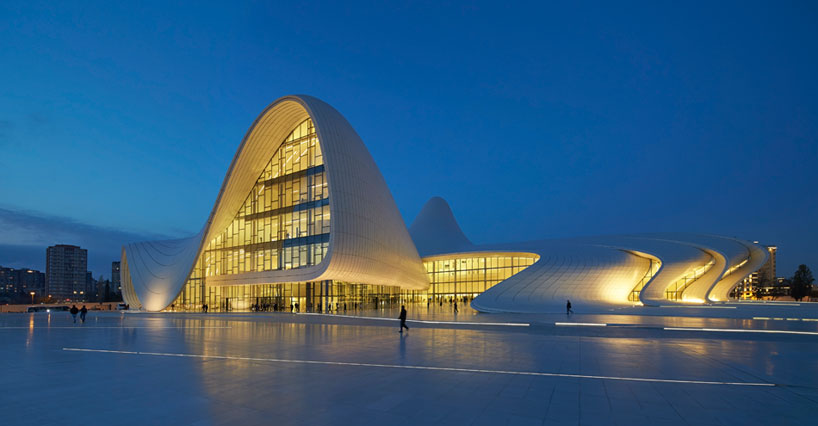 illuminated by night
photo by hufton + crow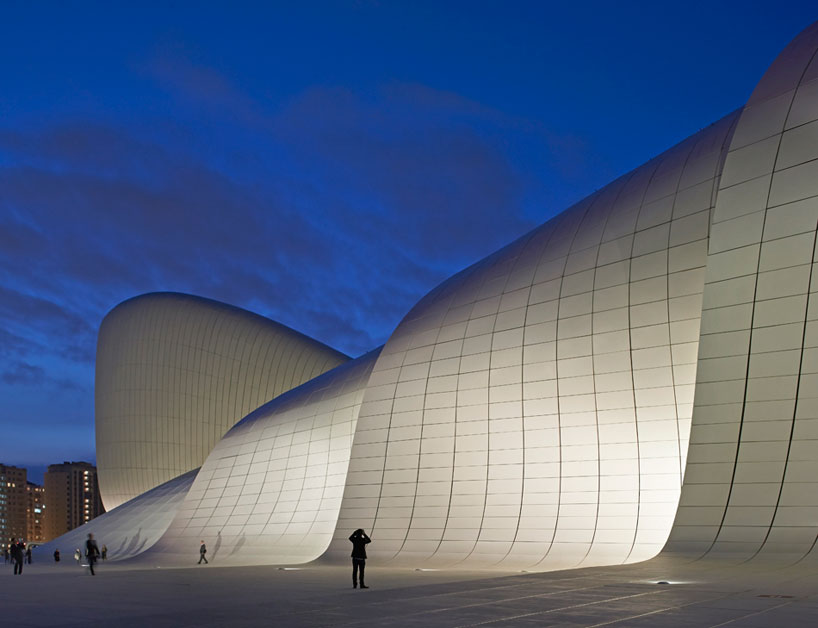 undulations and folds make the building seem as if it is emerging from its surrounding plaza
photo by hufton + crow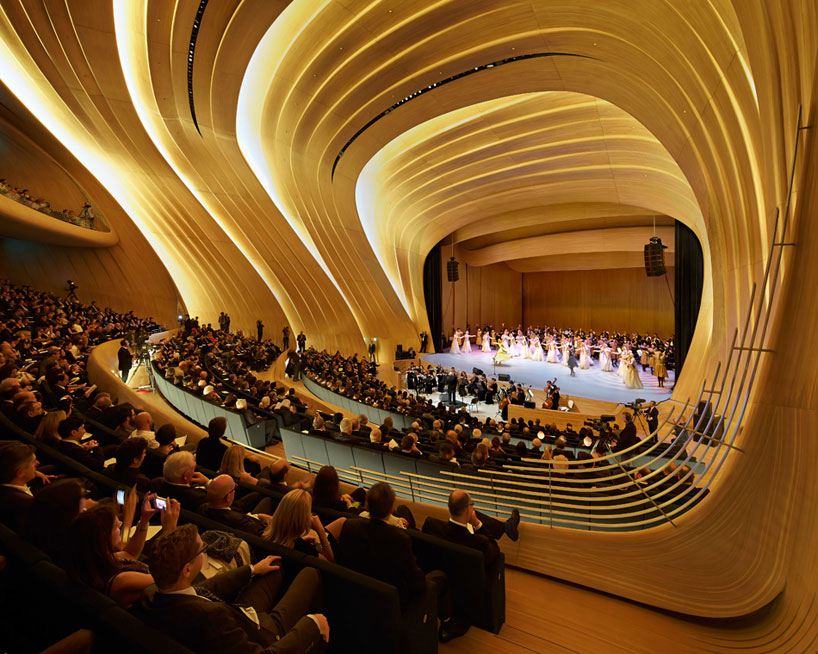 interior theater
photo by hufton + crow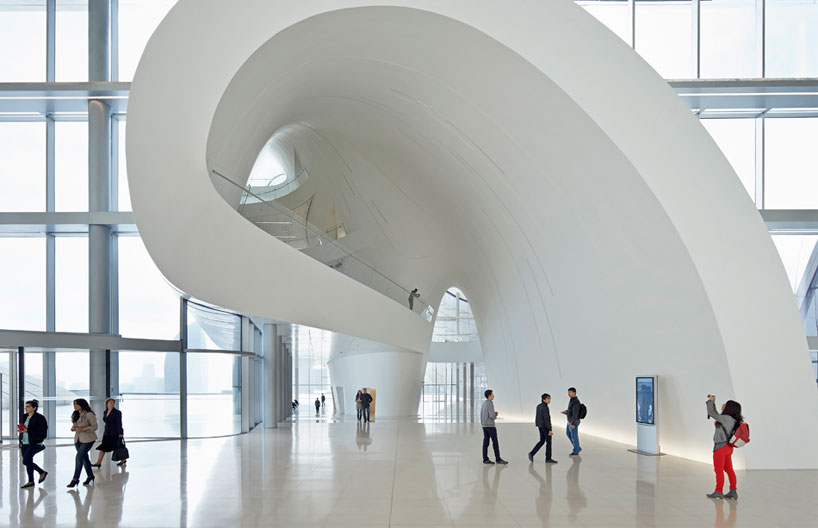 lobby
photo by hufton + crow
a concrete structure, combined with a space frame system has allowed the architects to achieve an interior that is composed of large-scale column-free spaces, whereby the vertical structural elements are hidden within the envelope and curtain wall system.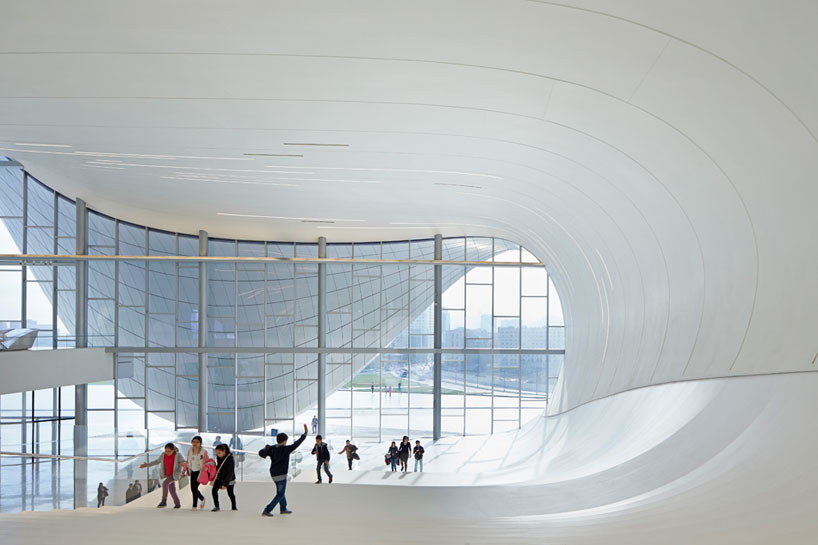 the sloping architecture is continued internally
photo by hufton + crow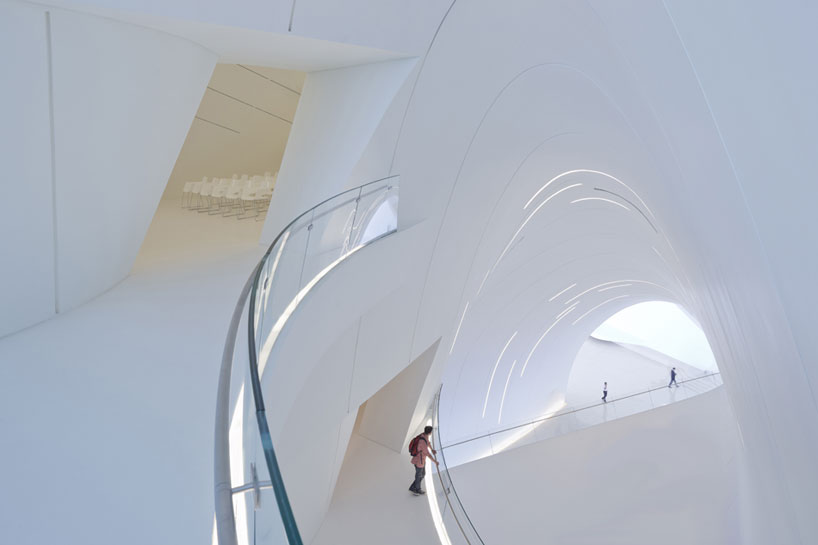 the interior is filled with column-free spaces
photo by iwan baan
to emphasize the continuous relationship between the structure's exterior and interior, the lighting of 'heydar aliyev center' has been carefully considered so that the reading of the building differs during the day, than at night. during daylight hours, the brilliance of the sun bounces off the volume, changing its appearance. semi-reflective glass offers views within, generating curiosity to outsiders without revealing the fluid trajectory of spaces inside. by evening, the entirety of its character is transformed, with inner illuminated areas washing outwards over the exterior surfaces, maintaining fluidity.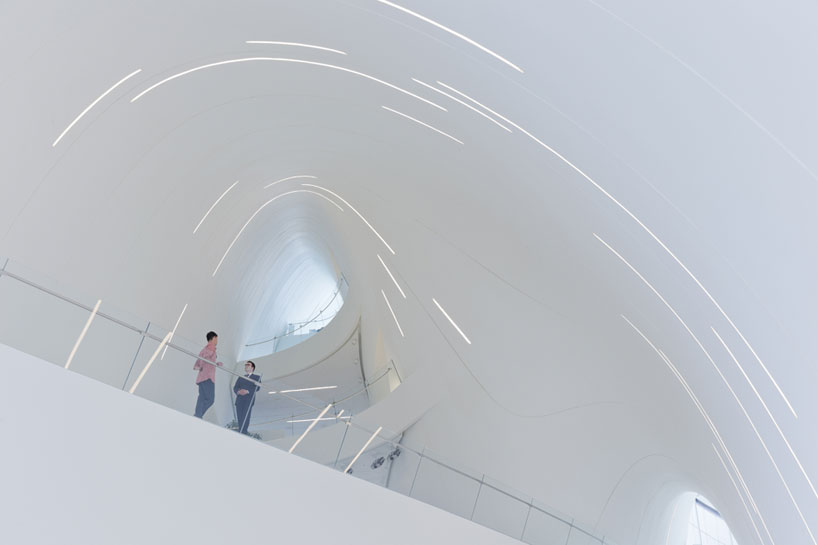 strip lighting has been installed to highlight the sinuous lines of the interior
photo by iwan baan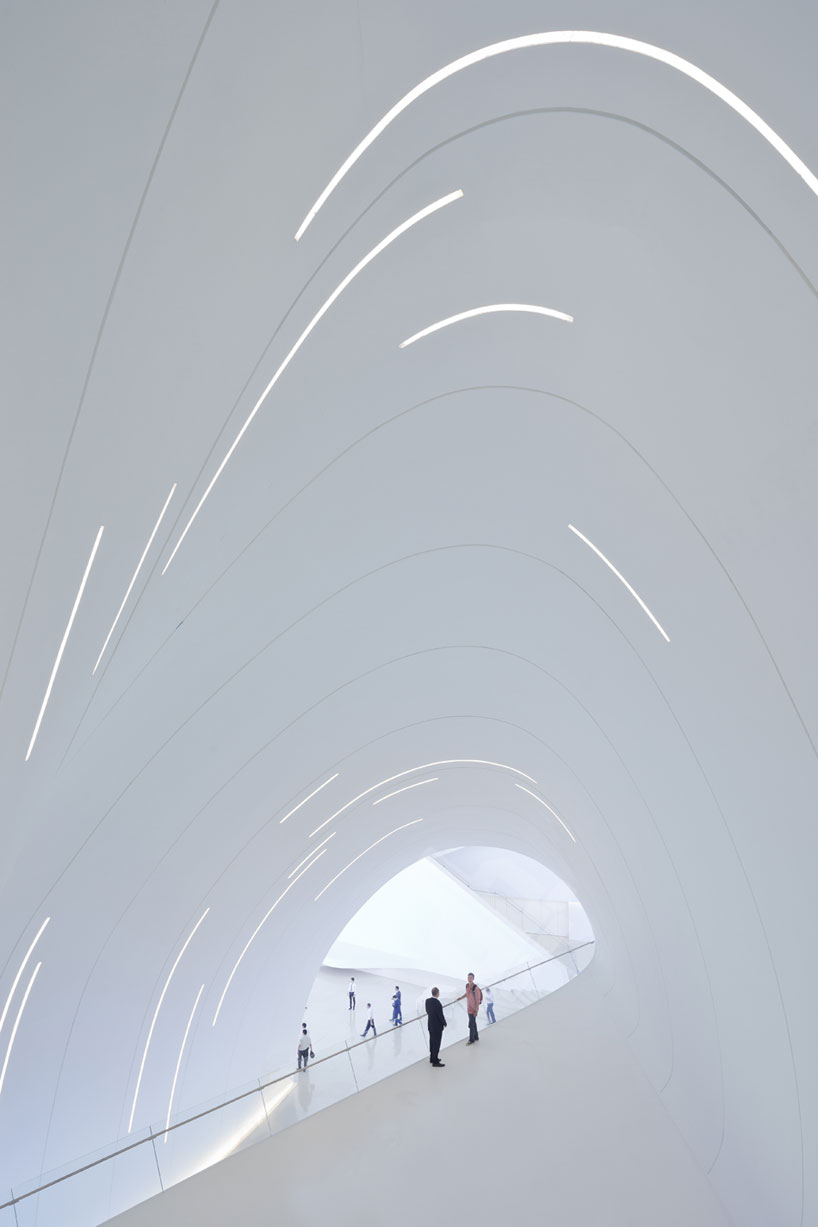 photo by iwan baan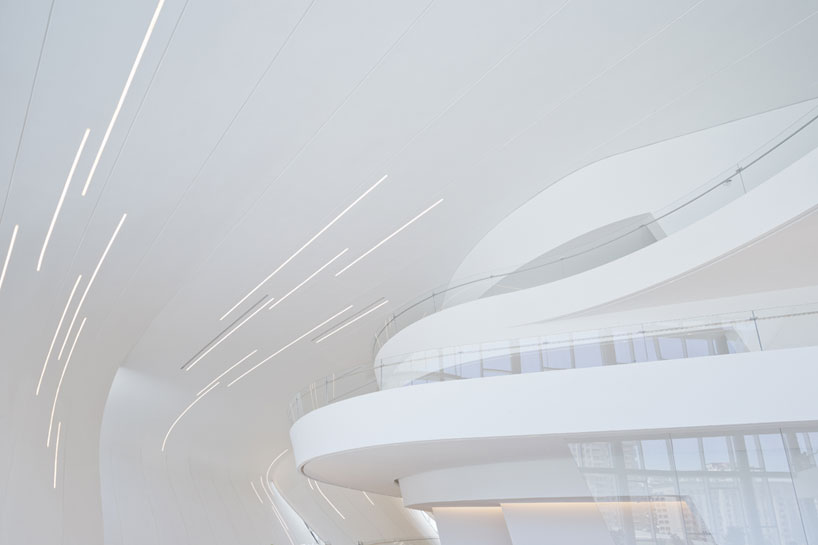 photo by iwan baan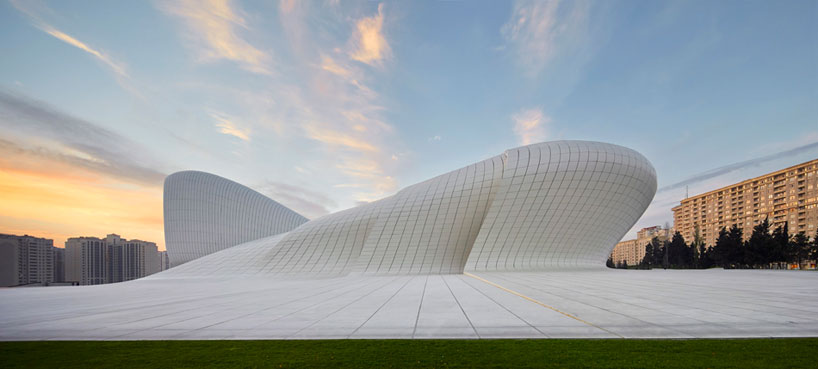 profile
photo by hufton + crow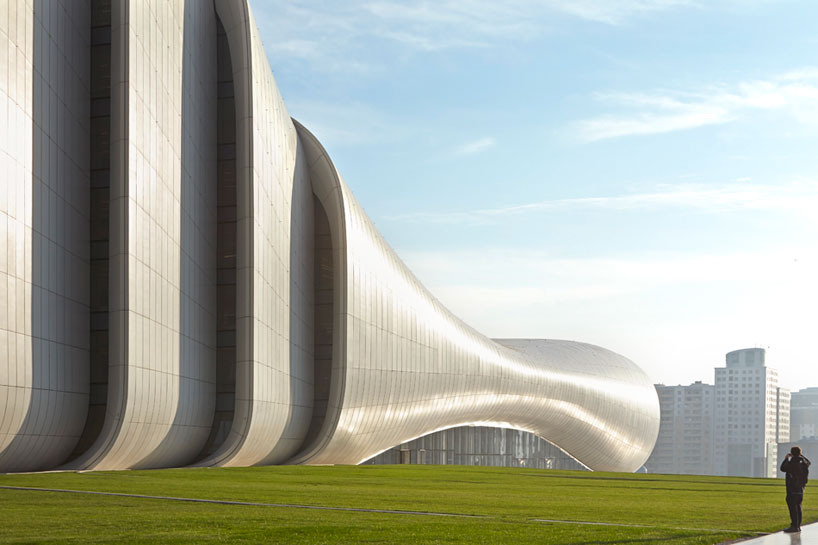 photo by hufton + crow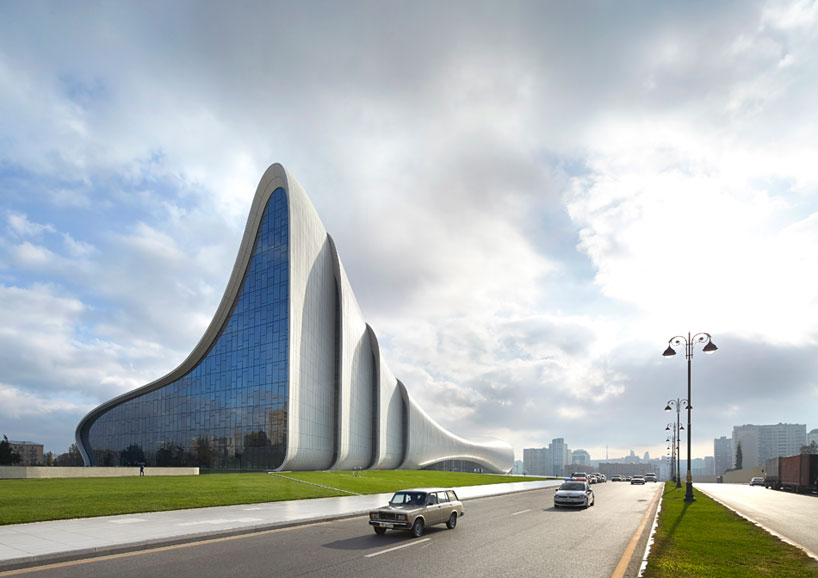 view from the street
photo by hufton + crow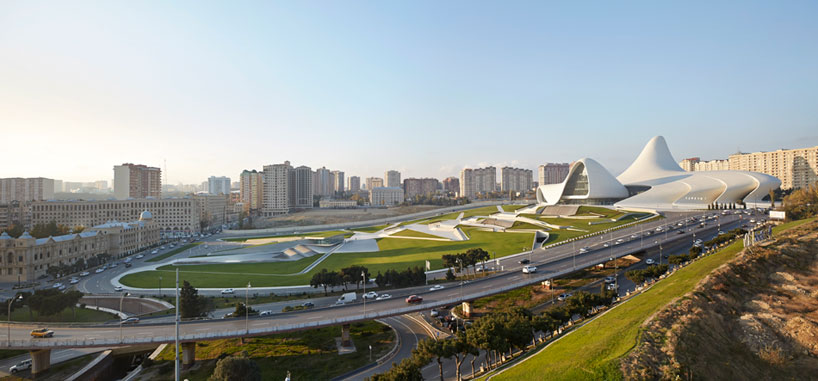 general view of the site and its terraced landscape
photo by hufton + crow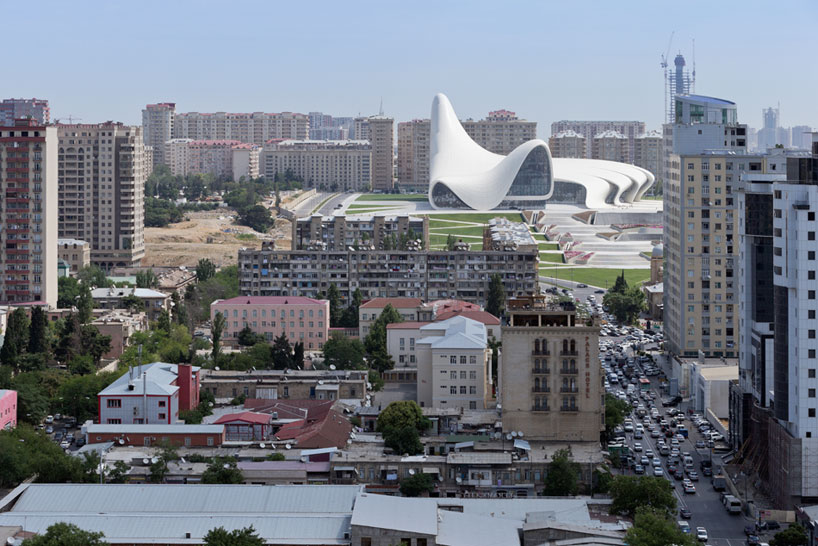 the fluid lines of the 'heydar aliyev center' stand out amongst the more rigid soviet architecture
photo by iwan baan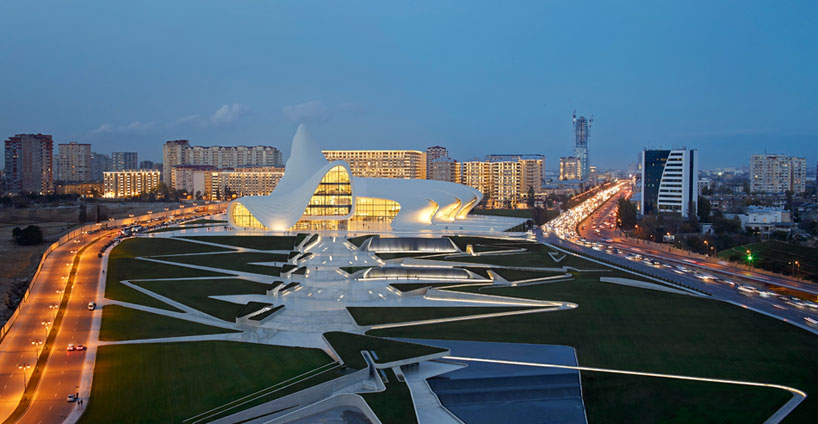 full view of 'heydar aliyev center' by night
photo by hufton + crow
in its completion, the 'heydar aliyev center' stands as a new landmark for the city, that while still being distinct in its own right, culturally reaches out and articulates its relationship to its embedded context, representing the bright future of azerbaijan's capital.
animated fly through of zaha hadid's 'heydar aliyev center'
video courtesy of zaha hadid
project info:
architect: zaha hadid architects
design: zaha hadid, patrik schumacher
project designer/architect: saffet kaya bekiroglu
project team: sara sheikh akbari, shiqi li, phil soo kim, marc boles, yelda gin, liat muller, deniz manisali, lillie liu, jose lemos, simone fuchs, jose ramon tramoyeres, yu du, tahmina parvin, erhan patat, fadi mansour, jaime bartolome, josef glas, michael grau, deepti zachariah, ceyhun baskin, daniel widrig, murat mutlu
special thanks to: charles walker
site area: 111,292 m2
auditorium capacity: 1,000
unique fiberglass reinforced polyester panels: 13,000 (40,000 m2)
fiberglass reinforced concrete panels: 3,150 (10,000 m2) GRC panels
fiberglass reinforced polyester panel production: max 70 unique panels per day
museum space frame:  12,569 members / 3,266 nodes
auditorium space frame: 17,269 members/4,513 nodes
total surface space frame area approx.: 33,000 m2
internal skin fixing: plates 70,000
surface area of inner skin: over 22,000 m2
metal deck roof purlins at tender stage: 3,607—
total length: 10,092 m
metal roof deck trays at tender stage: 3,936—total
area: 26,853 m2
roof area: 39,000 m2
main contractor and architect of record: DiA holding
consultants:
structure: tuncel engineering AKT
mechanical: GMD project
electrical: HB engineering
façade: werner sobek
fire: etik fire consultancy
acoustic: mezzo stüdyo
geotechnical: enar engineering
infrastructure: sigal
lighting: MBLD
subcontractors and manufacturers:
steel space frame: MERO
installation of space frame: bilim makina
formwork: doka
external cladding panels: arabian profile
internal skin cladding: lindner
auditorium wooden cladding: sanset ikoor
auditorium seats: quinette
lighting fixtures: zumtobel
special acoustic ceilings: baswa
installation of ceilings: astas
multipurpose hall façade door: solarlux
polyurethane floor finish: bolidt
installation of elevators: kone elevators + ikma
marble cladding works: MM mühendisler mermer
landscape led installation: HRN dizayn
escalator: thyssen group
fire doors and concrete-cladded doors: remak makina
gypsum panel works: tema
structural steel: MIM mühendislik
main building lighting control system: elekon enerji sistemleri
epoxy works: NIS epoksi kaplama sistemleri
lighting fixtures light: projects group
external skin insulations + structure: limit insaat
procurement: design-build
Save
jan 17, 2020
jan 17, 2020
jan 15, 2020
jan 15, 2020
dec 27, 2019
dec 27, 2019
dec 21, 2019
dec 21, 2019
dec 04, 2019
dec 04, 2019
nov 26, 2019
nov 26, 2019
a diverse digital database that acts as a valuable guide in gaining insight and information about a product directly from the manufacturer, and serves as a rich reference point in developing a project or scheme.