back in 2014, it was announced that foster + partners and FR-EE (fernando romero enterprise) were taking on to realize the world's most sustainable airport in mexico city. the scheme would be mexico's largest-ever infrastructure project and would see the construction of a compact single terminal which would inherently use less materials and energy than a cluster of buildings.
as the project continues to move forward, several critical goals were met in 2016 for NAICM (the mexico city new international airport), including the delivery of the first round of construction documents, the opening of an on-site project office, and the start of procurement for contractors to deliver site works and runways. on december 6th, local news sources reported that consortium led by the portuguese construction company mota-engil, presented one of three proposals for the construction of the terminal.

all images and video © foster + partners
foster + partners and FR-EE approached the character of the building influenced by mexican architecture and symbolism. with spans in excess of 100 meters, three times the span of a conventional airport, the maximum span internally is 170 meters. a canopy of lightweight glass and steel will soar as a vaulted roof to challenge the country's soil conditions. additionally, unique pre-fabricated system will be constructed rapidly, without the need for scaffolding and showcase mexican innovation. an official groundbreaking is scheduled for early 2017, putting the project on schedule for its planned 2020 opening of phase 1.

read our previous coverage of the airport here
'the architecture takes cues from the eagle on top of the rock devouring the serpent, one of the most prominent symbols in mexico – as depicted on the national flag. a lush cactus garden announces the entry to the terminal with the access road weaving like the form of a snake. the terminal evokes the eagle with its wings opening to take flight.' – fernando romero, director of FR-EE from our interview here.


the entire building is serviced from beneath, freeing the roof of ducts and pipes and revealing the environmental skin
Save
Save
Save
Save
Save
Save
jul 19, 2017
jul 19, 2017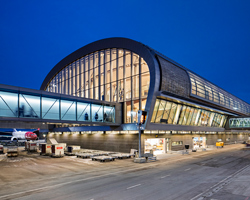 apr 27, 2017
apr 27, 2017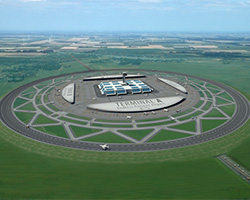 mar 23, 2017
mar 23, 2017
aug 15, 2017
aug 15, 2017
aug 02, 2017
aug 02, 2017
jul 27, 2017
jul 27, 2017
jul 10, 2017
jul 10, 2017
jun 25, 2017
jun 25, 2017
jun 20, 2017
jun 20, 2017
sep 07, 2016
sep 07, 2016
mar 02, 2016
mar 02, 2016
feb 29, 2016
feb 29, 2016