a faceted and angled roof tops this project in spain by seville-based NGNP arquitectos. known as the 'CID center', the simple yet geometric form was created in dialogue with the hilly landscape in the background. as well as being the focus of the project, the angularity and varying height of the roof enabled the compact interior environment to feel larger, while evoking a sense of dynamism.

all images © jesús granada
NGNP arquitectos planned the building's program (used for administrative purposes to support entrepreneurs) with allocating the biggest spaces to the functions most in use and how people would circulate. this ensured flexibility and saw the space being divided into three zones: the  business incubator, support offices and meeting rooms. in turn, the three spaces are distributed and surround the lobby to form a central circulation space.

the geometric character stands out in its outskirt location
the limited palette was chosen to highlight and address the building's geometric form. the light grey envelope rendered with a liquid polyurethane membrane is also used in the ceilings, floors and creates a transparent effect, while controlling direct solar radiation. in addition, two other factors influenced the architects' choice of materials; durability for low maintenance and maximizing the degree of interior comfort. the translucent double-paneled polycarbonate façades efficiently regulate the thermal aspects in the project and invite a constant flow of natural light into the workspace. a central glass void filters light into the core of the center and the limited glass openings are positioned to frame the surroundings.

inside, the heights of the rooms vary and differ

walls do not reach the maximum ceiling height to allow light to distribute

at the core of the building, a glass void provides light into the circulation hall

 the building was made longitudinal to follow the plot of land

the entire envelope has been finished in a light grey / white render

the faceted roof is an interpretation of the undulating landscape behind

the simple palette was chosen to highlight the geometric nature of the form

CID centro by NGNP arquitectos
Save
Save
Save
Save
Save
Save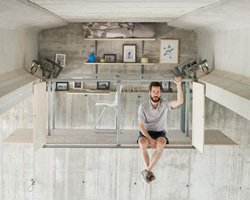 aug 17, 2017
aug 17, 2017
aug 16, 2017
aug 16, 2017
aug 14, 2017
aug 14, 2017