oct 23, 2013
NL architects convert containers into barneveld noord station
NL architects convert containers into barneveld noord station
photo by marcel van der burg
all photos courtesy of NL architects
built using shipping containers, NL architects have developed a temporary structure at 'barneveld noord bus station' in the netherlands, designed to improve the waiting experience. working alongside koen van velsen (the national supervisor for railway architecture), prorail (the organization responsible for the dutch railway network), they have initiated a campaign entitled 'prettig wachten', ('pleasant waiting'), a scheme which attempts to make the time spent more comfortable and less stressful for travelers.

a double height space is formed above the waiting area
photo © marcel van der burg
studies show that waiting time is experienced as three times longer than it actually is; NL architects have embraced this idea with the 'prettig wachten' initiative. at barneveld noord an on site bike repair shop, run by people who are differently able, will introduce a human presence to a previously unmanned post. this has created a kind of informal supervision and has helped contribute towards the general maintenance of the site.

a large container is placed vertically resulting in a twelve meter tall tower
photo © bart van hoek
the temporary project is an arrangement of shipping containers, resulting in an ambiguous, yet powerful, façade. three horizontal volumes are suspended, together forming a roof. one container houses programs specific to the site, another is used for storage, while the third is open at the bottom forming a double height space for the transparent enclosed waiting area. the fourth larger one is placed vertically. the resulting tower stands twelve meters tall complete with a clock and a weathervane, which alludes to the local area's heritage. a gilded chicken replaces the typical rooster, referencing barneveld's reputation as the 'egg capital' of the netherlands.
the 'prettig wachten' framework will be implemented in twenty stations throughout the netherlands.

one container houses programs specific to the site while another is used for storage
photo © bart van hoek

on site public spaces introduce a human presence to a previously uninhabited post
photo © marcel van der burg

the scheme attempts to make waiting time more comfortable and less stressful for travelers
photo © marcel van der burg

a gilded chicken replaces the typical rooster, referencing barneveld's reputation as the 'egg capital' of the netherlands
photo © marcel van der burg
project info:
completion date: 2013
'prettig wachten' initiative and supervision: spoorbouwmeester koen van velsen / prorail
client: prorail
NL architects: pieter bannenberg, walter van dijk, kamiel klaasse
project architect: gerbrand van oostveen
project team: kirsten hüsig, barbara luns, gert jan machiels and gen yamamoto with aude robert and christian asbo
consultant: movares
contractor: strukton
photography: marcel van der burg and bart van hoek
oct 30, 2015
oct 30, 2015
oct 16, 2015
oct 16, 2015
mar 11, 2015
mar 11, 2015
jul 26, 2017
jul 26, 2017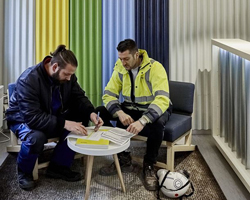 jul 13, 2017
jul 13, 2017
may 13, 2017
may 13, 2017