oct 08, 2009
NL architects: landmark mv2 container tower
landmark mv2 – container tower by NL architects image courtesy NL architects
in order to remain successful the harbor of rotterdam needs to expand. a new radar tower is required on the border of the land to guide the heavy traffic.
the port of rotterdam organized a competition for architects and designers alike to develop a landmark through the tower, which also could be used as a viewing platform.
the actual radar will be positioned 70 meters above sea level. the tower which served as a starting point for the study consists of a hollow core with an elevator and staircase for maintenance inside. it was calculated that the simplest concrete cylinder would have to measure up to 5.5 meters in diameter to withstand forces.
dutch firm NL architects proposed the container tower which consisted of 25 stacked sea containers to carry the radar. by reinforcing the pile, the containers would become stackable beyond their natural capacity.
it was calculated that a single row of containers would not be stable. additional measures were necessary. by adding another row of containers the tower would remain erect.
after the competition, the project was terminated: the study revealed that the neighboring new generation wind turbines by their shear size would dwarf any landmark.
site of a new radar tower image courtesy NL architects
the new generation wind turbines image courtesy NL architects
landmark mv2 – container tower image courtesy NL architects
landmark mv2 – container tower image courtesy NL architects
landmark mv2 – container tower image courtesy NL architects
landmark mv2 – container tower image courtesy NL architects
landmark mv2 – container tower image courtesy NL architects
landmark mv2 – container tower image courtesy NL architects
oct 30, 2015
oct 30, 2015
oct 16, 2015
oct 16, 2015
mar 11, 2015
mar 11, 2015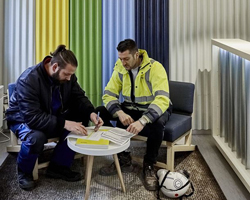 jul 13, 2017
jul 13, 2017
may 13, 2017
may 13, 2017
may 10, 2017
may 10, 2017