mar 04, 2013
NLÉ architects: floating school in makoko
'floating school' by NLÉ architects, lagos, nigeriaimage © NLÉ architects
in a geographically changing world where water levels are steadily rising, many coastal and waterfront communities are finding themselves inundated with the problem of adaptive housing solutions that withstand swelling tides and swift currents. flood-proof schemes are floating around most commonly implementing various stilt systems to elevate the structure above predetermined water lines,  but even this solution becomes static at a certain point. NLÉ architects has been working on a three-phase plan for the waterfront community of makoko in lagos, nigeria that will transform the already buoyant city into a contemporary community on the water's surface with independent floating structures made of local materials applied in new ways.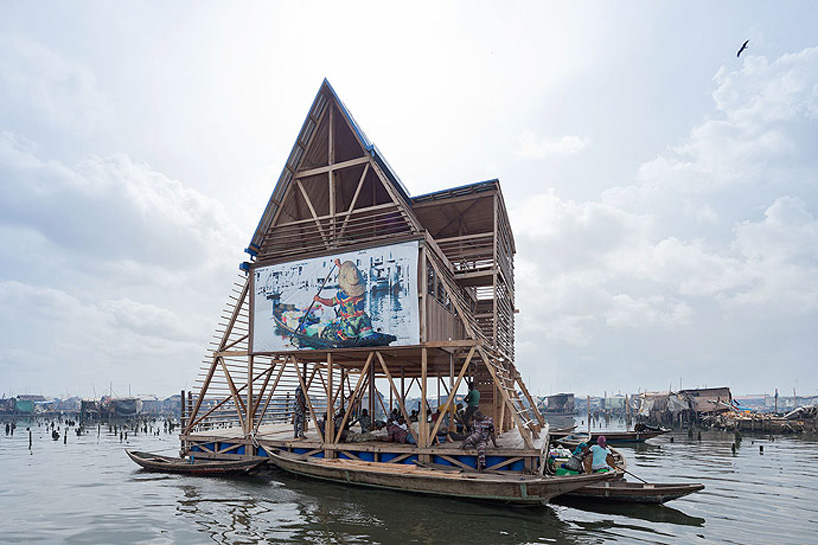 the timber structure on the lagos, nigeria waterfrontimage © iwan baan
phase one of the project consists in the realization of the 'makoko floating school,' a triangular form in section constructed with a parallel series of timber A-frames on a platform supported by emptied blue barrels. the three-storey structure contains classrooms on the middle level in enclosed volumes flanked by public green space and playground below, and an additional open-air rooftop classroom above. rooftop PV cells on the roof collect solar energy, coupled with water catchment systems make the dynamic educational facility partially self sustainable. slender wooden slats create a shading device along the outer envelope along with well ventilated spaces to maintain a comfortable interior environment.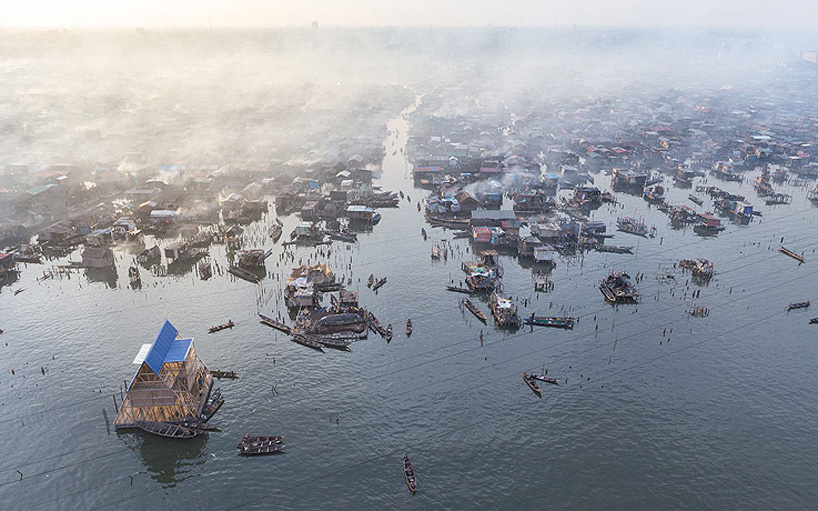 aerial viewimage © iwan baan
phase two includes the construction of floating housing units that can be interlocked or float independently. following the same aesthetic and functional principles as the school, the houses will also contain a state-of-the-art device designed by japanese company air danshin systems inc that detects certain movements (such as earthquake tremors) and activated a compressor that pumps air into a chamber below the structure so that the dwellings may navigate safely over a flood plain. the final phase will see the creation of an entire floating community fully equipped to deal with flooding problems while maintaining an improved quality of life. scheduled for completion for the end of 2014, the master plan is expected to mark a new wave in resilient architecture in high-water zones.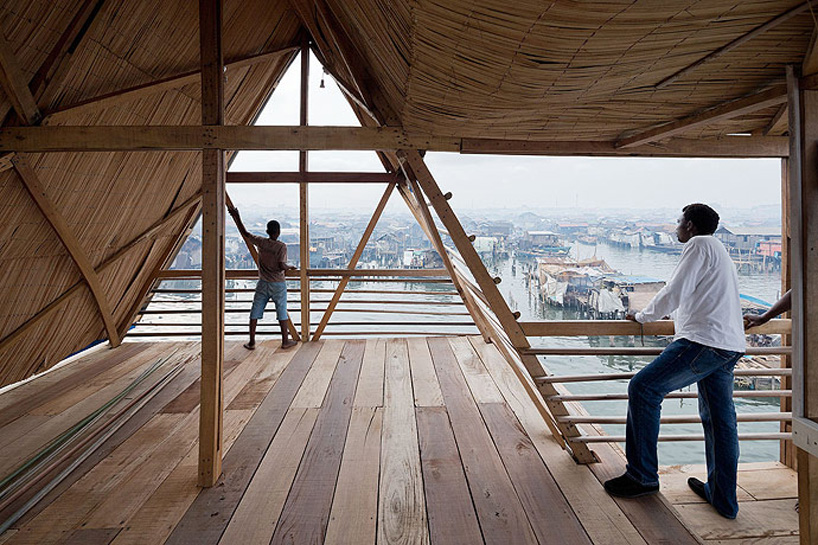 lookout from the interiorimage © iwan baan
'makoko floating school' in its lagos, nigeria waterfront contextimage © NLÉ architects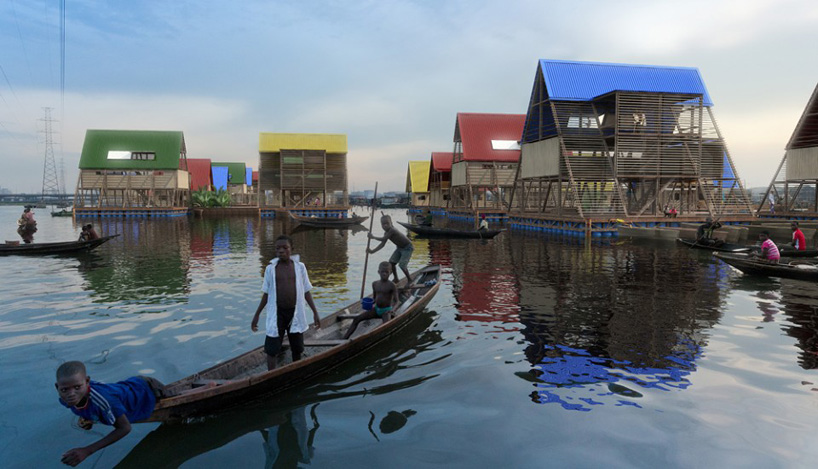 rendering of the project's potential expansionimage © NLÉ architects

kunlé adeyemi of NLÉ architects discuses the 'makoko floating school' project
video courtesy of daryl mulvihill
before roof constructionimage © NLÉ architects
classroom constructionimage © NLÉ architects
primary structural frameimage © NLÉ architects
community involvement in constructionimage © NLÉ architects
local labor and materialsimage © NLÉ architects
image © NLÉ architects
building the first levelimage © NLÉ architects
image © NLÉ architects
completed floating foundationimage © NLÉ architects
image © NLÉ architects
construction of floating base prototypeimage © NLÉ architects
acquisition of local material image © NLÉ architects
aerial view of the waterfront community in lagosimage © NLÉ architects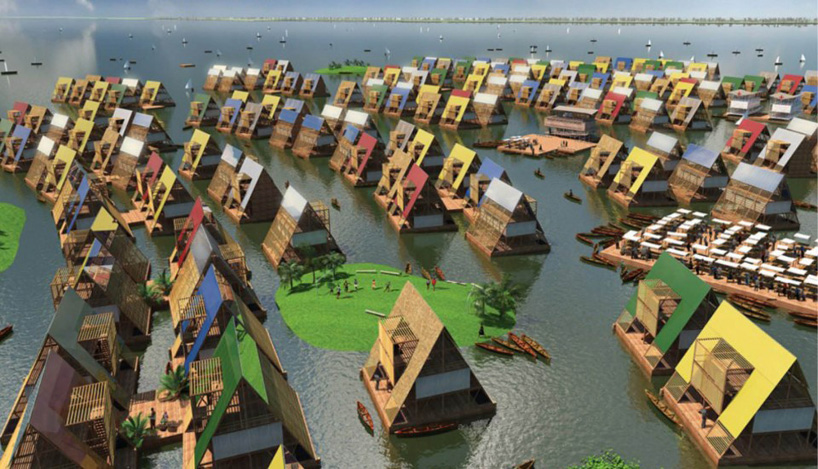 phase 2 planimage © NLÉ architects
sustainable strategiesimage © NLÉ architects
master plan diagramimage © NLÉ architects

kunlé adeyemi: we are living in interesting times in africa
video courtesy of design indaba
update: NLÉ architects's 'makoko floating school' has been presented at the 2014 design indaba expo under theme of 'africa is urban' (one of five major topics explored at the event), which investigates the growth and development of africa's megacities. the architectural project was featured within the expo's 'africa is now' exhibition that offered a snapshot of creative work being produced across the continent.
the annual design indaba expo is south africa's premier showcase of high-end design, exhibiting the homegrown wares of all the creative sectors under one roof.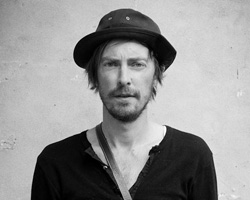 nov 12, 2014
nov 12, 2014
sep 02, 2014
sep 02, 2014
apr 18, 2014
apr 18, 2014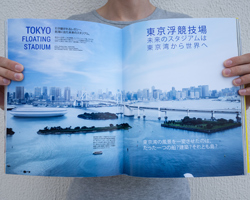 jun 22, 2017
jun 22, 2017
jun 11, 2017
jun 11, 2017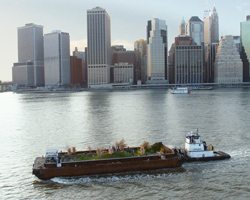 may 30, 2017
may 30, 2017
jun 07, 2016
jun 07, 2016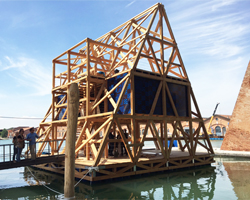 may 30, 2016
may 30, 2016
feb 24, 2016
feb 24, 2016
jul 18, 2017
jul 18, 2017
jul 13, 2017
jul 13, 2017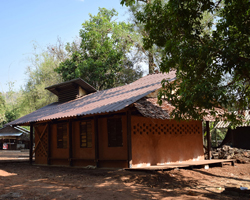 jul 03, 2017
jul 03, 2017