nov 27, 2016
noa* features dramatic cantilevered pool in new hubertus hotel addition
completed in may of this year, the new addition to the hubertus hotel by local practice noa* (network of architecture) connects old with new, redefining a beautiful mountain site deep in the dolomites. the new curvilinear design in valdaora is an addition to the previously existing hotel, adding a total of 16 suites, kitchen, restaurants, lobby and reception area, wine cellar, fitness and relaxation rooms and terraces with panoramic views. at the climax of the new design, a swimming pool cantilevers out over the valley, edge-less and almost weightless as it disappears into the landscape.

the plaza serves as the junction between the existing warehouse and the new glass structure
part of the challenge with the project was the combining of the new design with the original structure, both characteristically different in function and feel. the addition is comprised of a curvilinear floor plan that follows the natural topography of the site, a contrast to the rectilinear nature of the existing form. to tie them together, noa* recycled all the larch trees removed for the new construction to be used as a timber colonnade along the facade which redefines old facades and merges them with new ones. from below the site, the structure remains subtle in the landscape, with a timber facade that almost hides amongst the trees.


the 2,100-seat arena is positioned at a height of 50 meters
full glass walls over the four levels offer panoramic views of the mountain range and distant town, with perforated metal balustrades furthering the effect of transparency. the debarked larch columns present throughout the interior erasing the line between interior and exterior. as the centerpiece to the project, a swimming pool measuring 5 m wide by 25 m long cantilevers 17m out into open air, supported 12m above the ground. clad in anthracite-colored stone and containing no edges that contain the water, the pool floats between land and air, disappearing into the dark hues of the mountains beyond, like a large boulder perched on the mountainside. the glass bottom further emphasizes the effect of floating, an intermediary between solid and void, old and new.


the view from the ground level accentuates the size and structure of the pool

the lines and material of the pool seem to disappear into the landscape

a facade of re-purposed larch trees defines the exterior, tying old and new together

a glass bottom accentuates the height of the pool

the infinity pool terminates into the horizon

full-length terraces offer views over the valley

entrance to the hotel displays the debarked colonnade

interior spaces enjoy plenty of natural light and views

interior columns integrate with the exterior
Save
Save
Save
Save
Save
Save
Save
Save
Save
aug 14, 2017
aug 14, 2017
jul 26, 2017
jul 26, 2017
jul 17, 2017
jul 17, 2017
aug 03, 2017
aug 03, 2017
aug 02, 2017
aug 02, 2017
aug 02, 2017
aug 02, 2017
pools
(37 articles)
aug 11, 2017
aug 11, 2017
may 19, 2017
may 19, 2017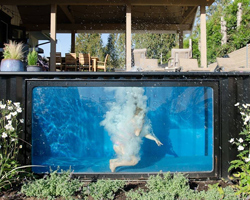 apr 26, 2017
apr 26, 2017