jan 11, 2015
O-office renovates immigrant dormitory into colorful youth hotel
O-office renovates immigrant dormitory into colorful youth hotel
image © chaos.z
all images courtesy of O-office
chinese studio O-office architects, making a name for itself with its masterful renovations of dilapidated abandoned concrete structures has recently completed the youth hotel, forming part of the iD town art district project covered earlier. the original structure served as a dormitory building serving the honghua dying factory housing the first group of immigrant settlers allowed after the open-reform policy was passed in shenzhen- a structure whose character has changed significantly even if its function did not.

overall view
image © chaos.z
the renovation began with the conversion of the ground level into a public lobby space retrofitting hotel service and administrative program as well as multi-functional public spaces. the overall layout of the building was maintained, as well as the rough textures of the aging concrete. utilizing dark steel and colored glass, the architects transformed the facade with projecting boxes containing perforated shades and windows at each room, and differently-shaped ground story openings displaying surfaces of vibrant color to stand against the rust-stained greys of the original exterior. the large lower-story openings offer views from the reception area, cafe, kitchen and common spaces.

front facade of inserted steel boxes and colorful glass
image © chaos.z

image © chaos.z

entrance vestibule into the lobby
image © chaos.z

entrance into lobby from the courtyard
image © chaos.z

bedroom hallways
image © chaos.z
the interiors have also been newly revived. concrete floors in the common areas have been re-polished bringing out a new luster, while the floors in the rooms have a new layer of modern tile. the common areas contain large transparent panels of glass the subdivide the large space for various uses without visually compartmentalizing the expansive floor plan. the entrance to the rooms is marked by a mirroring of the exterior condition- black steel doors and mullions infilled with colorful glass panels. inside, the walls are newly painted similar vibrant hues and modern furniture inserted, creating a new look and functionality.

image © chaos.z

black steel and colorful glass panels mirror the language established on the exterior
image © chaos.z

newly tiled floors and painted walls revive the bedrooms
image © chaos.z

multi-functional common area
image © chaos.z

image © chaos ztang

image © chaos.z

before construction
project info:
architect: O-office architects
principal architect: jianxiang he & ying jiang
design team: mincong deng jingyu dong, xiaolin chen
location: kuipeng road 106, dapeng new district, shenzhen, china
area: 1800m2
completed: december 2014
photographer: chaos.z
aug 17, 2017
aug 17, 2017
aug 12, 2017
aug 12, 2017
aug 10, 2017
aug 10, 2017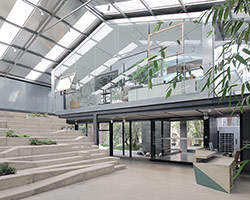 mar 19, 2017
mar 19, 2017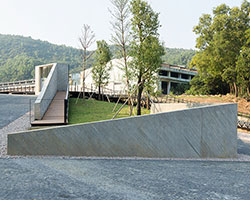 jan 18, 2015
jan 18, 2015
mar 09, 2014
mar 09, 2014