jan 29, 2016
OBBA develops open & closed house in seoul's gangnam district
OBBA develops open & closed house in seoul's gangnam district
all images © kyungsub shin
located in seoul's gangnam district, the 'open & closed' house by OBBA explores the adaptation to the rapidly changing urban environment in the neighborhood. completed in 2015, the residence has been transformed from a dilapidated building in which the client had stayed in for most of his life. the decision was to use the same plot of land and demolish the original scheme and build a three storey property.

a corner window stretching from the second to the third floor invites light into the interiors
sitting on sloped plot and surrounded by five-storey apartments; optimizing natural light and privacy were the focuses which resulted in the double-layered windows and the floorplan being divided into private programs between the client's family and his mother.
'today's city transforms so rapidly that it influences the ways in which our domestic environment changes in the urban center.. as a result, we witness the existing single-home typology moving towards the suburbs, and in such way, our urban center loses its heterogeneity of its housing types.' – OBBA

the double-layered window
a double layered window punctuates the south elevation of the scheme. this large window stretched from the second to the third floor and fills the interior with natural light. the mother's private space is located on the ground floor, while the third floor is for the son's family. this leaves the second floor to host the shared communal areas such as the kitchen, living and dining. 'we deployed the house closest to the north-west end of the site, so that it reduces the site coverage area whilst securing enough height of the building.'

the area between the first and second façade enabled a balcony to be formed

lights installed within the recessed and shadow gaps provide subtle illumination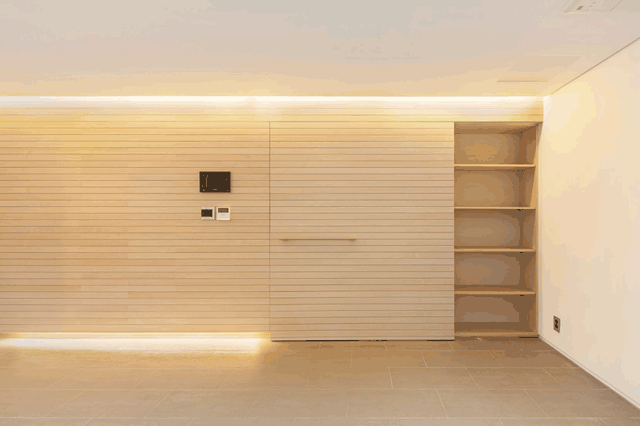 the timber sliding door opens to reveal storage and a secondary room

the top floor houses the client's immediate family, while the ground is for his mother

the previous building was demolished to construct a larger and efficient scheme

the staircase connecting all three storeys

the brick exterior with the deep-set windows
jul 19, 2017
jul 19, 2017
jul 18, 2017
jul 18, 2017
jul 17, 2017
jul 17, 2017
OBBA
(4 articles)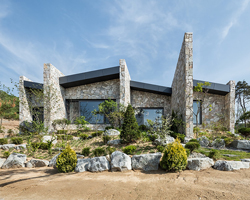 mar 08, 2017
mar 08, 2017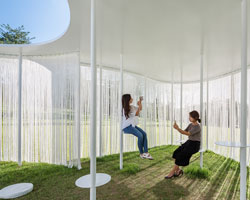 oct 17, 2015
oct 17, 2015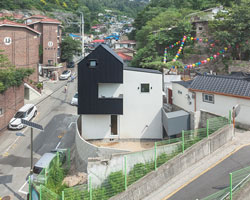 oct 09, 2015
oct 09, 2015