'perpetual spring' is awarded the architecture masterprize 2022
'Perpetual Spring, The Climate-Correcting Machine,' a project commissioned by the Museum of Modern and Contemporary Art Seoul, has received the Architecture MasterPrize™ (AMP), honoring international designs in various disciplines of architecture. Designed by Obra Architects, the project was recognized as Best of Best in the Exhibition category, as well as in the Public Space category. Opened to the public in September 2019 in downtown Seoul, 'Perpetual Spring' materialized as an artificially-controlled greenhouse machine that addresses and brings attention to a pressing global issue of our time: climate change.
The one-of-a-kind pavilion served as a featured work in the centennial exhibition 'Architecture and Heritage: Unearthing Future', aiming to connect outdoor spaces at the heart of the city center and to provide a platform for commissioned architects to reflect upon Seoul's modern heritage, while highlighting issues facing urban life in today's world and its future. It was disassembled in May 2020 after the exhibition's closing and is scheduled for further development and reopening as the public space venue in an urban agritech community currently in development in Jincheon, approximately two hours outside of Seoul.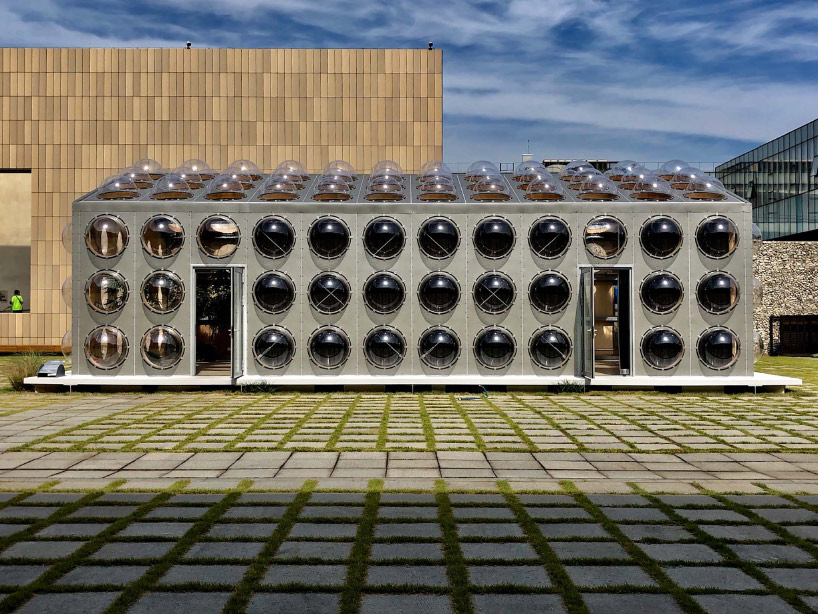 all images courtesy of Obra Architects
a climate-correcting machine nodding to social revolutions
'Perpetual Spring' by Obra Architects (see more here) was commissioned for 'Architecture and Heritage: Unearthing Future' with two main objectives: To awaken dormant public consciousness to the potential of social activism and political agency and to explore the possibilities of an alternative technology that could, by collective ownership, become an agent for the resolution of problems affecting us all through the vehicle of radical public participation.
Combining form and destination with function, the Architecture Masterprize 2022 winning design was proposed as a 'climate-correcting machine,' both a platform for awareness and an invitation to action. As if the head of a giant insect, the structure was fitted with 150′ eyes,' each a 90-cm diameter polycarbonate plastic semi-sphere. These crystalline luminous 'eyes' bulged out of the otherwise dull metallic mass as if compelled to expand by an overwhelmingly strong internal force. Ambiguously, they separated the interior and exterior while generously allowing sunshine to filter in and contribute towards keeping the space warm during cold days.
The pavilion also featured a variable climate control system, including photovoltaic panels on the museum's nearby roof. These panels powered automatic exhaust fans, aluminum foil curtains, and a phase-change radiant floor-heating system to stabilize and balance temperatures inside the space and preserve permanent spring weather-like conditions with a small garden growing inside the structure, hence its name, 'Perpetual Spring.' Indeed, By maintaining spring weather inside the pavilion, the work aspired to perpetuate the climatic condition propitious to progressive movements for a free and just society.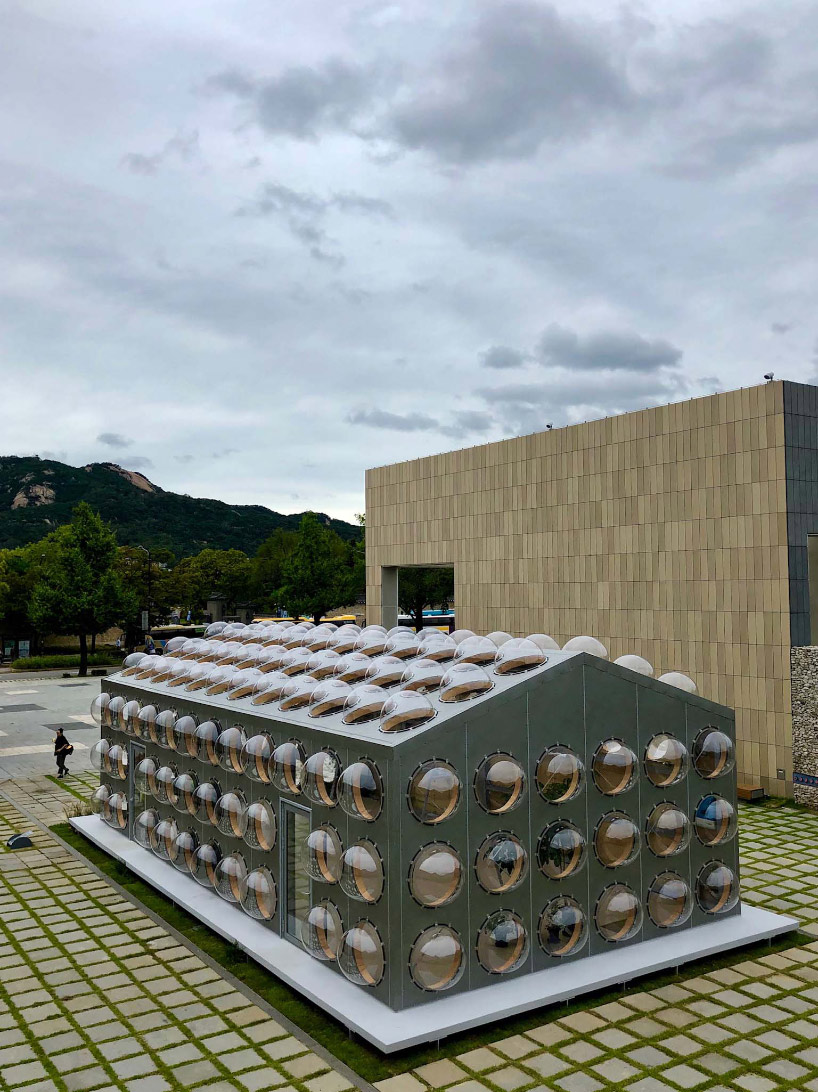 Pablo Castro, co-founder of Obra Architects, elaborated on that concept: 'That a revolution prefers fair weather is an assertion that can be historically attested, first with the Spring of Nations, the Prague Spring and, more recently, the Arab Spring. Perpetual Spring is an installation that aspires to artificially perpetuate, into fall and winter, climatic conditions propitious to progressive social change, artificially creating a climate for human interaction, community organization, and the debate of ideas: clear skies, pleasant temperatures, and abundant flowering greenery. Perpetual Spring is a work of optimism, posing that the current weather crisis affecting the planet does not have to inevitably end in catastrophic global disaster if we organize to take rational care of the planet, our shared home.'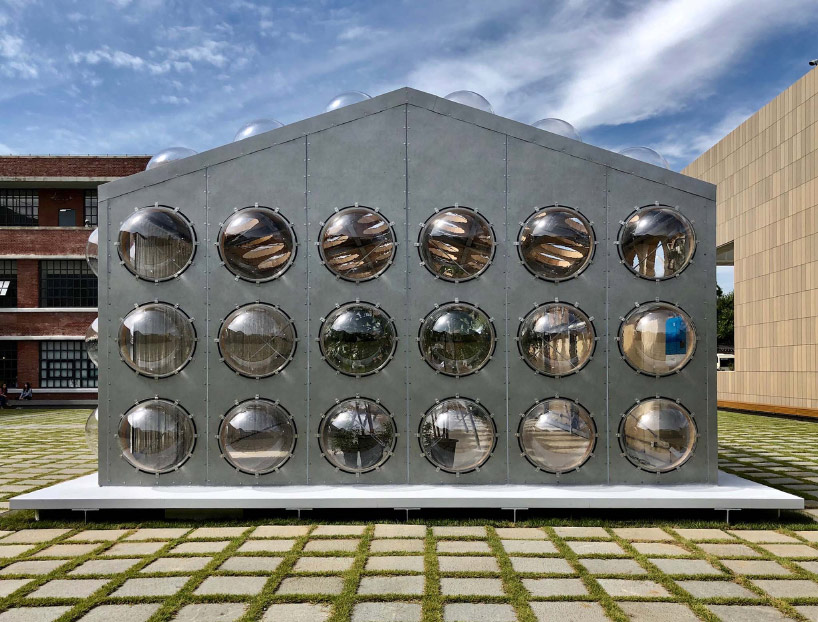 Audio-visual displays also informed visitors in real time about climatic and environmental data on a global scale, including the projection of an interactive animated map of current wind, weather, ocean, and pollution conditions, as forecast by supercomputers, updated every three hours, courtesy of the artist, which was viewable every evening inside 'The Climate-Correcting Machine.'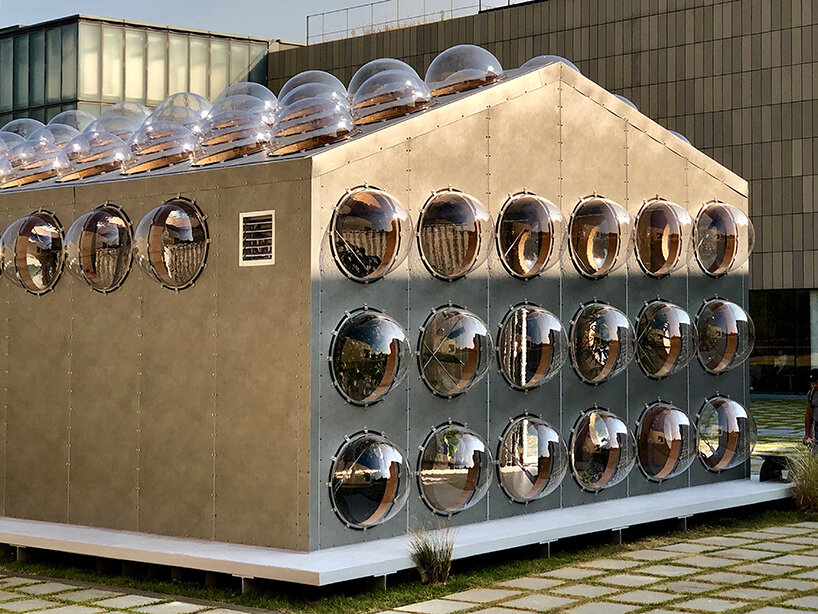 For seven months, between September 2019 to April 2020, at the Museum of Modern and Contemporary Art Seoul, 'Perpetual Spring' was the site of an urban experiment on social interaction and community organization. Offering a place of comfort during days of severe weather, it featured an open-access venue for public use: public lectures, poetry readings, theater, music, discussion groups of all kinds, book club sessions, etc. Also featured were talks on issues related to the intersection between the emergency global climate crisis and prospects for the unlikely rise of authentic democratic rule and universal justice.
Anyone interested was invited to sign up online to use the space during open museum hours at www.perpetualspring.org, a website that featured real-time freezeframe viewing of the urban public area and pavilion. The signup process was free and open, and over 30 events were individually organized by volunteer participants and held in the space, including three indie music concerts, poetry reading, a Slow Futures Lab education workshop, 13th Gwangju Biennale talks, experimental film viewings, dialogues on North Korea, as well as FutureSchool organizational meetings before the museum was shut down due to COVID.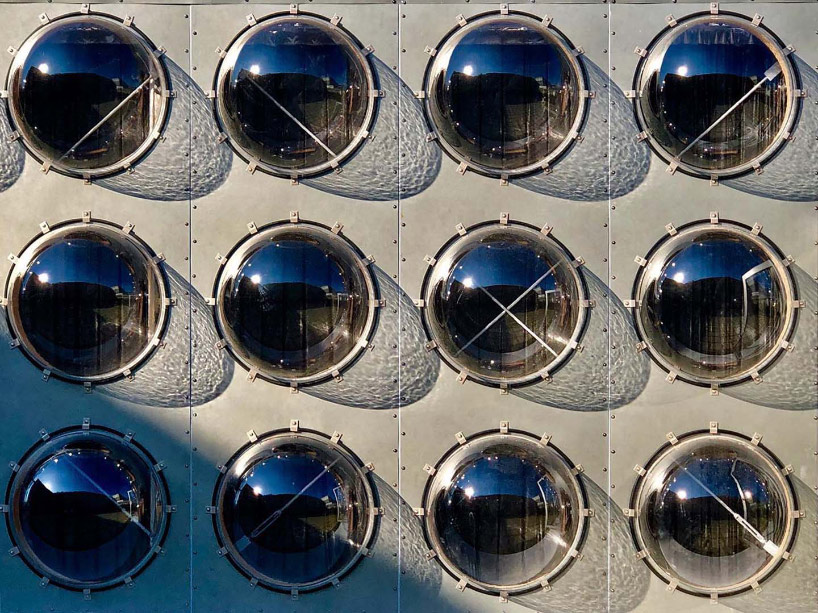 'And so it is by way of a machine that we can then attempt to prefigure both, some kind of future and its denial at the same time. If the prevalent economic system has provided storage of the efforts of the many for the benefit of the few, the machine is both empowerment and substitute of human agency towards the transformation of the world into a home. It should come as no surprise then, that the anticipated fundamental presence in the coming city of impersonalized artificial intelligence is still that of the machine. The unfulfilled promise of modernity in general, and of the Modern Movement in architecture in particular, is that of finally gaining control over the time of our lives, freedom from labor and the possibility to pursue our self-realization and finally attempt to become who we really should have been. The machine is the preeminent tool in that struggle.
Perpetual Spring is then intended as both concrete and abstract machine, as a place where the very real parameters of a weather gone awry can be rudimentarily tweaked both as modest example and proposed symbolic ritual, and as the repository collective efforts towards a meta-technology: if the rightful ownership of people's machines has been confiscated in obsessive fixation with individualism—the antidote for fear—, new machines shall be invented through a popular effort towards an alternative technology.' —Obra Architects, 20 of August 2019, New York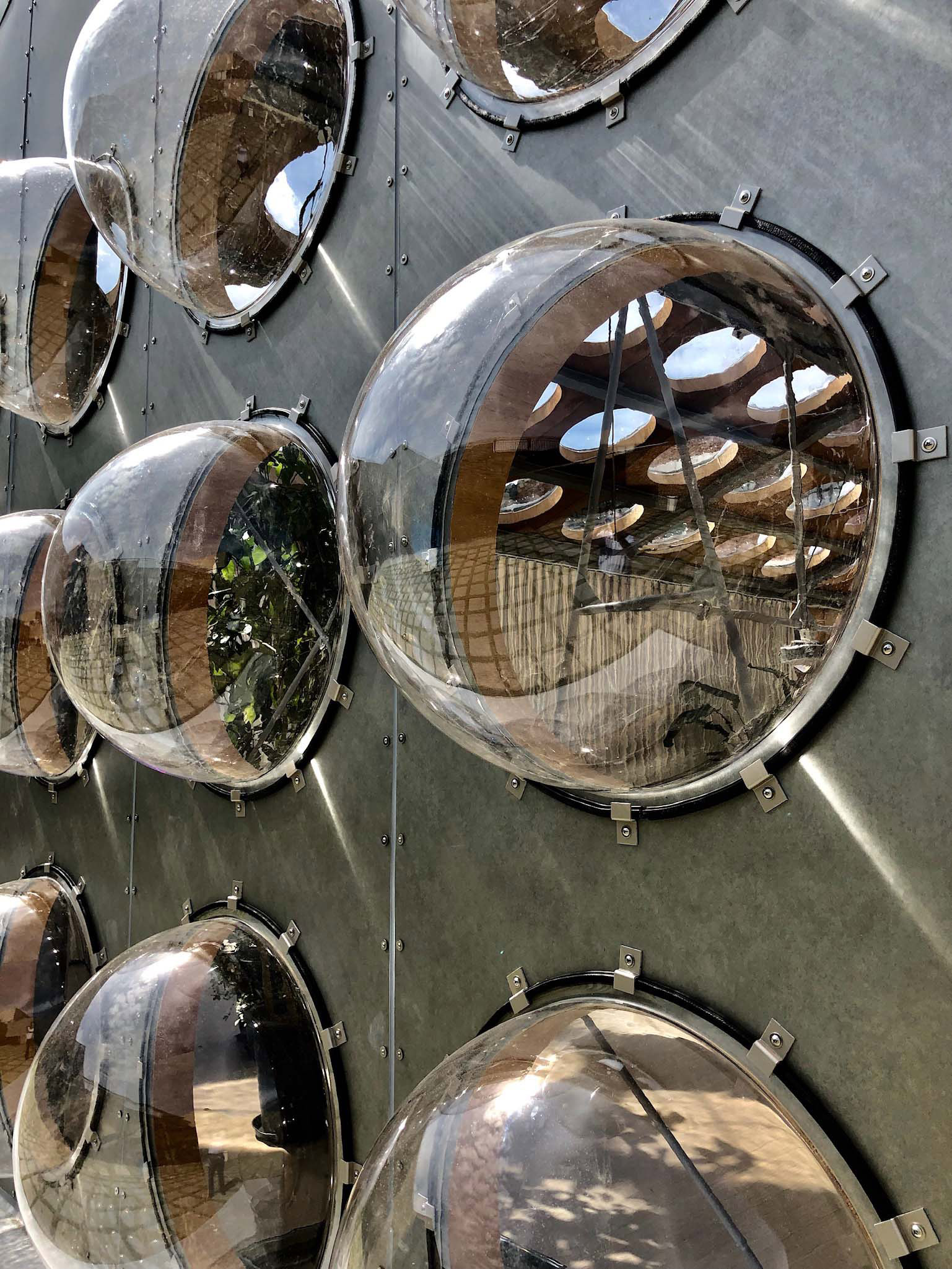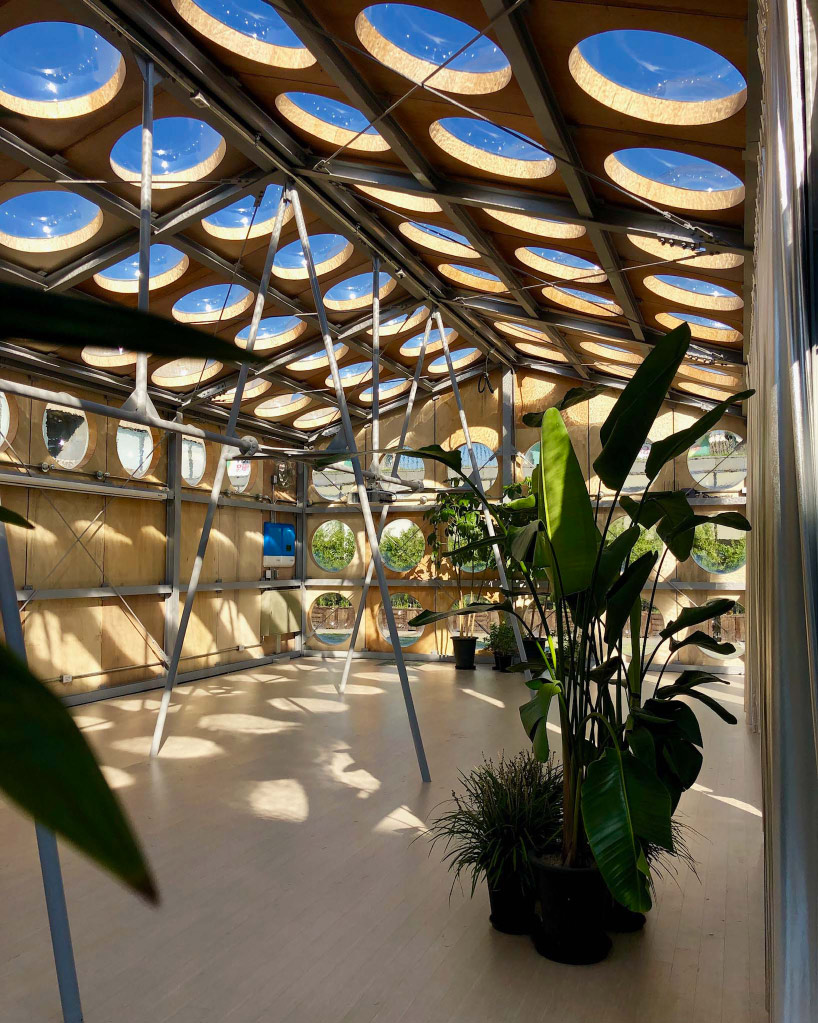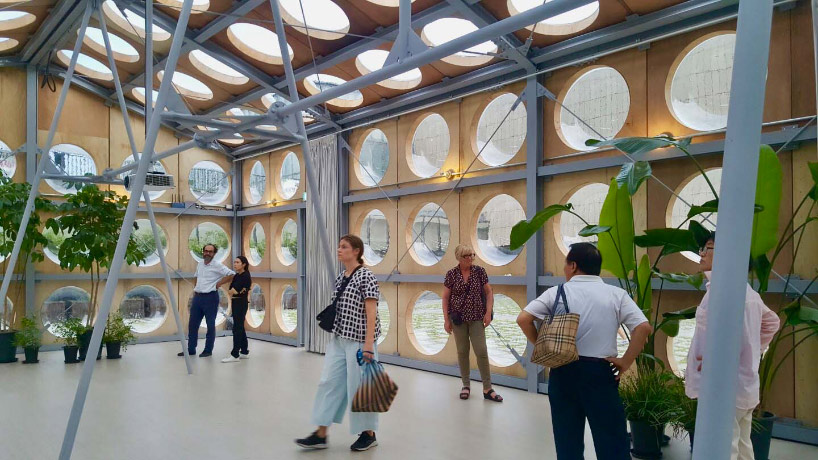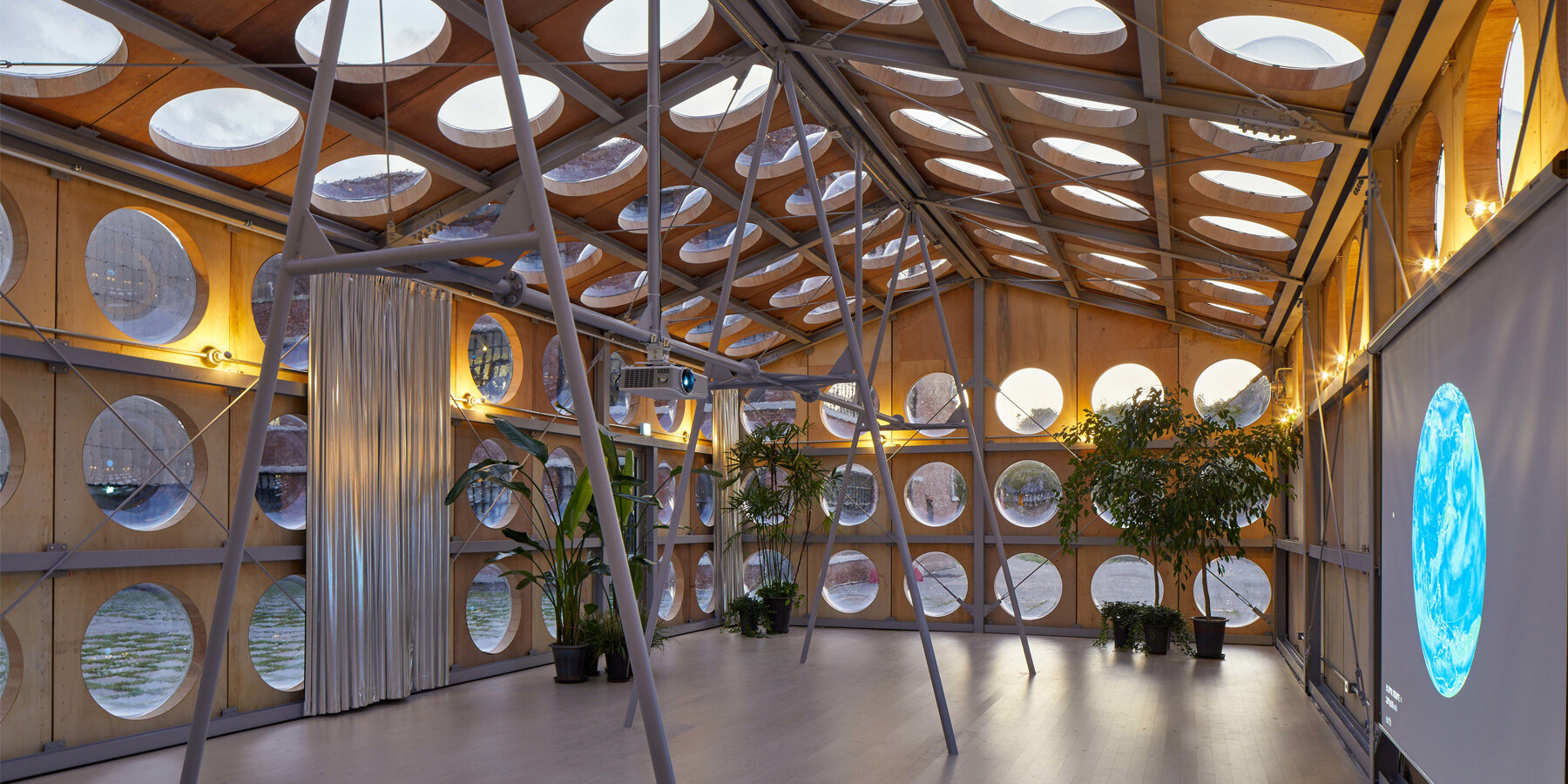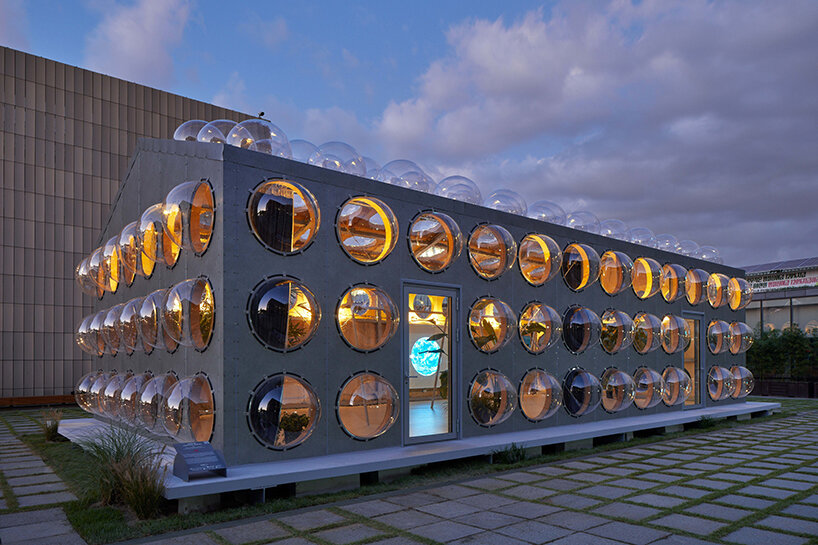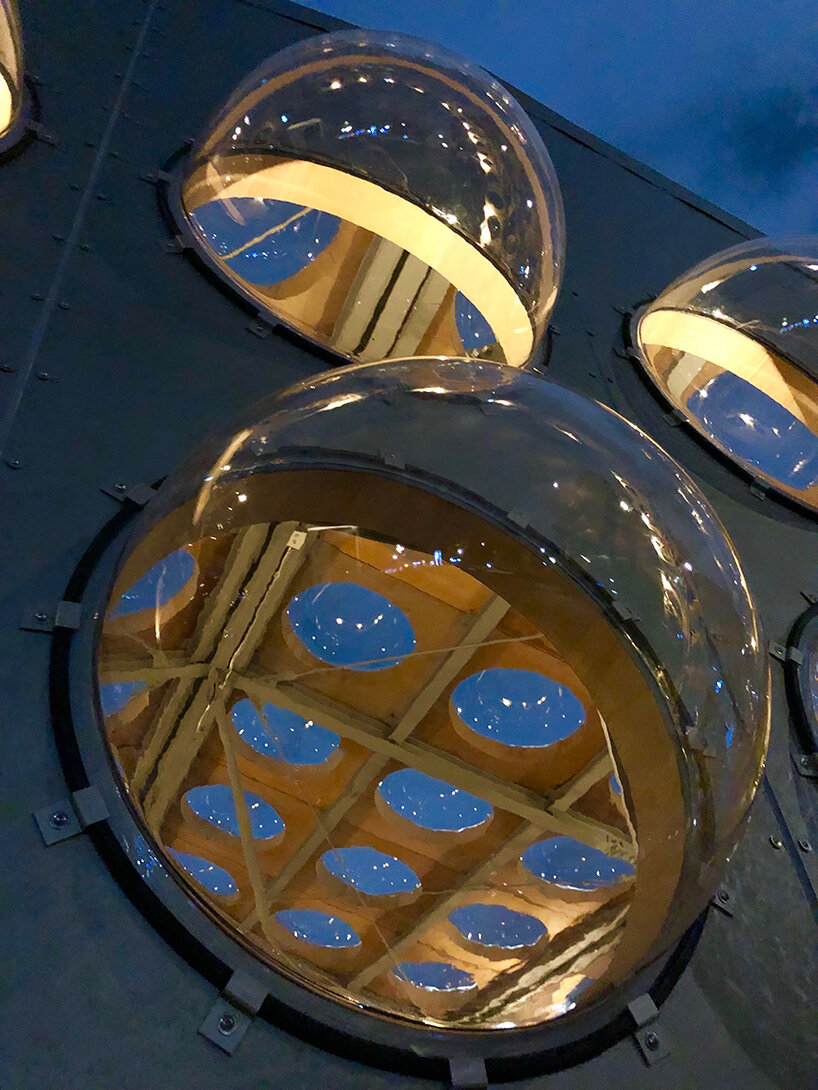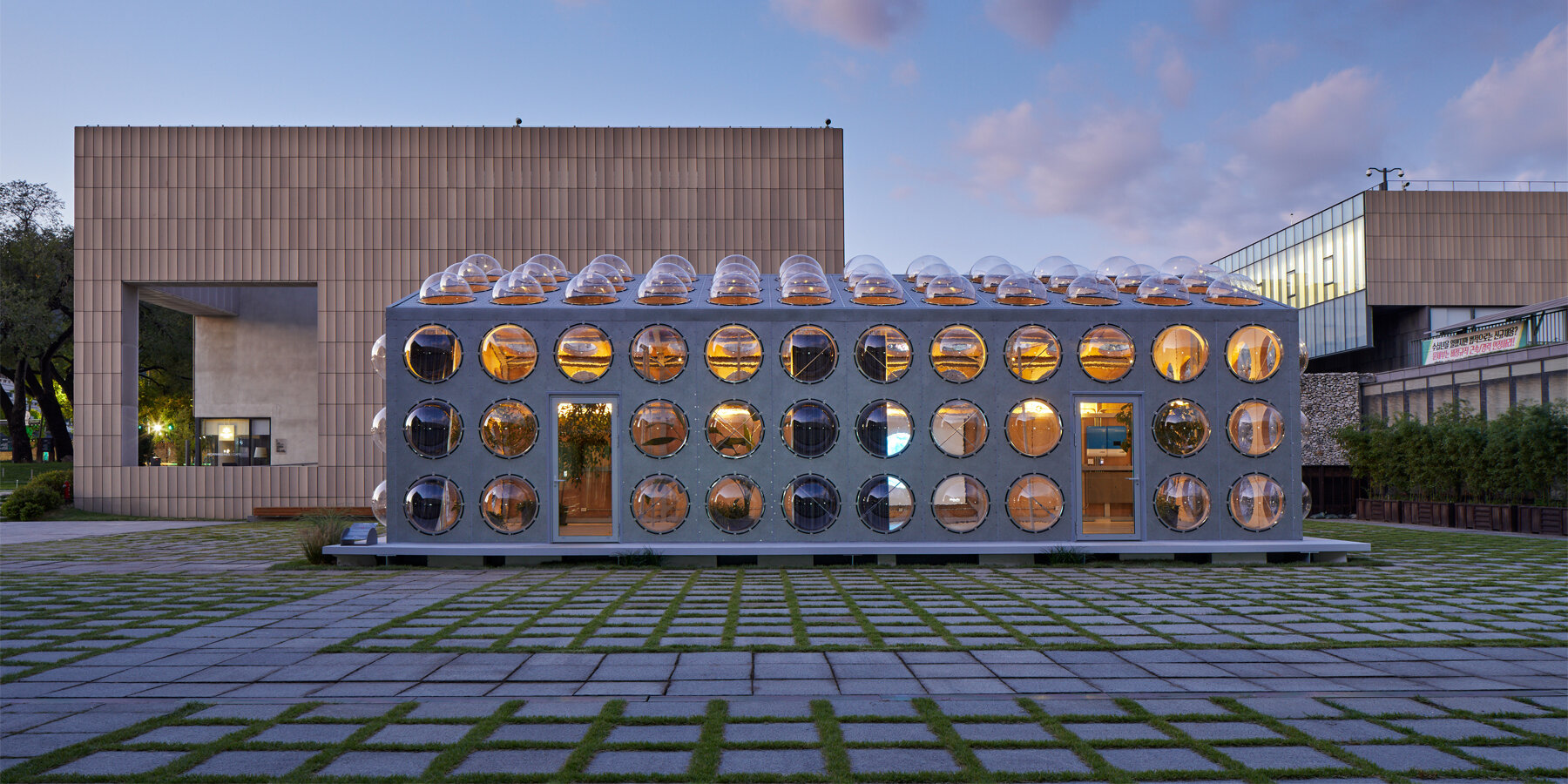 project info:
name: Perpetual Spring, The Climate-Controlling Machine
location: Museum of Modern and Contemporary Art Seoul
launching date: September 2019
disassembling date: May 2020
architecture: Obra Architects
design team: Pablo Castro, Jennifer Lee, Jinkyung Cho, Lianyuan Ye, Margherita Tommasi, Danchu Cho, Yifan Deng, Alejandra Ahrend, Ruby Kang, Song Gan
design consultancy: Michael Ra, Hwan Kim / Front In.c, Hojoong Kim, Anna Na / Obra Abim
architectural & engineering consultancy: Sang Jun Kim / Moohan Global, Mahadev Raman / Arup
landscape architecture: Gye Dong Ahn, Namjin Lee / Dongsimwon Landscape & Design Construction Co., Taewook Cha / Supermass Studio
graphic design: Alan Woo
communications: O-un
interactive map artist: Cameron Beccario
others: Professor Alex Taek-Gwang Lee, Kyunghee University 이택광 교수, 경희대학교, Professor Sebastian Seung, Princeton University, Samsung NY AI Lab승현준교수, 프린스턴 대학교, Sangam Lee, Namhyundang Guesthouse
special thanks to: CJ Foundation, Dongkuk Steel, Eagon, Gami Designlab, Ougun Jung감이디자인랩 정우건, Global Green Growth Institute, Green Drinks Seoul, Hanwha Q Cells, Hyunji Industry Co., Ltd., Junyoung Lee 현지산업 이준영, Sammyung Tech, SeAH Steel, Shawoo Studio, Changwook Pak샤우 디자인 사무소 박창욱
additional participants: Christel Adamou, Orestes Anastasia, Charles Busada, Insouk Cho 조인숙, Theresa Cho & Andrew Yi, Catherine Germier, Justine Harris & Jack Youngelson, Tracey Hummer, David Karlin, Li Ke, Wonsook Kim & Thomas Clement, Ahyeon Lee 이아연, Ali Kim & Haeseung Lee, Jisoo & Chongdoo Lee, Sunghee Moon, Heyonn & Stephane Mot, Dietmar Offenhuber, Helen Park, Tim Partridge, Peter Simmonds, Michele & Jose Torrecilla, Sooryun Youn
philip stevens
I designboom
dec 20, 2022
a diverse digital database that acts as a valuable guide in gaining insight and information about a product directly from the manufacturer, and serves as a rich reference point in developing a project or scheme.
designboom will always be there for you
milan, new york, beijing, tokyo

,
since 1999