architecture firm ODA new york is currently working on two enormous housing complexes that between them span three city blocks. although the two developments are situated on the former site of brooklyn's rheingold brewery, the projects are independent of each other and are backed by two different development firms. both '10 montieth' and '123 melrose' are currently moving towards completion with the former having just just topped out, and the latter receiving its cladding. new drone footage (seen in the video above) illustrates the vast scale of the site, which had previously been vacant for decades.

once complete, '10 montieth street' will be oriented around an interior courtyard
video and image © pavel bendov
once complete, the seven-storey '10 montieth street' will be oriented around an interior courtyard and topped with an expansive rooftop. designed by ODA to evoke the natural terrain, the roof's sloping topography allows for direct horizontal access from the top four floors and lend these units a penthouse feel. among other amenities, the roof's 25,500 gross square footage will encompass a running and hiking course, an urban farm, and various outdoor eating areas. the building will contain a total of 392 units — 123 studios, 228 1-bed apartments, and 41 2-bed units. other on-site amenities include a café, media/screening rooms, a library, co-working/study areas, a gym/yoga room, a climbing wall, and a play room.

the development will comprise seven storeys
image © pavel bendov 
located in close proximity, '123 melrose' spans two city blocks and will contain between 800 and 900 units. conceived as a city in its own right, rather than a housing complex, the project is articulated around a meandering system of interconnected courtyards. within these areas, landscaped walkways and corridors give way to plazas, coffee shops, and art galleries, among other publicly-accessible amenities designed to promote a vibrant sense of community. read more about the vast project here, and see more images of the site under construction below.

the scheme will be topped with an expansive rooftop designed to evoke the natural terrain
image © pavel bendov 

the building will contain a total of 392 units
image © pavel bendov 

the roof's sloping topography allows for direct horizontal access from the top four floors
image © labtop

'123 melrose' in the foreground, with '10 montieth' shown to the right
image © pavel bendov 

a overhead view of '123 melrose'
image © pavel bendov 

the vast development will contain between 800 and 900 units
image © pavel bendov 

the scheme is articulated around a meandering system of interconnected courtyards
image © pavel bendov 

construction is moving ahead on both projects
image © pavel bendov 

landscaped walkways and corridors will give way to plazas, coffee shops, and art galleries
image © bloomimages

publicly-accessible amenities have been designed to promote a sense of community
image © bloomimages
Save
Save
Save
Save
Save
Save
Save
Save
Save
Save
Save
oct 30, 2017
oct 30, 2017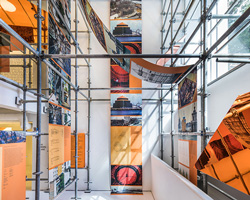 oct 27, 2017
oct 27, 2017
oct 22, 2017
oct 22, 2017
oct 21, 2017
oct 21, 2017
oct 19, 2017
oct 19, 2017
oct 17, 2017
oct 17, 2017
oct 30, 2017
oct 30, 2017
oct 30, 2017
oct 30, 2017
oct 30, 2017
oct 30, 2017
jul 20, 2017
jul 20, 2017
jun 04, 2017
jun 04, 2017
apr 04, 2017
apr 04, 2017