'house louisana' has been designed and built as an earthquake-resistant and sustainable house with help from a local community in haiti. the design is based on the vernacular haitian architecture — including double-pitched roofs, front porches, and plenty of outdoor space. the house is for mama louisana and her extended family, who lost their home during the 2010 earthquake that devastated the island. since then, they have been living in a shelter intended to be temporary. 'house louisana' is a communal work of art and architecture — every aspect of its creation involved local people, including teachers, farmers, artists, architects, and school kids.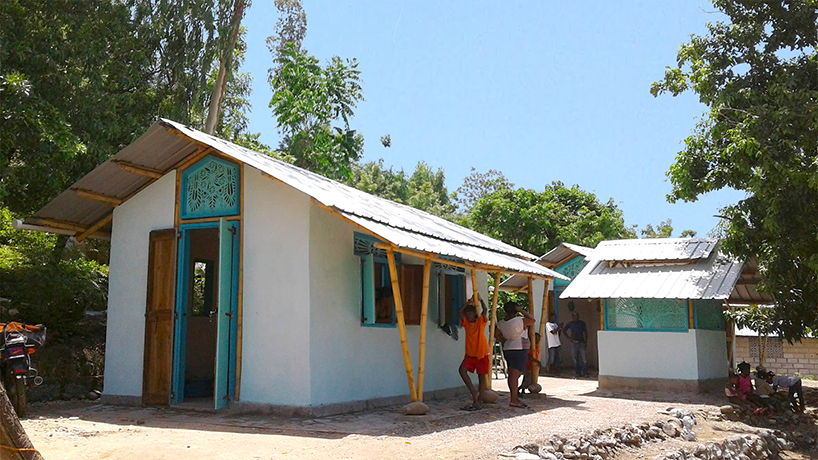 long eaves and front porches provide shaded areas where people socialize and realize daily activities
this project is a collaboration of socially engaged studio oficina with heliotrope foundation and its founder, artist swoon. located in cormiers, a village with no electricity or running water, a series of low-tech, low maintenance, and low cost solutions are implemented to harvest rainwater and use natural light. these solutions were taught to the crew of local builders and can be easily replicated by the local community. 'house louisana' presents various features to maintain the temperatures cool due to the hot tropical weather. its high ceiling, long roof eaves, white reflecting roof, many doors, windows, and louvres allow the air to circulate indoors.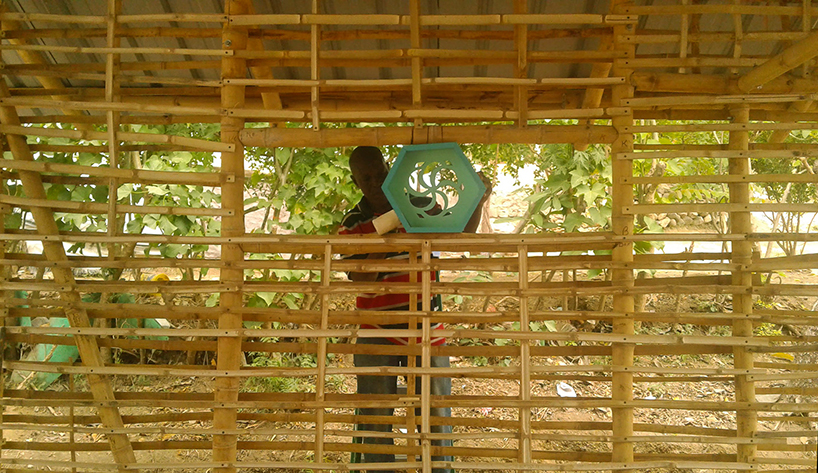 the design team taught techniques such as bamboo construction and wattle and daub wall system
a construction crew was assembled by hiring an average of 20 local skilled and unskilled workers in rotation shifts. this system brought much needed income to a community where unemployment rates are over 40%, with higher numbers in rural areas. the construction site has served as a joint learning place, both for the crew and for the design team. ideas were encouraged from the crew, while the design team taught the community new techniques such as bamboo construction and wattle and daub wall system. the locals now have these skills and knowledge to build for themselves and for other members.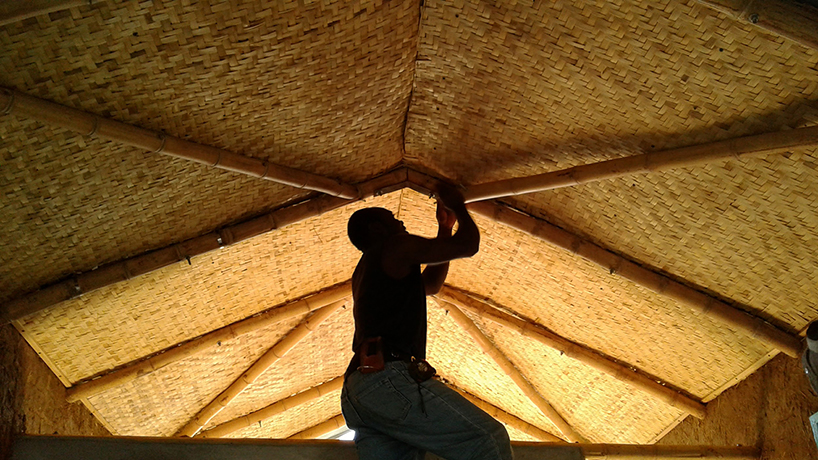 artists and artisans are invited to apply their crafting techniques into architectural elements
the 'house louisana' has been built using local materials and designed using elaborate sustainable strategies, responding efficiently to the context of cormiers. guadua bamboo is used for its main structure due to its proven earthquake resistance and extraordinary structural properties. the walls were built using earth and the wattle and daub technique, which consists of a wide grid of bamboo strips on each side of the structure; the grid sandwiches an earth mixture composed by local soil and natural fibers (shredded coconut, vetiver, and bamboo). soil was mixed by hand and feet at the sound of music and singing. wall finishing consisted of natural lime plaster and lime paint with pigments. most of the materials were acquired by oficina design + heliotrope foundation and some were donated by locals. the doors and windows are haitian wood, all sand and gravel was from nearby sources and the stone — used for the outdoor floor and retaining walls — was from the cormiers riverbed. the white corrugated metal roof is fireproof, durable and reflects direct sunlight. the roof also has a rainwater collection system for domestic use.

the house features low-tech cooling solutions such as tall doors and ventilation louvers
beautiful design gives a dignifying sense of ownership. with that in mind, and taking haitian louvres as an influence, artists have been invited to create unique patterns for the doors and window louvres. these artisans have applied their crafting techniques into architectural elements.

taking haitian ventilation louvres as an influence, unique patterns for the doors and window louvres are applied to the project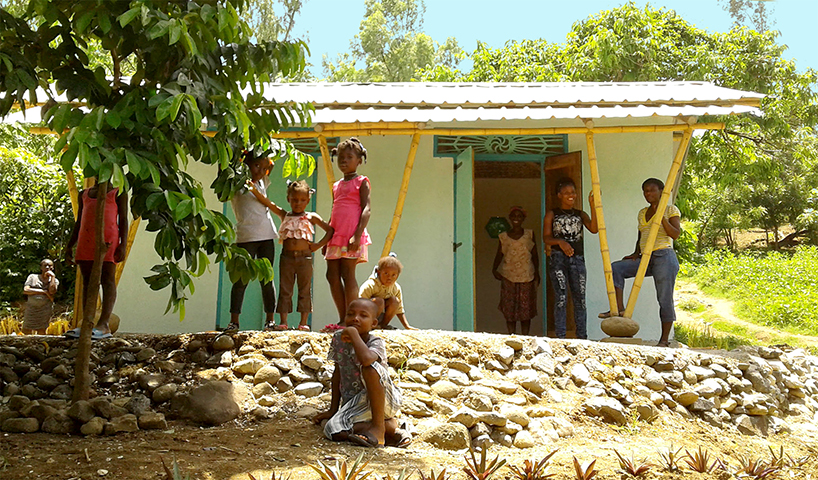 family members and friends gather at one of the front porches on a sunny afternoon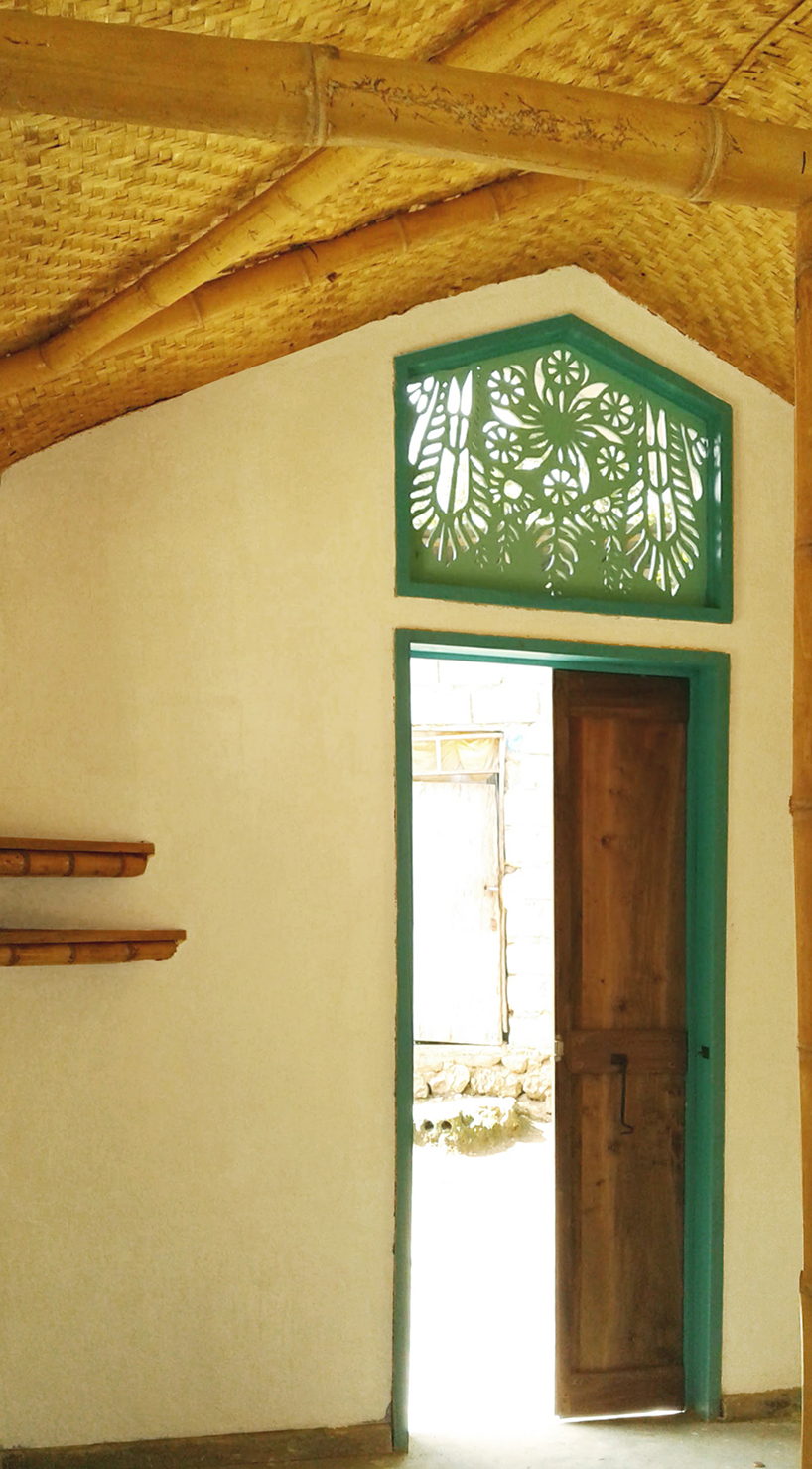 interior view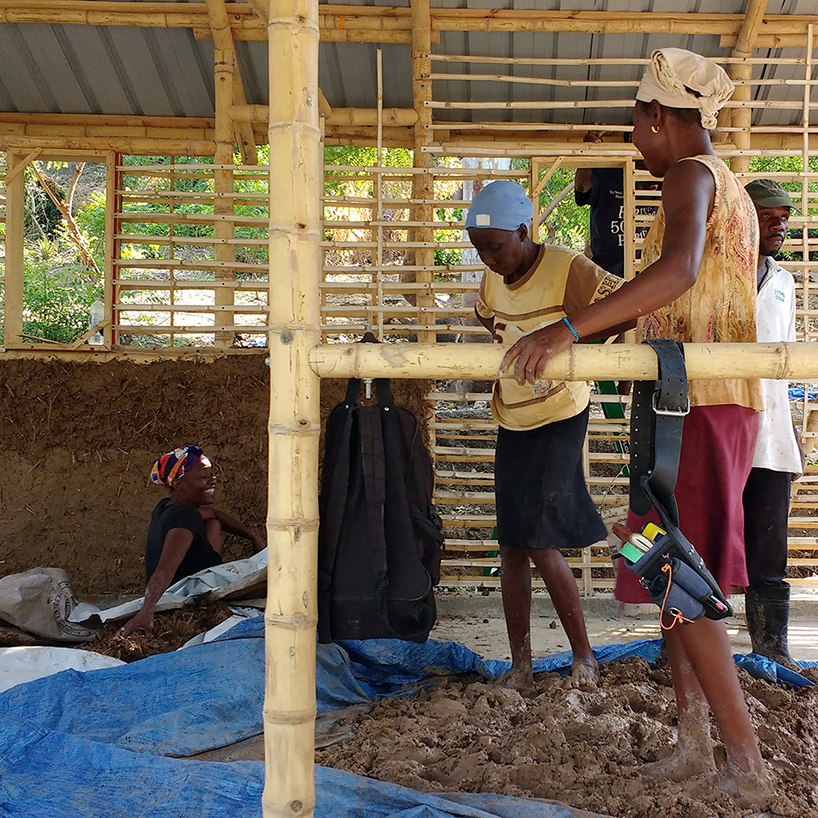 the walls are made with a grid of bamboo stripes on each side of the structure that sandwiches an earth mixture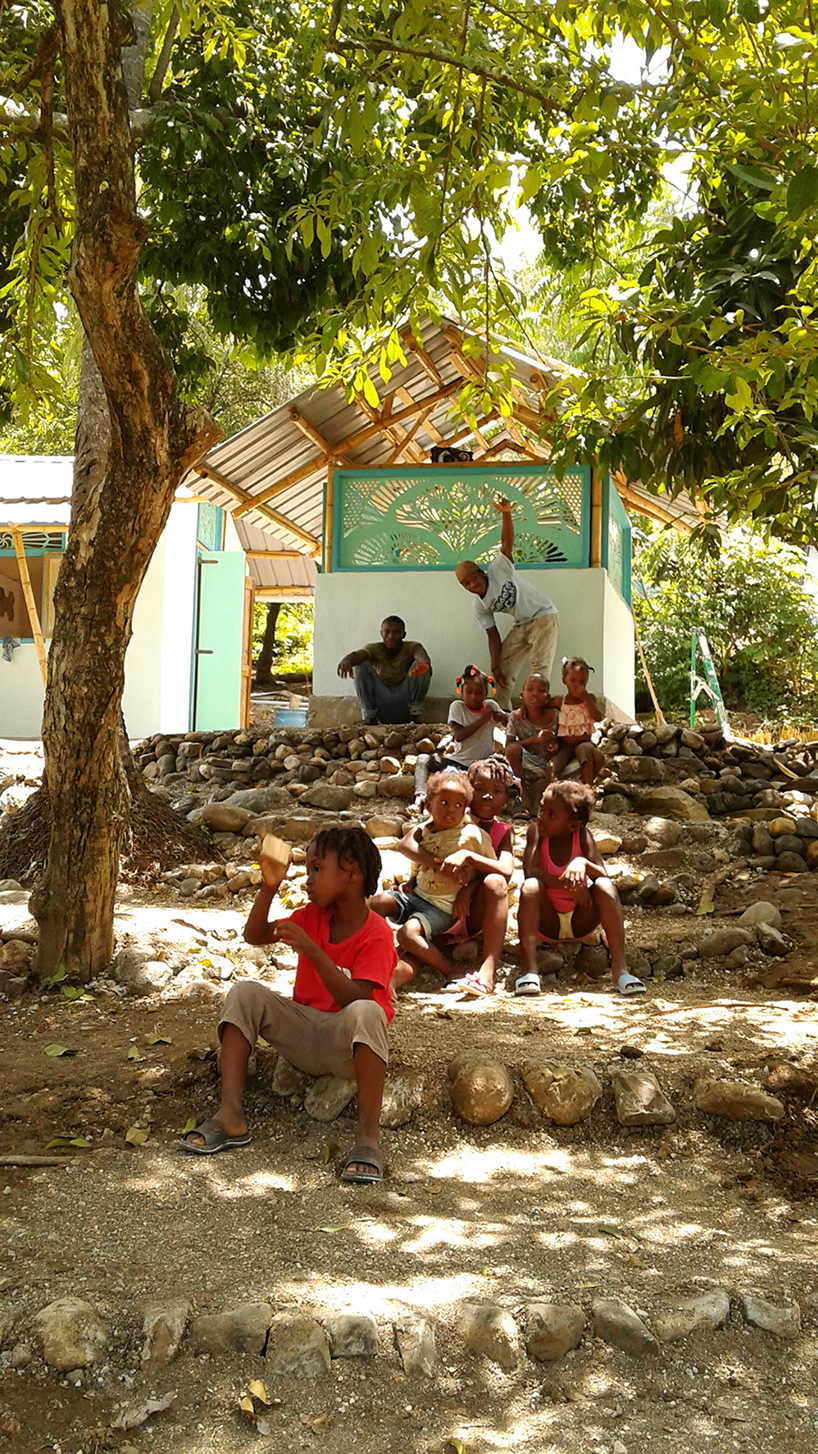 entrance pathway sided by trees leads to central patio with exterior kitchen area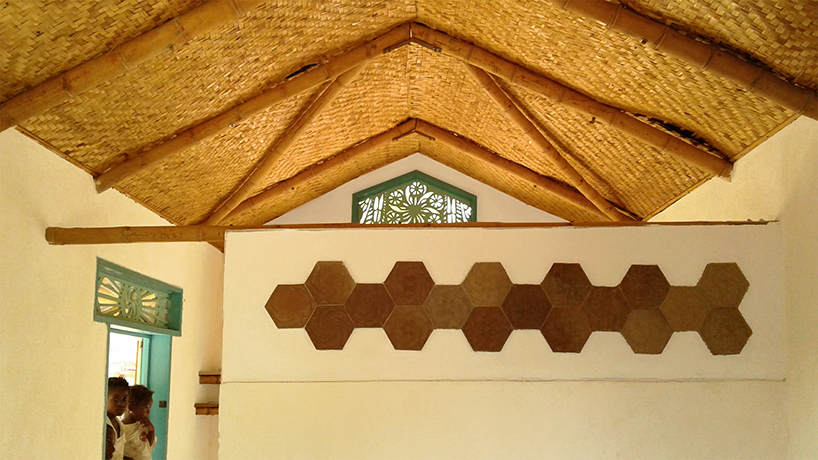 the interior walls feature hand-made ceramic tiles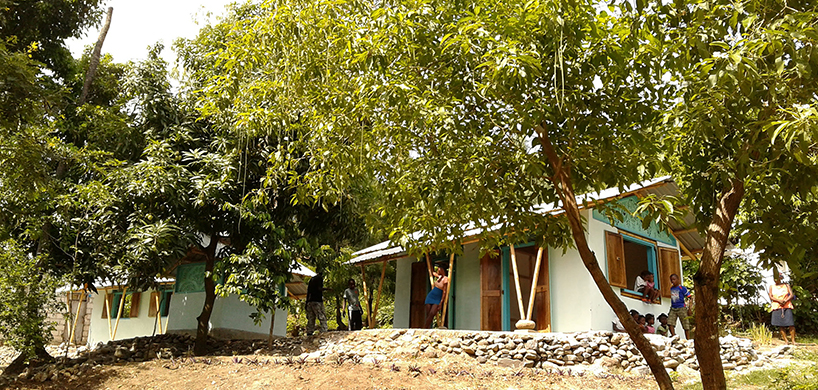 features such as high ceilings, long roof eaves, a reflecting roof, many doors, windows and louvers allow the air to flow indoors

'house louisana' has given locals the opportunity to learn new skills for them to use for themselves or for others
designboom has received this project from our 'DIY submissions' feature, where we welcome our readers to submit their own work for publication. see more project submissions from our readers here.
edited by: apostolos costarangos | designboom
aug 29, 2017
aug 29, 2017
aug 24, 2017
aug 24, 2017
aug 09, 2017
aug 09, 2017
jul 31, 2017
jul 31, 2017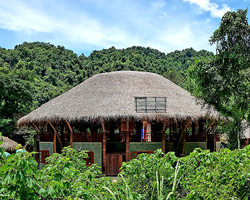 jul 12, 2017
jul 12, 2017
jun 21, 2017
jun 21, 2017
oct 06, 2017
oct 06, 2017
oct 01, 2017
oct 01, 2017
sep 04, 2017
sep 04, 2017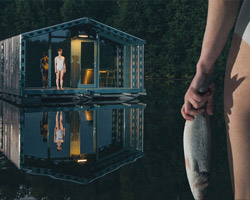 aug 07, 2017
aug 07, 2017
jul 25, 2017
jul 25, 2017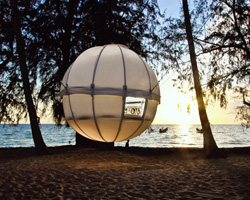 jul 18, 2017
jul 18, 2017