jul 30, 2012
ole scheeren: archipelago cinema at venice biennale
'archipelago cinema' by ole scheeren, venice, italy image © ole scheeren
'archipelago cinema', the floating, outdoor auditorium designed by beijing-based architect ole scheeren will join the collection of collateral events at the 13th international architecture exhibition in venice, italy. the traveling venue is formed by a modular raft and will be located within the darsena grande of the arsenal, an historic shipyard. the space will serve as a platform for public events as well as hosting the premier of 'against all rules', a documentary produced by horst brandenburg, a filmmaker and architecture enthusiast.
his piece will cover the scheeren's guiding philosophy and introduce a six year time period of the architect's career involving the design and construction of the CCTV tower in beijing as well as recent projects in bangkok, singapore and kuala lumpur which form new prototypes tto respond to the challenges of the changing world. brandenburg has stated, 'ole scheeren has come to stand for what architects have to fulfill beyond primary function: a promise, an aim, a dream, or a vision of the future at the beginning of the 21st century'. following the premier, the structure will embark upon an international journey, visiting film festivals around the globe.
see designboom's coverage of the premier of 'film on the rocks yao noi' at the cinema in thailand here.
aerial view of the darsena grande of the arsenal image © ole scheeren
image © ole scheeren
oct 11, 2017
oct 11, 2017
sep 22, 2016
sep 22, 2016
dec 08, 2015
dec 08, 2015
mar 31, 2014
mar 31, 2014
mar 12, 2014
mar 12, 2014
jul 28, 2013
jul 28, 2013
sep 25, 2017
sep 25, 2017
dec 10, 2016
dec 10, 2016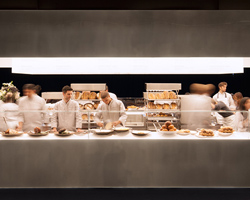 nov 29, 2016
nov 29, 2016
jan 03, 2013
jan 03, 2013
nov 13, 2012
nov 13, 2012
oct 14, 2012
oct 14, 2012