with the idea of setting a new standard of urban living in frankfurt, germany, acclaimed architect ole scheeren has announced the transformation of an existing concrete building into a residential high-rise. called 'riverpark tower', the structure stands out due to its transparency and openness achieved through dynamical layering and sculptural architecture. located on the banks of the main river, the tower will offer sweeping views of the city's striking skyline and its riverbank.

located on the banks of frankfurt's main river, the riverpark tower aims to achieve a new standard in urban living
encompassing a total of 220 units on 23 floors and with a height of almost 100 meters, ole scheeren's tower will offer high standards of modern living raging from small business apartments to 4-room suites. large, horizontal panoramic levels will be inserted into the free-spanning concrete structure of the vertical tower. the top of the building will host loft floors, forming an expressive gesture with a distinctive apex in the traction of the iconic frankfurt skyline.

measuring almost 100 meters, the tower encompasses a total of 220 units on 23 floors
'this ambitious project presents a convincing example for high-quality living in a high-rise in germany,' comments architect ole scheeren. 'by transforming a hermetically enclosed office tower from the 70's into an open, light-flooded residential experience, we demonstrate that the intelligent and sustainable reuse of an existing building can enrich the quality of life — not only in the building itself but also for its context and urban life beyond. riverpark tower will come to stand as a beacon for the future of frankfurt.'

the project will transform a concrete office building into a transparent, layered residential structure
nov 01, 2017
nov 01, 2017
oct 12, 2017
oct 12, 2017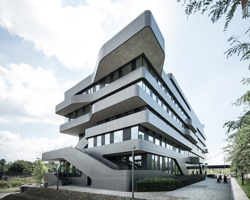 sep 29, 2017
sep 29, 2017
sep 19, 2017
sep 19, 2017
sep 18, 2017
sep 18, 2017
sep 17, 2017
sep 17, 2017
oct 17, 2017
oct 17, 2017
oct 15, 2017
oct 15, 2017
oct 08, 2017
oct 08, 2017
dec 10, 2016
dec 10, 2016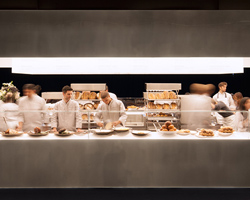 nov 29, 2016
nov 29, 2016
sep 01, 2016
sep 01, 2016