nov 14, 2012
ole scheeren unveils plans for the twin towers duo in singapore
ole scheeren unveils plans for the twin towers duo in singaporeimage © buro ole scheeren
international practice buro ole scheeren has just revealed their plans for the twin towers duo in singapore, set to break ground early 2013. in breaking from the peppering of individual high-rises that have no integration to their urban context, the new project is defined by and responds directly to its surroundings. the buildings are formed by circular subtractions in plan leaving ledges and pockets of space. the solidity of the two volumes disintegrates as they meet the ground to open up a series of public spaces for the community and to strengthen the connection between the historic kampong glam district and the developing commercial sector. one residential tower will stand 186 meters, 50 floors, while the other will measure a close 170-meters containing offices and hotel functions. the private program is supplemented by commercial retail on the ground floor, various terraces and observation decks and free-use courtyards.
public rooftop gardens and street-level courtyards make a 100% green footprintimage © buro ole scheeren
the city's transportation infrastructure is completely interwoven into the site, with a direct connection to the underground metro system feeding into a 100% pedestrian lobby and plazas, with streets elevated above the ground for safety and sanitation. vertical circulation components take visitors and inhabitants alike to one of the various rooftop gardens flourishing with tropical plants, which in addition to the street level vegetation mean that the site's footprint is completely green. a combination of active and passive sustainable strategies are implemented throughout the construction, with the concave shapes channeling wind allowing for natural ventilation and oriented for the optimum benefit of sunlight. an image-defining hexagonal sun-shading mesh wraps the entirety of the constructs to avoid solar gain.
public lobby and courtyardsimage © buro ole scheeren
lobby interiorimage © buro ole scheeren
image © buro ole scheeren

site planimage © buro ole scheeren
elevationsimage © buro ole scheeren
environmental flows diagramimage © buro ole scheeren
volumes shaped from subtractions of external conditionsimage © buro ole scheeren
public spaces carved out of the solid massesimage © buro ole scheeren
civic integrationimage © buro ole scheeren
diagram of viewsimage © buro ole scheeren
project info:
type: mixed-use high-rise development, including premium offices, luxury hotel, residences and signature retail / f&bcommission: march 2011construction start: 2013completion: 2017client: m+s pte. ltd.location: singaporesite: 26,700m2 lot bounded by ophir road, beach road, rochor road, north bridge road and fraser streetgross floor area: approximately 160,350m2 (1.73 million sq.ft.)total construction area: approximately 285,838m2 (3.08 million sq.ft.)height: 186 meters (residential tower, 50 floors above ground); 170 meters (office/ hotel tower, 39 floors above ground)program:premium offices 64,000m2;five-star hotel (350+ rooms) 24,000m2; hotel amenities and ballroom 4,750m2; premium residences (660 units), residences amenities 4,900m2; ground levels: lobbies, courtyard, retail/f&b 7,400m2; observation deck 1,550m2;retail/f&b, connection to mrt bugis junction station 2,925m2; basement parking (3 levels); building services 65,360m2
dec 10, 2016
dec 10, 2016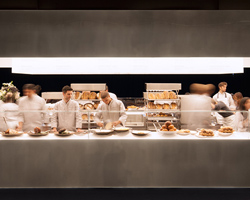 nov 29, 2016
nov 29, 2016
sep 01, 2016
sep 01, 2016