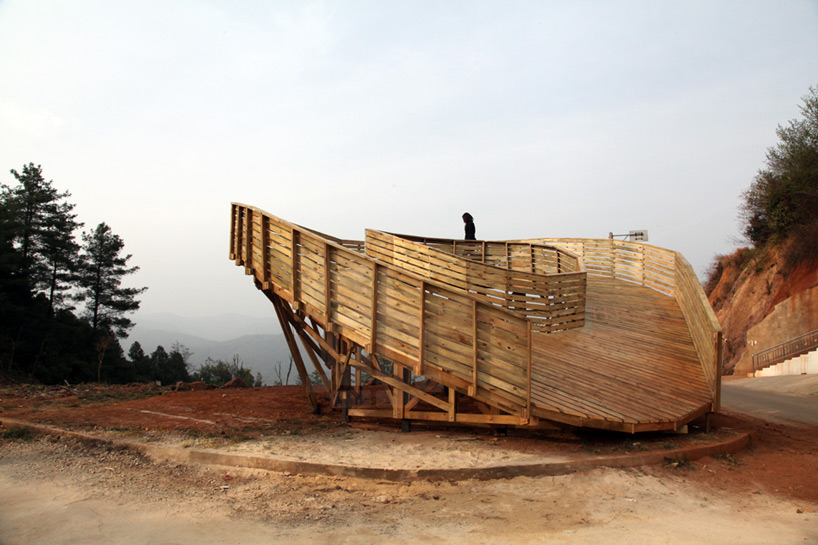 jul 29, 2014
the sweep observation deck by olivier ottevaere + john lin in china
the sweep observation deck by olivier ottevaere + john lin in china
all images courtesy of olivier ottevaere
to create a view toward the rural landscape in the yunnan province of china, olivier ottevaere + john lin have designed and realized a timber observation deck titled 'the sweep'. constructed in just six days, the project was realized by a group of 65 students from the department of architecture at the university of hong kong. the structure is composed as a series of 12 trusses arranged tangentially around a central ring of posts. this organization results in a cantilevered donut-shaped platform, which slopes and gently curves to produce an engaged ascent for visitors. the climb up the slanting form culminates with an expansive panorama toward rice terraces in the valley below.
the donut-shaped deck slopes upward and gently curves to reach the elevated viewing point
located at the entrance to the local primary school, 'the sweep' has proven to be a highly used amenity for the community's children and their parents. the framework becomes a playful structure for the students, while the platform serves as a waiting area, offering shade beneath its deck.
the platform is supported by 12 trusses, arranged tangentially around a central ring of posts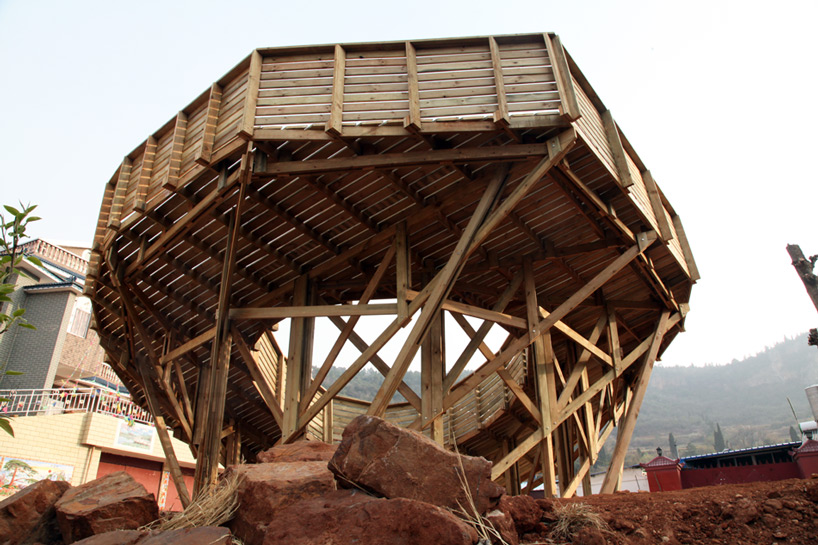 the cantilevered platform reaches a maximum width of 4 meters on either side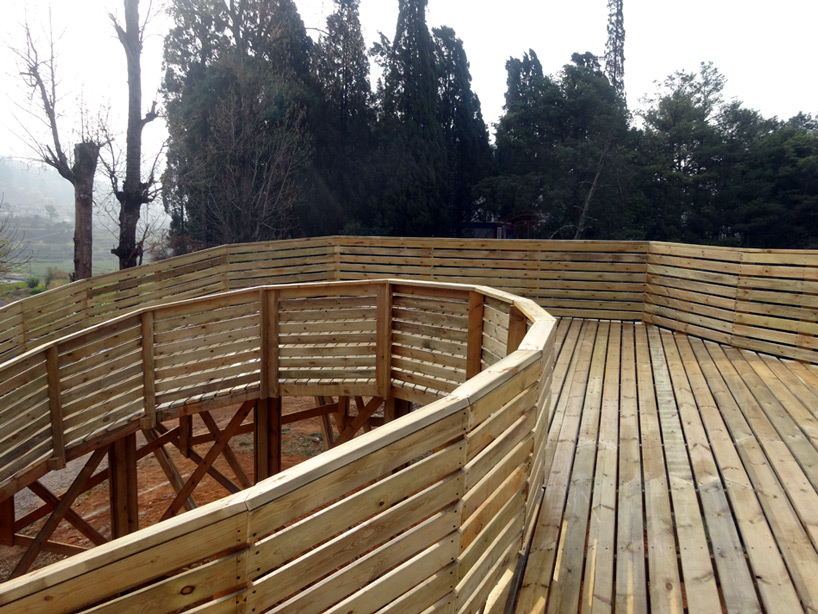 the timber floor surface flattens out at its top
the inclined nature of the structure produces an engages ascent
located near the local primary school, the structure has proven to be a highly used amenity for the community
a hill slopes downward in front of the observation deck
project info:
location: tuanjie village, yunnan province, china
dates: september 2013 – march 2014
size: 60 sqm
cost: 90,000 rmb
unit cost: 1,500 rmb/sqm
design: olivier ottevaere and john lin / the university of hong kong
construction: kunming dianmuju shangmao company ltd.
funding: supported by the gallant ho experiential learning center, HKU
project team: crystal kwan (project manager), connie cheng, gabriel chan, HKU architecture students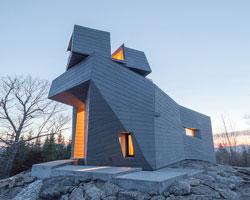 jul 30, 2017
jul 30, 2017
jul 28, 2017
jul 28, 2017
jun 16, 2017
jun 16, 2017