currently nearing completion, the bibliothèque alexis de tocqueville — an OMA-designed public library in caen, france — will open to the public on january 13, 2017. located at the tip of the peninsula that extends from the city of caen to the english channel, the 12,000 square meter multimedia facility has been strategically sited between the city's historic core and an area of the city that is being newly developed. the library supports caen's ambition for the neighborhood to become a vibrant civic center.

all images by philippe ruault, courtesy of OMA
OMA's design is defined by an opposition between mass and void, with the main library space providing unobstructed views in all directions. conceived as an 'urban belvedere', the scheme connects four separate libraries — human sciences, science and technology, literature, and arts — into one naturally lit reading room with a variety of work and reading areas.

the design is defined by an opposition between mass and void
the entrance at ground floor contains a large open volume complete with a press kiosk and access to a 150-seat auditorium, an exhibition space, and a restaurant with an outdoor waterfront terrace. above, the first floor hosts a variety of work and reading spaces, with physical and digital books placed side-by-side. the digital extension of the physical collections, integrated within the bookshelves, is one of the library's multimedia features. the top storey houses children's areas, as well as offices and logistics. an archive and other special historical collections are stored in the basement, protected by a waterproof membrane that has been applied to the concrete walls.

the finishing touches are being applied ahead of the building's january 2017 opening
'this completion marks the beginning of a larger transformation within caen', says OMA partner, chris van duijn. 'the library pivots from the historical center to the new urban master plan, stretching from city to sea. the cross-shaped building marks this central location between the old city and the new, and is a symbol for an institution deeply invested in the future of caen', continues van duijn, who led the project alongside clement blanchet (who is now working independently), and francisco martinez.

the library supports caen's ambition for the neighborhood to become a new civic center
'our ambition is for the library of caen to become an initiator of social and technological innovation,' adds director of the library, olivier tacheau. 'open to the city and very flexible, this space allows for a representation of all forms of knowledge and cultures, and welcomes everyone. OMA's design offers the ideal stage for a truly civic library, one that works to engage the entire population.' see designboom's previous coverage of the project here.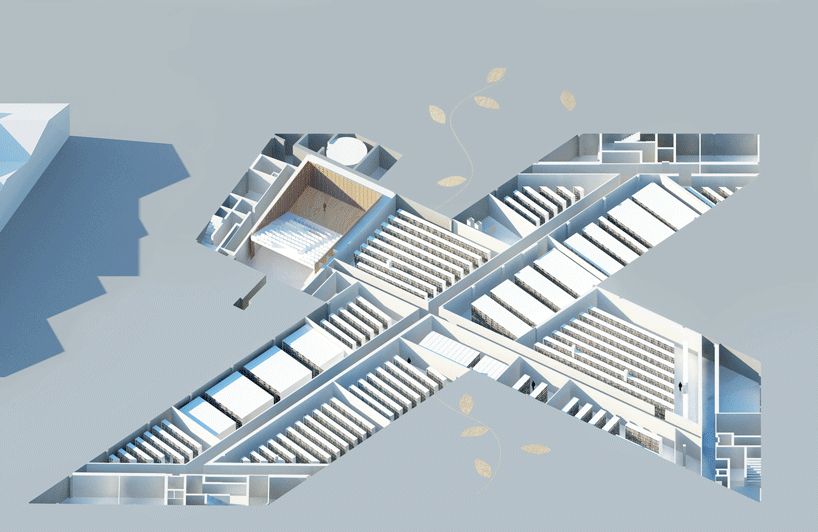 axonometric diagrams detailing the scheme's layout / images © OMA
project info:
project: bibliothèque alexis de tocqueville
status: under construction
client: communauté d'agglomération caen la mer
location: caen, france
site: at the tip of the peninsula in caen, quai francois mitterrand, rue dumont d'urville, rue suède et norvege
program: library, total 12,700 sqm (SHON), including 325 sqm exhibition space, 350 sqm restaurant, 250 sqm auditorium, 3,200 sqm reading spaces, 2,075 sqm offices + logistics and 1,900 sqm storage space
collaborators
architecture: clement blanchet architecture, barcode architects
engineering: iosis / egis batiments
sustainability and facade: elioth
acoustic: RHDHV
scenography: ducks sceno
renderings / moving images: artefactorylab
façade: rob van santen / VS-a group
Save
Save
Save
Save
Save
Save
Save
Save
Save
Save
Save
jul 24, 2017
jul 24, 2017
jul 21, 2017
jul 21, 2017
jul 18, 2017
jul 18, 2017
jul 19, 2017
jul 19, 2017
jul 11, 2017
jul 11, 2017
jun 18, 2017
jun 18, 2017
jul 10, 2017
jul 10, 2017
jun 19, 2017
jun 19, 2017
jun 05, 2017
jun 05, 2017