dec 17, 2013
OMA, BIG + ole scheeren make final cut for axel springer HQ
OMA, BIG + ole scheeren make final cut for axel springer HQ
above: OMA's proposal features a large cutout that reveals the interior workspace to passersby
image courtesy of axel springer / OMA

back in september 2013, five firms (BIG architects, buro ole scheeren, kuehn malvezzi, OMA and SANAA) were shortlisted among 18 international teams to design the new media HQ for axel springer in berlin (see designboom's coverage here). regrouping on december 12, 2013 the jury declared their final selection of three.
proposals by BIG, buro ole scheeren and OMA for the campus, which will see axel springer's existing complex expanded and redefined at its central berlin location, have made the final cut.

OMA's scheme offers open sight lines into all programs of the building
image courtesy of axel springer / OMA
the architectural competition was announced in may of 2013, asking firms to develop ideas that would meet the growing divisions of the communications company, with particular focus on creating additional space for their digital services, and envisioning new standards for the contemporary work environment. outside of these guidelines, no other explicit requirements regarding capability and feasibility were made for the submitted concepts of the 60 000 square meter complex.

concept model of OMA's proposal
image courtesy of axel springer
the three plans are being exhibited at the german architecture centre (DAZ) in an exhibition entitled 'ideas wanted – the new axel springer berlin campus', from december 17th – 22nd, offering the public the opportunity to examine the chosen plans and engage in a dialogue about the future building.

BIG's scheme enforces transparency between the indoors and outdoors, integrating a main courtyard and terraces
president of the jury, professor dr. friedrich von borries:
'all three projects show how fascinating architecture can be today. no matter which of the three proposals is realized: even know, the competition is an asset to berlin building culture.'

terraces wrap around the perimeter of BIG's building from various levels
dr. mathias döpfner, CEO of axel springer SE:
'the fact that the jury, despite a long and passionate debate could not agree on a final sole winner speaks of the high quality of the competition entries. so different are the three designs in aesthetics and functionality, they make their way carving new standards in the relationship with our publishing house.'

a courtyard opens up BIG's design to the outdoors

concept model of BIG architect's proposal

buro ole scheeren suggests a hexagonal-like volume with a large void through the center of it
image courtesy of axel springer / buro ole scheeren

the interior of buro ole scheeren's 'collaborative cloud' is a permeable space of stacked glazed volumes
image courtesy of axel springer / buro ole scheeren

concept model of buro ole scheeren's proposal
image courtesy of axel springer
oct 06, 2016
oct 06, 2016
mar 27, 2014
mar 27, 2014
dec 25, 2013
dec 25, 2013
jul 13, 2017
jul 13, 2017
jun 01, 2017
jun 01, 2017
mar 27, 2017
mar 27, 2017
dec 10, 2016
dec 10, 2016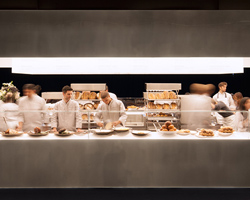 nov 29, 2016
nov 29, 2016
sep 01, 2016
sep 01, 2016
jul 10, 2017
jul 10, 2017
jun 19, 2017
jun 19, 2017
jun 05, 2017
jun 05, 2017