completed in 1973, the 59-storey tour montparnasse was the last skyscraper to be built in paris. today, the structure remains an alien addition to the city's relatively horizontal landscape. for decades, the unloved edifice has made parisians wary of the threat that such high-rises pose in permanently damaging the look and feel of the existing metropolis. now, elected representatives have selected seven architecture firms to redesign the landmark building. the practices are listed in alphabetical order below:
— architecture studio, france
— dominique perrault architecture, france
— MAD architects, china (in partnership with DGLA)
— nAOM (franklin azzi architecture / chartier dalix / hardel-lebihan architectes), france
— OMA, netherlands
— PLP architecture, united kingdom
— studio gang, united states
the firms were selected by the ensemble immobilier tour maine-montparnasse (EITMM), and will now compete for the second stage of the tender. the brief calls for designs that are 'capable of giving a powerful, innovative, dynamic and ambitious new identity to the famous parisian landmark, whilst integrating the challenges of usage, comfort and energy performance to the highest levels'.
estimated to cost over €300 million ($330M USD), the candidates will submit their proposals for the scheme in march 2017. a third stage will challenge the last two finalists before the winner is announced the following july 2017. construction work is due to start in 2019, and be delivered over the course of 2023. the project forms part of demain montparnasse, a flagship project, which will not only renovate the tower, but also restore its surroundings as a modern and accessible urban center.
image by cha già josé /licensed by CC BY-SA 2.0
Save
Save
Save
Save
Save
Save
Save
Save
Save
oct 26, 2017
oct 26, 2017
oct 25, 2017
oct 25, 2017
oct 11, 2017
oct 11, 2017
oct 03, 2017
oct 03, 2017
sep 30, 2017
sep 30, 2017
sep 29, 2017
sep 29, 2017
oct 22, 2017
oct 22, 2017
oct 19, 2017
oct 19, 2017
oct 13, 2017
oct 13, 2017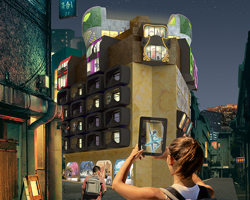 oct 10, 2017
oct 10, 2017
oct 06, 2017
oct 06, 2017
oct 06, 2017
oct 06, 2017
sep 26, 2017
sep 26, 2017
sep 20, 2017
sep 20, 2017
sep 20, 2017
sep 20, 2017