nov 22, 2013
OMA marks the opening of its vertical city, 'de rotterdam'
OMA marks the opening of its vertical city, 'de rotterdam'
photo by michel van de kar
all images courtesy of OMA
located on the banks of the river maas, 'de rotterdam' comprises three interconnecting towers positioned on a compact site in the netherlands. designed by OMA, the mixed-use project forms part of a second city center, offering living accommodation, office space and a range of retail outlets.

'de rotterdam' on the river maas
photo by ossip van duivenbode
rising to a height of 150 meters, the functions of 'de rotterdam' are organized within the scheme's overlapping blocks, while a shared pedestrianized plinth connects the building and its diverse program. establishing a strong presence within the harbor, the structure is named after one of the original ships leaving the city for new york in the late 19th century.

the scheme forms part of a second city center
photo by ossip van duivenbode
'despite its scale and apparent solidity, the building's shifted blocks create a constantly changing appearance, different from every part of the city. the fact that it stands today represents a small triumph of persistence for the city, the developer, the contractor and the architects.', explained rem koolhaas.
designs for OMA's 'de rotterdam' were revealed in 2009, and construction has been ongoing since.

the view overlooking erasmus bridge
photo by ossip van duivenbode

the mixed-use scheme offers living accommodation, office space and a range of retail outlets
(left) photo by philippe ruault
(right) photo by ossip van duivenbode

the 44-storey project rises to 150 meters
photo by charlie koolhaas

the structure is named after one of the original ships leaving the city for new york in the late 19th century
photo by ossip van duivenbode

a central atrium brings light into the heart of the design
photo by ossip van duivenbode
project info:
project: a mixed-use vertical city
status: commission 1997, groundbreaking december 2009, completion november 2013
clients: de rotterdam CV, the hague (joint venture MAB, the hague / OVG, rotterdam)
location: rotterdam, netherlands
site: former harbour waterfront between KPN tower and cruise terminal at kop van zuid
program: total 162,000 sqm: offices 72,000 sqm; 240 apartments 34,500 sqm; hotel (278 rooms) / congress / restaurant 19,000 sqm; retail / f&b 1,000 sqm; leisure 4,500 sqm; parking (approx. 650 vehicles) 31,000sqm
Save
aug 17, 2017
aug 17, 2017
aug 10, 2017
aug 10, 2017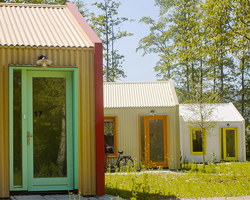 jul 20, 2017
jul 20, 2017
jul 10, 2017
jul 10, 2017
jun 19, 2017
jun 19, 2017
jun 05, 2017
jun 05, 2017
jun 28, 2017
jun 28, 2017
jun 22, 2017
jun 22, 2017
jun 20, 2017
jun 20, 2017