designed by OMA, the qatar national library (QNL) has officially opened its doors to the public in doha. QNL encompasses the national library, the public library, the university library, and the heritage collection, which consists of valuable texts and manuscripts related to the arab-islamic civilization. 'we designed the space so you can see all the books in a panorama,' explains rem koolhaas. 'you emerge immediately surrounded by literally every book — all physically present, visible, and accessible, without any particular effort. the interior is so large it's on an almost urban scale: it could contain an entire population, and also an entire population of books.'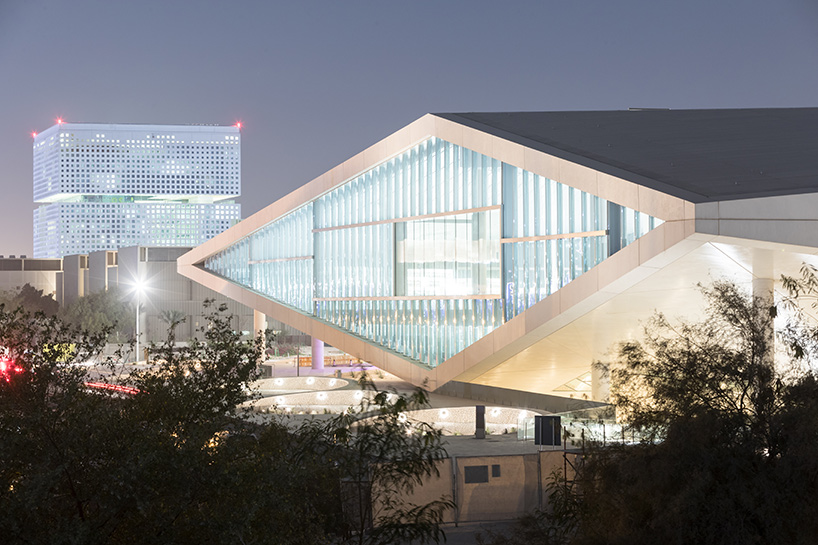 image © iwan baan — OMA (also main image)
the public library houses over a million books and space for thousands of readers over an area of 42,000 square meters. meanwhile, the national library is part of the education city, a new academic campus which hosts satellite campuses from leading universities and institutions from around the world. other OMA-designed buildings on the new campus include the qatar foundation headquarters and a new branch for the research institute.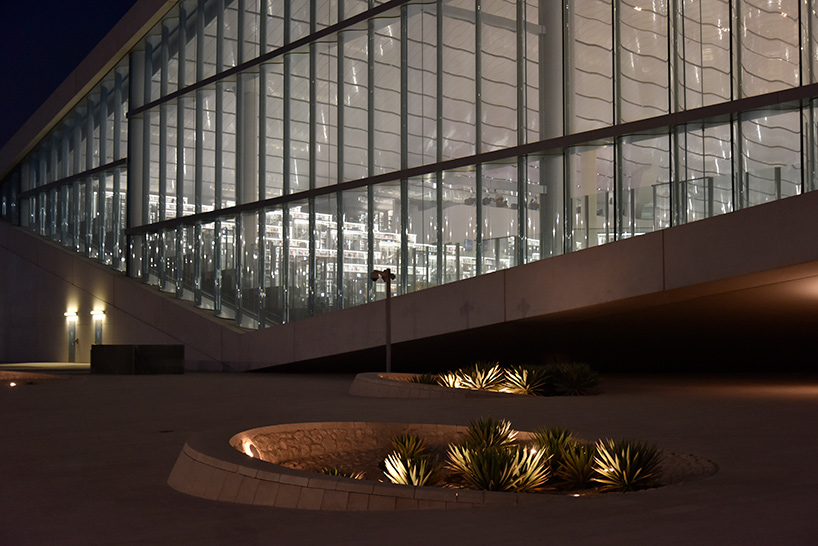 image by hans werlemann © OMA
the qatar national library has been conceived as a single room which houses both people and books. the edges of the building are lifted from the ground, creating three aisles which accommodate the book collection and, at the same time, enclose a central triangular space. this configuration also allows the visitor to access the building at its center, rather than laboriously entering from the perimeter. the aisles are designed as a topography of shelving, interspersed with spaces for reading, socializing, and browsing.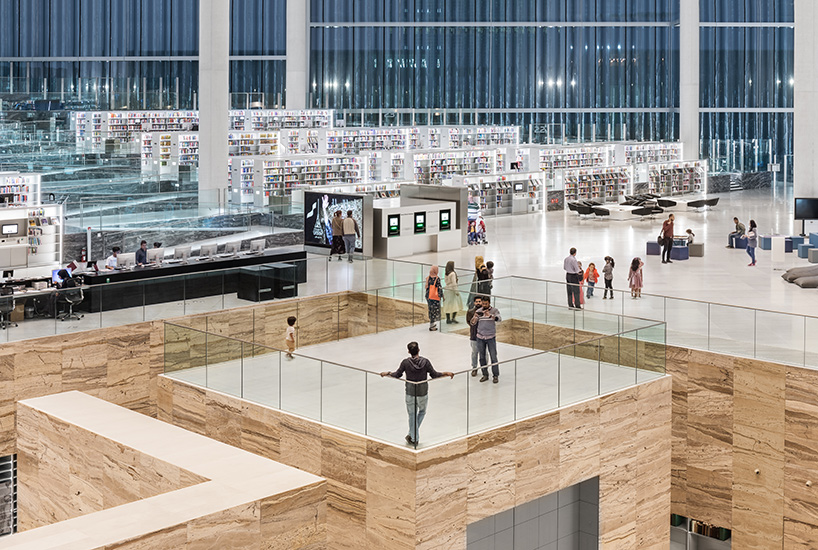 image by delfino sisto legnani and marco cappelletti © OMA
the bookshelves are meant to be part of the building both in terms of materiality — they are made of the same white marble as the floors — and infrastructure — they incorporate artificial lighting, ventilation, and the book return system. the heritage collection is placed at the center of the library in a six-meter-deep excavated space, clad with beige travertine. the collection can also operate autonomously, directly accessible from the outside.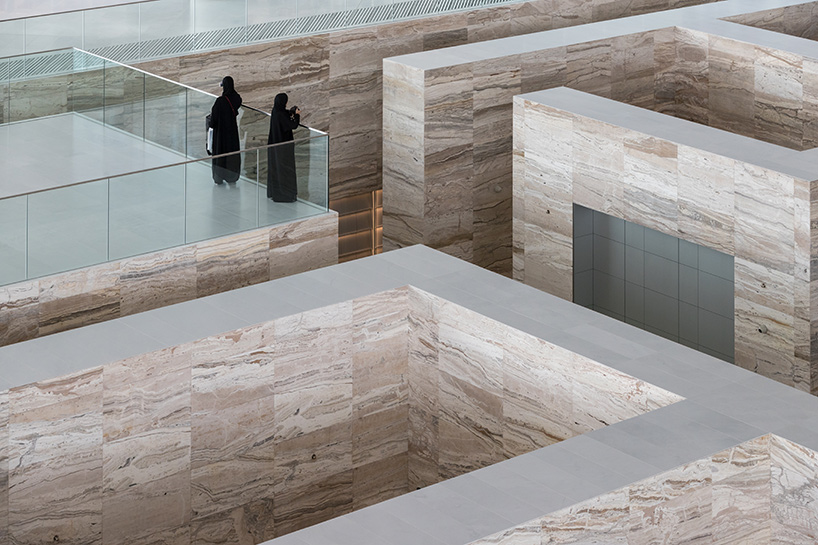 image © iwan baan — OMA
'classically, libraries were vibrant spaces for the exchange of knowledge. with the immediate accessibility of information in the current era, the library's role as public meeting space is more significant than ever,' says OMA partner, ellen van loon. 'we pay tribute to the region's rich culture with the heritage library, excavated from the ground like an archeological site, holding historical and priceless islamic texts for visitors to study and contemplate.'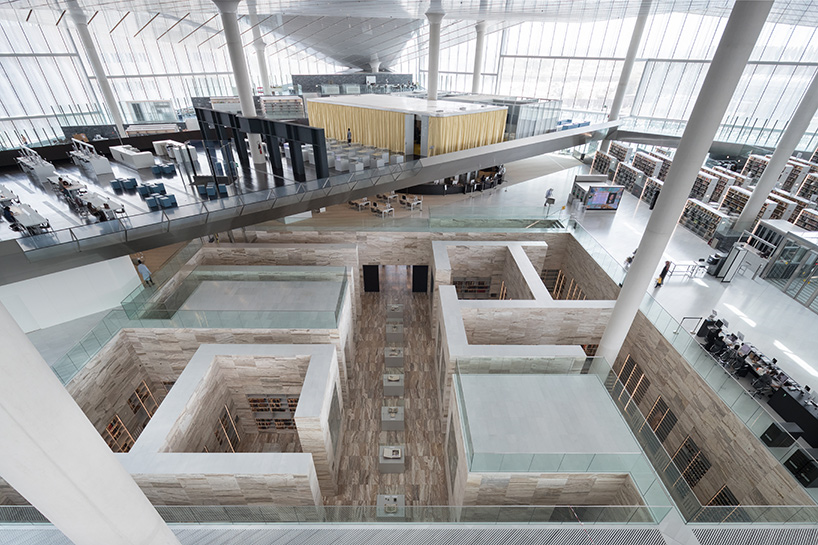 image © iwan baan — OMA
'the library is a testimony to qatar's significant regional role and influence in bridging knowledge, tolerance and greater dialogue within the region and to a global reach,' adds iyad alsaka, partner at OMA. 'QNL is an extraordinary public space in the region that will promote knowledge sharing, physically and digitally.' the project was officially opened on april 16, 2018 by the emir of qatar, sheikh tamim bin hamad al thani, her highness sheikha moza bint nasser, and the CEO of the qatar foundation, sheikha hind bint hamad al thani.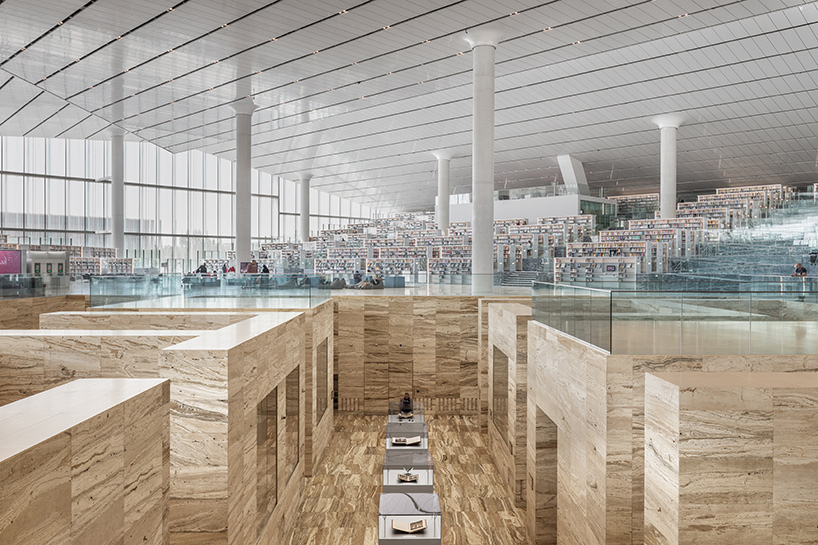 image by delfino sisto legnani and marco cappelletti © OMA
qatar national library is the latest expression of OMA's long-term interest in the typology, which goes back to the competition for the national library of france in 1989. following the seattle central library in the US and the bibliothèque alexis de tocqueville in caen, france, this is the third library built by OMA.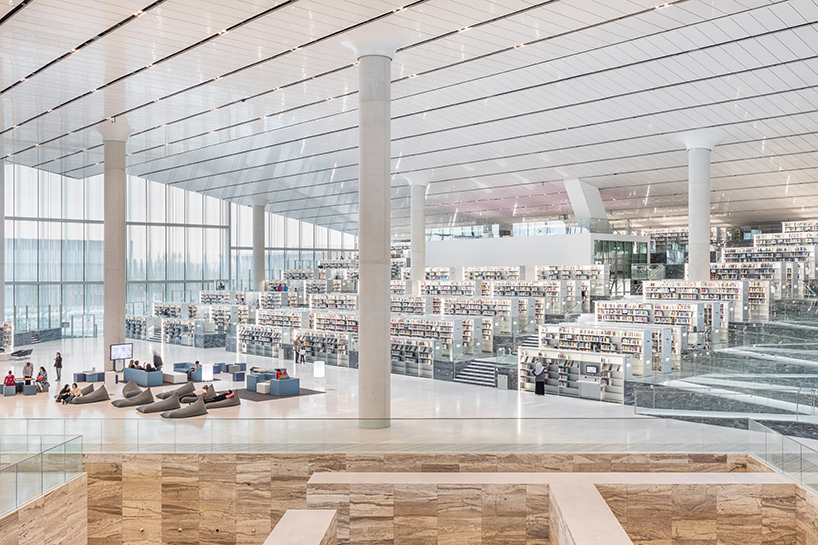 image by delfino sisto legnani and marco cappelletti © OMA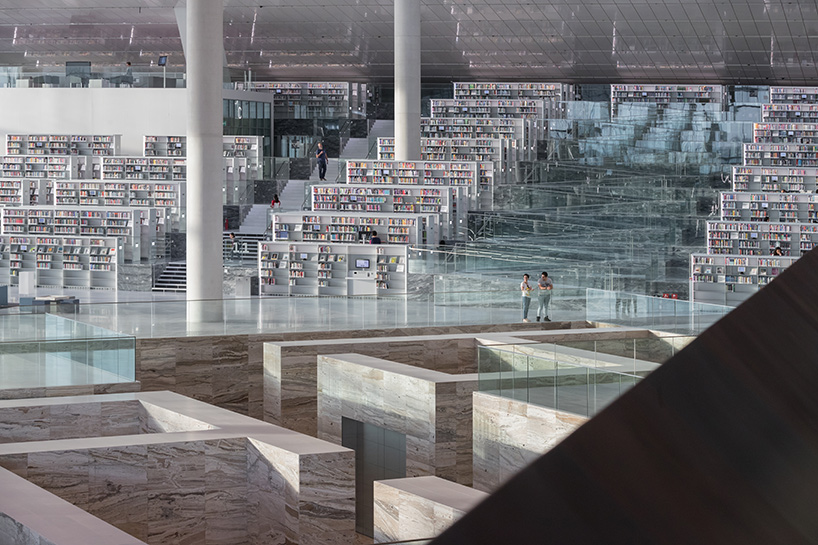 image © iwan baan — OMA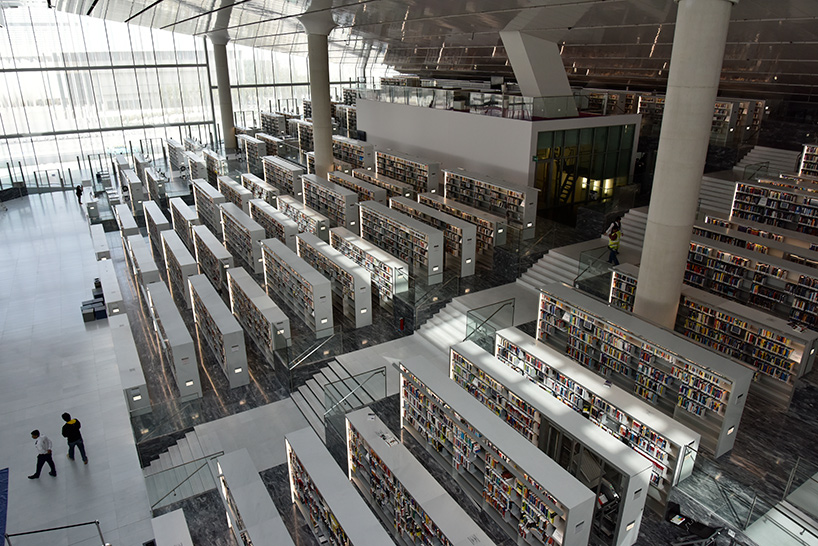 image by hans werlemann © OMA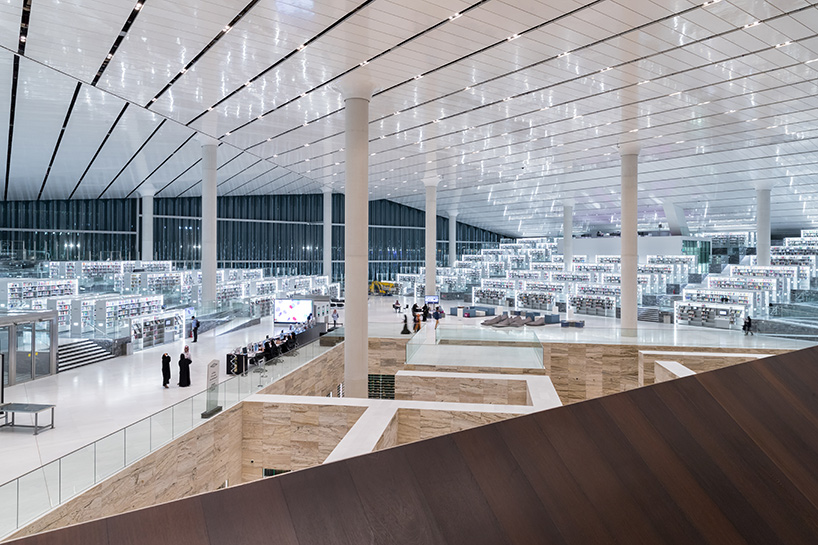 image © iwan baan — OMA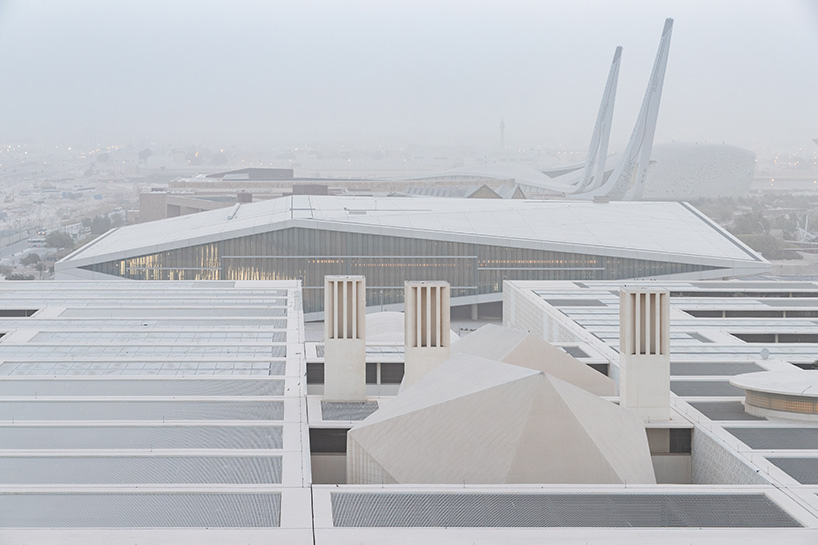 image © iwan baan — OMA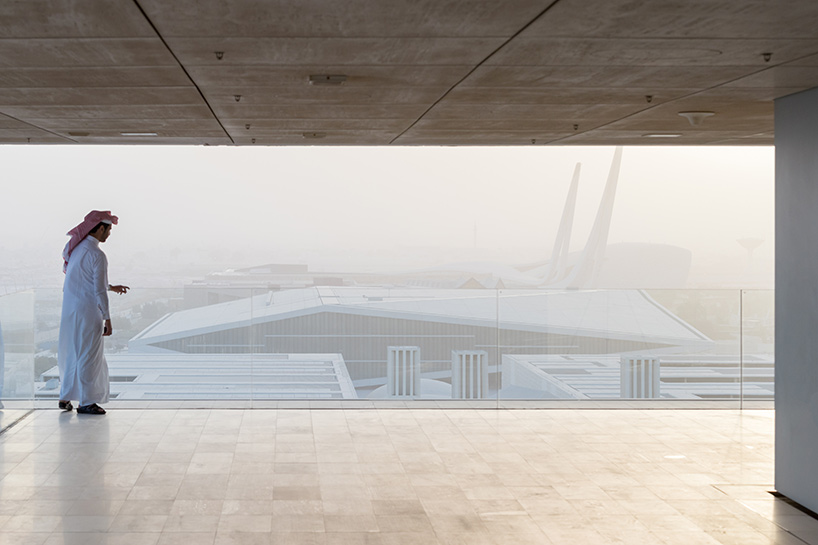 image © iwan baan — OMA
project info:
name: qatar national library, doha
partners in charge: rem koolhaas, ellen van loon, iyad alsaka
associate in charge: kunle adeyemi
design team SD, DD and CD: sebastian appl, laura baird, andrea bertassi, helen billson, benito branco,nils christa, daniel colvard, tom coronato, anita ernodi, clarisa garcia-fresco, dina ge, mauricio gonzales, bermy ho, vincent kersten, keigo kobayashi, dimitri koubatis, jang hwan lee, oliver luetjeus, bimal mendis, joaquin millan villamuelas, barbara modolo, david nam, sebastian nau, rocio paz chavez, francesca portesine, teo quintana, miriam roure parera, peter richardson, silvia sandor, tjeerd van de sandt, louise sullivan, anatoly travin, yibo xu
executive team and on site team: vincent kersten, gary owen. collaborators
sub-consultants: ARUP
acoustics: DHV
façade: ABT
cost analyst: david langdon
interior, curtains, landscape: inside outside
construction document phase: CCDI
apr 26, 2018
apr 26, 2018
feb 20, 2018
feb 20, 2018
nov 29, 2017
nov 29, 2017
nov 27, 2017
nov 27, 2017
may 15, 2017
may 15, 2017
jul 11, 2016
jul 11, 2016
mar 07, 2018
mar 07, 2018
feb 24, 2018
feb 24, 2018
dec 01, 2017
dec 01, 2017
may 08, 2018
may 08, 2018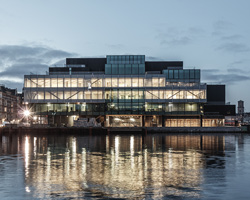 may 07, 2018
may 07, 2018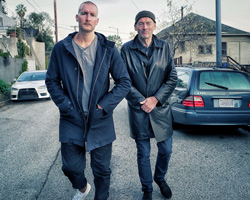 may 01, 2018
may 01, 2018
a diverse digital database that acts as a valuable guide in gaining insight and information about a product directly from the manufacturer, and serves as a rich reference point in developing a project or scheme.