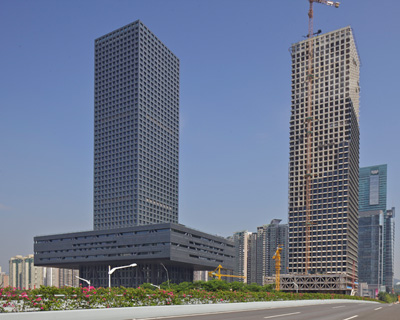 oct 08, 2013
OMA: shenzhen stock exchange HQ complete
OMA: shenzhen stock exchange HQ complete
photo by philippe ruault
image courtesy of OMA
OMA has completed construction on the 'shenzhen stock exchange' (SZSE), the firm's second building in china (the realization of the CCTV headquarters was their first–see designboom's coverage here). the 180,000 m2 structure is conceived as a physical materialization of the stock exchange and is conceived as a single volume, realized on a tower-on-podium typology. the architectural focal point of the SZSE is a three-storey base cantilevered 36m above the ground that is vertically and laterally supported by the tower and atrium columns, encased by a robust three-dimensional array of full-depth steel transfer trusses.
the raised platform is where all of the stock exchange functions, including the listing hall and related departments are housed. on the exterior, the projected proportions feature a lush roof top garden, while below it protects a large public plaza which from the ground crops and frames views of shenzhen. by night, its elevated position allows it to broadcast the virtual activities of the city's financial markets.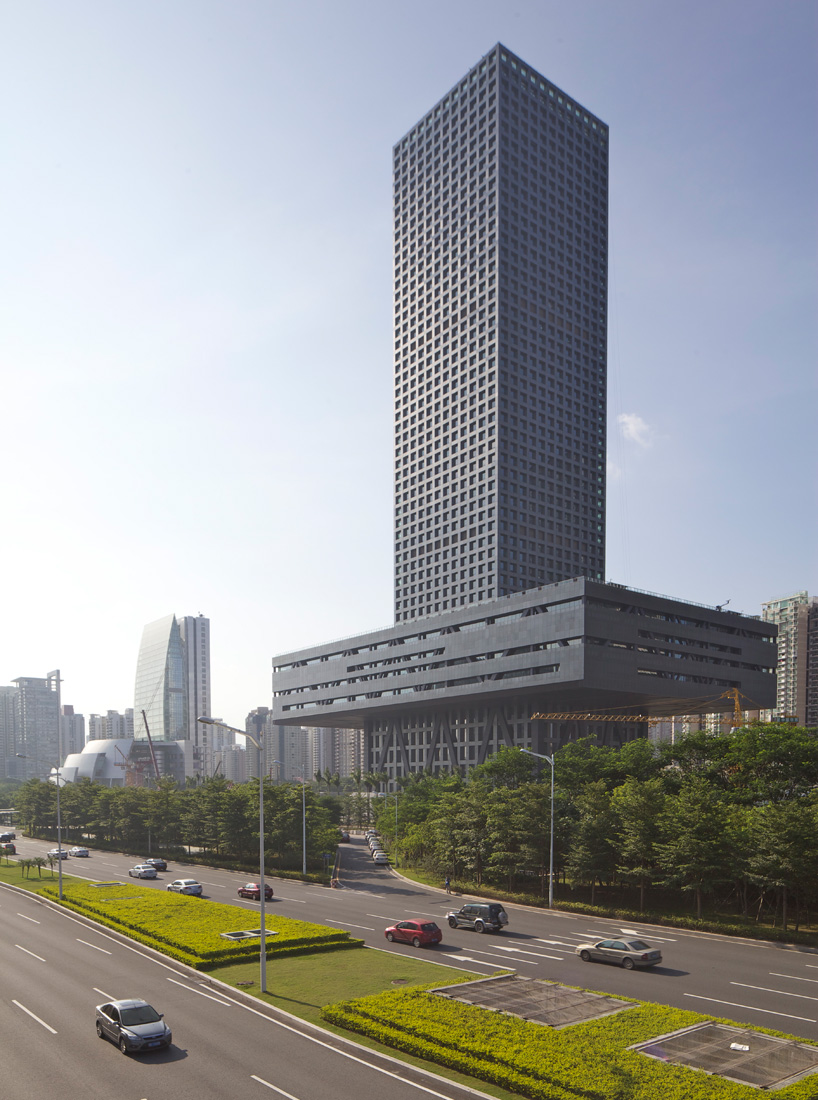 the 'shenzhen stock exchange' is located at the crossroads of the city's main artery
photo by philippe ruault
image courtesy of OMA
the highrise is square in its geometry, which sees it blending in with the surrounding buildings, while its façade differentiates it from the others–the tower grid is wrapped in a translucent layer of patterned glass revealing the construction behind it. the recessed openings on the edifice reduce the amount of solar heat gain that enters inside, while at the same time improving natural daylight and reducing energy consumption. flanked by two atria, staff enter the SZSE from the east, while tenants access it from the west. the executive offices of the 'shenzhen stock exchange' are located just above the lifted platform, leaving the uppermost floors leasable as rental offices and a dining club.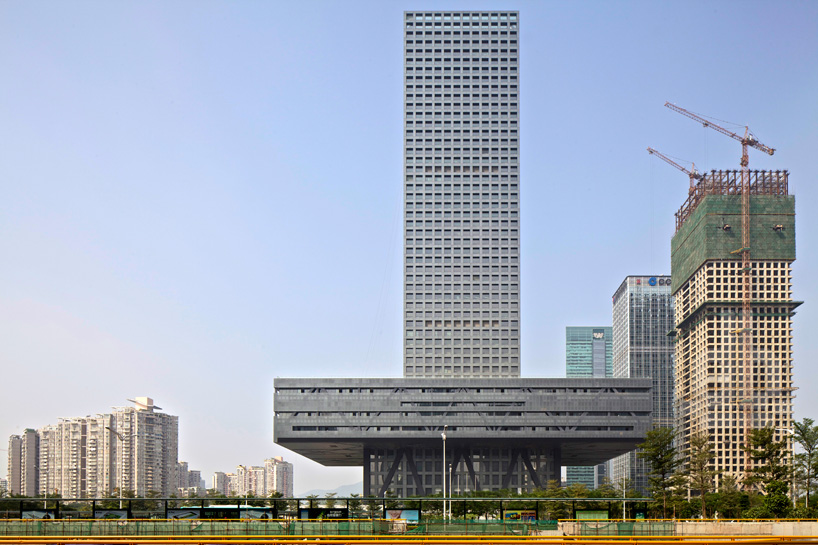 front view of the tower-on-podium structure
photo by philippe ruault
image courtesy of OMA
the 46-storey 'shenzhen stock exchange' stands as a new financial center for the city, that holds civic meaning. positioned within shenzhen's main artery–on the north-south axis between mount lianhua and binhe boulevard, and the east-west axis of shennan road–engaging the city not as an isolated object, but a meeting point, generating new relationships within the urban context.
designboom visited the construction site of the 'shenzhen stock exchange' in 2011. see our exclusive coverage of its development here.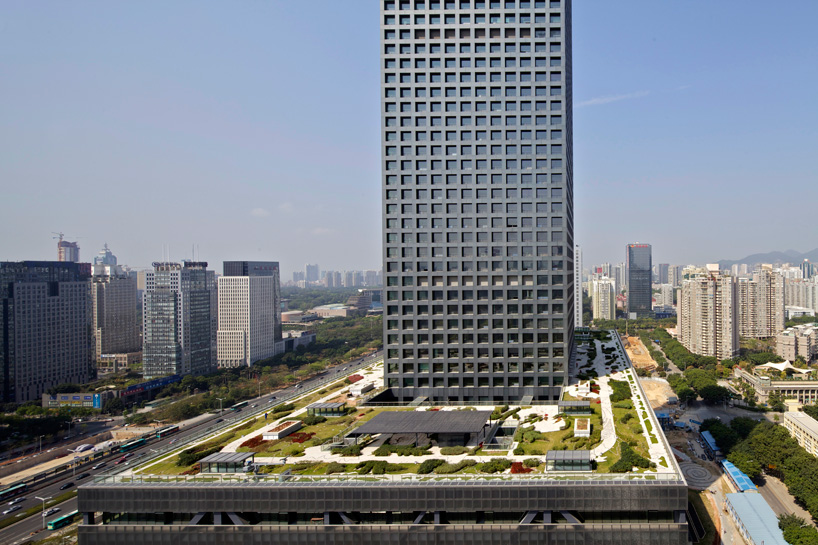 the rooftop of the cantilevered platform features a lush rooftop garden
photo by philippe ruault
image courtesy of OMA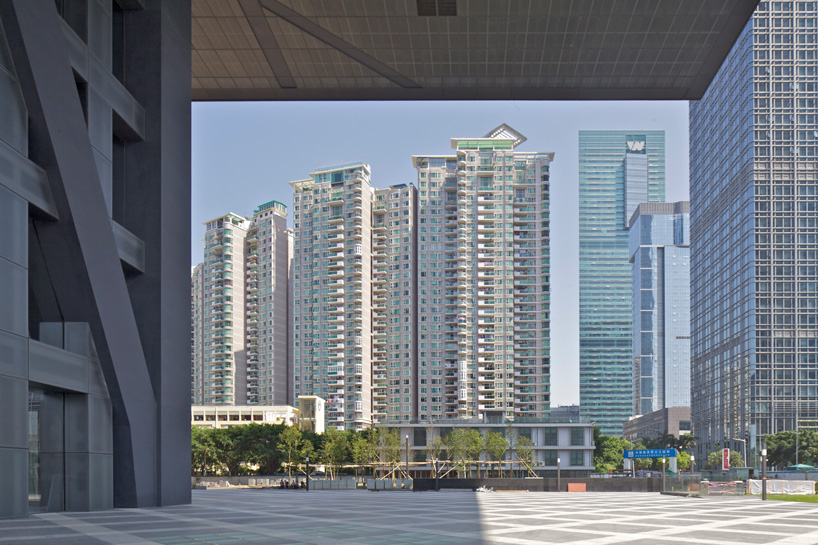 from the ground the cantilevered structure crops and frames views of shenzhen
photo by philippe ruault
image courtesy of OMA

atrium and up close of the tower grid
photo by philippe ruault
image courtesy of OMA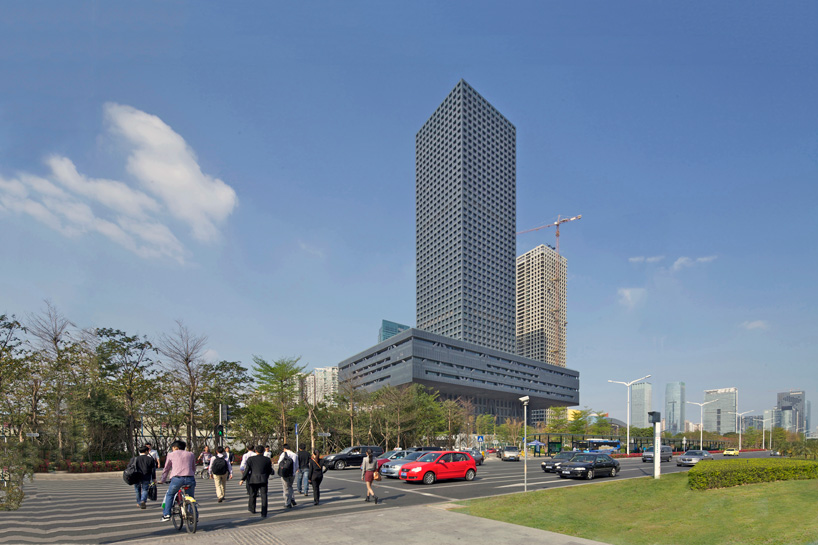 approach
photo by philippe ruault
image courtesy of OMA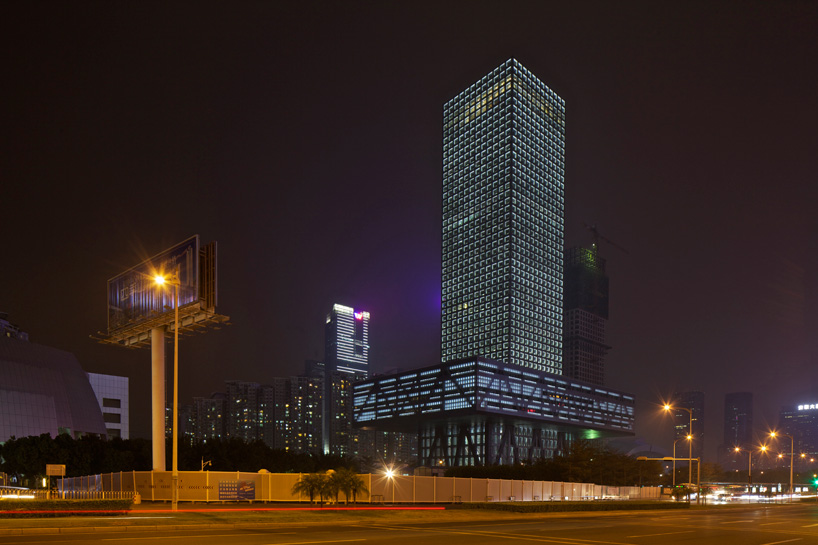 the 'shenzhen stock exchange' illuminated by night
photo by philippe ruault
image courtesy of OMA
project info:
project: the new headquarters for the shenzhen stock exchange
status: competition: 1st prize 2006; completion: october 2013
client: shenzhen stock exchange
cost: N/A
location: shenzhen, china
site: 39,000 m2, in the downtown area of shenzhen at the meeting point of the north-south axis between mount lianhua and binhe boulevard, and the east-west axis of shennan road, shenzhen's main artery
program: total 265,000 m2; 180,000 m2 above ground: shenzhen stock exchange's offices, listing hall, conference centres, a chinese art gallery, a technical operations centre, canteen, and a restaurant / club, rental offices, a registration & clearing house, a securities information company, and a retail area; 85,000 m2 below ground.
partners in charge: rem koolhaas and david gianotten, in collaboration with ellen van loon and shohei shigematsu
associate in charge: michael kokora
on site team: yang yang, wanyu he, daan ooievaar, joanna gu, vincent kersten, yun zhang
design team: kunle adeyemi, ryann aoukar, sebastian appl, laura baird, waichuen chan, jan dechow, lukas drasnar, matthew engele, leo ferretto, clarisa garcia fresco, alasdair graham, jaitian gu, matthew haseltine, joão ferreira marques jesus, matthew jull, alex de jong, santiago hierro kennedy, klaas kresse, miranda lee, anna little, luxiang liu, david eugin moon, cristina murphy, se yoon park, ferdjan van der pijl, franscesca portesine, idrees rasouli, korbinian schneider, wolfgang schwarzwalder, felix schwimmer, richard sharam, lukasz skalec, christine svensson, lukasz szlachcic, ken yang tan, michela tonus, miroslav vavrina, na wei, xinyuan wang, leonie wenz, su xia, yunchao xu, yang yang, yun zhang
competition team: konstantin august, andrea bertassi, joao bravo da costa, tieying fang, pei feng, katharina gerlach, carlos garcia gonzalez, martti kalliala, klaas kresse, anu leinonen, anna little, jason long, beatriz minguez de molina, daniel ostrowski, yuanzhen ou, mauro paraviccini, mendel robbers, mariano sagasta, bart schoonderbeek, hiromasa shirai, kengo skorick, hong yong sook, christin svensson, xinyuan wang, dongmei yao
AMO: todd reisz, brendan mcgetrick
collaborators:
level acoustic: DHV building and industry: bertie van de braak, caroline kaas, renz van luxemburg, theo rijmakers
landscape: inside outside: petra blaisse, rosetta elkin, aura melis, jana crepon with laura baird and carmen buitenhuis
QS: L&B quantity surveyors: law hing wai, melody huang
structure, services, fire, project management, vertical transportation, building physics, building intelligence, geotechnics, lighting: ARUP
team leaders: michael kwok, rory mcgowan, nancy huang, chas pope, kai-sing yung, oliver kwong
structural engineering: chas pope, goman ho, xiaonian duan, chris carroll, robin ching, guo-yi cui, andrew grant, yue hao, jonathan kerry, di liu, peng liu, hui-yuan long, alex to, fei tong, matthew tsang, yu-bai zhong, fx xie, liang xu, ling zhou,
façade engineering: ARUP: andy lee, gerald hobday, fanny chan, raymond cheng, kimi shen
front: richard green, marc simmons
fire engineering: mingchun luo, dagang guo, li-li ma, feng rui, yan-dong wang,
building services engineering: oliver kwong, kai-sing yung, kenneth chong, alba xu, li shen, johnson chen, wh au, michael bradbury, kitman chan, johnson chen, yong guan, andrew lerpiniere, eddycol li, yong-qiao luo, yi ren, lewis shiu, kenneth sin, julian sutherland, lu-peng wang, qi wang, yue wang, chris wong, sabrina wong, william wong, tie-jun xiao, dong yan, juliet zhang, li-ping zhang, lipy zhang, xue-li zhu, yue-hui zhu
client liaison: nancy huang, wei gao, penny liu, jerry zhang
vertical transportiation: matthew tang, julian olley
building physics: vincent cheng, isaac tang, raymond yau, rumin yin
building intelligence: patrick leung, michael tomordy, sam tsoi, henry chan, mark chen, jacky lo , wing-shan mak, edwin wong
geotechnical engineering: mark choi, maggie qing-min meng, jason ng, wei-guang ruan
lighting / LED: steve walker, florence lam, sacha abizadeh, francesco anselmo, katie davies, junko inomoto, david lakin, melissa mak, siegrid siderius, imke van mil, kevin womack
local design institute (architecture & engineering): sadi: yuan chao, jing chen, jun chen, wen deng, bo hong, james hong, zhen hu, ming huang, hanguo li, wenming lin, zhenhai lin, chen liu, qiongxiang liu, jianlin mao, jianmin meng, zhijian qiu, xiaoheng shen, xingliang shi, luming shu, nan sun, xiaohong sun, qiwen wang, yishan wang, chao wu, fenghua xiao, chuangui xie, baozhen yang, he yang, hui zhen, wenxing zhen
feb 21, 2020
feb 21, 2020
feb 17, 2020
feb 17, 2020
feb 17, 2020
feb 17, 2020
feb 12, 2020
feb 12, 2020
feb 11, 2020
feb 11, 2020
feb 07, 2020
feb 07, 2020
feb 19, 2020
feb 19, 2020
feb 12, 2020
feb 12, 2020
jan 14, 2020
jan 14, 2020
a diverse digital database that acts as a valuable guide in gaining insight and information about a product directly from the manufacturer, and serves as a rich reference point in developing a project or scheme.