'the shenzhen stock exchange' by OMA, shenzhen, china image © designboom
on a recent trip to shenzhen, china, designboom toured the construction site of the shenzhen stock exchange by rotterdam-based practice OMA. the tower is located along shennon road, a defining axis through the linear city between the civic center, commercial heart and residential district. an elevated podium becomes a dominant visual element, intended to broadcast the activities occurring within the floating box to the city. as neighboring buildings continue to emerge, the exchange continues to become connected into the developing
cantilevering 36 meters from the edge of the atrium's outer structure, the rectangular volume is supported by external diagonal mega-bracing while hollowed wide flanges are solely to contain the glass curtain wall. as the scaffolding near the base has been recently removed, the extensions have revealed framed outward views of the city. along the south end of the building, a stepped ceremonial south plaza will welcome important figures into the exchange with water and vegetation. the glass of the facade is pulled away from the structural elements to render a consistent exterior regardless of the conditions behind the vision panel. at night, the translucent glass will project a soft glow into the urbanscape.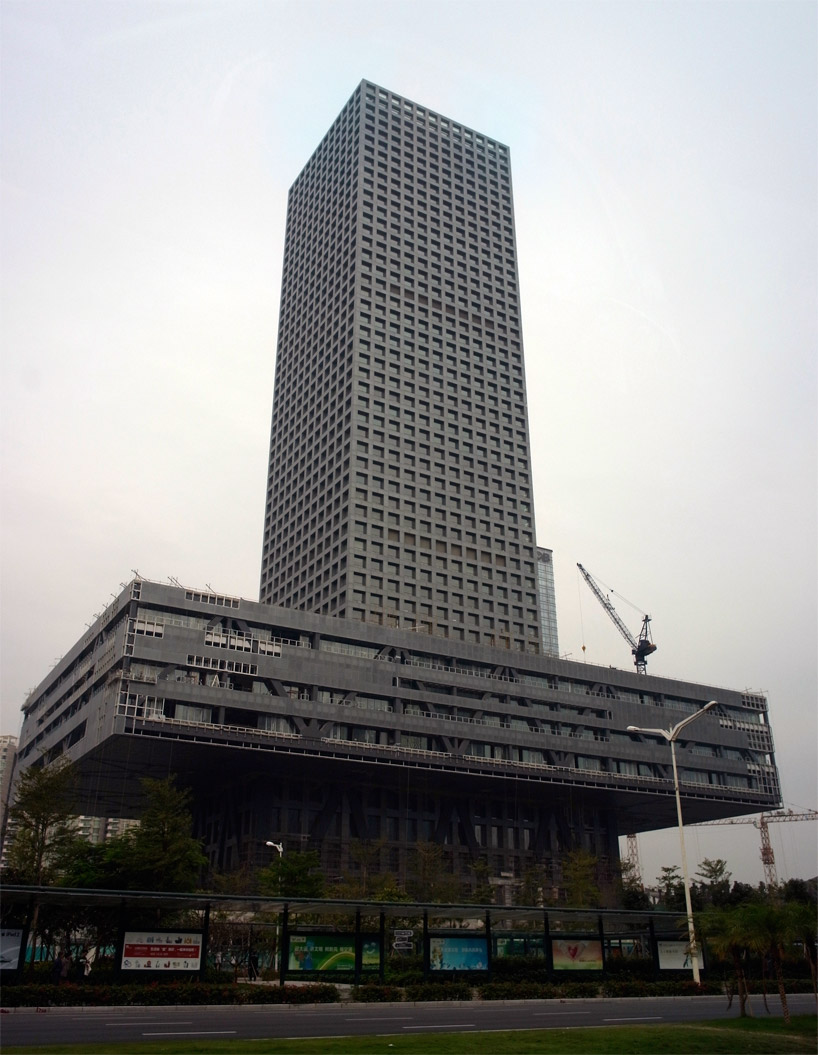 exterior image © designboom
two grand atriums are placed at the ground level, a primary entry on the east and lobby for main rental floors on the west. overhead, voids within each of the podium's 15,000 square meter floor plates allow natural light to illuminate the atrium below while also distinguishing the tower and base as separate entities. on the 8th level is the public floor containing a conference center with stepped seating for lectures and events. within the other half of the podium is the traditional trading floor which will be used to ceremoniously ring the bell for a new company as trading is now done digitally. balconies wrap the podium overlooking the developing urban context.
within the tower, executive offices are directly above the podium overlooking an ornate roof garden evoking a chinese paper-cut pattern. leaseable offices are found within the upper portion of the tower. mechanical and support spaces are concealed within lower levels below the 8th floor.
see designboom's initial coverage of the building's design development and topping out during early construction phases.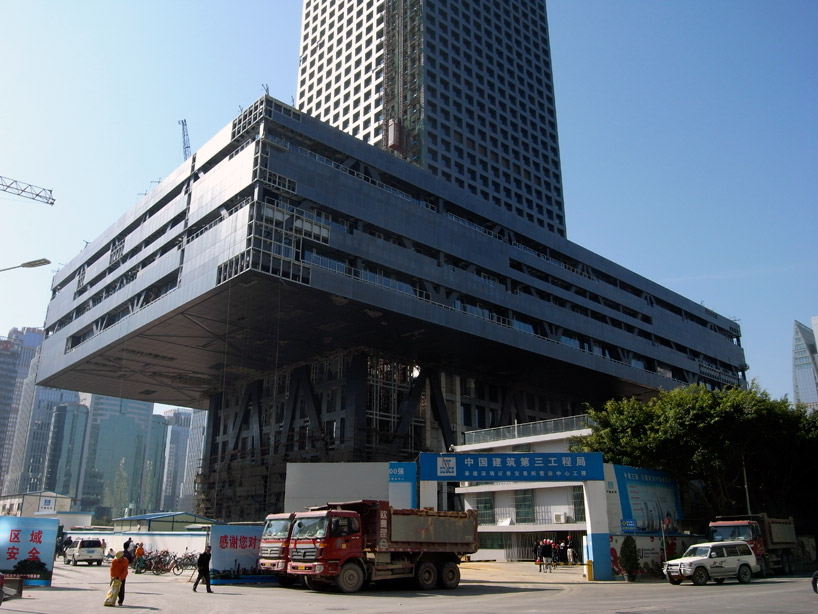 entry to construction site image © designboom
the patterned glass skin of the tower facade provides a simple but highly effective system for shading the transparent vision-panes from the hot sub-tropical sun and negating the need for any additional complex and expensive exterior shading. direct ventilation is provided by panels concealed behind the structural elements in the facade, allowing for the pure expression of the grid to remain.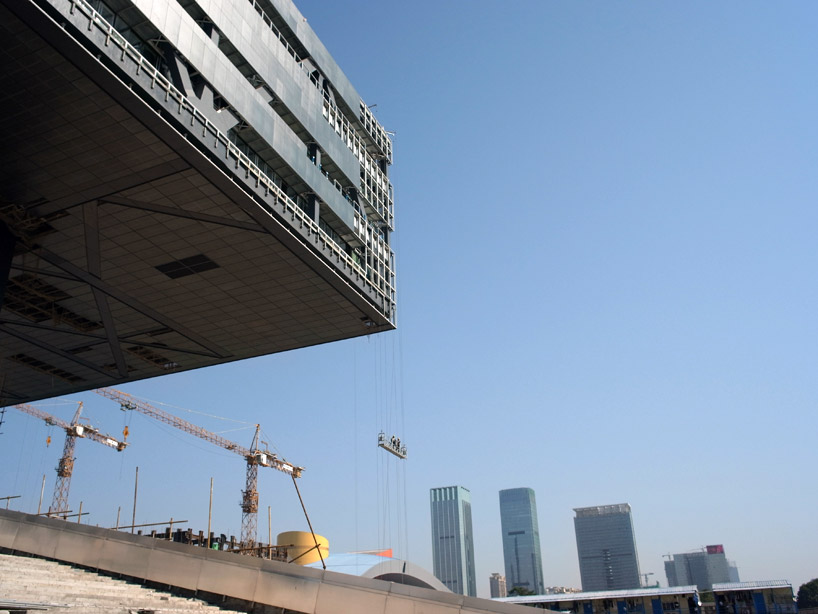 the cantilevered podium frames outward views of the city image © designboom
the facade of the lifted podium also uses the same textured glass as the tower cladding but, is held in contrast through its differing use of scale, articulation, and layering. the glass is used to create subtle optical distortions in the facade, its depth also allows for the creation of a balcony between patterned glass and recessed vision glass.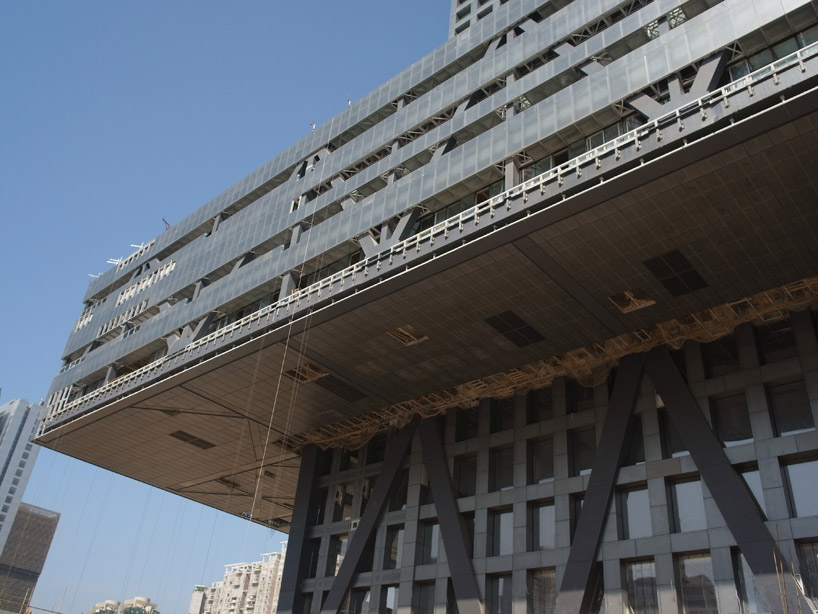 cantilever extends 36 meters beyond the base image © designboom
the raised podium is approximately 160mx100m in plan and has a maximum cantilever of 37m and a structural depth of approximately 24m. there are 3 primary floors as well as one partial mezzanine floor and an accessible landscaped roof. the podium is fully connected to the tower structure, and has a 3D structural system consisting of primary and secondary planar steel trusses, and diaphragms at roof and soffit levels. podium gravity loads are primarily carried by four vertical primary columns and four inclined primary columns, all located at the root of the cantilever. gravity loads from zones adjacent to the tower are carried by the tower perimeter frame columns.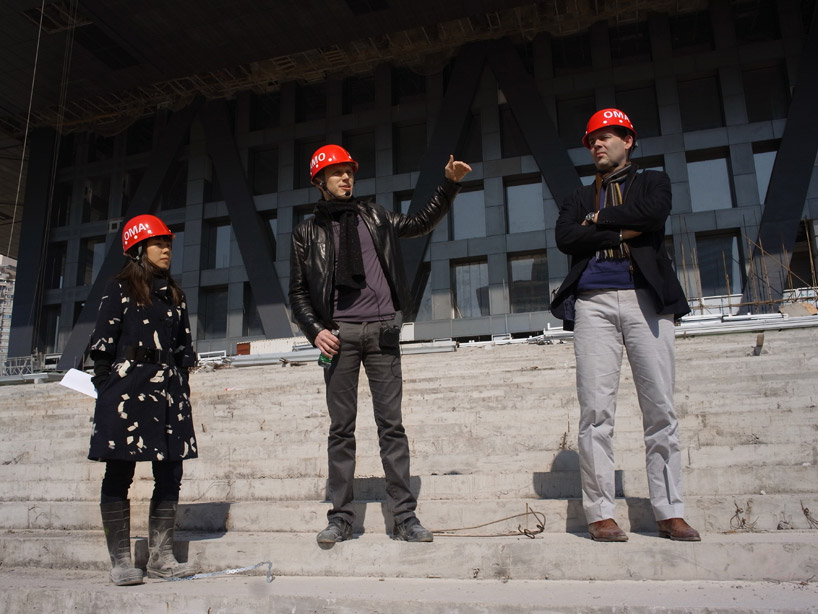 OMA team leading the walking tour image © designboom
'for millennia, the solid building stands on a solid base; it is an image that has survived modernity. typically, the base anchors a structure and connects it emphatically to the ground. the essence of the stock market is speculation: it is based on capital, not gravity. In the case of shenzhen's almost virtual stock market, the role of symbolism exceeds that of the program – it is a building that has to represent the stock market, more than physically accommodate it. it is not a trading arena with offices, but an office with virtual organs that suggest and illustrate the process of the market.' OMA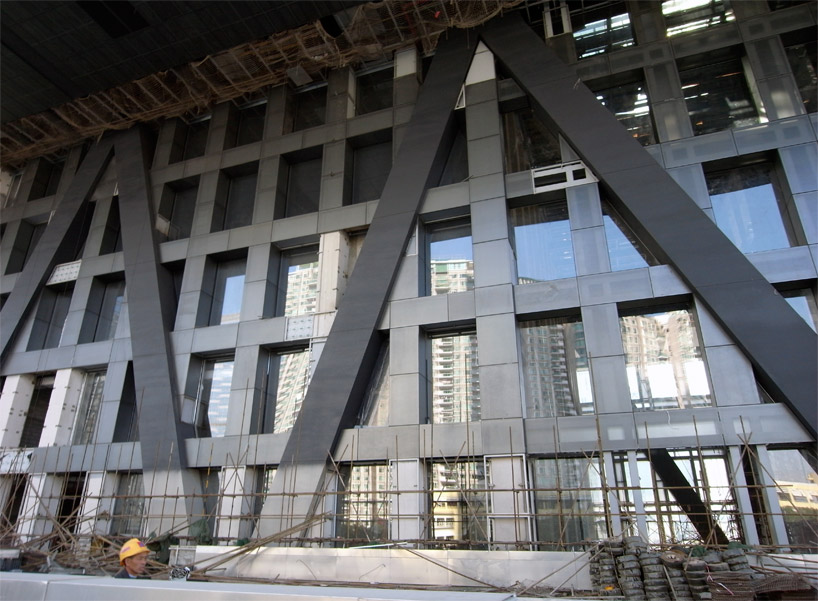 scaffolding encompassing the atrium is being removed image © designboom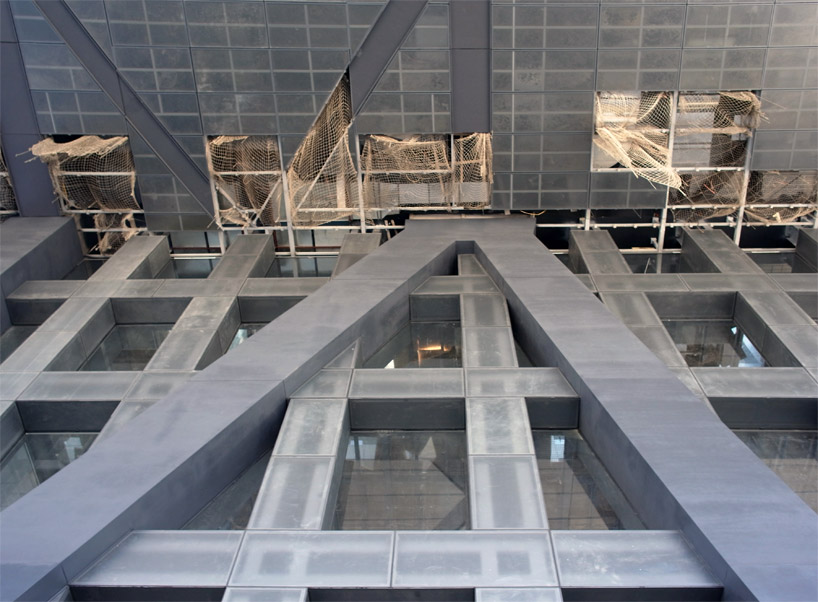 external mega-bracing is primary structural support for the cantilever image © designboom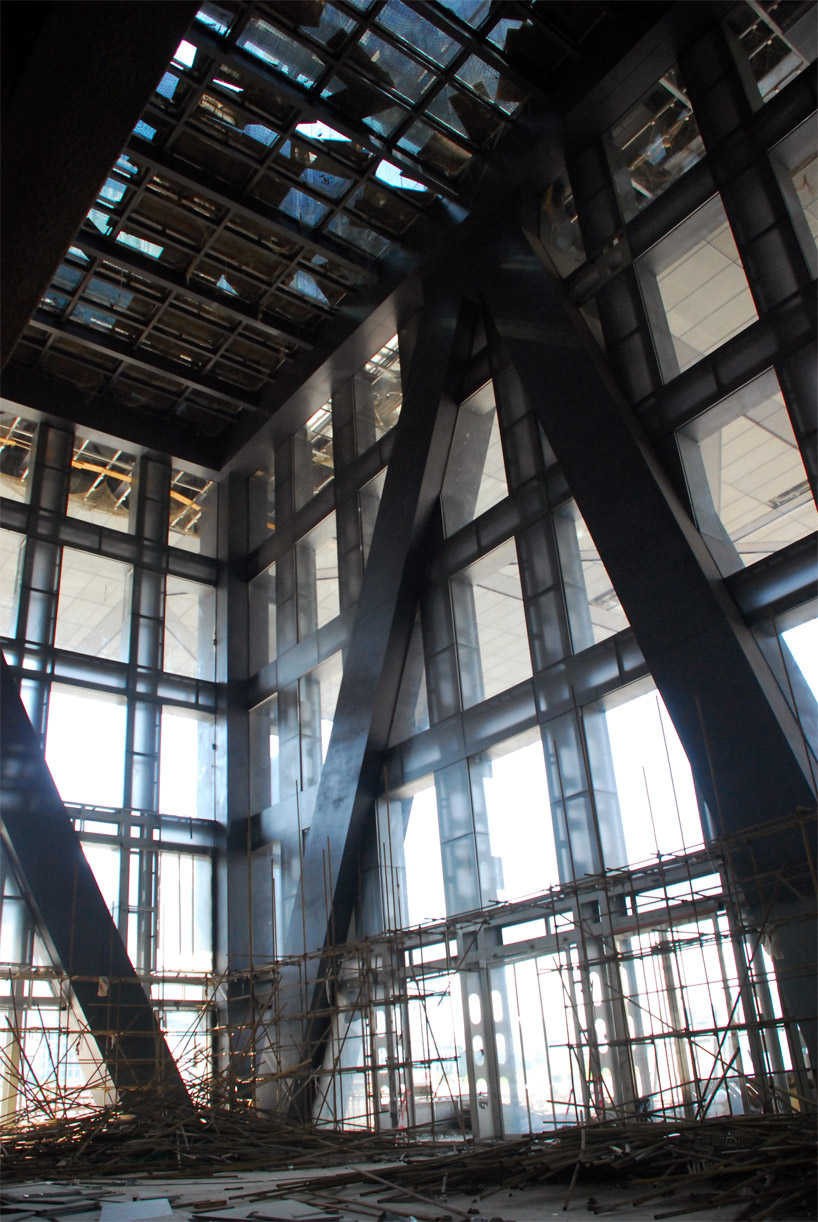 interior scaffolding and structure of the atrium image © designboom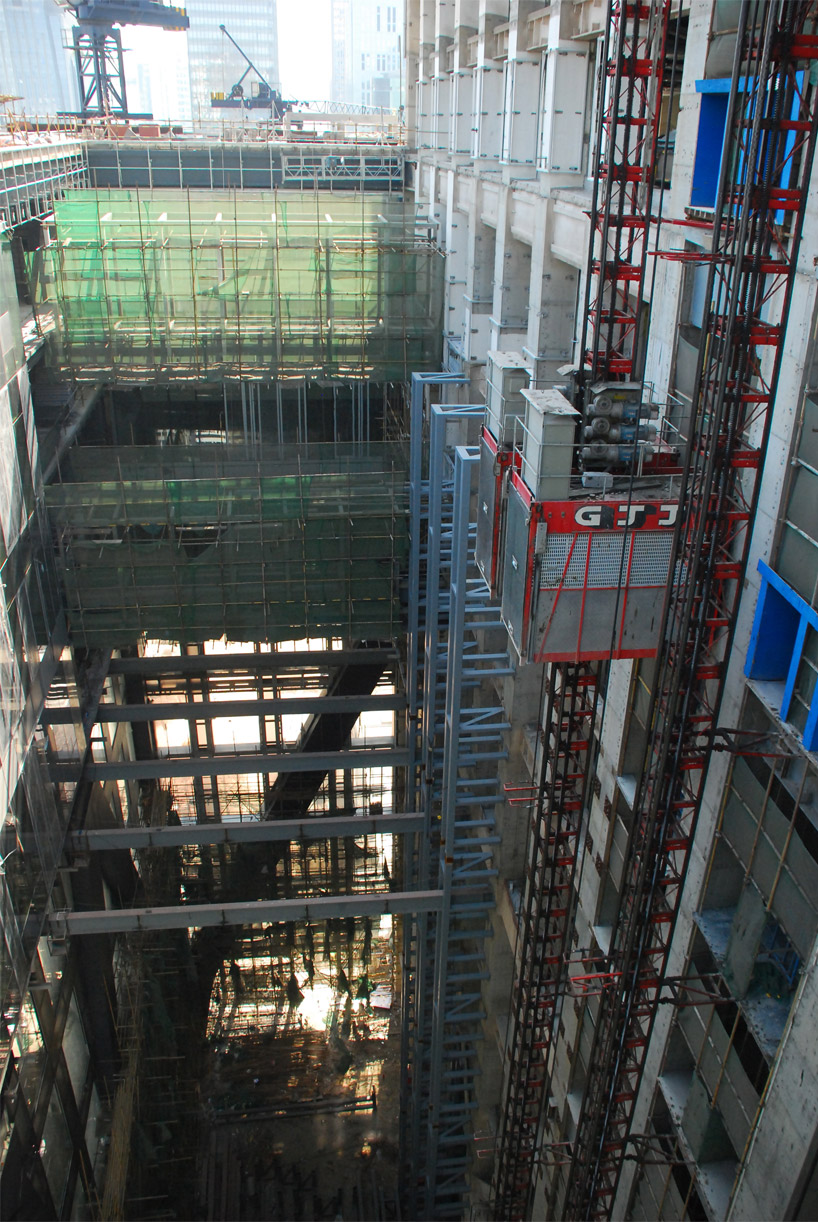 view to ground level through void within the podium's floor plates image © designboom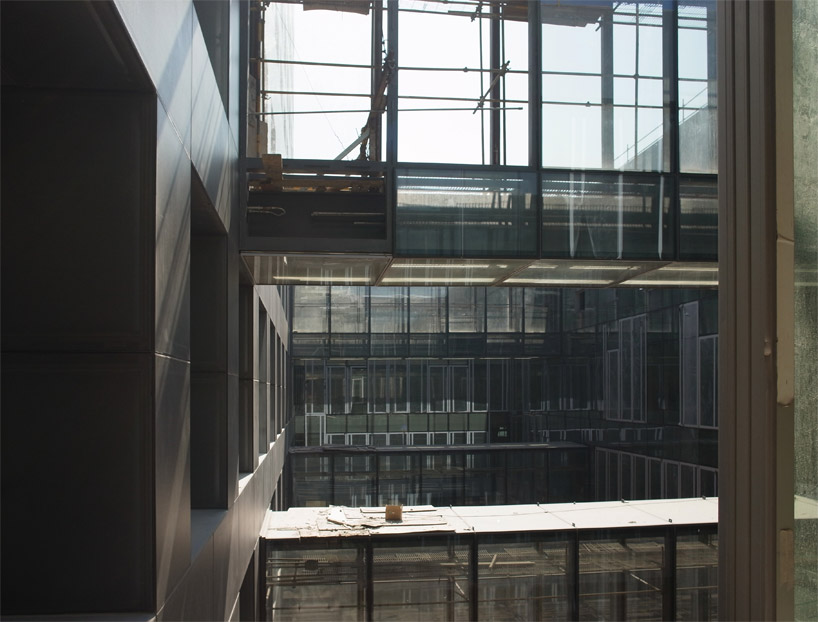 daylight passes through the void within the podium's floor plates image © designboom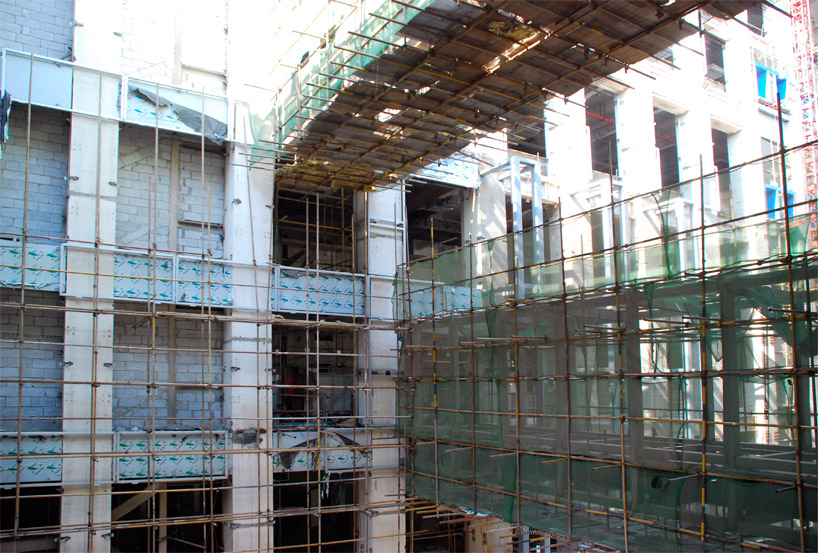 bridges will allow employees to traverse the void image © designboom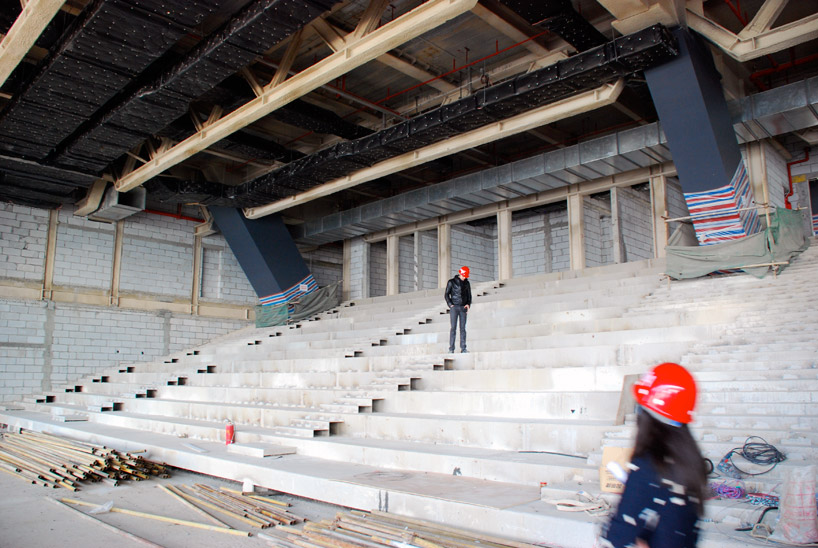 auditorium within the elevated podium image © designboom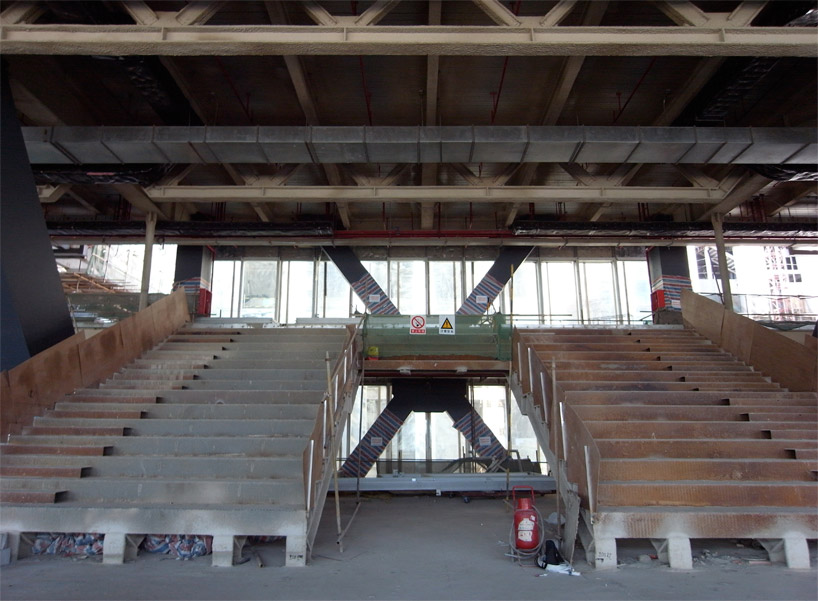 auditorium seating image © designboom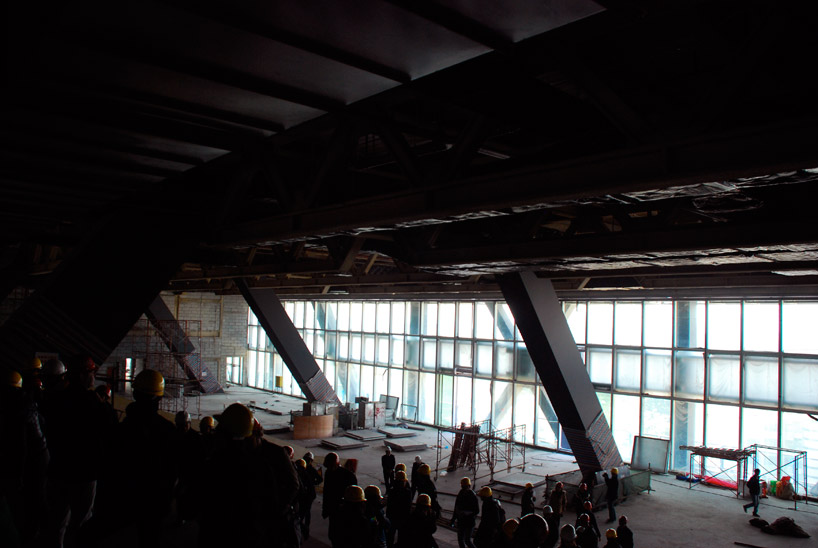 view from the audience image © designboom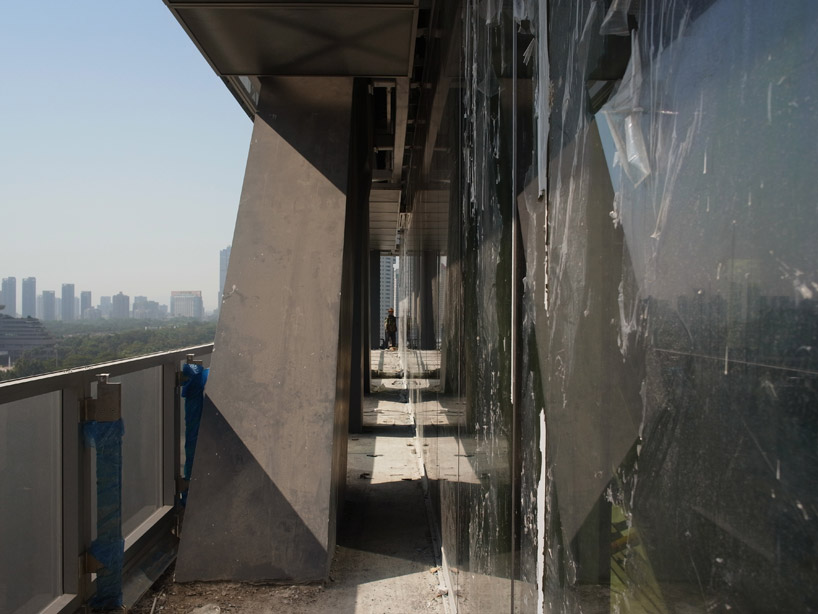 perimeter structure of the podium image © designboom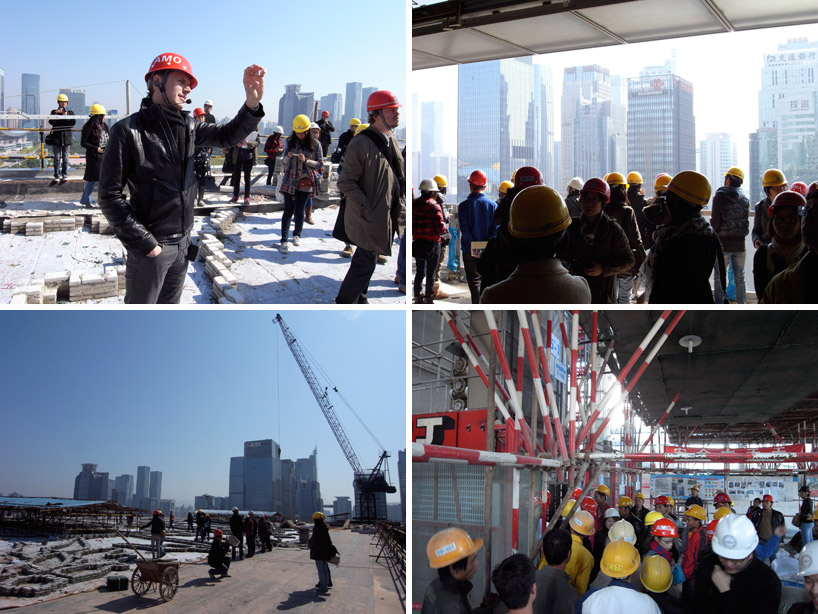 images © designboom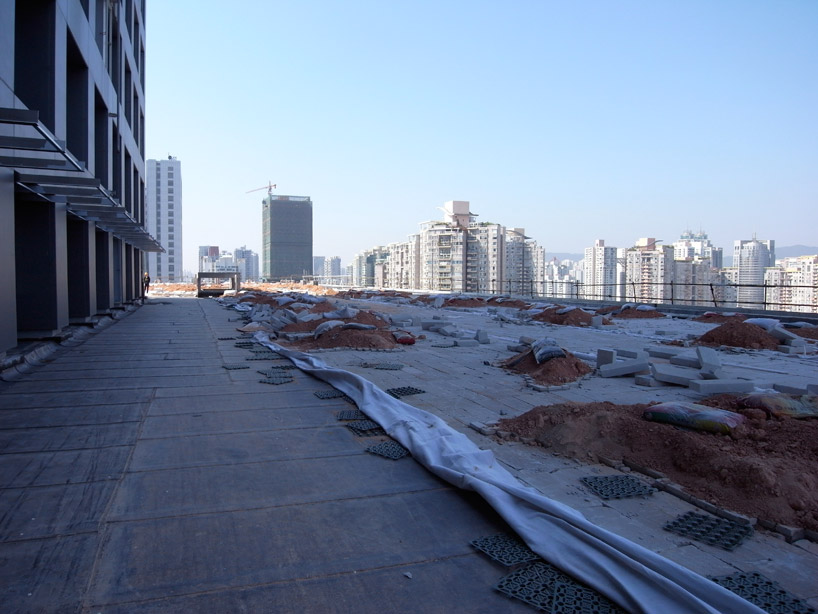 garden to be located on the roof of the podium image © designboom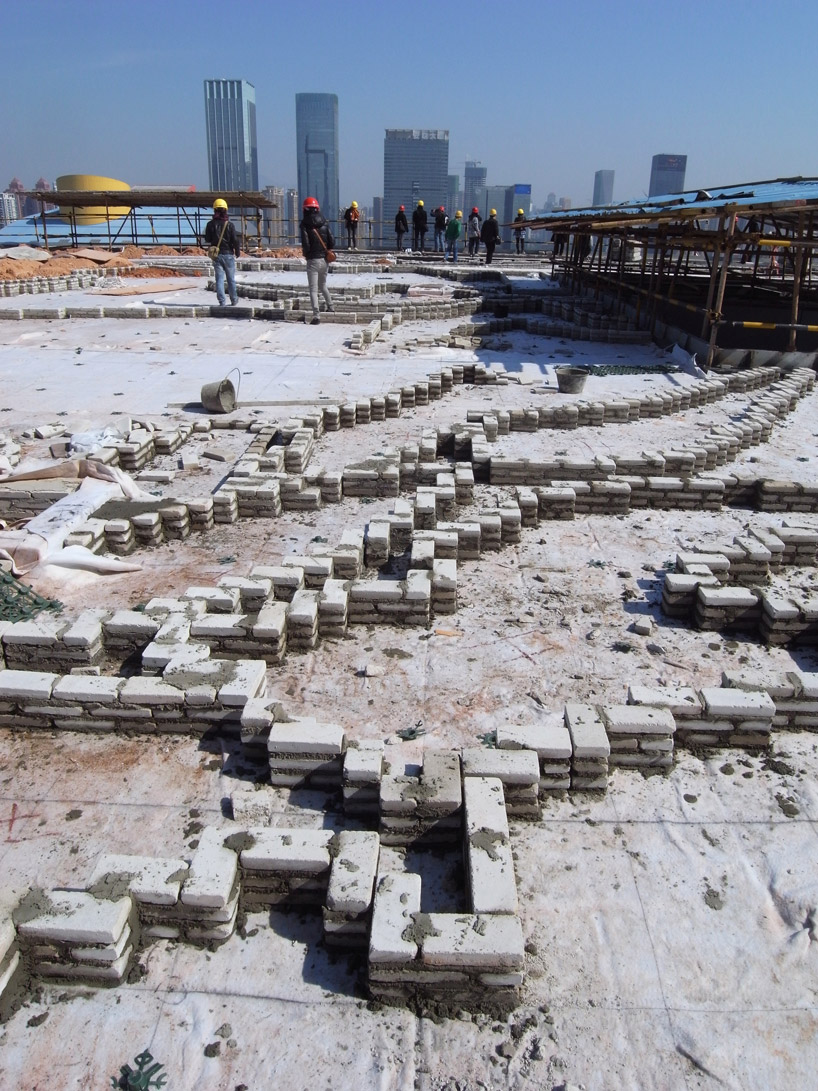 garden derived from chinese paper-cut patterns image © designboom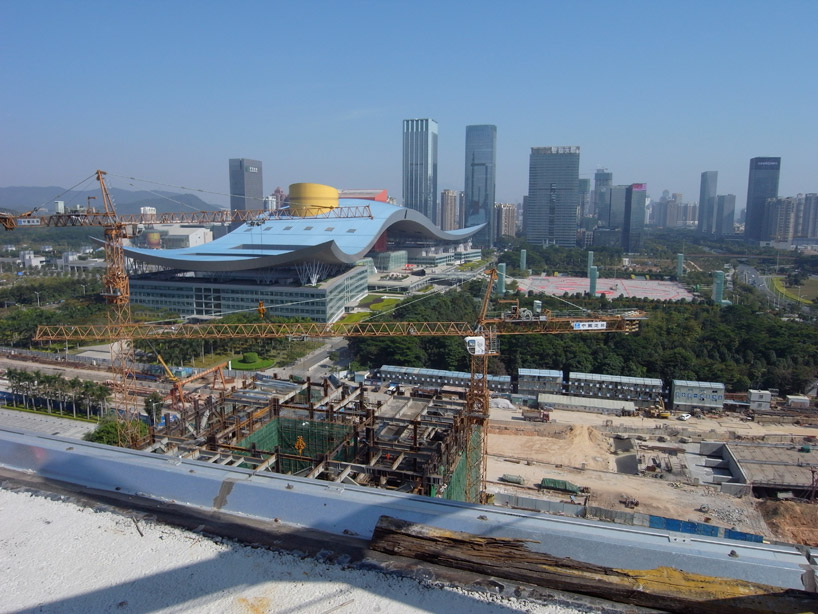 view from the roof garden image © designboom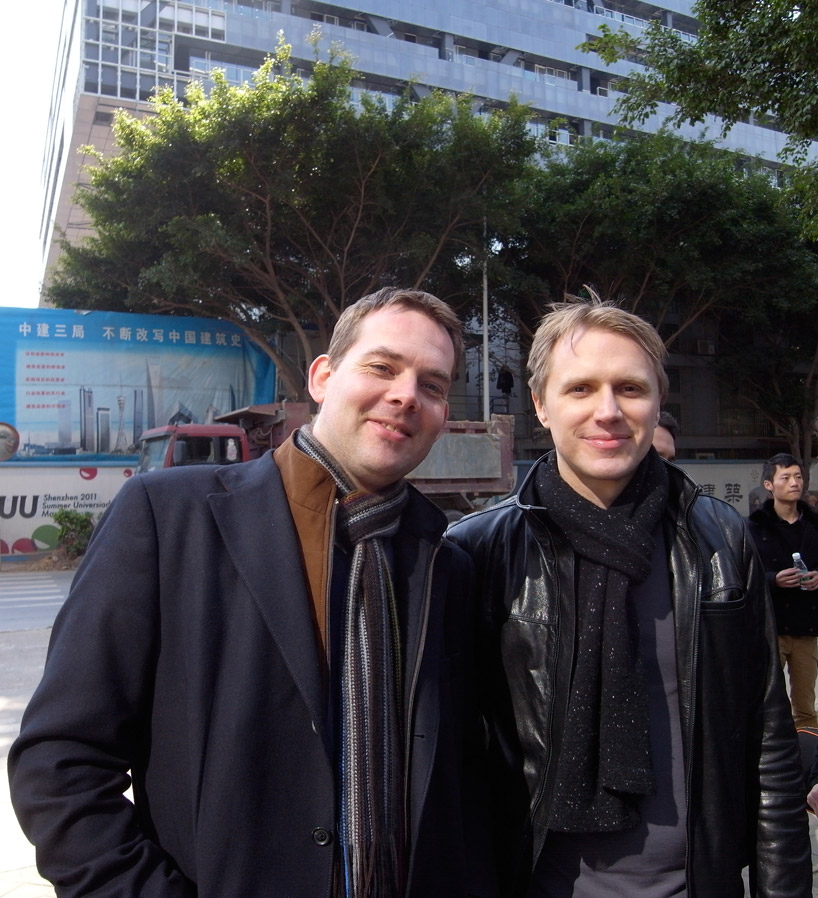 (left) david gianotten, partner in charge and (right) michael korkora, associate in charge portrait © designboom
michael korkora, associate in charge describes the building's glass enclosure video © designboom
project info:
competition: 1st prize 2006 completion: august 2012 client: shenzhen stock exchange site: 132,000m2 in the downtown area of shenzhen at the meeting point of the north-south axis between mount lianhua and binhe boulevard, and the east-west axis of shennan road, shenzhen's main artery. program: total 200,000 m2: rental offices, registration & clearing house, accessory area, securities information company, SSE office area, trading floor, technical operations area..
partners in charge: rem koolhaas, david gianotten partner: ellen van loon associate in charge: michael kokora site team: vincent kersten, daan ooievaar, yang yang, zhang yun, joanna gu design team: kunle adeyemi (associate), ryann aoukar, sebastian appl, waichuen chan, jan dechow, leo ferretto, clarisa garcia fresco, alasdair graham, leonie wenz, richard sharam, laura baird, matthew jull, franscesca portesine, lukasz skalec, lukasz szlachcic, lukas drasnar, christine svensson, matthew haseltine, jaitian gu, joão ferreira marques jesus, alex de jong, santiago hierro kennedy, vincent kersten, klaas kresse, miranda lee, anna little, luxiang liu, david eugin moon, cristina murphy, daan ooievaar, idrees rasouli, korbinian schneider, wolfgang schwarzwalder, felix schwimmer, michela tonus, miroslav vavrina, ferdjan van der pijl, se yoon park, na wei, xinyuan wang, ken yang tan, su xia, yunchao xu, yang yang, yun zhang.
competition team rotterdam: rem koolhaas, shohei shigematsu, anna little, christin svensson, jason long, carlos garcia gonzalez, joao bravo da costa, mauro paraviccini, mariano sagasta, bart schoonderbeek, konstantin august, klaas kresse, kengo skorick, katharina gerlach, mendel robbers, hong yong sook, beatriz minguez de molina, martti kalliala, andrea bertassi, daniel ostrowski, yuanzhen ou AMO: todd reisz, brendan mcgetrick beijing: dongmei yao, hiromasa shirai, anu leinonen, tieying fang, pei feng, xinyuan wang
collaborators level acoustic: dhv building and industry; bertie van de braak, caroline kaas, renz van luxemburg, theo rijmakers landscape: inside outside; petra blaise, rosetta elkin, aura melis QS: l&b quantity surveyors; law hing wai, melody huang arup: michael kwok, rory mcgowan, nancy huang, chas pope, kai-sing yung, oliver kwong structural engineering: chas pope, goman ho, xiaonian duan, chris carroll, robin ching, guo-yi cui, andrew grant, yue hao, jonathan kerry, di liu, peng liu, hui-yuan long, alex to, fei tong, matthew tsang, yu-bai zhong, fx xie, liang xu, ling zhou, façade engineering – gerald hobday, andy lee, fire engineering: mingchun luo, dagang guo, li-li ma, feng rui, yan-dong wang, services engineering – oliver kwong, kai-sing yung, kenneth chong, alba xu, li shen, johnson chen, wh au, michael bradbury, kitman chan, johnson chen, yong guan, andrew lerpiniere, eddycol li, yong-qiao luo, yi ren, lewis shiu, kenneth sin, julian sutherland, lu-peng wang, qi wang, yue wang, chris wong, sabrina wong, william wong, tie-jun xiao, dong yan, juliet zhang, li-ping zhang, lipy zhang, xue-li zhu, yue-hui zhu project management: nancy huang, wei gao, penny liu, jerry zhang vertical transportation: matthew tang, julian olley building physics: vincent cheng, isaac tang, raymond yau, rumin yin building intelligence: patrick leung, michael tomordy, sam tsoi, henry chan, mark chen, jacky lo , wing-shan mak, edwin wong geotechnical engineering: mark choi, maggie qing-min meng, jason ng, wei-guang ruan lighting/LED: steve walker, francesco anselmo, katie hardstone, david lakin, florence lam SADI: meng jianmin, shen xiaoheng, james hong, lin zhenhai, wu chao, wang qiwen, liu chen, li hanguo, luo xin, zhen wenxing, yang baozhen, zeng zumin
— the 2011 SZHK biennale in shenzhen, china runs from december 8th through december 11th 2011. the scale of certain projects is such that the architect becomes not only a designer of buildings but also city planner and landscape architect and the the shenzhen & hong kong bi-city biennale of urbanism \ architecture reflects this in its theme: architecture creates cities – cities create architecture. the SZHK biennale is the first to focus on urbanism as an ongoing theme to explore issues of the city as an active agent in contemporary culture. the program includes more than 30 exhibitions, symposiums, panel discussions and performances. terence riley has been appointed chief curator (he is the first international curator for the event). the hong kong edition will work to complement the shenzhen biennale in an integrative way and is curated by gene king and anderson lee currently under preparation and due to open in february 2012. designboom is the principal international media partner of the SZHK biennale.
'shenzhen builds' designboom was given the opportunity to visit the construction site of the terminal extension, as part of the program 'shenzhen builds'. the buildings being built in shenzhen today are setting international standards for most of the building types: the 'shenzhen builds' exhibition, curated by terence riley, focuses on 5 new and upcoming buildings in the city by coop himmelb(l)au / wolf prix, massimiliano and doriana fuksas, OMA / rem koolhaas, urbanus, and atelier FCJZ / yung ho chang. on show are models, animations and drawings, including other developmental materials to demonstrate how these projects were conceived. designboom will cover this exhibition in upcoming articles, please stay tuned for more to come.
lauren grieco
I designboom
dec 15, 2011
a diverse digital database that acts as a valuable guide in gaining insight and information about a product directly from the manufacturer, and serves as a rich reference point in developing a project or scheme.
designboom will always be there for you
milan, new york, beijing, tokyo

,
since 1999