jun 08, 2011
OMA with/for prada at the venice art biennale 2011
'OMA with/for prada' at the venice biennale, venice, italy image courtesy of fondazione prada / © attilio maranzano
OMA has joined forces with italian fashion brand prada once again, this time in an exhibition at the 54th annual venice biennale. housed in the ca' corner della regina, overlooking the grand canal, the installation showcases recent collaborative works between the two parties, with a focus on the future fondazione prada in milan, scheduled for completion in 2013.
detail of model and foam aluminum cladding image © designboom
consuming eight rooms of the former palazzo, the exhibit – designed by rem koolhaas and associate-in-charge ippolito pestellini – includes photographs, drawings and a hyper-detailed 1:100 model of the upcoming milanese museum complex. originally used as a tool to develop the fondazione's curatorial strategy, the model features handmade miniatures of the permanent collection and provides visitors with a comprehensive understanding of the structure's scale and volume.
miniatures of fondazione prada's permanant collection image © designboom
a full room is dedicated to the prototypes and process work of aluminum foam, the distinctive surface that will enclose part of the fondazione building in milan. developed in recent years, aluminum material is an ultra lightweight metal whose composition is distorted to resemble a sponge-like consistency. manifesting the most radical redefinition of surface and material, the porous blocks are made from melted and chemically altered aluminum ingot. porous and organic in appearance, the dynamic structural cladding is inherently stress resistant, impact absorbing and soundproof.
side view of model image © designboom
also on display is a model of OMA's prada transformer, the tetrahedron structure that was completed in seoul, south korea in 2009.
detail of model image © designboom
the historical 18th century ca' corner della regina is currently undergoing renovation to become a new space for contemporary art,
a project that is being overseen by fondazione prada and fondazione musei civici. the renovation, to be carried out over the next six years,
will thoroughly restore the landmark into a space dedicated to contemporary culture, research and exhibitions.
see also designboom's previous article on the concurrent art exhibition taking place within the ca' corner della regina.
components of the structure are hung throughout the space image © designboom
hanging models image © designboom
view into model image © designboom
physical model of fondazione prada, milan, italy image © designboom
detail of model image © designboom
detail of model image courtesy of fondazione prada / © attilio maranzano
interior detail views image © designboom
prototype of sponge aluminum image © designboom
prototypes of sponge aluminum images © designboom
prototype of sponge aluminum image © designboom
model of prada transformer, seoul, south korea image © designboom
entrance image © designboom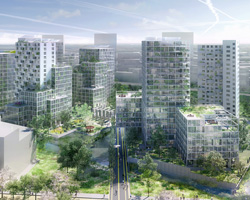 sep 12, 2017
sep 12, 2017
aug 31, 2017
aug 31, 2017
jul 10, 2017
jul 10, 2017
aug 30, 2011
aug 30, 2011
jul 27, 2011
jul 27, 2011
jul 18, 2011
jul 18, 2011