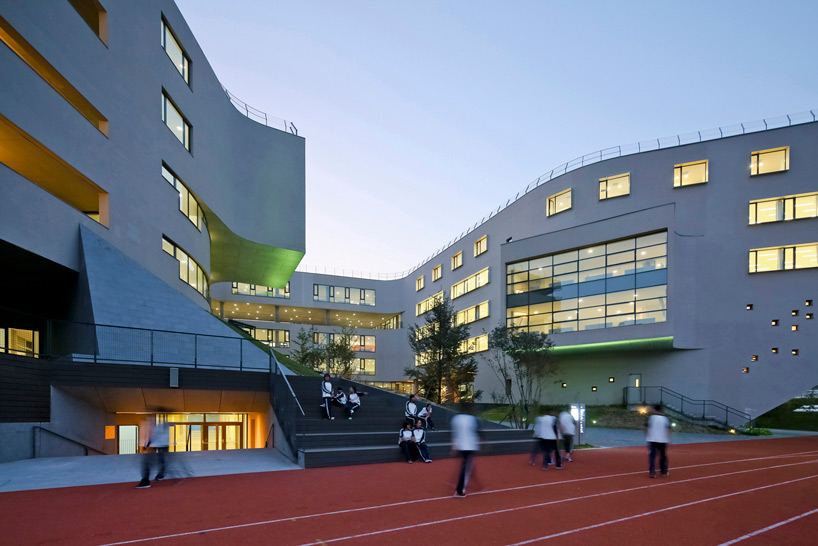 oct 23, 2014
OPEN architecture creates garden-like fangshan high school in beijing
OPEN architecture creates garden-like fangshan high school in beijing
photo © su shengliang
all images courtesy of OPEN architecture

for the design of the recently opened fangshan campus of beijing's regarded no.4 high school, OPEN architecture sought to create a facility with close connection to garden spaces and recreation program. the building, partially sunk below grade, is organized with many appendages extending from a central spine in order to increase exposure to the surrounding outdoor areas and provide ample daylight to all interiors. located in the center of a new town to the southwest of the chinese metropolis, the school is integral to the area's urban development and aimed at, 'avoiding problems of the earlier mono-functional suburban developments'.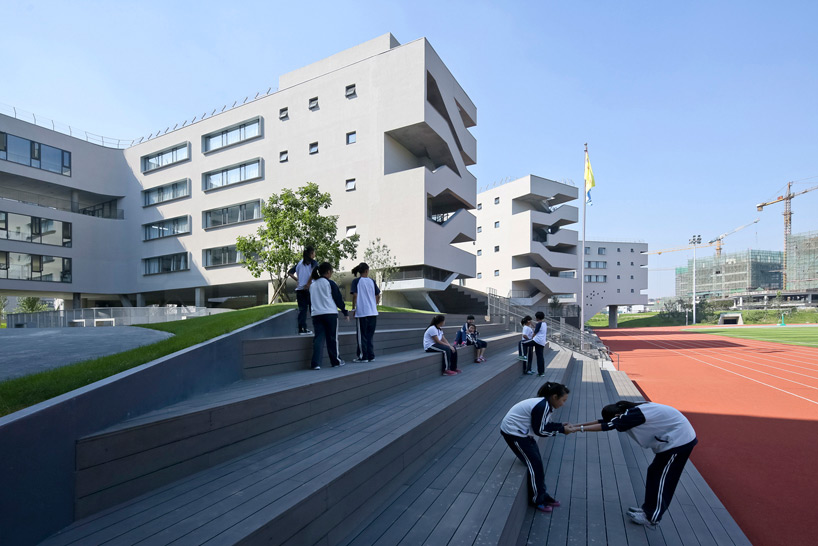 the school relates closely to green outdoor spaces and adjacent recreation program
photo © su shengliang
the high school's decentralized form in plan is complemented by variety in the program's vertical arrangement, resulting overall in a partially underground lower section and a multi-floor upper portion. the former protrudes from the ground plane to create raised landforms, while containing larger and more-public spaces including the canteen (cafeteria), auditorium, gymnasium, and swimming pool. above, more-repetitive and rigid functions such as classrooms, labs, dorms, and administration are housed in the slender and branching building volume. the structure's continuous rooftop contains 36 garden plots, to allow one small farm for each of the school's classes while also referencing the site's previous pastoral use.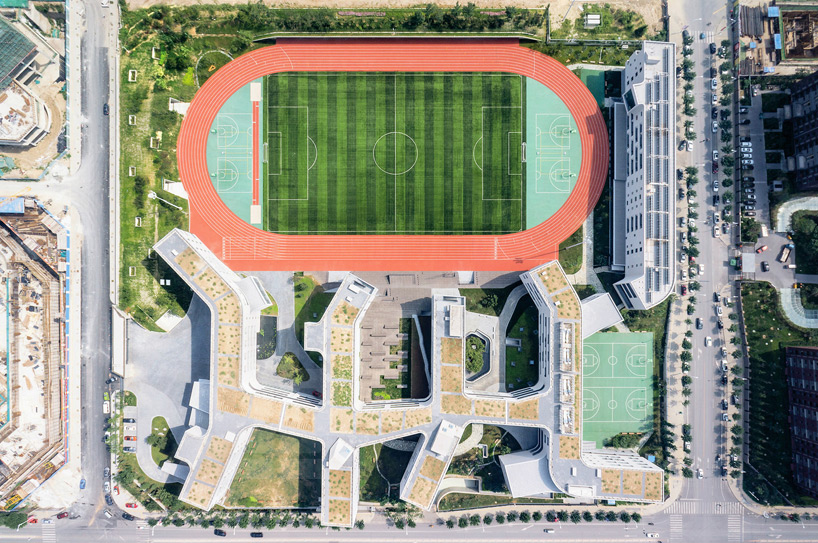 in plan, the upper building composes eight appendages that extend from a central spine
photo © xia zhi
the building's spatial and programmatic complexity result in a decentralized and non-hierarchical organization, contrary to many symmetrical and regimented movements of educational facilities. the architects describe the building's bending and interconnected form as, 'like a river', which results in the creation of special social areas relating to natural circulation patterns. to accommodate this interaction, the elongated spine of the facility contains semi-private 'island' enclosures.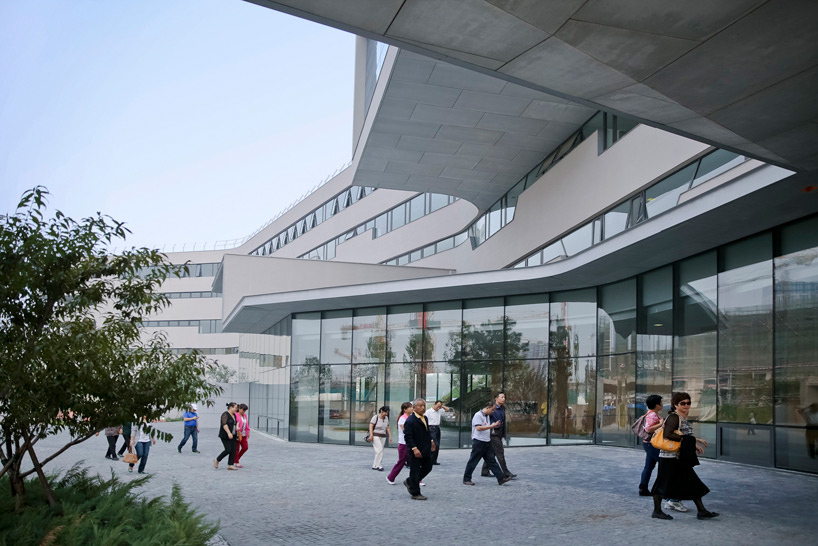 the façade peels away from the building mass to create protruding volumes on upper levels
photo © su shengliang
ultimately, the architects hope to subvert many qualities of typical school facilities, with a hope that the project, 'can inspire and initiate some much needed changes in the education system of china today.' as such, the school is described as, 'a place with a free spirit that encourages explorations and awaits reinventions by different individuals.'
'in the contemporary chinese context, arguably the most pertinent issue and challenge is that of the relationship between the individual and society, and between mankind and nature. education bears great responsibilities. it is to these issues that this new campus project aspires to be both a touchstone and a response.'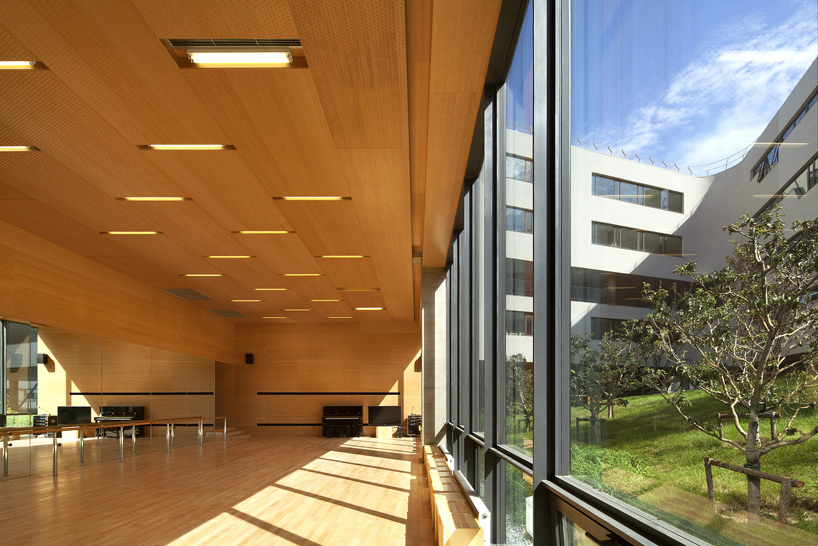 all interior spaces in the upper building feature large views to adjacent green areas
photo © xia zhi
the 'beijing no.4 high school fangshan campus' aims to be the first triple green star rated school in china, a standard exceeding LEED gold. the architects describe the various strategies integrated with the project:
'in order to maximize natural ventilation and natural light, and minimize heat gain during summer and heat loss in the winter, passive solar strategies are adopted in almost all aspects of the design, from the planning of the building geometry all the way to the details of the window design. permeable ground surface paving and expansive green roofs helps to minimize surface run-off, and three large underground water retention basins collect precious rain water from the athletics field for irrigation of the farms and gardens. a geothermal ground-source heat pump provides a sustainable source of energy for the large public spaces, whilst independently controlled VRV units serve all the individual teaching spaces to ensure flexible operation. throughout the project, simple, natural, and durable materials such as bamboo plywood, pebble dashing (a vanishing technique), stone, and exposed concrete are used.'
the partially sunken canteen features a faceted concrete roof
photo © su shengliang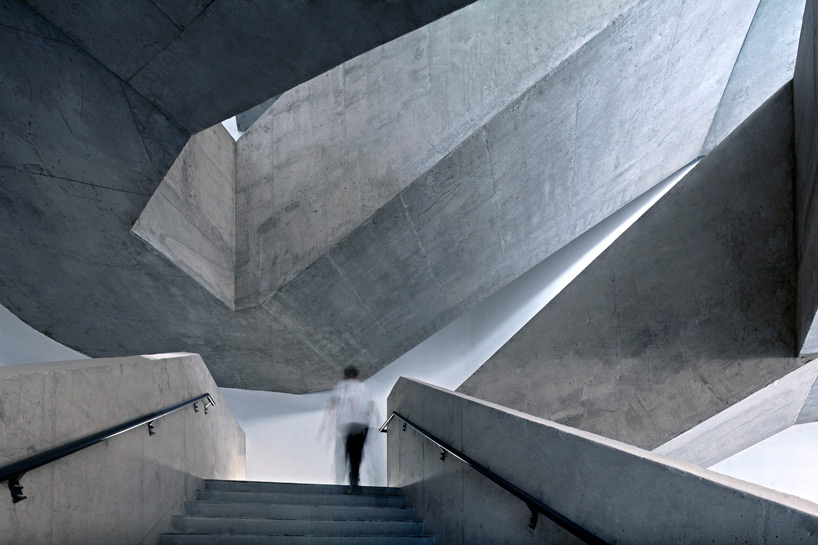 dynamic concrete staircase forms rise through a high space
photo © xia zhi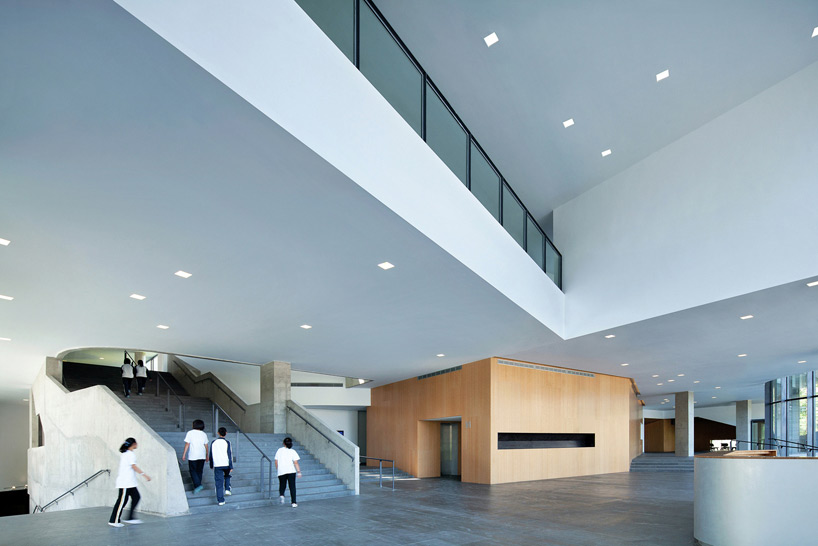 photo © xia zhi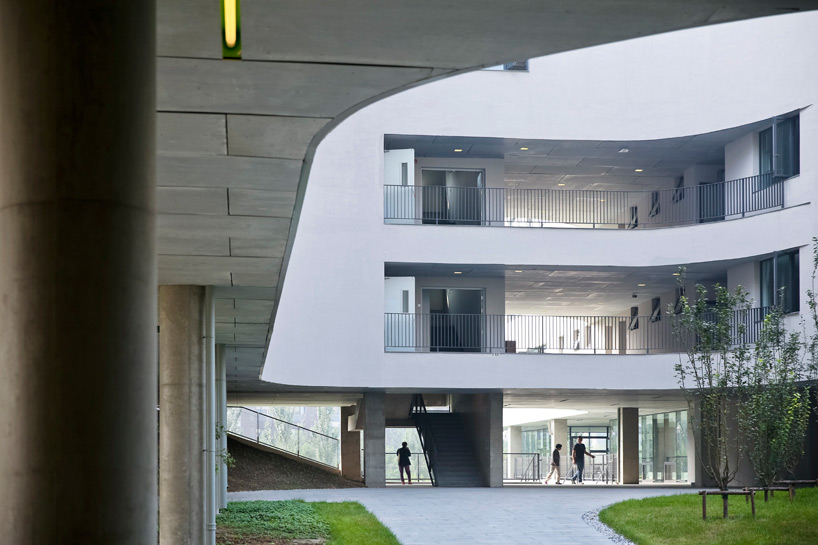 breezeways and outdoor hallways create a porous building volume
photo © su shengliang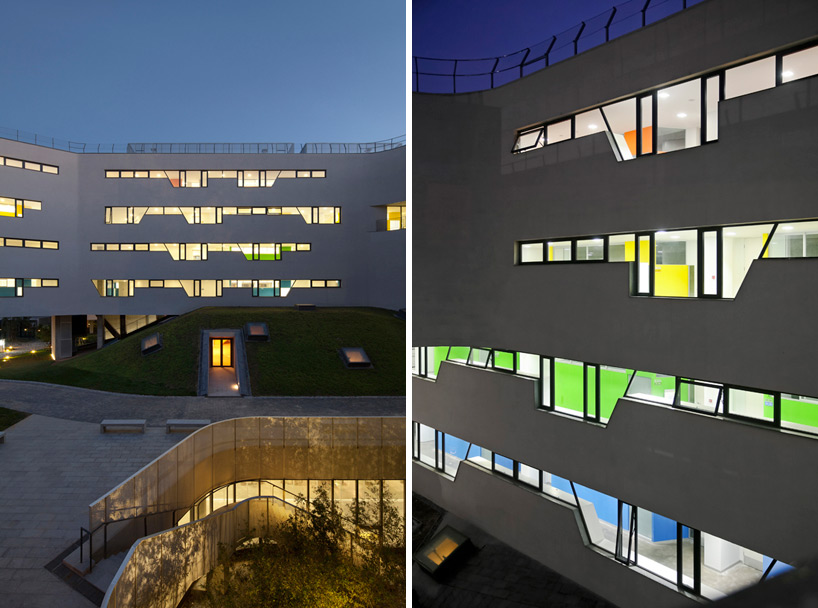 (left) the manipulated ground plane reflects the arrangement of the school's lower portion
photo © xia zhi
(right) colored furnishings distinguish different levels of the upper building
photo © su shengliang
project info:
location: changyang, fangshan district, beijing
dates: 2010 – 2014
program: 36-class junior and senior high school, classrooms, labs, auditorium, gymnasium, canteen, administration, dormitory and sport facilities
building area: 57,773 sqm
client: changyang government of fangshan district, beijing
construction agency: vanke + cofco
design firm: OPEN architecture
principal-in-charge: li hu, huang wenjing
project team (project phase): daijiro nakayama (project architect), ye qing / zhang hao (assistant project architect), zhou tingting, thomas batzenschlager, zhang chang, jotte seghers, wang yifan, li qiang, ge ruishi, xue wencan, brendan whitsitt, ami kito, tao wei, simina cuc, zhao yao, chen xiaoting, cynthia yurou cui, tang wei, liu weijiang, sheehan watcher;
project team (competition phase): yu qingbo, felipe escudero, julia mok, lu chen, cheng yanwei, fan jie, scott craven, chris gerdes, beatrice lau
local design institute: beijing institute of architectural design
sustainability consultant: school of architecture, tsinghua university
structural consultant: CABR technology co. ltd.
curtain wall consultant: inhabit group
lighting consultant: lighting design partnership international (LDPi)
acoustics consultant: clocell
signage design: beijing trycool design
general contractor: zhongxing construction co. ltd.
interior contractor: jiangsu construction engineering group co., ltd. / jin longteng decoration co. ltd.
curtain wall contractor: shenzhen sanxin curtain wall engineering co. ltd.
landscape contractor: beijing changjian yancheng construction & engineering co. ltd
photography: su shengliang, xia zhi
jul 22, 2017
jul 22, 2017
jul 19, 2017
jul 19, 2017
jul 19, 2017
jul 19, 2017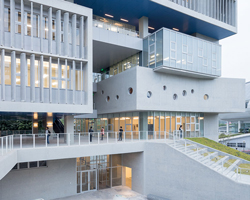 mar 20, 2017
mar 20, 2017
sep 18, 2016
sep 18, 2016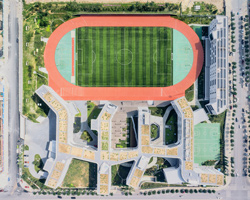 oct 22, 2015
oct 22, 2015
jul 18, 2017
jul 18, 2017
jul 13, 2017
jul 13, 2017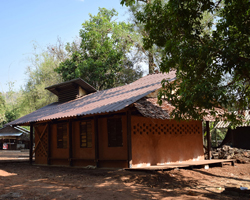 jul 03, 2017
jul 03, 2017