ora ito has completed the architectural design for the new yooma hotel in paris in artistic collaboration with daniel buren. located on the front de seine, the building makes a stark imprint on the surrounding landscape close to the eiffel tower. an additional floor was added to the structure, so that the total amount of rooms equals to 106, allowing for 434 guests.

image © sebastien veronese
following a specific framework, daniel buren implemented a deep blue which runs throughout the hotel. this injection of color combined with the aluminum sheets on the facade establishes a graphical nature upon the building. this visual language is repeated within the interior, with the addition of black and white stripes which can be seen in the lobby and corridors. 

image © sebastien veronese
the bedrooms designed by ora ito respond to space, privacy and user-friendly requirements in this hotel for couples and families or groups of friends. exposed concrete guides the guests in the entrances and corridors to the rooms, like an architectural extension of the exterior. once in the rooms, solid colors such as red, green, blue and yellow welcome visitors to the communal living area. this culminates in an ultimate degree of privacy: pods envisaged by the designer have wood-panelled ceilings like welcoming little cabins. these pods are mini-structures on a mezzanine that can be closed using sliding wall systems.
 read our recent interview with ora ito here, where he spoke to us about his 20 years in design. 

image © sebastien veronese

image © sebastien veronese

image © sebastien veronese

image © sebastien veronese

restaurant area

the visual language of black and white stripes combined with a deep blue is repeated throughout the hotel

the hotel includes 106 rooms
image © sebastien veronese

image © sebastien veronese

lounge area
image © sebastien veronese

image © sebastien veronese

image © sebastien veronese

ora ito and daniel buren
image © sebastien veronese
jun 12, 2017
jun 12, 2017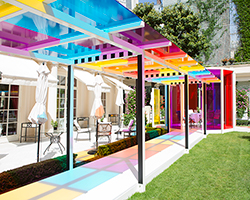 jun 03, 2016
jun 03, 2016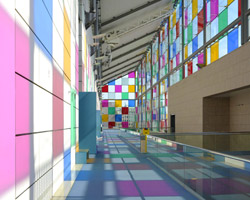 jun 14, 2014
jun 14, 2014
may 09, 2012
may 09, 2012
oct 05, 2017
oct 05, 2017
jul 18, 2017
jul 18, 2017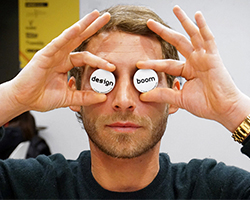 oct 24, 2016
oct 24, 2016