UK firm patel taylor has completed 'lombard wharf' a residential tower located on a riverfront site in wandsworth, south london. the façade seems to twist as it rises — an illusion created by the subtle changes in the shape of the high-rise's precast-concrete balconies. this allows the tower to be viewed from all sides with no distinct front or back. the 28-floor building contains one, two, and three bedroom apartments. 

the new residential tower sits on the riverfront of wandsworth in south london
image © peter cook (also main image)
patel taylor has integrated the building into the complex urban fabric. the tower sits almost at the foot of a newly planned footbridge and a portion of the thames path. at night, the riverfront is illuminated by the LED lights along each balcony that trace the shape of the building. the developer, barratt london, believes that the area's easy connections to the rest of the city make it a popular destination for people to move or invest. the architect's design expanded further than the tower itself. 

the tower defines the area's skyline
image © peter cook
patel taylor has placed emphasis on growing the amount of accessible public space on the site. the firm has designed two adjacent railways arches that contain workshop space and a pedestrian footpath. 'the creation of a new public plaza is at the heart of our vision, opening up a link from west to east' said architect pankaj patel, adding, 'riverfront buildings have a propensity to face the water. we wanted lombard wharf to look equally attractive from every view point, acting as a marker on the river whilst not turning its back onto the city.'

subtle changes in the shape of the pre-cast concrete balconies allow the façade to twist
image © peter cook

the first four floors of the building are designated for affordable housing
image © peter cook

the architects also took the surrounding site into consideration, integrating public spaces
image © peter cook

unlike many riverfront properties, the building can be viewed from all angles
images © peter cook

the building is close to the thames path and a newly planned footbridge
image © peter cook

the design is enhanced by the opening up of two adjacent railway arches
image © peter cook

the area is experiencing growth as people continue to invest in property
image © peter cook
Save
Save
oct 24, 2017
oct 24, 2017
oct 24, 2017
oct 24, 2017
sep 28, 2017
sep 28, 2017
sep 17, 2017
sep 17, 2017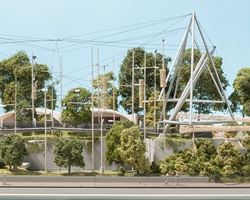 sep 13, 2017
sep 13, 2017
sep 12, 2017
sep 12, 2017
oct 31, 2017
oct 31, 2017
oct 24, 2017
oct 24, 2017
oct 24, 2017
oct 24, 2017
feb 03, 2016
feb 03, 2016
may 07, 2015
may 07, 2015