dec 03, 2013
paul de ruiter elevates carbon neutral villa kogelhof
paul de ruiter elevates carbon neutral villa kogelhof
photo by jeroen musch
all images courtesy of paul de ruiter architects
an exercise in self-sufficiency, 'villa kogelhof' is an autonomous carbon-neutral dwelling located in noord-beveland in the netherlands. the paul de ruiter designed building is part of a protected 25 hectare plot, a popular tourist destination and home to a variety of rare animals and plant life. planning permission for the villa was only granted on the condition that the land was returned to its pre-agricultural state, consequently 71,000 trees have been planted across the vast site.

'villa kogelhof' has been designed to be entirely self-sufficient
photo by jeroen musch
the brief for the house was to create a simple, yet eye-catching structure which is entirely self reliant, heating its own water and recycling its own waste. the design is formed of two stacked cuboid volumes, one underground and the other a glass box floating above the landscape. the entrance to the property is found at the subterranean level of the scheme, where parking and storage spaces are housed alongside a bathroom and a workspace. above ground, open-plan living accommodation offers views across the landscape, with separate spaces allocated for the kitchen, bedrooms and bathrooms.

a pool stretches out perpendicularly from the property
photo by jeroen musch
ensuring a comfortable environment is achieved throughout the year, a 'climate-façade', comprises an outer layer of insulated glass with an inner layer of sun-reflecting fabric. the fabric can be lowered forming an air cavity through which the building's air is recycled through a passive ventilation system. furthermore, a range stove is utilized to warm the home's water, with all electricity generated from rooftop cells and a specially constructed windmill.

the glazed structure provides expansive views of the surrounding landscape
photo by jeroen musch

interior furnishings consist of pieces by le corbusier and eileen grey
photo by jeroen musch

insulated glass ensures that a comfortable internal climate is achieved all year round
photo by jeroen musch

(left) glazed circulation area
(right) stairs leading to the workspace at the lower level of the dwelling
photos by jeroen musch

entry to the building is found at the underground level
photo by jeroen musch

all electricity used by the 'villa kogelhof' is generated by rooftop cells and a specially constructed windmill
photo by jeroen musch

the design is part of a protected 25 hectare plot home to a variety of rare animals and plant life
photo by jeroen musch
project info:
location: noord-beveland, the netherlands
program: extremely energy-efficient, luxury villa
gross floor area: 715 sqm
volume: 2,400 sqm
construction: may 2009 – january 2013

landscape architect: bosch slabbers, middelburg
contractor: j. van der linde, goes
construction adviser: broersma bv
building physics adviser: smits van burgst
costing adviser: studio bouwhaven
installations: intec
glass engineering: si-x, benthuizen
jan 30, 2016
jan 30, 2016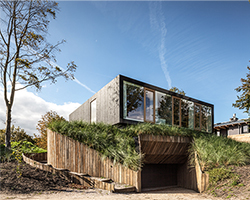 may 22, 2013
may 22, 2013
may 02, 2012
may 02, 2012